The Best Places in the Alps to Mountain Bike
When we talk about the Alps the thing that people tend to think about is skiing on snowy white peaks. However, there are a whole host of other activities for thrill-seekers that aren't centred around winter sports – one being mountain biking. It's no wonder that mountain biking is such a popular pastime in the Alps. With rocky, winding paths, spectacular views and the thrill of completing a course, mountain biking offers an experience to satisfy all adrenaline junkies. But with so many different parts of the Alps to discover, which place is best for this thrilling activity?
1. The Tarentaise Valley, French Alps
The Tarentaise Valley is home to Tignes and Val d'Isere, known as one of the best (if not the best) mountain biking parks. This title is well-deserved as the huge park has a variety of trails for all ability levels, with each trail signposted well to support your needs, whether it's learning the basics or beating your personal best. Another aspect of this park, making it so popular, is the spectacular views available. Unlike others, this park isn't surrounded by forests or enclosed paths, you're completely out in the open.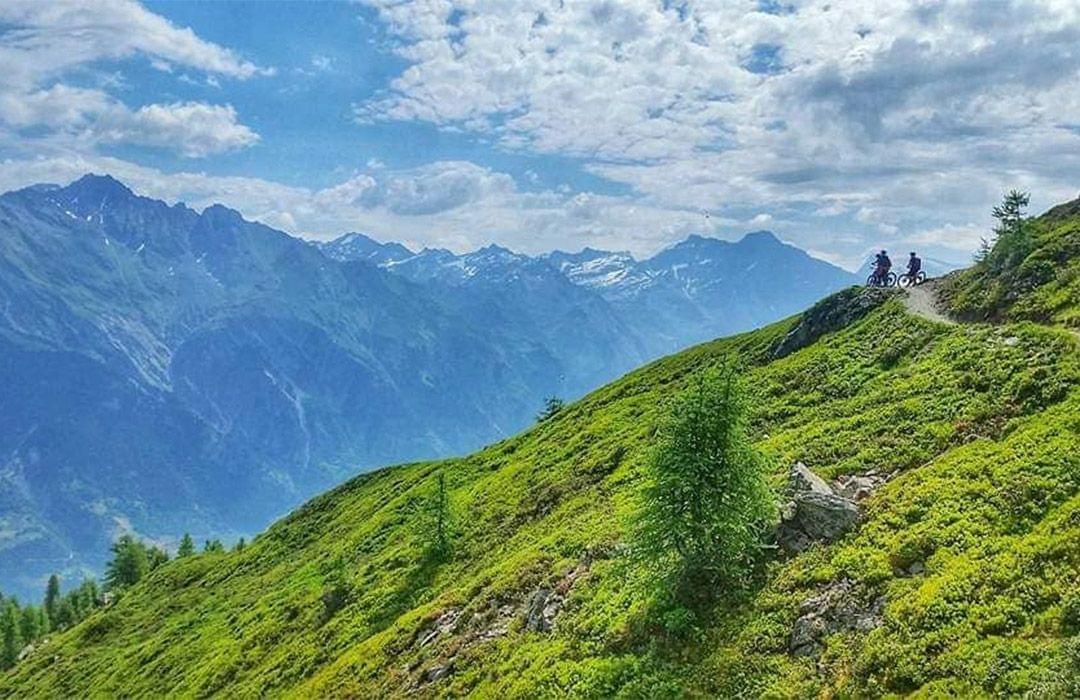 photo courtesy of Valais MTB
2. Alpe d'Huez, French Alps
Alpe d'Huez gained recognition through hosting the Megavalanche, a huge and well-known mass-start downhill marathon. This park offers a variety of terrain from grassy moors to rocky trails, making any ride stimulating and physically challenging. For beginners there is a freestyle bike park with dirt tracks, giving you an easier ride so you can work your way up. The transfer from the airport to Alpe d'Huez is usually around 3 hours.
3. Verbier, Swiss Alps
Verbier boasts quality and diversity, with great trails for beginners and advanced bikers, as well as family-friendly tracks – all which come with stunning views. Some biking festivals held here are the Verbier E-bike festival and the Chainless Race. The E-bike festival takes place mid-August and allows you to explore fast electric bikes, offering a unique biking experience. The Chainless Race offers a classic downhill bike race, full of thrill and stimulation. With the transfer from Geneva airport to Verbier only taking 1 hour and 50 minutes, you can get straight to the fun!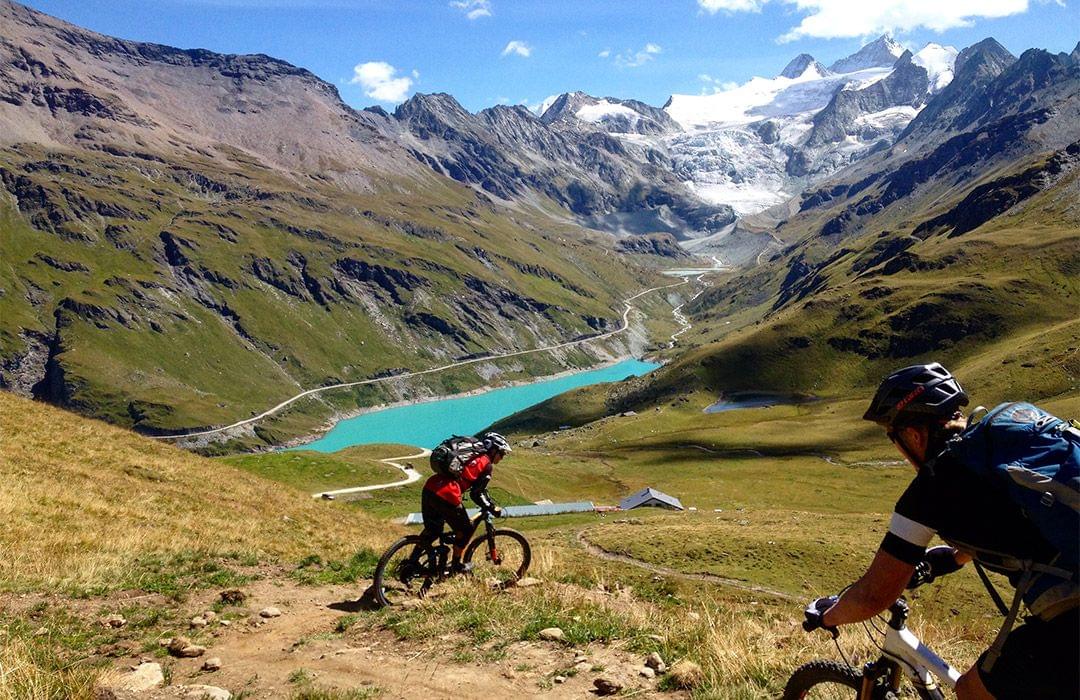 photo courtesy of Alps Mountainbike
4. Zermatt, Swiss Alps
Zermatt caters to all ability levels and types of bike, with Moos-Trail and Sunnegga-Trail offering a smooth and steady ride, while more advanced bikers can enjoy rocky valleys and snowy glaciers. For those wanting some structure to your bike ride, Zermatt offers a whole range of bike tours, for all levels of ability, revealing breath-taking views you might not have come across yourself. Depending on traffic and weather conditions the transfer from Geneva airport to Zermatt generally takes around 2 hours and 40 minutes.