Fancy a change? Change things up without buying a new bike.
A small confession. I haven't bough an off-the-shelf mountain bike in years. Initially due to budget constraints.
I'd buy as much on the second-hand market as I could. Then I would upgrade the components that I had to compromise on as and when money was available or a deal too good to pass up presented itself. I thouroughly enjoyed trying new parts and tweaking them until I got a bike that felt great. And then inevitably something newer and shinier would come along and I'd end up stripping or selling the bike and starting again. Because I didin't have to worry about warranties I was free to experiment - such as adding offset bushings to a late 00's model to try and modernise it's geometry, or adding a 29" fork with a 27.5" wheel to slacken the had angle and add more travel.
While my current bike was all bought new, I'd gotten so used to picking every component myself, I went with a frameset over a factory-spec build. I specced that bike as bet I could. One or two compromises still had to be made mostly due to part availability. But most of those I replaced over the following year. It was all brand new and shiney and I was happy. And that's the way my bike stayed for almost 2 whole years.
Maybe it was boredom, or possibly the style of trails I was riding changed, or the bikes my mates were riding all changed. Whatever the reason, that urge to tweak things started making it's presence felt again. But, there wasn't anything out there that really caught my attention. Yes, the mullet trend was interesting, or even a full switch to 29-er. But without the opportunity to try one replacing a complete bike would be a very expensive gamble. Which is when my old friend the Internet aded it's 2 cents.
While scrolling though social media I came across a company called Cascade Components. Among other things, they like to make new shock linkages for various bikes. And they happened to do one for my generation of Santa Cruz Bronson. Now about the only part that I did not pick myself on my build was the Rockshox shock which came as part of the frameset. While I did upgrade it with a MegNeg conversion, the options on the 3rd generation Santa Cruz are somewhat limited due to the shock tunnel.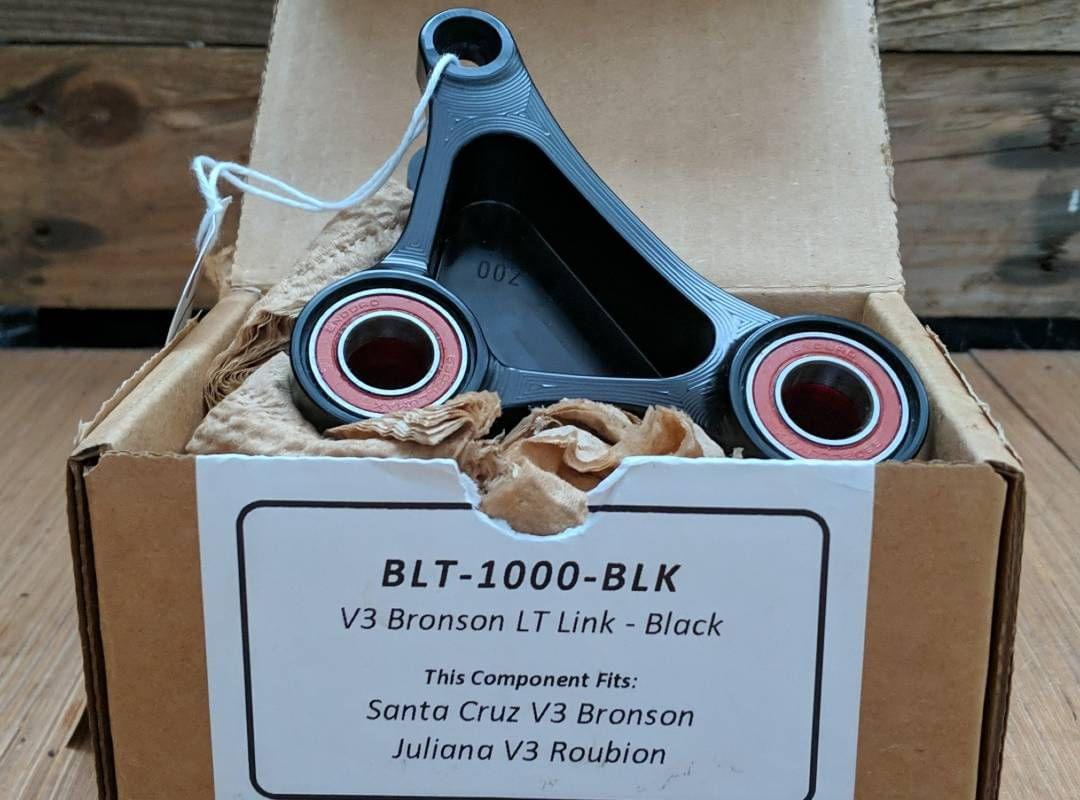 Cascade Components, however, promised increased bottom out resistance and improved small bump sensitivity without affecting the pedalling characteristics. It even promised an extra 10mm of travel. The buy button on their European store was clicked and not long after a shiney new shock linkage arrived in the post.
The new linkage came prefitted with brand new bearings which wasa a nice bonus. Fitting it was a pretty simple afair. Undo the bolts holding the shock and the rear triangle to the factory linkage and remove. Then reverse the process with the new linkage. Cascade even provide their recommended adjustments to your shock settings.
Unfortunately, its been a poor winter for riding. I haven't had nearly as much time on this new rear suspension setup as I would like. However, With a few tweaks to my shock settings, the handling of the Bronson has been transformed. What I had always liked about the Bronson, both this model as well as the 1st generation I owned previously, was it's responsiveness which some might describe as twitchy. I could always tell exactly what the rear wheel was doing. Both a positive and a negative, this meant it was certainly no downhill plow. I had to pick my lines more carefully but on the flip side I had the ability to do just that and place my bike almost exactly where I wanted it to be.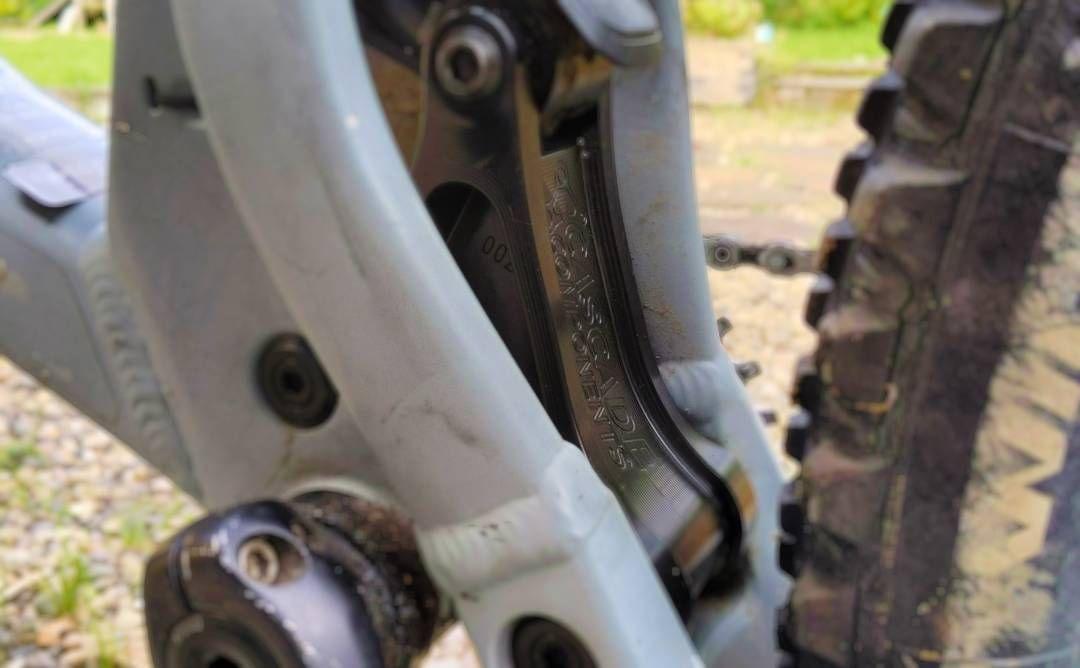 With the Cascade linkage but keeping the same shock, the bike immediatly felt more grounded. I can still tell whats happening behind me, but in a less hyperactive way. Where before I would be constantly attentive to what the rear wheel was doing, now I can leave it do it's thing confident its on the ground. They say mountain biking is at least 90% confidence. What the Cascade linkage does for me is build on my confidence.
Some of the other linkages Cascade Components offer for different models add thew ability to 'mullet' those bikes by adding a 29" front wheel without altering the gemoetry so much that it negatively affects the handling of the bike. I did ask Cascade about this option for the Bronson, but they didn't recommend it for my bike. But it did get me thinking.
As I mentioned earlier, I have added a 29" fork and front wheel to a 27" mountain bike before. To be specific, I did this to my old Gen 1 Bronson. And while it would probably have made geometry gurus cry, it really didn't mess with the bike handling too much. Yes, it required a little more forward lean on steep climbs, but on descents it was a whole lot of fun. Unfortunately, I didn't have a 29" fork and wheel to hand to try this on my current Bronson, nor the funds to buy new ones - I checked.
However, while window shopping for forks, I came across another interesting component. A replacement air shaft for Fox Float 36 forks ranging from short travel right up to 180mm. After some furious Googling, I found an instruction document on the Fox website detailing how to switch the air shaft on the Fox Float 36. As it turns out, you can replace these relatively easily to reduce or increase the travel of your fork. For a 27.5" fork such as mine, it can be increased up to 180mm. For the 29" version it can go to 170mm.
I'd been in contact with Richie from RH Suspension picking his brain on various tweaks and adjustments I should try on my shock paired with the Cascade linkage. And I didn't hesitate to ask him his opinion on changing the travel on my fork. While he did warn about possible detrimental effects to the handlig due to the gemoetry changes caused by the adding 20mm to the front height, he was happy to do the work for me. Note: While I was a bit gung-ho and went off an bought the shaft online before asking, as an official Fox service center Richie can supply and fit these for anyone that's interested in doing something similar.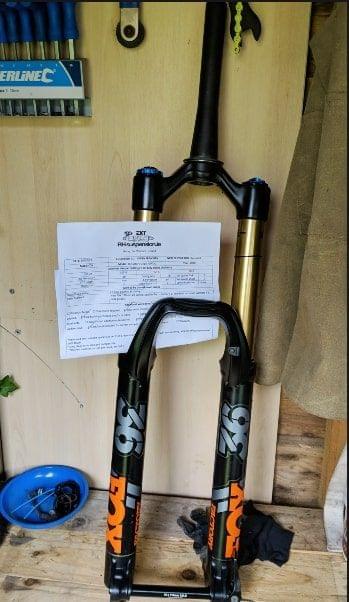 A few days after sending the fork and shaft off to RH Suspension, they returned fully serviced and with an extra 20mm of travel. Needless to say, it did not take me very long to refit the fork to the bike.
Again, I've not had as much time on this as I would have liked. But, I haven't noticed any adverse effects to climbing ability or balance. If my Strava times are to be believed, there is next to no difference in times either. And while 20mm may not seem like a lot, I can deffinitely feel there effects on the descents, especially on the steeper trails. Because of the extra travel I can run the fork a little plusher than before which is both more conmfortable and confidence inspiring. Paired with the changes to the rear suspension, the Bronson has been transformed. It hasn't lost its signature responsiveness which means I can still place it where I want it - skills allowing. It's still not a downhill plow, but it just builds confidence on fast and steep descents, staying composed and grounded regardless of how rough or steep the trails get.
Out of the box, the Bronson has 160mm front travel and 150mm at the rear. With the modifications I've made, my Bronson now has 180mm and 160mm of front and rear suspension respectively. Thats close to a modern enduro bike. And I haven't had to spend post-Covid amounts of money on a new bike to get it.
You can find me in the bike shed coming up with my next crazy idea. Any spare 29" forks going?