Era (ancient Greek: Ἥρα, Hera ), the wife of Zeus in Greek mythology, the goddess of conjugal fidelity and considered the sovereign of Olympus.
An auspicious name for a faithful partner for your bike and the newborn of EXT.
"The difference between something good and something great is attention to detail."
We have always applied this philosophy to our suspension products. And it has become the driving force behind our new ERA fork. Developed on the trail over the last twelve months using knowledge gathered during the previous four decades, we have built a fork to offer riders a new level of performance in the MTB world.
It's time to enter a new ERA…
The new ERA in a few words
Suspension is but one part of a complex system, connected to the bike and directly to the rider. We took a new approach when designing the ERA fork, looking at dynamic geometry, bringing together the needs of the bike and rider to offer the best performance to both.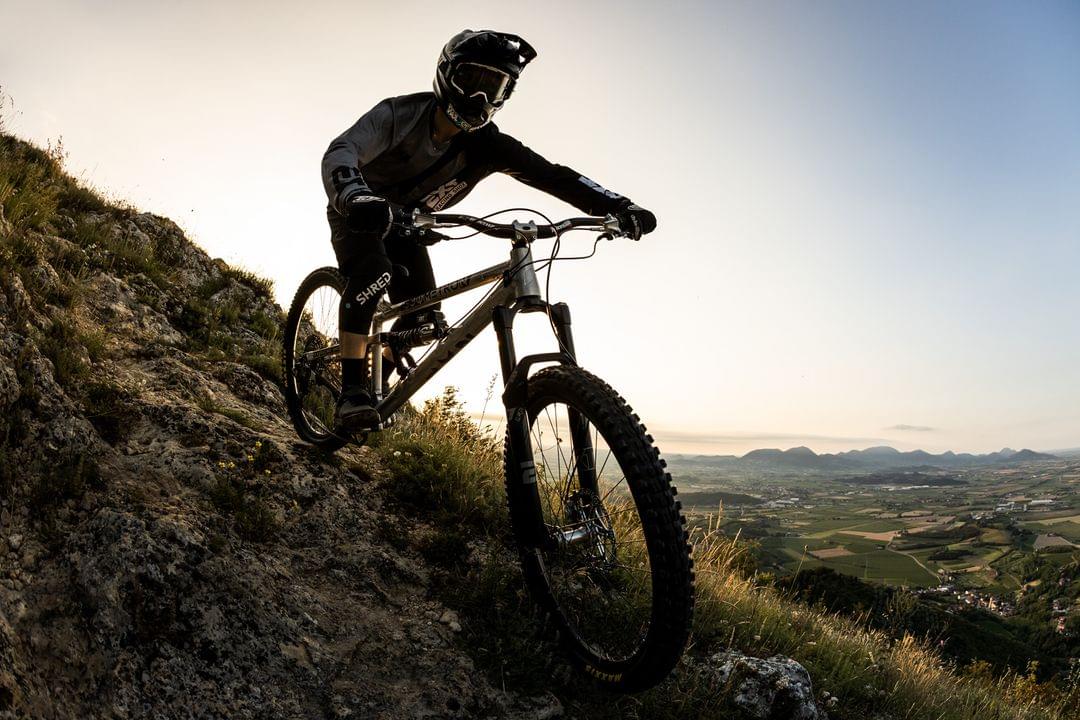 The ERA fork uses our HS3, hybrid air spring. Two positive air chambers work with one, high volume self-activating negative air chamber. Combined with a high-volume damper cartridge this system offers incredible tuning capability and sets a new level for support in a suspension fork.
HS 3 is focused on mid-stroke support around the dynamic sag position while offering amazing sensitivity and bottom-out protection.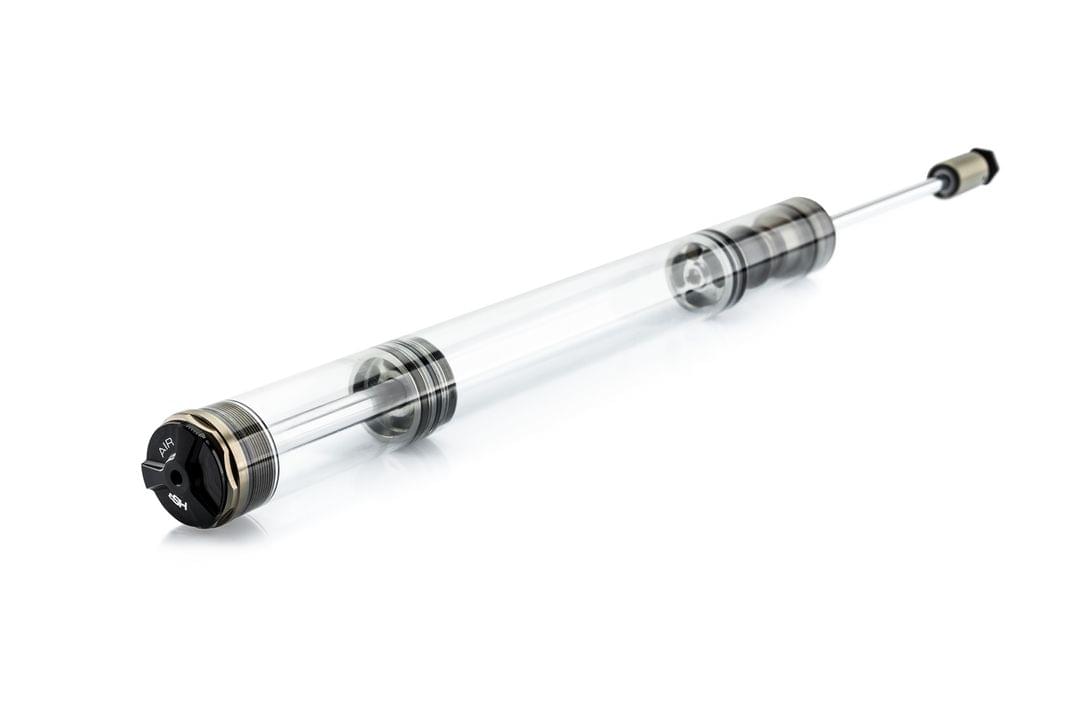 The air spring is complemented by an integrated coil spring to create a frictionless sliding movement and a highly responsive fork giving the best grip to the front tyre.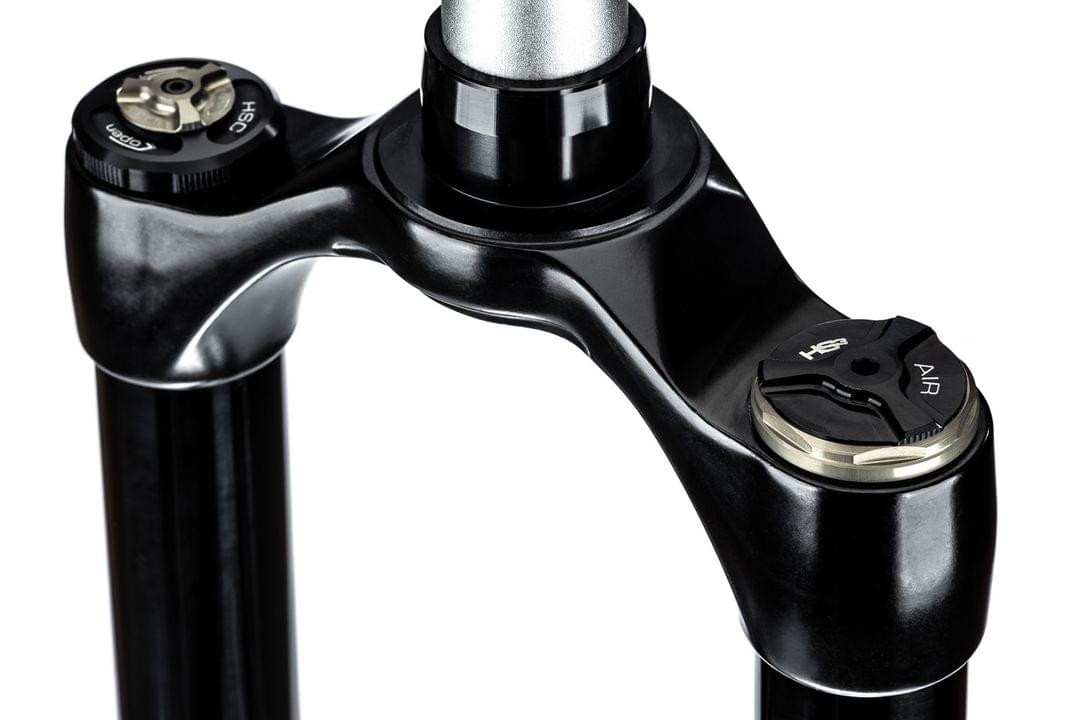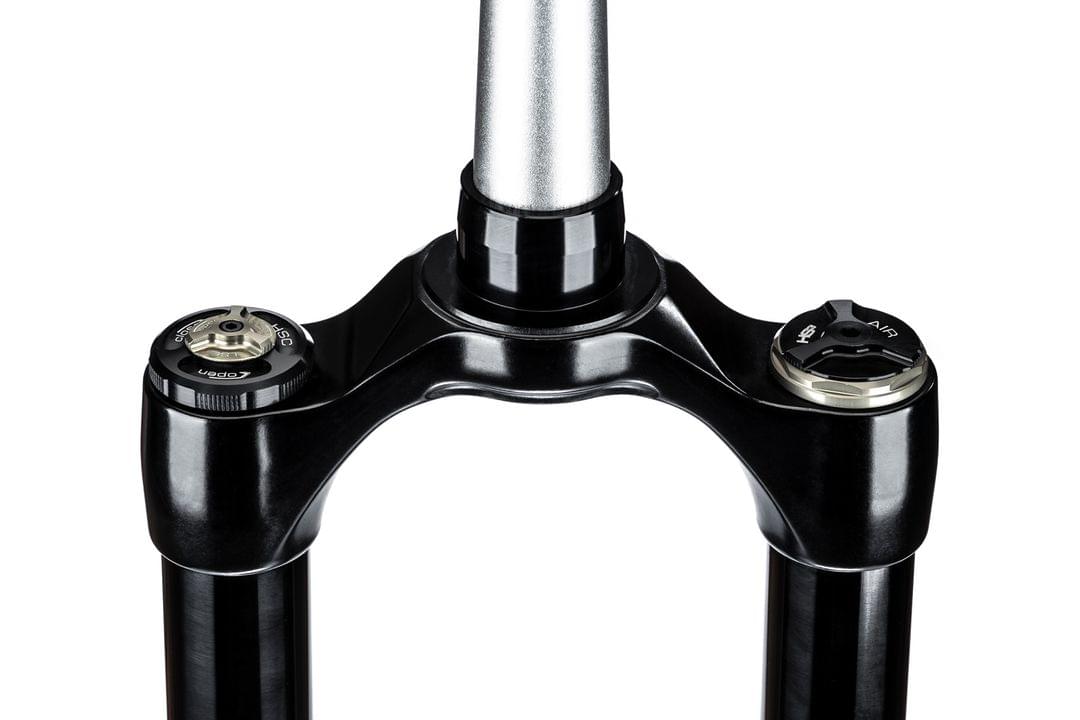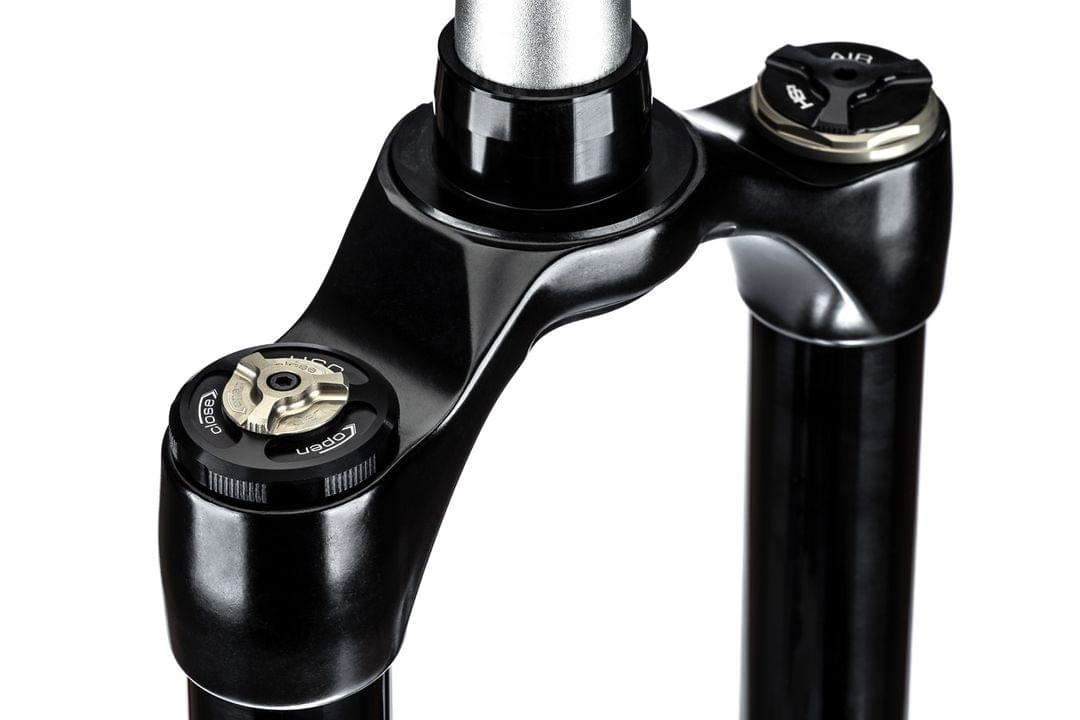 Support from the fork allows a bike to stay close to it's designed geometry, but for us, this wasn't enough. We've worked to create more precision with a new, patent-pending, crown design that increases stiffness in all load directions.
We looked at everything that needed a low friction solution to improve smoothness and sensitivity, that took us to our motorsport heritage: Developed in the World Rally Championship our new DU bushing material used in the magnesium lowers are sized to a defined tolerance for each fork assembly and works in harmony with our dedicated EXT oil and guarantees zero stiction and super low friction properties even when combined with high sideloads.
ERA adopts an innovative floating internal shaft guide in the damper cartridge uses a Superfinish shaft taking friction to the lowest possible level.
The EXT high-volume cartridge uses a high flow piston to generate control for your bike, the ERA is a performance upgrade for your bike and your riding. Like all EXT products, the ERA is a fully tunable fork with a useable damping range for each rider and riding style.
Our new cartridge also introduces a new Bump valve design (HDRV – High Dynamic Response Valve) with 2 different shim stacks for mid and high speed and an Internal Floating Piston guided piston combined with a bespoke thrust bearing to enhance fast response and guidance.
The ERA concept is not an extremely low weight fork but to be a no-compromise fork offering performance and better ride control.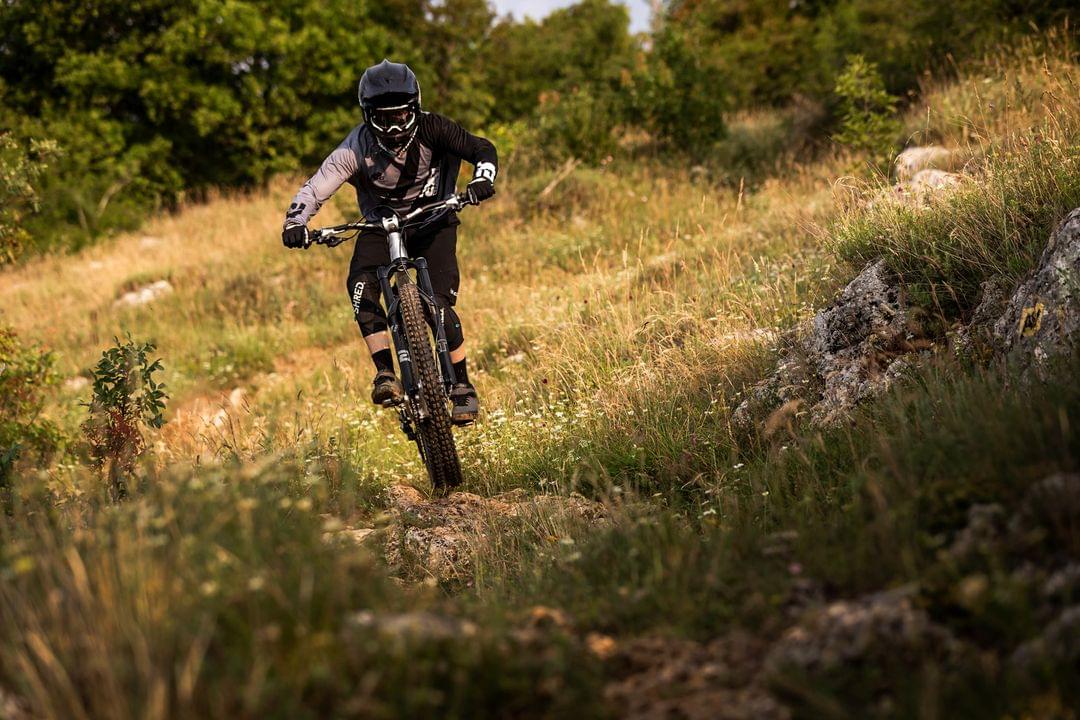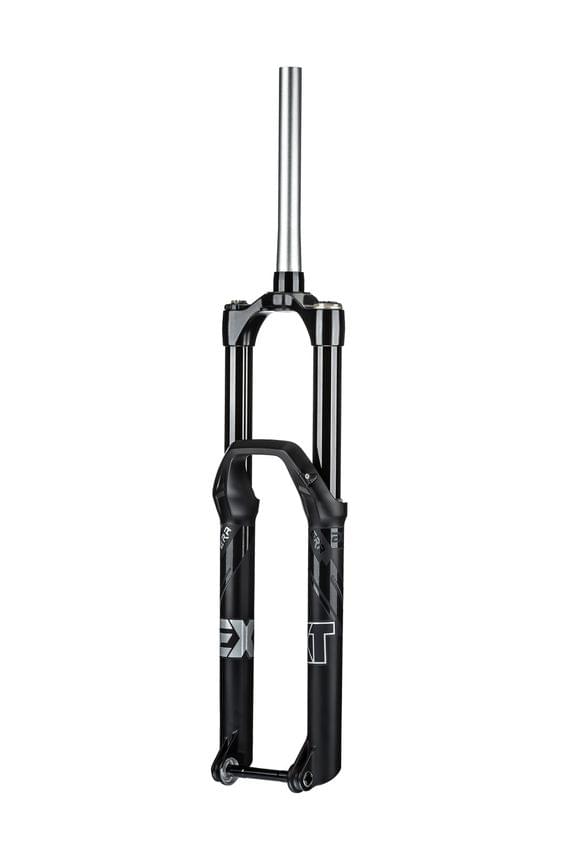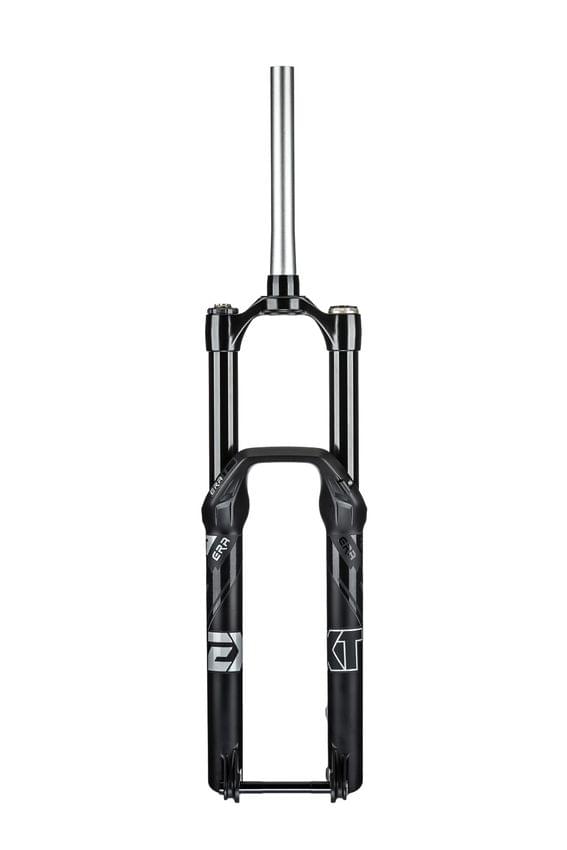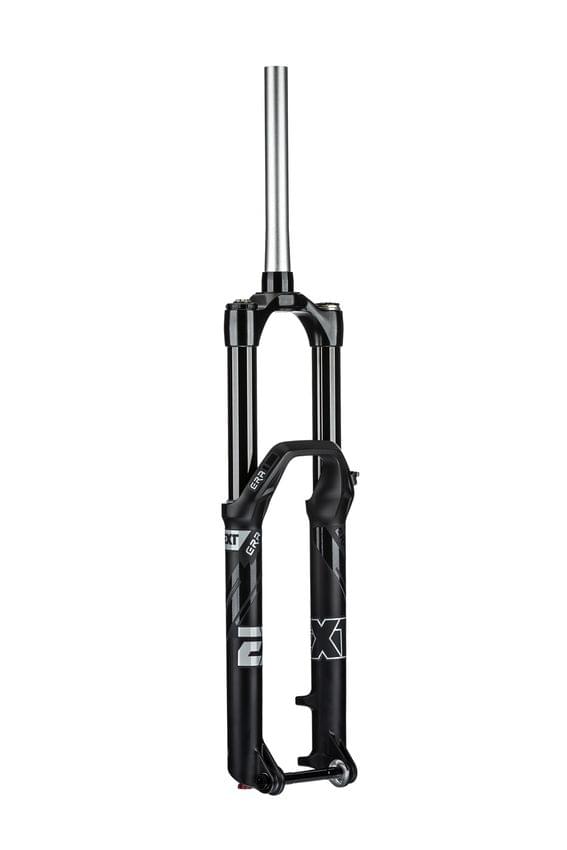 EXT features in a list
HS 3, Hybrid coil and air spring: with 2 adjustable positive air chambers and high volume negative chamber
ERA Coil Spring version will be available soon, stay tuned
New Crown design: forged 7050 T6 to substantially increase stiffness
High volume Cartridge with Ø22 mm piston, unique compression valve system and IFP reservoir piston
3 way adjustable, Low and High-speed Bump and Rebound a fully tunable fork like the EXT Shocks
Main strut low friction system: new DU bushing material from our WRC technology combined with dedicated EXT oil
Cartridge and Air spring low friction System: innovative floating shaft guide combined with the EXT proprietary coating and Superfinish chrome shaft.
Travel option: 140,150,160,170
Offset: 44 mm
Wheel size: 29"
Weight: 2280 g (29" 170 mm with uncut steer tube, axle and lube)
Price: EUR €1480+VAT - MSRPMore details to explain why and how we use EXT technologies on ERA fork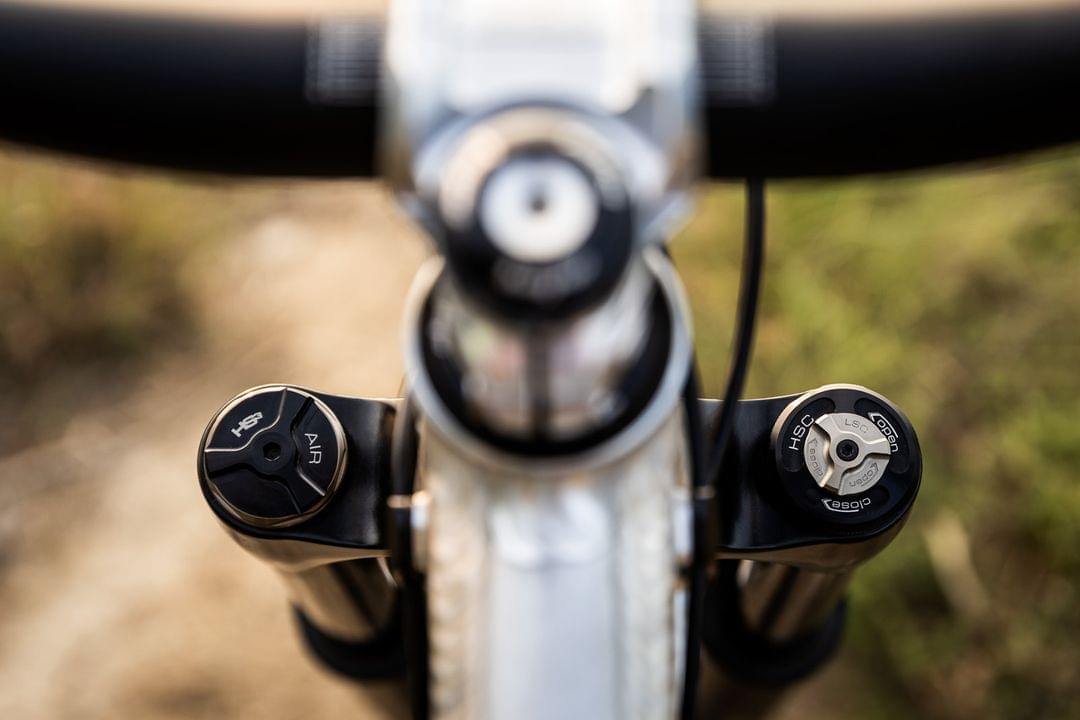 Support
Why are most riders looking for support from their fork? Support is gained by giving the rider a platform to stay within a defined travel range through varying trails and rider inputs.
This means the bike can stay within a more efficient head angle to the fork/frame system so absorbing obstacles induces smaller changes to the bike's geometry giving a more stable ride. Good support also means more available travel for compression and a better chance to avoid bottoming out. EXT developed the HS 3 (hybrid spring system) to achieve this goal adding other features to enhance further benefits.
A single positive chamber makes mid-stroke support not possible without the need for additional spacers which can then make the end stroke of a spring too stiff.
As shown in the picture below with the two positive chambers with proper dedicated air volume it is possible to create a more linear spring that gives you more support around dynamic sag.
EXT provides a pressure chart for each chamber to offer the best performance for each rider.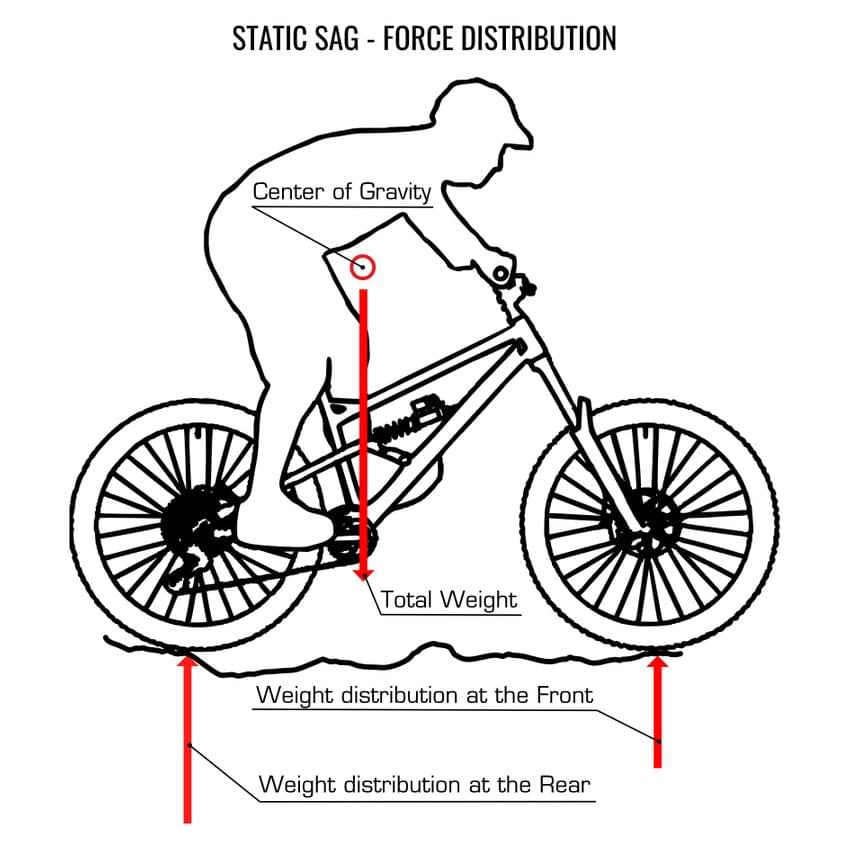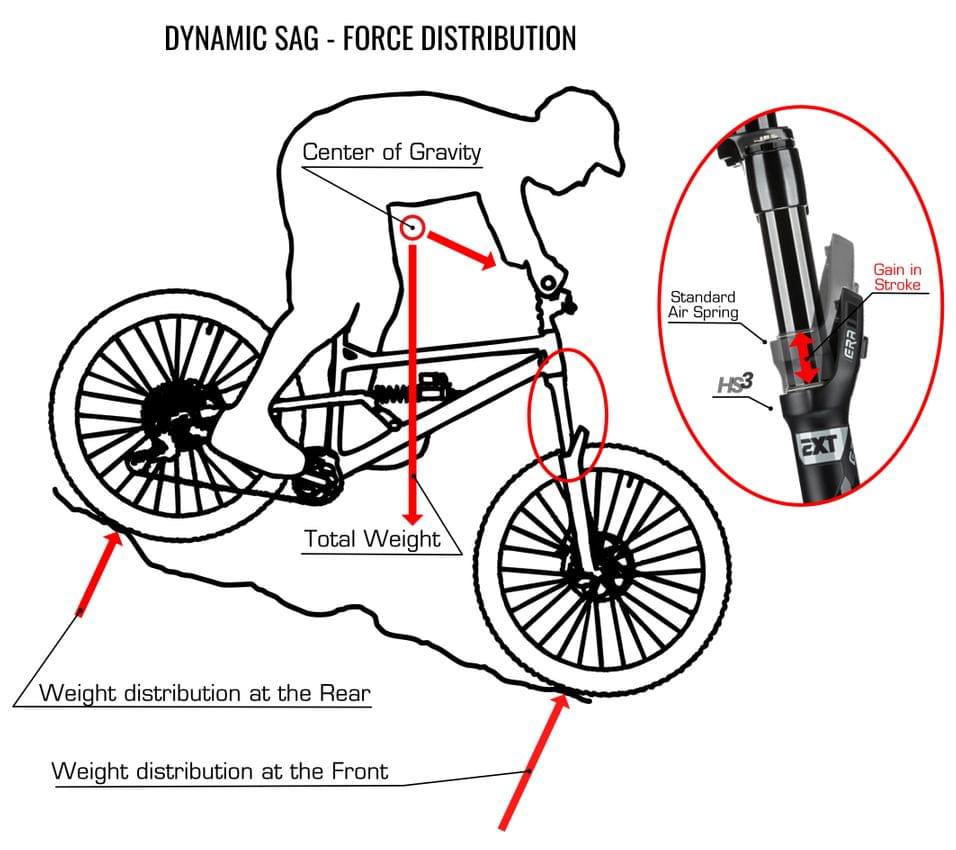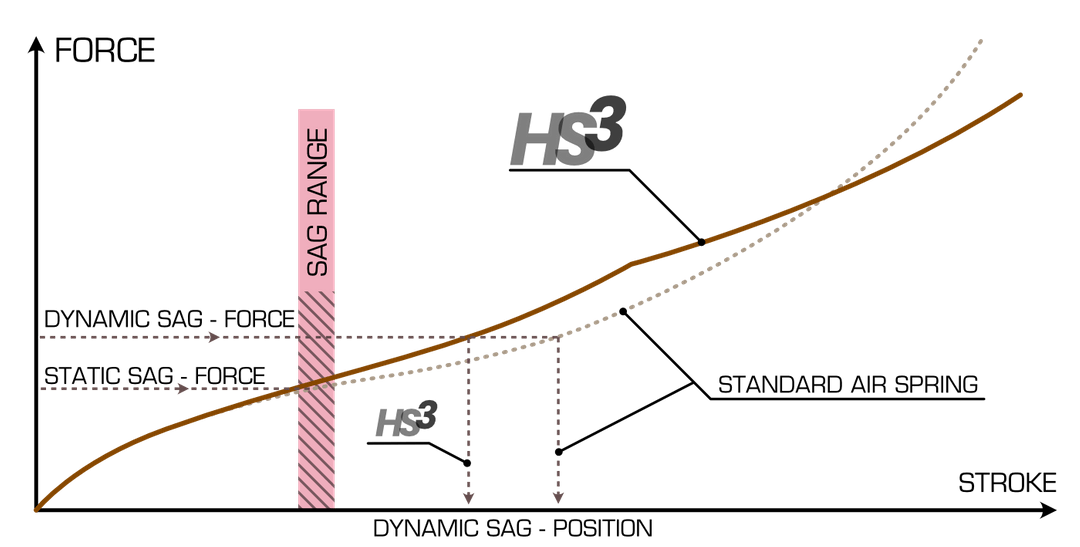 Stiffness
Why develop a new crown? Stiffness is another part of the equation in creating the best performing fork. The crown has the greatest influence on this equation, the force momentum generated by force on the wheel has the maximum value around the connection between the head tube and crown.
Increased stiffness in this area creates the greatest effect on reducing wheel deflection.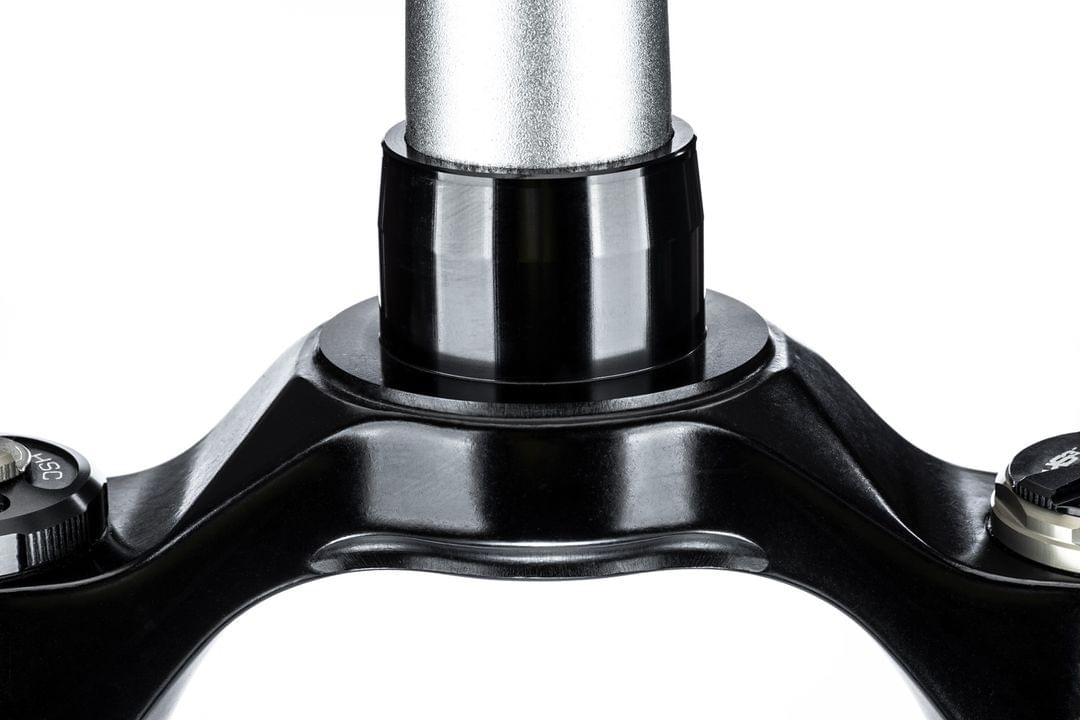 In conjunction with Mojo Rising we tested different crowns to create the perfect match for the ERA fork. Using a forged aluminium 7050 T6 crown reduced weight and gave increased frontal and lateral stiffness of around 20% over a standard crown.
To implement rigidity the magnesium lower has an asymmetric wall thickness for a frontal increased stiffness.
Damping
How to best control the behaviour of the fork to match your riding style? ERA is equipped with a high volume 3-way adjustable cartridge, with complete separation of the hydraulic circuit between Bump and Rebound like other EXT shock products.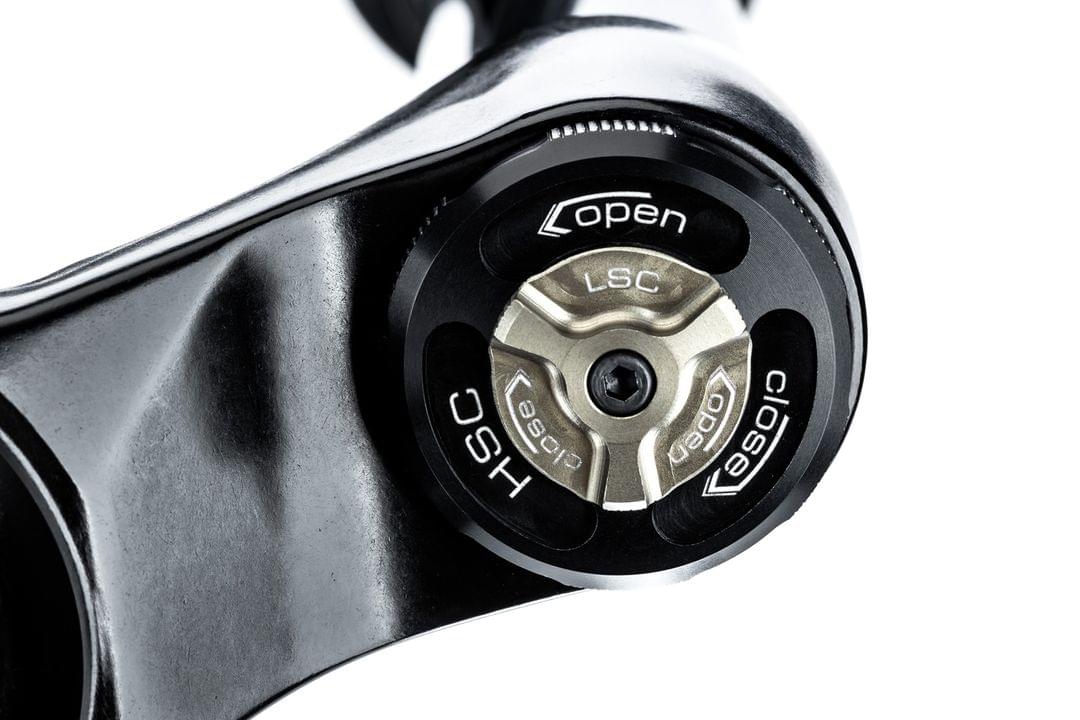 Each adjustment to the ERA fork cartridge will give riders a real-world change to damping offering a clear way to evaluate and adjust the fork based on conditions. Specifically, we adopted a unique high-speed compression adjuster (HDRV) that works with two shim stacks to create a different step of influence on those ones to keep fine sensibility and absorption of small bumps inputs and good protection on big impacts.

This valve is also equipped with our extreme volume, double guided reservoir piston to maximize valve response. IFP guidance is helped by our unique thrust bearing to avoid performance reducing flexing and therefore efficiency.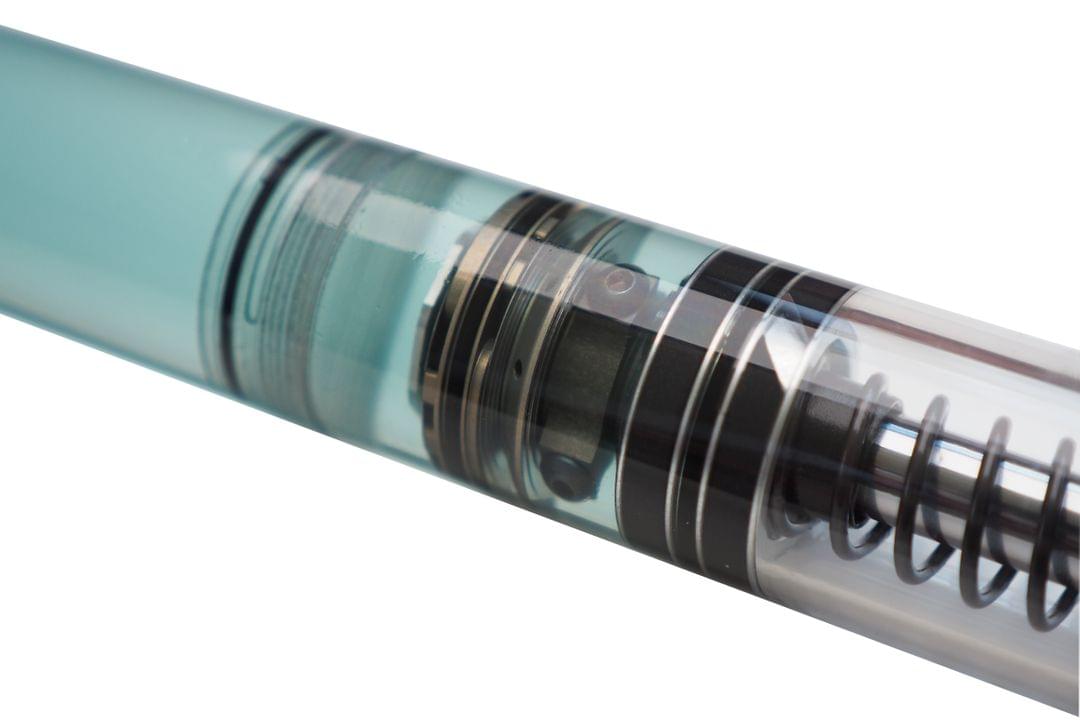 ERA is equipped with a really high flow piston with better control of dynamic response and allows a Ø22 mm cartridge completely avoiding cavitation which minimizes, to the lowest level possible, lag in dynamic oil flow and hysteresis.
The Ø22 mm piston gives you about 35% more oil volume compared to other cartridges. This means an increase in weight but increased consistency of the damper during long descents.
Friction
The fork's behaviour is not just influenced by damping and spring performance but also by friction and stiction. They both remain the enemy of comfort, precision, smoothness and sensitivity. To avoid these issues EXT substantially decreased friction in every load of the fork.
The ERA is equipped with a new DU bushing guide material and design, developed during our experience in the World Rally Championship and combined with our dedicated oil we guarantee zero stiction and super low friction even when the fork is loaded sideways.
EXT is careful when assembling the ERA to match each sized Lower with defined Stanchion for perfect fitting.
To complete the package, we worked with RacingBros to build a dedicated wiper seal that keeps the ERA moving smoothly.
Reducing internal friction means more grip between the tyre and ground, improved further by an innovative floating radial damper shaft guide that utilizes aeronautical carbon charged PEEK material.
Combined with the proprietary cartridge coating and EXT Superfinish shaft, friction is reduced in all load conditions.
Our Air Spring HS 3 also uses dedicated EXT grease to reduce friction in low and high-velocity movements and an integrated coil spring inside to completely avoid the feeling of stiction giving more accurate feedback through the tyre. With the same objective, HS 3 adopts a Superfinish Steel Chromed shaft that reduces by 5 times surface roughness to avoid all lack of response caused by friction.
Conclusion
Our goal was always to make the most sophisticated MTB fork, featuring unparalleled levels of grip, traction and control. Whether you are a pro or an enthusiast weekend rider the ERA is now ready to give you a step up for your bike and your riding style. We are confident you are going to love it.
EXT has learned from years of damper development and successful suspension in racing its STORIA and now is time for a new ERA.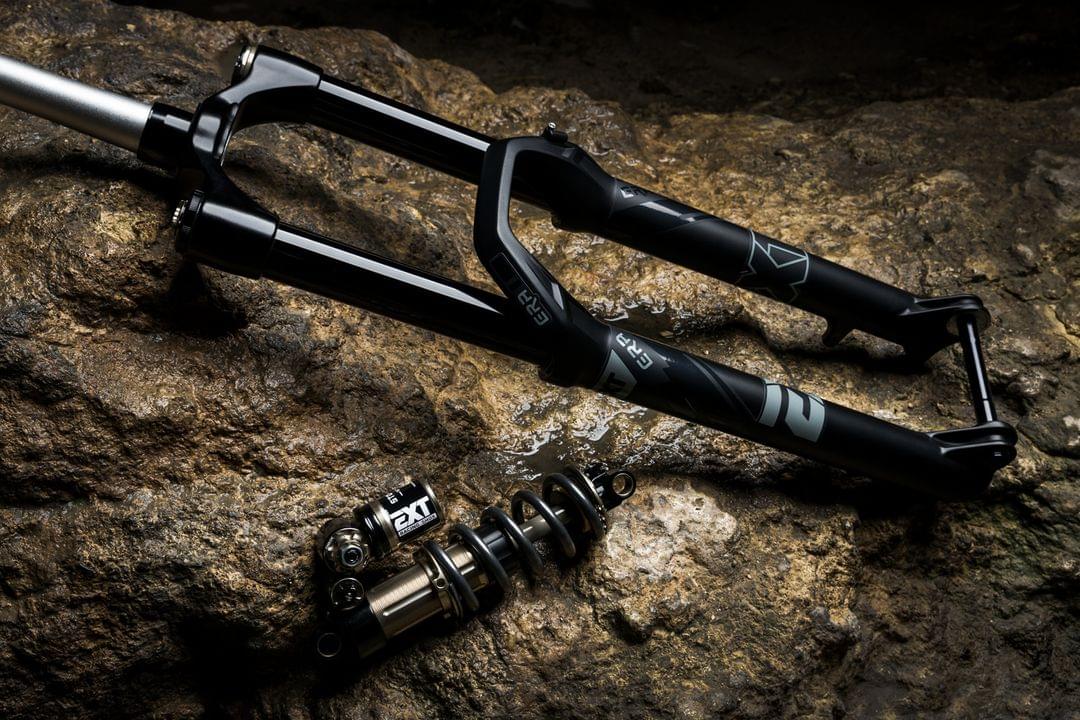 Your podium is our Goal
Credits:
Photos by Alex Luise
Website: alexluise.com
Instagram: @alexluise
Athlete: Alan Beggin
Instagram: @alanbeggin
Extreme Racing Shox
Website: extremeshox.com
Instagram: @extremeshox
Facebook: Extreme Racing Shox