Once you start experimenting…
If you read the previous installment in my experiments in suspension, you'll be aware that I swapped my mountain bike rear shock linkage for an aftermarket replacement by Cascade Components. Predominantly for the updated leverage curve and the increase in rear travel, up to 160mm from the stock 150mm.
Santa Cruz run a shock tunnel on most if not all of their current full suspension mountain bike models. But the third generation Bronson was one of the first to add this tunnel. And while on later bikes they've added more clearance, on this model the tunnel is quite cramped. It limits the choice of shocks that will physically fit. Models like the Float X2 or the Cane Creek DB Air will not fit due to the location of their adjusters. Nor is there enough clearance for the spring on most coil shocks.
After a session of rum browsing, I came across Cascade Component. They make a variety of machined aftermarket components including shock linkages for different bikes. The design of their replacement linkage actually increases the amount of space available. Not a dramatic increase, and not one that will allow one of the aforementioned air shocks to fit. But there is now just enough room to fit a spring…
Enter Richie of RH Suspension. Richie had been helping me out in my experiments with his suspension knowledge and advise. He'd performed the air shaft swap and service on my forks. And I'd held him on the phone for a not insignificant amount of time with my questions. When I mentioned the advertised benefits of the Cascade Components linkage, Richie immediately picked up on the clearance improvement. Had I considered trying a coil? Well, no, not really. I'd kind of ruled it out due to the restrictions and also because according to Santa Cruz, the Bronson's leverage ratio was not really suited to a coil… except the new linkage changed that leverage ratio.
Richie checked his stash and, yes, he had a test EXT Storia V3 available together with a superlight spring. He had them out in the post to me within days to test for a couple of weeks.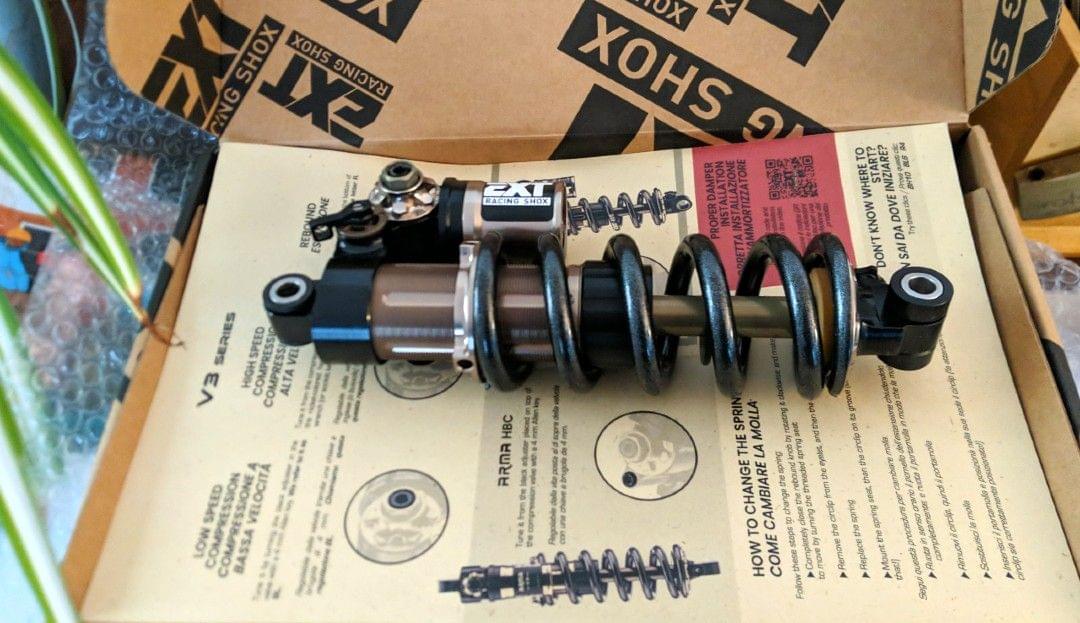 Now, Cascade Components added extra clearance with their linkage. But by no means does that mean it was an easy fit. It took a fair bit of trying different angles and dismantling shock and rear triangle mounts to get the EXT to fit through that shock tunnel. But, where there is a will there is a way, and after some mild bleeping, head scratching and several skinned knuckles, I had a coil shock equiped Santa Cruz Bronson.
I'm no suspension guru. So I literally kept the settings as Richie sent them together with the only spring he head available, a 550lb version, which on the books should have been a little heavy for me.
I got to put this suspension combo through its paces on a very damp December ride on my local trails with the Tralee Bay MTB crew. As always in a group, following other riders meant I gave this shock much more of a workout than I might have done if riding on my own. We rode some of the steepest trails at speed. And that coil shock performed like a dream throughout. I felt as if my rear whel was glued to the trail even on the roughest and steepest sections. Mid-winter the local trails are more than a little lacking in traction and would usually have me riding much more cautiously. Yet with the EXT it barely phased me. Letting the rear track over the rough stuff and slide through the corners felt natural.
The combination of the Cascade Components rear linkage and EXT Storia transformed my bike into a descending beast closer to a Nomad or similar bike than the trail slash enduro bike the Bronson is out of the box. I love how fit and forget a coil shock like the EXT is. Once it was installed I literally didnt think about it again - unlike an air shock that at least needs its pressure adjusting periodically. I wish I'd been able to keep the shock for longer. And given the choice I would swap my air shock for an EXT in a heartbeat.
I wonder how a coil fork would ride…?