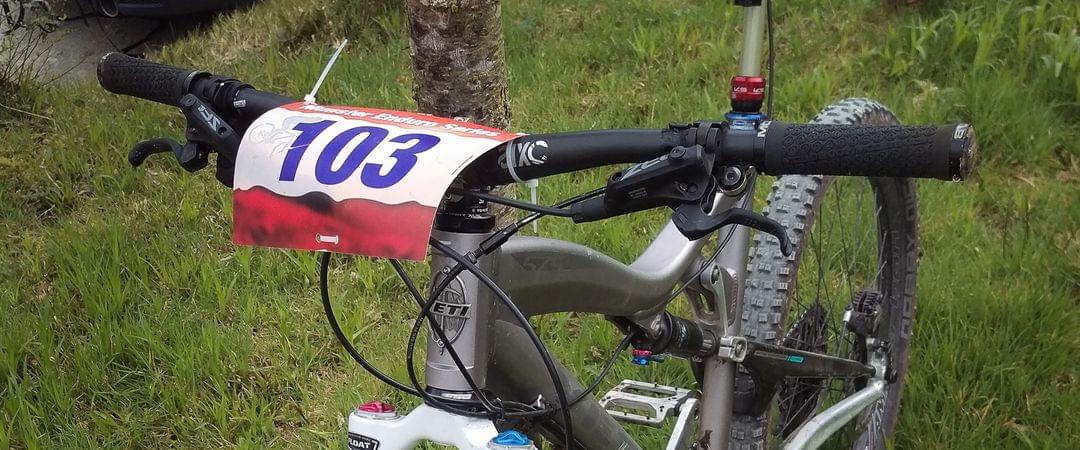 Even though I've been mountain biking for many years, I have never raced. There are many reasons for this omission in my biking history. Cross country racing doesn't appeal appeal to me - too much Lycra, and racing uphill is never going to be on my to do list. Downhill racing, while great to watch, is far too gnarly for me. I like flowy trails, single track where possible, mostly downhill with a good mix of speed an technical features like turns, rollers, jumps and drops. This is what I ride for fun. This is also what Enduro races are billed as - timed downhill stages with untimed transitions, technically some where in between cross country and downhill races.
When the Cube Munster Enduro series was announced late last year with the stated goal of introducing newcomers of varying skill levels to the gravity enduro racing format, my curiosity was peaked. With round three being held at the Ballyhoura trail centre only an hour away from where I live, it seemed the perfect opportunity to try my hand at racing.
Having cycled on the Ballyhoura trails previously I knew what to expect of the transitions at least. The stages were all planned within the green loop area, so there would be no very long climbs. Knowing this, I didn't focus excessively on fitness training in my preparation. Instead, in addition to a mountain bike skills training day, I tried to repeat the more technical sections on my local trails as often as possible in the run up to April the 24th in an attempt to hone my skills and build my confidence.
On Saturday evening, the day before the race, I checked over my bike to make sure everything was attached correctly and that my tyre pressures were OK. I filled my backpack with my emergency tools - spare tube, tyre levers, multitool and some cable ties - and a good supply of snacks to try and keep my energy levels up during the day. I generally use a hydration bladder and I filled it to it's maximum two litre capacity for the race.
After a good nights sleep, it was up early on Sunday to a hearty porridge breakfast before loading  my bike on the car and double checking I had all my gear; helmet, gloves, bike shoes etc.
An hours drive later I arrived at the Ballyhoura trail head car park and paid my five euro parking fee to the attendants on hand. Even though I was almost an hour early for race registration, the car park was already close to full and people were everywhere unloading bikes, checking tyres pressures and changing into biking clothes. After doing all those things myself and downing my pre-race banana, I joined the queue of riders waiting to get their times no chips and race numbers.
After cable-tieing my race number to the handle bars, I set off up the transition from the trail head to the first stage. I decided to start with stage 1, not just because it was the first stage, but it was also the shortest transition to start with and seemed like a good warmup before trying the more distant stages.
nothing ever looks as steep on video as it does in real life
Stage 1 was good fun. Fast and twisty forest sections, mixed with parts over trail centre  trails. Unfortunately, as the race was being run blind, without any practice I made a few mistakes, getting caught out by some of the sharp turns on the soft loamy forest ground. But winning was never the aim, and I thoroughly enjoyed my first run of the day.
Next up was a stiff climb to the start of stage two, the furthest from the race start. On a bit of a high after stage one, I set off at a good pace down the trail. The lack of practice soon caught me out again though, as the top section contained two relatively steep drops that psyched me out and I embarrassingly had to walk down. Looking back at them from the bottom they were certainly rideable and only just outside my comfort zone, but things always look worse from the top.
This is lesson one I learned from my first racing experience: Prior to the race the organisers published a few preview videos on social media. I watched them repeatedly to try and get even a small idea of what to expect. Both of the drops I mentioned were in those videos. But, and this is the point, nothing ever looks as steep on video as it does in real life.

The rest of stage two went swimmingly. Not aiming for a race win, I wasn't going flat out at any stage, but I certainly got up to good speed on some of the straighter sections, even through the muddy parts.
Stage three was the eye opener of the day. This stage was not the longest, but it was the highest. And, as the saying goes, what goes up must come down, the trail dropped very sharply through the forest back down to the start of the first stage. The data on Strava shows that the gradient on this stage varied between the mid twenties to 41 degrees. Combined with trees, muddy soft forest floors and the speed inherent to such steep descents this did not make for my best stage. It very quickly highlighted the weak points in my biking skills.
As the third stage finished very close to the start of stage one, rather than stopping for lunch, I decided to have my second attempt - the rules allows every rider to repeat each stage twice, with their fastest time on each counting. Repeating this trail for the second time helped a bit and I managed to improve by seven seconds. But, having had a good portion of the 130 or so registered competitors pass through the same section of forest over the course of the morning, the stage was a lot muddier than earlier in the day and my second run was still far from faultless.
After my lunch break, lesson two made itself obvious: it is far more motivating riding with friends or in a group than it is by yourself. Even though I was entitled to another run on both the second and third stages, the thought of climbing back up to both of those trumped my desire to ride them again.
The timing sheet I got on handing back my race number and the timing chip shows my stage times. It also shows my very flattering provisional standings. In the final standings I finished 42nd. To be honest, I would have hoped to place higher, but that was probably a little unrealistic. Pushing myself on trails outside of my comfort zone did do wonders for my confidence, however, as I noticed on my local trails after the race. Most important, the day was great fun and I would definitely do it again. Although next time I will try to bring some friends.