After introducing Kolossos last year for road and gravel bikes, Kogel decided that it was about time they gave some love to cross country, trail and enduro riders.
Built for Mountain Biking
The Kolossos for Sram Eagle is our burliest oversized derailleur cage to date. We took what we learned from the drop-bar bikes and engineered an oversized derailleur cage specifically for mountain bikes.
Mountain bike drivetrains cause higher friction than road bikes due to smaller chainrings, use of 10 tooth cogs on the cassette and the increased chain tension of clutch derailleurs.
Further combating efficiency and rolling resistance are those larger knobbier tires that don't roll smoothly like a svelte road tire.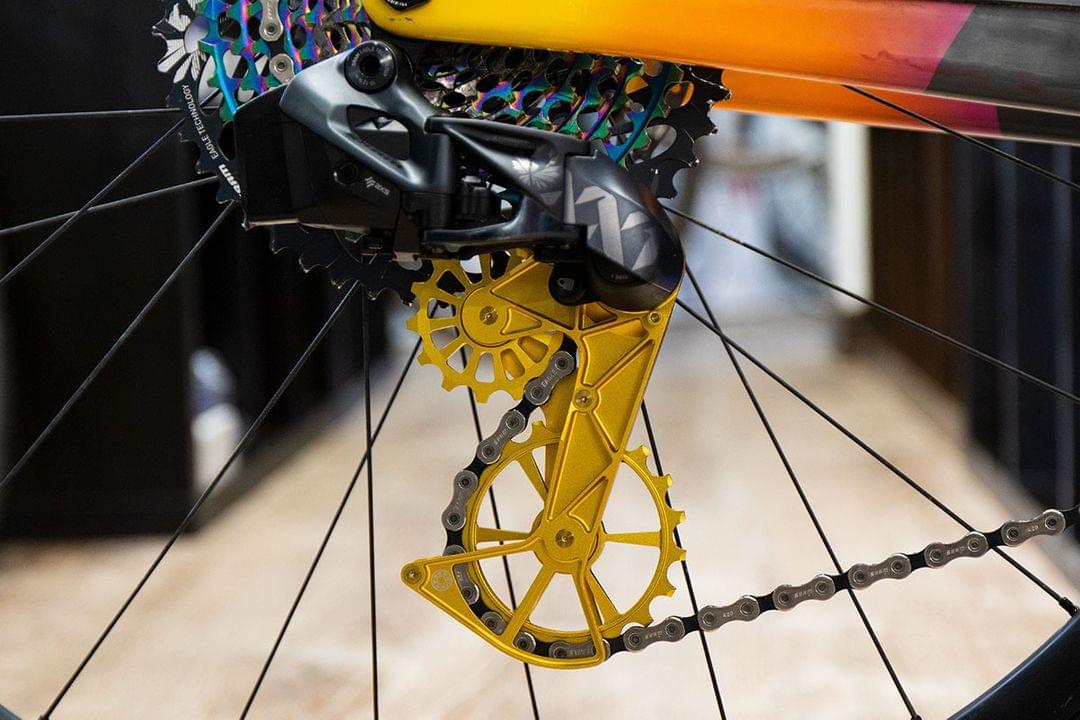 Engineered for performance
You get reduced friction and stiff, bordering on overbuilt, cages that keep chains running smoothly and your derailleur shifting accurately.
Kogel's Kolossos for Sram Eagle also prioritizes ground clearance and performance keeping overall cage length within 2mm of the non-oversized cage at virtually the same weight.
Your Kolossos also ships with our road seals for best efficiency but can be easily swapped to cross seals for wet riding environments.
Derailleur Fitment
This Kolossos only fits Sram mechanical and AXS versions of Sram XX1 Eagle, X01 Eagle, and GX Eagle rear derailleurs. The product does not fit non-Eagle rear derailleurs.
Make it Yours
Best of all, you can customize your Kolossos Eagle to match your style with our custom configurator. Kolossos for Sram Eagle is available in three colours: black, Midas gold and fire-engine red. Or you can show your creative side in the customizer for that perfect match to your bike and kit.