What do you do in the off-season when there are no UCI Downhill or EWS races to follow? You're on your turbo trainer looking at a wall, or worse still sat on the couch flicking TV channels watching it rain outside. Do not fear, you need not die of boredom, Silly Season is Here!
Riders' contracts tend to expire in December, which makes the winter season is a fast-paced action-packed couple of months filled with rumours of riders leaving teams and sponsors, new teams forming and even discipline changes. Personally, I find it amusing to follow riders and teams on their respective social media channels and try to work out what is going on. As it is now past the New Year quite a few rumours have already been confirmed, especially when it comes to people leaving their 2017 teams. However, in a lot of cases, where those riders are going to be come opening race day in 2018 is still unclear.
After several days worth of social media, news website and forum trawling I've compiled a list of the biggest moves, the most interesting rumours and, although admittedly still somewhat hazy, a list of who is doing what with whom and where in the Enduro World Series and UCI Down Hill. So if this sort of speculation tickles you, read on.
First, possibly one of the most speculated on and talked about moves in Down Hill, Danny Hart has left MS Mondraker. This had been rumoured for quite a while and was confirmed on the team's Instagram page at the end of December. But it was unclear who Danny would be racing for in 2018. There was plenty of speculation, with the most popular being confirmed on Friday: Danny Hart this coming season will be back on a Saracen bike having rejoined his 2015 UK team Madison Saracen Factory Team. He is replacing Marc Beaumont who is leaving the team after two years having come back from retirement and a stint presenting on the GMBN YouTube channel. There is no definitive news about where Marc is going, but speculation is that Marc will be retiring for good this time. MS Mondraker have also lost Markus Pekoll who has retired after last season. And Matt Simmonds could be leaving Saracen, potentially leaving another free spot on that team.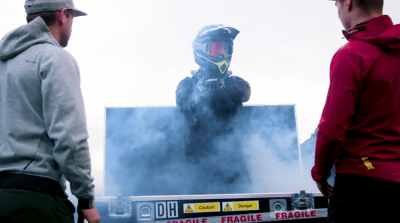 Another big story is the shake-up at GT Factory Racing with at least four riders being confirmed as leaving the team. Jackson Frew, Sam Dale and Brook McDonald have all gone from the Down Hill team and Anneke Beerten is out of the GT EWS team. I couldn't find any news on what either Jackson Frew or Sam Dale are going to do this year but there is a lot of speculation that Brook McDonald might be taking Danny Hart's slot at Mondraker although there has been no confirmation yet of that move.
UPDATE: Mondraker announced their rider lineup today, the 10th of January. Laurie Greenland stays, and is joined by Mike Jones and, as speculated, Brook MacDonald.
On the Enduro World Series front things have not been quiet either. Yeti Fox confirmed that Richie Rude will be staying with them but Cody Kelley has left after two years on the team. Following that news there were all sorts of theories online about where he might be going. But in the last few days, Cody has started posting some teaser photos on his Instagram account featuring the EWS logo and small glimpses of a new bike. Interestingly enough, these same pictures have also been showing up on Anneke Beerten's Instagram strongly suggesting both those riders will be on the same team for the coming year. Even more intriguingly, at about the same time the Alchemy Bicycle Company, a small North American boutique bike manufacturer, posted a picture of the EWS logo on their Instagram feed with the message 'Big things are coming in 2018' leading to the belief that they will be running or sponsoring a new team in that series this year. And to tie all these pieces together a bit more, both Cody and Anneke followed up the EWS logo with further posts where parts of a new bike are being revealed, culminating with a post by Anneke announcing that both her and Cody will be racing the full EWS with Alchemy.
Some confirmed departures next: Ruaridh Cunningham has gone from the Canyon Factory DH Team but with no news as to where he will end up. There have been suggestions that he might go to Trek who have let Graeme Mudd go from their downhill team. Trek have also lost Lewis Buchanan from their Enduro team, again with no firm news where he is going but plenty of speculation, among which one of the more interesting suggestions was a move to Yeti to fill the spot vacated by Cody Kelley.
UPDATE: Read further down to see where Lew Buchanan has ended up. And Yeti have announced their line up for the coming year with no changes and no one filling Kelley's place. This leaves Richie Rude as the only rider on the Factory Team, although he is likely to be joined at the North American rounds, at least, by the National team riders.
The Chain Reaction Mavic team confirmed that they would be keeping three of their four riders from the 2017 team. The team also announced that they would not be racing the UCI Downhill World Cup this year but will be focusing on the Enduro World Series. The rider to leave is Mike Jones who will continue to race downhill. He is being replaced by Northern Irish Nukeproof rider Kelan Grant.
Cube Action Team have lost their Under 21 EWS rider Daniel Schemmel and Greg Williamson from the downhill team. And Nico Lau hs announced that he will be stayong on as a brand ambassador but will only be racing a handful of EWS rounds, wether that opens up a spot on the race team is a question mark. It has been suggested Williamson might go to Saracen. Another intriguing theory that I came across on the Internet was a tie with Taylor Verno (who has left the Unior Tools team), UNNO bikes and a possible new downhill team from them. Whether that is wishful thinking on some one's part or has some foundation on truth I haven't been able to figure out, yet.
George Brannigan is another rider on the move, he has left the Commencal Val Nord downhill team, and subsequently, GT released an announcement welcoming George, together with Noga Korem and Joey Foresta, and confirming that Wyn Masters and Martin Maes will be staying with the team for 2018. There have been some suggestions that Amaury Pierron might be taking Brannigan's place at Commencal.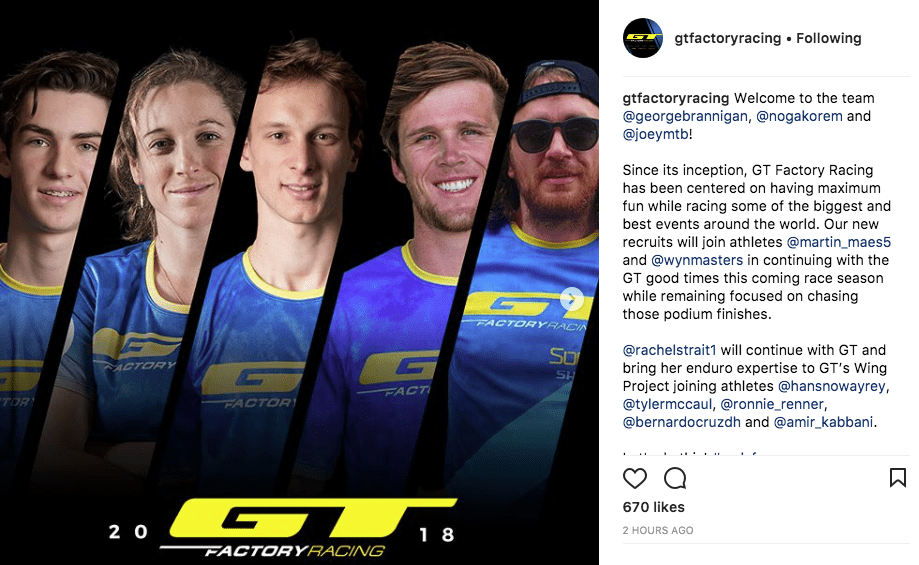 The Devinci team have also had some team changes with Theo Galy going from their Enduro team. That spot has been quickly filled by Keegan Wright who is said to be racing in both the Enduro series and the UCI Downhill this year.
There was some chatter about Jesse Melamed being on the move but that proved to be nothing but rumour as it has been confirmed that he will be staying with Rocky Mountain. The team will be changing name, however, this year, as Urge have departed as their sponsor. There has been a change in this teams rider line-up though, as Florian Nicolai is leaving with a move to Canyon seeming to be a possibility.
If Wyn Masters' future has been speculated on, his brother Ed Masters is definitely on the move away from the Bergamont Factory Team to Pivot Factory Racing.
On the Radon Factory Team, Manon Carpenter is retiring and it looks like Johannes Fischbach might be moving to Cube?
There are a few teams with very big shake-ups for the coming season. I already mentioned GT. Intense Factory Racing is another with two of their riders apparently off. Nikolas Nestoroff is definitely gone having joined KHS Bicycles. Another is the Sunn EWS team who seem to have lost all of their three riders. Thomas Lapeyrie is on the newly formed Orbea ENVE EWS team (ENVE having cut ties with Santa Cruz), together with Becky Cook, Gabriel Torralba and Javier San Roman. It's not clear where either Isabeau Courdurier or Killian Bron are going. I doubt Isabeau Courdurier won't be snatched by a team following her second place overall in last year's Enduro World Series.
Another big finisher in the past Enduro season who appears to be on the move is Anita Gehrig. In fact, Ibis Enduro Race Team would seem to have lost both the Gehrig sisters as well as Zakarias Blom Johansen (or Zakka). It has been speculated that Zakka could be wearing a Cube Action Team jersey this year based on a possible appearance in Cube's Christmas photos. And Anita and Carolin Gehrig may have a tie with Norco, maybe not as a factory team but possibly as a bike supplier.
UPDATE: Zakarias Johansson was today (12th of January) officially welcomed to the Cube Action Team on their Instagram page.
UPDATE 16/01: The Gehrig sisters today revealed that they would be racing the 2018 EWS as their own team (Norco Twins Racing) and, as speculated, on Norco supplied bikes. Meanwhile, back at Ibis, they were showing off their new rider line up for the upcoming season; Robin Wallner and Dillon Santos remain from last year's team with Bex Baraona, Julie Duvert and Lewis Buchanan joining.
As you can see, there are still a lot of blanks left to be filled in. It will be an interesting few weeks to come trying to figure out who ends up where. Particularly of interest I think are some of the bigger names that have been confirmed as leaving their teams but with no known end point yet, riders like Brook McDonald and Ruaridh Cunningham. Will Wyn Masters move, both team and discipline, or is that just idle speculation? (Turns out that was idle speculation) There has been at least one new team revealed already in Orbea ENVE, but will we see more; an UNNO downhill team maybe? And I'm curious to see if any of the bigger teams will sign some of the talent coming up from the junior categories - like Killian Callaghan 2017 Under 21 EWS champion? As more is revealed I will keep updating this article. If any of you have heard any rumours that haven't been covered, please leave a comment below, the rest of us would love to know.