Have you encountered the dreaded 'bonk'?
You're halfway around an epic loop that you've been planning for days, weeks or months and all of sudden you hit a wall. Your legs feel like lead. And the thought of having to complete the route before you can stop is daunting.
The most likely cause is a lack of food. It's recommended that on rides over 2 hours, you eat something every 30 - 60 minutes.
What do you bring with you on the bike? People often use sweets or chocolate bars. But the high sugar content in those, while making them great for a quick boost at the very end of your ride, is not ideal for lasting energy. I've personally used store-bought granola bars which I've found better, especially if they have a mix of cereals, nuts or dried fruits and maybe some chocolate to help make them more palatable. These can still contain a lot of sugar, however.
I recently received several bars from local Kerry company Origin Clean Bars. Their bars are made from 100% natural ingredients, so no mystery items in the ingredient list or E-numbered additives.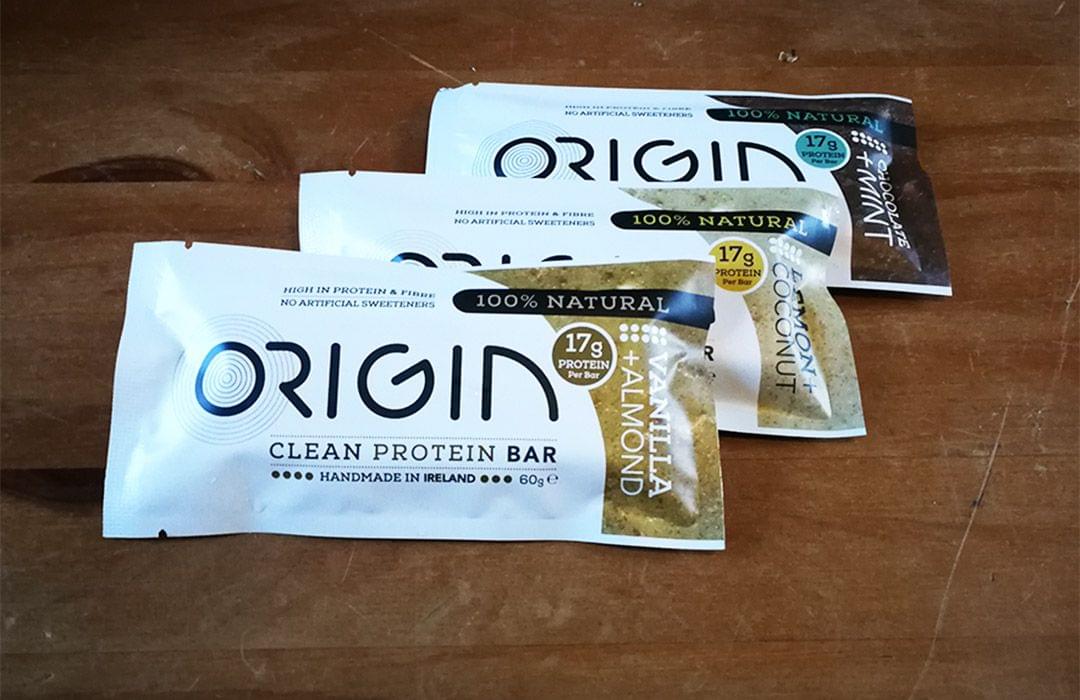 While Origin has recently added seven new flavours to their range, I tried the original three options: lemon & coconut, chocolate mint and vanilla & almond.
I've had the chance to try these protein bars post-workout, on long bike rides and as an afternoon snack. They work for all of these occasions. With 17 grams of protein per bar, they make a great snack after exercise. And with over 200 calories they're great for filling you up in the afternoon and, most importantly, for keeping you fueled on long days out on your bike.
To eat all the flavours are pleasant. Because of the natural ingredients, they don't have any chemically after tastes or that overly sugary burn on your tongue that you can get from other snacks. My personal favourite is the vanilla & almond which has whole almonds in it. I found this a little easier to eat than the somewhat denser textures of the other flavours. But when you're hungry halfway up a mountain, all of them taste great. The lemon and coconut bar has a nice fresh flavour. And, while chocolate and mint are not one of my favourite flavour combinations in most things, I enjoyed the Origin bars in this flavour too.
I prefer knowing what I'm eating and these Origin Clean Protein Bars are all natural, with good nutritional values. And they taste good too. I now tend to carry a couple in my pockets on every ride.