Being close to nature is one of the many benefits to mountain biking. However, sometimes nature can get a little too close. Stones, mud or sand in your eyes is not fun at the best of times. And if this occurs when you are mid-descent it could be downright dangerous.
In the age of Enduro, some people wear goggles full time, regardless of what trails they are riding or what helmet they're wearing. However, goggles are not ideal if a lot of uphill riding is on the menu and not everyone finds goggles comfortable to wear for extended rides.
Personally, as a contact lens wearer which makes dirt in the eye even more aggravating, riding without any eye protection is a bit of Russian roulette, especially on wet and muddy days. On those days where I am blessed with the use of an uplift, I will happily wear goggles in combination with my full face helmet. I can remove them in the uplift vehicle, and I don't experience the level of exertion associated with climbing long hills, which means that goggles steaming up is a non-issue.
However, on my more regular local trail rides, I don't have the option of vehicular assistance to the top. My own legs have to do the work and the resulting rise in body temperature means that goggles soon become impractical. But those same trails are also some of the most likely to force me to stop and have to rinse my eyes out.
I've previously experimented with several pairs of cycling glasses purchased from local bike shops. Unfortunately, they are almost all aimed at road cyclists, at least in my opinion. They don't provide the field of vision I want on undulating off-road trails. I also find that the glasses themselves bounce around too much on rough terrain which can be a little motion sickness inducing.
Enter Rad8 glasses, designed specifically for mountain biking. I received a pair of their very latest model, the Rad8 506 MTB. These glasses come with a photochromatic lens which adapts to the ambient lighting conditions. To be honest, it's been pretty dull over the time that I've used the glassess, so I can't comment on how they are in bright sunlight. However, in dull weather and under tree cover they are as clear as I could want.
So far I've worn these glasses on several long distance rides involving copious amounts of climbing and sweating in varying weather conditions and temperatures. To date, I have yet to see these glasses fog up, even when I've stopped at the top of a hill to catch my breath which is when most glasses and goggles turn opaque.
The wrap around half frame means that the lens wraps around your eyes nicely providing good all around protection from spray and mud flicked up by your front tyre. And it also provides fantastic vision with no chunky frame to block your vision at the most inopportune moments.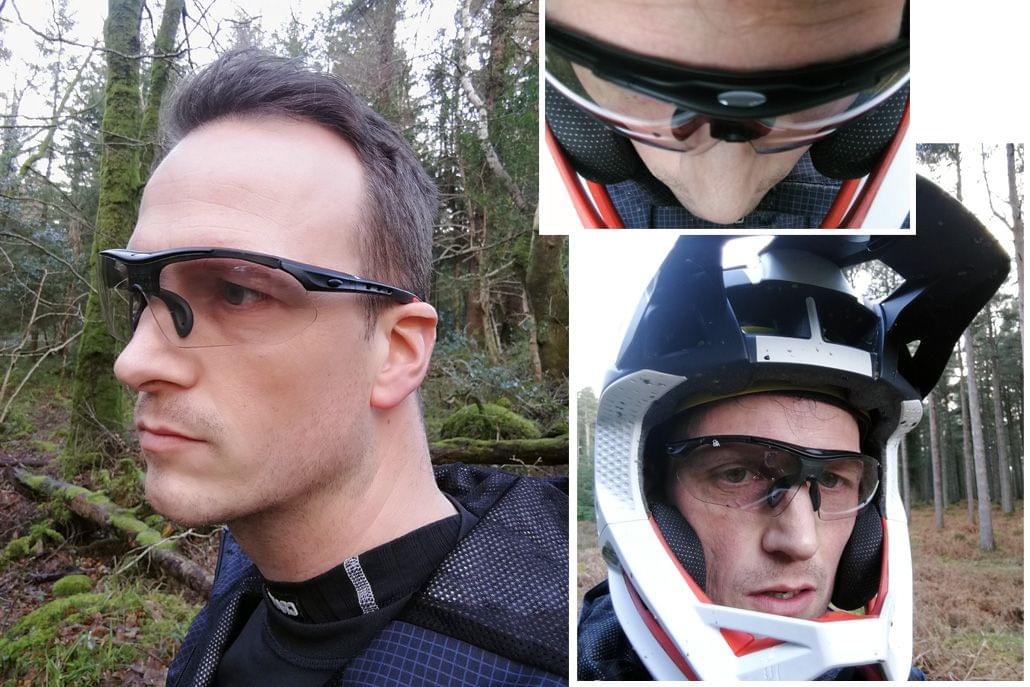 The glasses are fitted with a 'sweatband' that stops sweat dripping into your eyes which works very well in my experience. Additionally, this band also makes the glasses fit nice and snug on my face with very little movement on rough trails.
After trying these glasses for over a month, they have found a permanent place in my kit bag. Once I put them on I pretty much forget they are there, until a large glob of trail ingredient splatters onto the lens and reminds me of exactly why I use eye protection when out riding.
Steve from Rad8 has kindly given Emerald MTB readers a 20% discount code on a pair of Rad8 506 MTB glasses which is valid until the end of February 2019. Simply use the code EmeraldmtbR8506 at checkout. Your eyes will thank you!