Sometimes what we consider to be normal is only that because of common expectation.
Normal isn't always the best.
On the flip side, how do you decide whether something is different simply for the sake of being different?
In mountain bikes, we are well used to the variations and experimentation we see in rear suspension linkages and ready to accept something different.
However, when it comes to the opposite end of our bikes our expectations have been firmly trained to expect one type of suspension fork with the only variations involving millimetric differences in stanchion width and travel. When a fork shows up with a reversed arch everyone shouts "it's on backwards!"
Structure Cycleworks have decided it's time to stir things up. Enter the Structure SCW1 with WTF - Without Telescoping Fork - front shock linkage. This frame has been designed with two shock linkages, one for the front wheel in addition to the more traditional rear shock.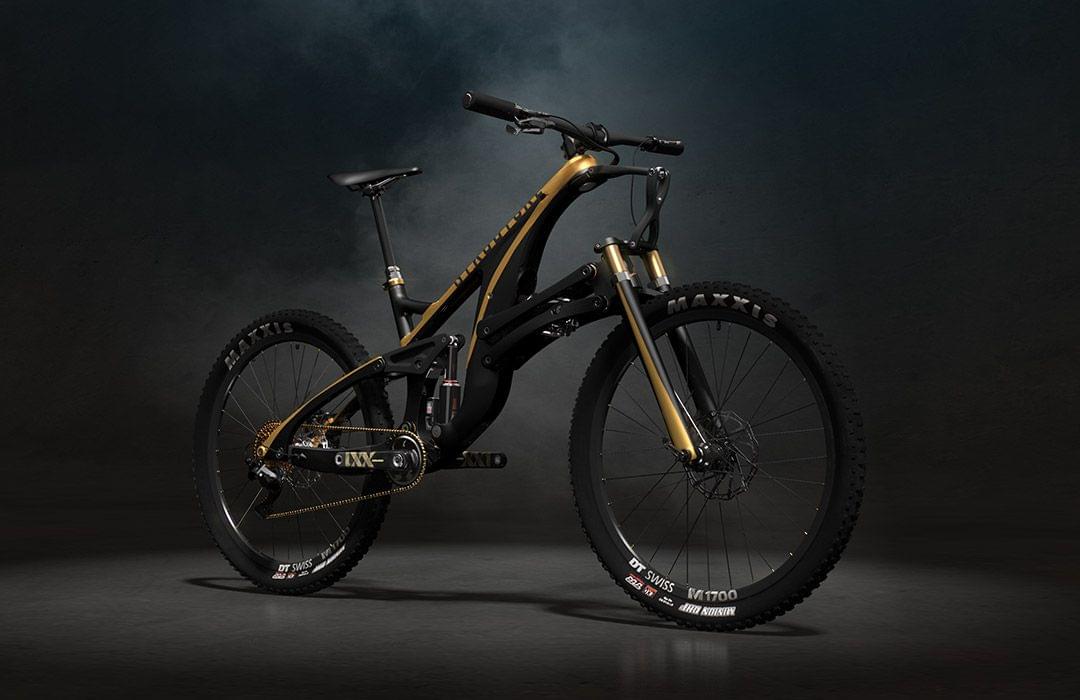 Last month Loni Hull, the brains behind this mould-breaking bike, was passing through Ireland on a stop-over en-route to delivering the bike to some magazines for review. While here, he met up with a few of the riders from our local mountain bike club, Tralee Bay MTB, for a spin around some of our local trails. And of course, everyone had to have a go. Below are some of their comments after a very brief try:
"It seemed to be more steady with less forces back into the arms", Bryan
"The geometry was well sorted, it felt nice and balanced", Kevin
A few days later, Loni sat down with Emerald MTB to talk about the SCW1, what motivated him to design it and why it is so different.
What led to this new design?
The idea originated with the need for a more supportive ride. After suffering several over-the-bars incidents resulting in injuries, something more than a new bike with an innovative rear linkage and the same old fork design.
In 2012, while recovering from a broken collar bone, Loni had a lot of time to consider where the failings lay in current fork design and how to improve on it. Telescoping forks reduce in travel under braking (what we know as brake dive) and when absorbing bumps. This means that when a rider's body weight is shifting forward, the front wheel is tucking backwards actually steepening the head angle. According to Loni, a fork starting at a 66-degree head angle can steepen to as much as 73 degrees when compressed.
With a background in motorcycle racing and design, while sat at his dining table, Loni began sketching what would become the SCW1. Taking some of the design principles from current rear linkages and inspired by alternative front suspension designs on motorbikes like the ELF X and on early mountain bikes like the Whyte PRST-1. The latter of these was ahead of its time according to Loni, with materials and manufacturing not being able to make the most of the suspension design.
What is WTF?
WTF stands for Without Telescoping Fork. Instead of a regular suspension fork, Structure's bike uses an integrated linkage and a shock identical to that found on the rear linkage. The carbon control arms are mounted to the chassis to optimize strength and stiffness.
What does WTF do for the ride and rider?
This futuristic-looking front suspension design aims to solve several issues. The primary one is the head angle steepening under fork compression. The WTF linkage does the opposite, slackening throughout its travel. This means less brake dive and a much more consistent rider position. As both axles travel along a similar path as the suspension compresses it means that the wheelbase stays much more consistent.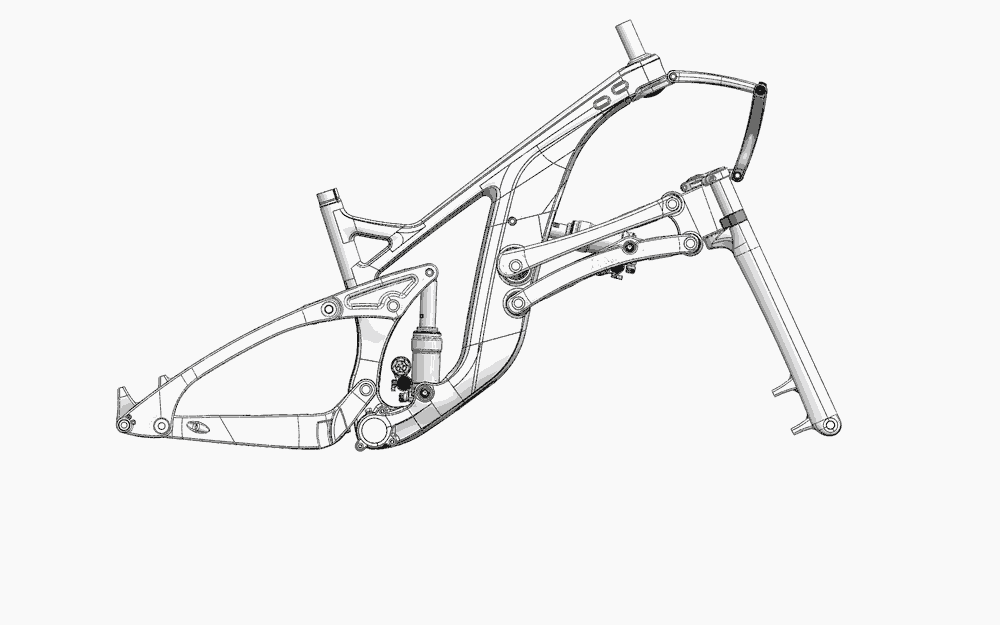 The linkage rotates on sealed 30mm cartridge bearings, isolating it from flex and allowing the suspension to move with very little friction.
In using standard-sized bearings, Structure has designed the bike so that it is easy to service and without requiring specialised tools. Loni went so far as to say that his goal was that someone in a back alley in Peru could knock out all the bearings with a hammer and dowel if needed. However, in four years of testing, Structure has only had to change one bearing.
How did the design progress from paper to reality?
After drawing thousands of variations, Structure built their first proof of concept. This was an all-alloy frame with eccentric pivots so that they could experiment with the suspension design and geometry. What started as 'educated-guesses' worked out pretty well and the head angles of that first prototype to this first production model, the SCW1, have changed very little.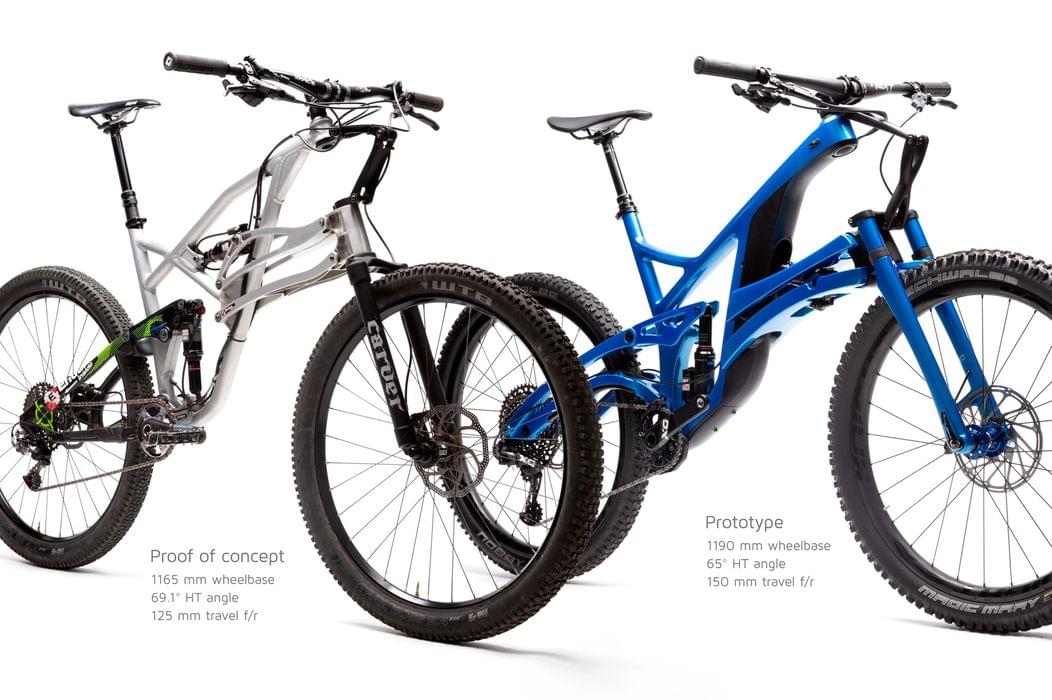 The production model features two sets of eccentrics, which allows the bike to be tuned to meet an individual rider's riding style and requirements. The anti-dive has four possible settings ranging from 41% to 17%. At 17% the WTF linkage will feel like a regular fork but with added plushness, better small bump compliance and less danger of over the bars moments. At 41%, a setting not recommended for most people unless you're racing world-class enduro or partaking in the Red Bull Rampage, the bike would feel very harsh and require extra upper body strength to control.
The first three sample frames were delivered to Structure in April of this year, days ahead of this year's Sea Otter Classic. There they were pleasantly surprised by the reactions they got despite the bikes unusual appearance - apparently, one person described it as looking as if a Trek Session had made love to an Alien.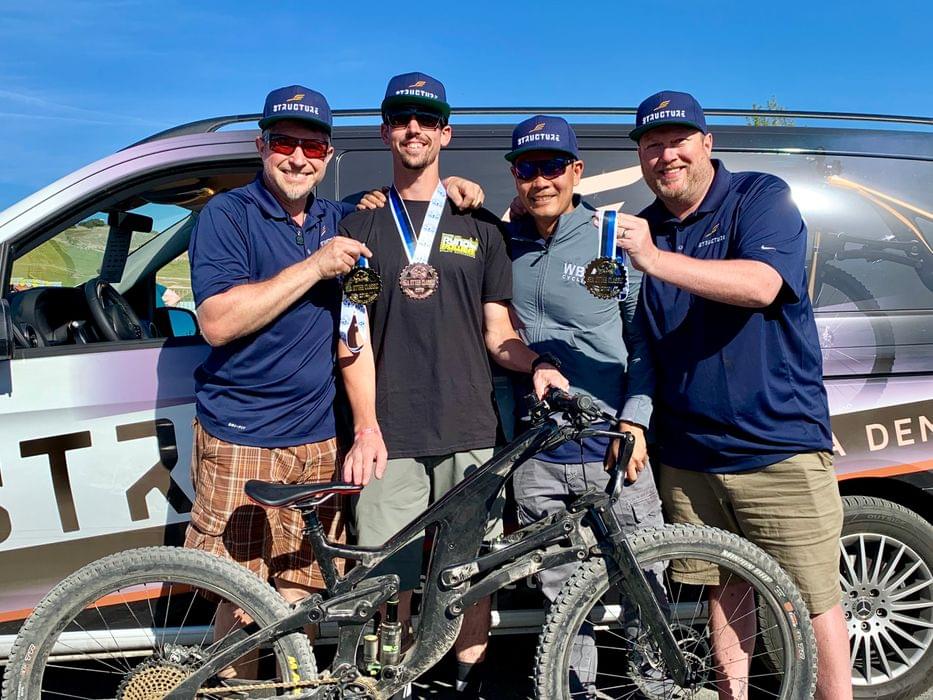 They were even more amazed when they were approached by two guys that wanted to race their bike in the Sea Otter Dual Slalom and downhill races.
In the dual slalom, the rider was able to beat his previous best time by 7 seconds, beat his long term rival and win a gold medal.
Ryan Sullivan, after about 5 minutes of bike setup, raced the Struct Cycles SCW1 in the Downhill and finished with a bronze medal. When asked why he wasn't breathing as hard as the other races, Ryan replied that he was 'just there for a fun ride and to enjoy the flow'.
Across five race entries over three weeks, with virtually no race prep, little time to set up the bikes for their riders and as little as 5 minutes practice, Structure podiumed four times.
Is the SCW1 available for sale?
Yes. You can order the SCW1 online from the Structure Cycleworks website as a complete build or a frameset with two shocks. The first 100 private owners, excluding dealers, will be inducted into the Foundation. Members will receive the Foundation Series version of the bike with a limited edition colour scheme and other exclusive features. Both the build kit and frameset feature dual DVO 150mm shocks, although the bike feels more like it has 170mm or 180mm travel
Structure Cycleworks offer a lifetime warranty on the frame and the bearings. As well as a crash replacement scheme.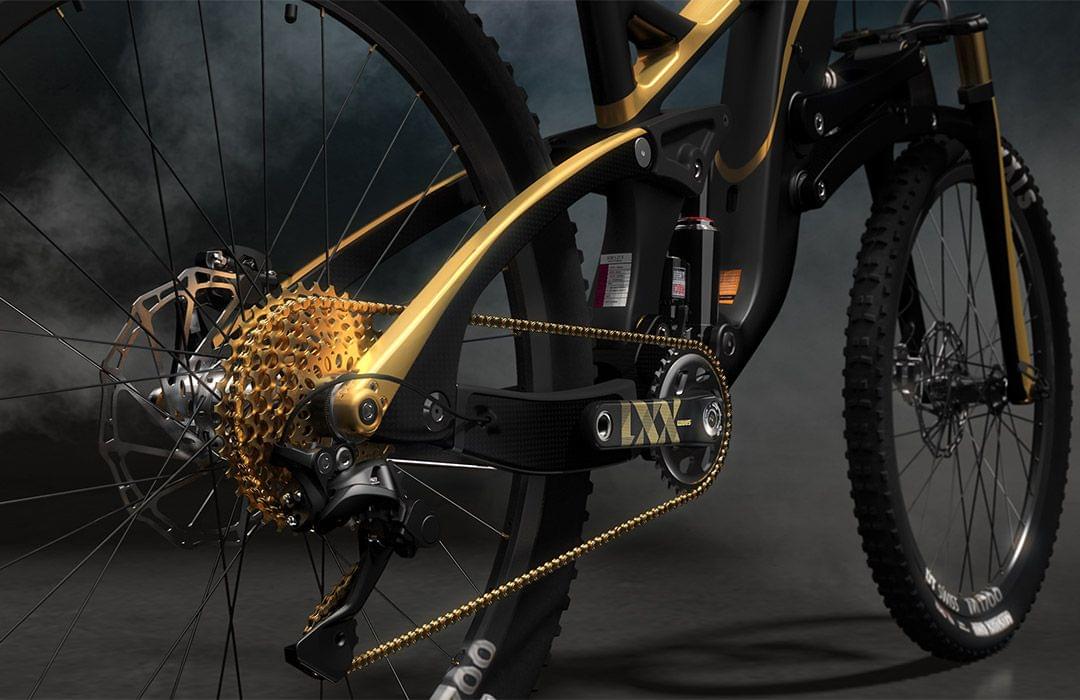 What are the plans for the future?
First the design of this first production bike needs to be accepted by the buying public, overcoming the perception of what is normal and letting the handling and performance of the bike shine through.
The next bike will be a 29" wheel front and 27.5" rear wheel bike - also known a sa Mullet bike. The reason being that Loni likes the roll-over potential of a 29" wheel but the accelration of a smaller 650b wheel.
After that, the plan is to build a cross-country version, optimising the weight of the carbon components. The current bike is an average 32lbs, which is on par with most enduro bikes, where weight is not as important as much as strength and handling.
And looking ahead even more Loni can see the potential in the current bike to fit an electric battery. Electric bikes make mountian biking more accessible to a wider group of people, something Loni is very much in support of. The rear of the bike would need some redesign to accommmodate the drive train, but the front should bolt straight on.