Earlier this year my postman turned up with a rather large box. Upon opening it I was greeted with the welcome sight of a range of Muc-Off mountain bike maintenance products.
I have been a happy user of Muc-Off chain lubricants and bike cleaner for a good few years. I was recently contacted to ask would I like to test any of their products. By happy coincidence, a friend of mine just previously been telling me how impressed he was with the new Muc-Off waterless wash, and I wasted little time in asking for a sample.
The box delivered that morning was the result. Not only had Muc-Off sent me the requested waterless wash, but also a selection of other goodies to try.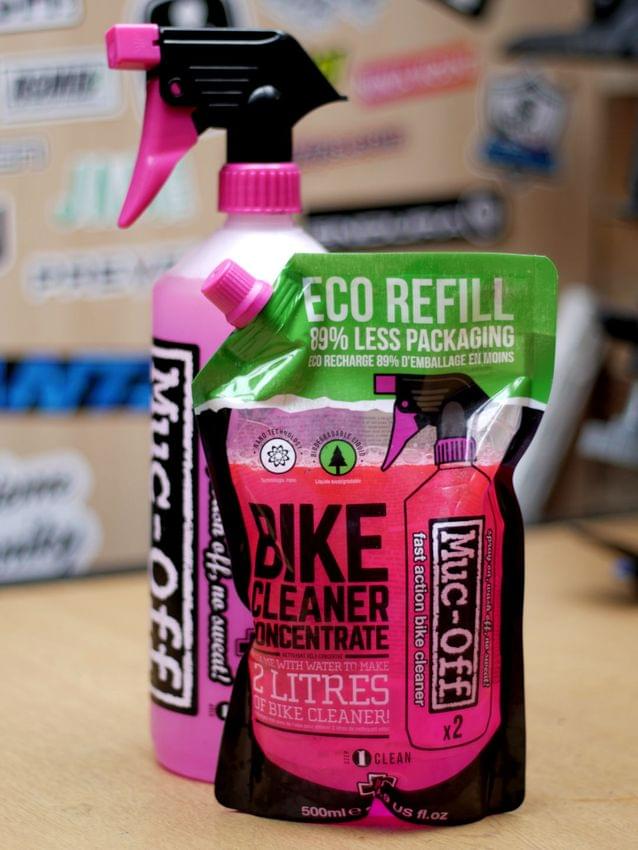 Now, I am by no means new to this product. I've been using this bike cleaner for at least five years. And I've used it for this amount of time because it works. No matter how muddy my bikes have been, or how long I've left the mud cake on to them, a gentle soak from a spray bottle of Muc-Off cleaner and it brushes off. Follow up with a rinse from the garden hose and they're good as new.
Muc-Off offer different solutions for keeping down the amount of plastic waste generated by cleaning products. Rather than having to use a new spray bottle every time you run out of Bike Cleaner they have these handy refill pouches reducing the packaging used by 89%. The cleaner in the pouches is in concentrated form, so each 500ml of concentrate diluted with water makes 2 litres of bike cleaner, or two complete refills of the spray bottle.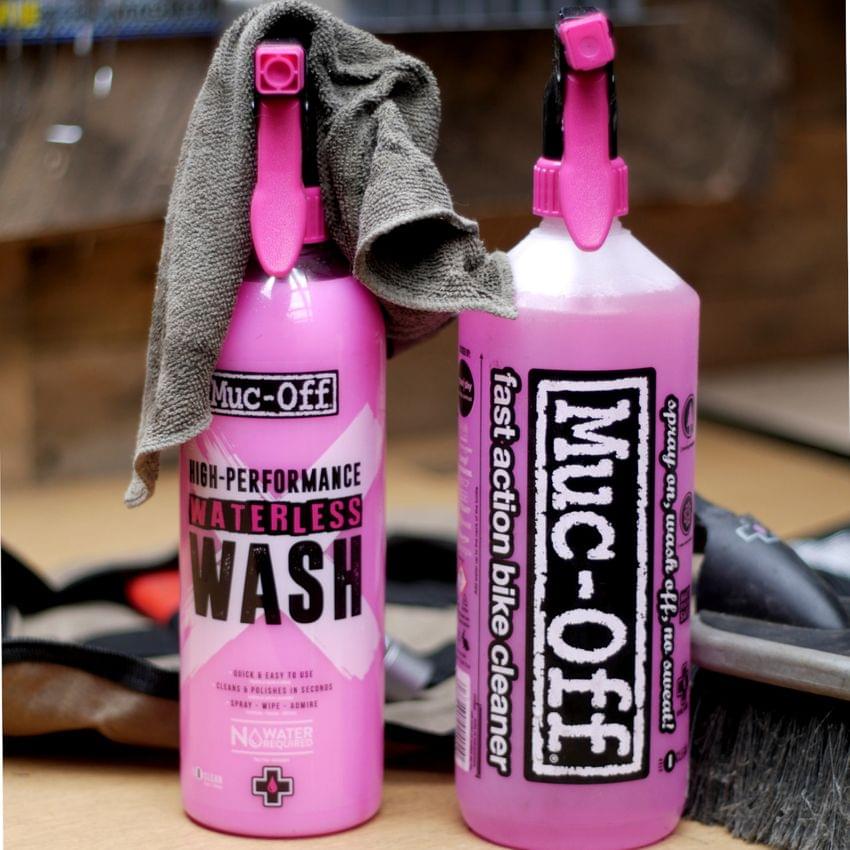 The Waterless Wash is something I had been told about by a friend who was very impressed and therefore probably the most anticipated product in the box. In practice when faced with light dirt you spray the Waterless Wash on a cloth, give your bike a quick wipe and you're good. No hassle unrolling garden hoses, getting buckets out, rinsing out sponges or soaking your feet.
Unlike simply wiping your bike down with a dry cloth, the Waterless Wash is designed to encapsulate surface dirt and prevent it from scratching your bike's finish. While it won't remove the need to thoroughly wash your bike, it does make for a very quick and easy spruce-up between major washes. And it also leaves a nice finish on the bike, ready for its next outing.
This was another new product for me. More than a traditional chain degreaser, which I dislike because they're nasty to hands, bike seals and the environment. Muc-Off's drivetrain cleaner is biodegradable and also safe on bearing seals, plastics and rubber.
According to the directions you simply spray this on your chain, derailleur and cassette and leave for up to a minute. If your drivetrain is, like mine was, especially dirty you can give it a once over with a brush to get the cleaner into every crack. Afterwards, simply rinse with water. And although my chain was possibly not quite like new, mostly because I had been ignoring it for the best part of the last winter, it turned out good enough for me. I could probably get it close to new with another spray and brush if I were so inclined.
Again, I've been using MucOff's chain lubricants for a long time. I have tried other brands and other types (such as wax) but always find myself coming back to the MucOff ones.
I personally have a preference for the Bio Dry Lube because it creates less mess compared to wet lubes. As the name suggests it is designed for dry trail conditions, but it's worked well for me in varied conditions except for very long days or deepest Irish winter slop. I just tend to relube before and after every ride.
Muc-Off's Bio Wet Lube has been designed as a long-lasting lubricant for long rides in wet and muddy conditions. And when the dry lube won't cut it, this is my go-to. It will last all day even in the worst an Irish winter can throw at my bike.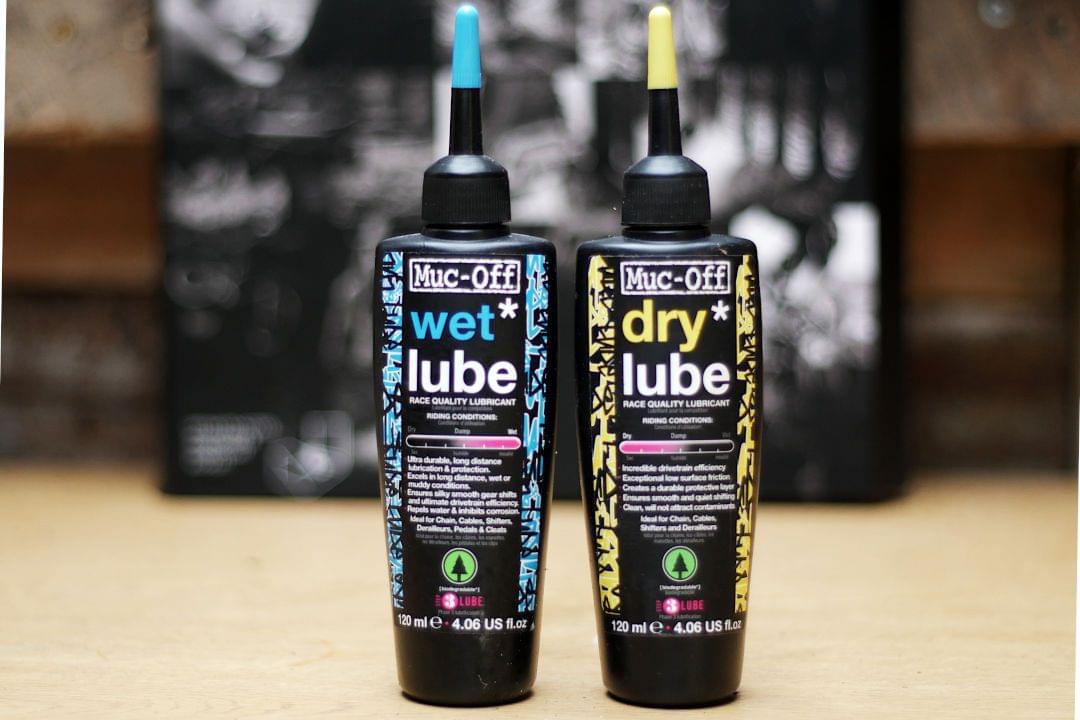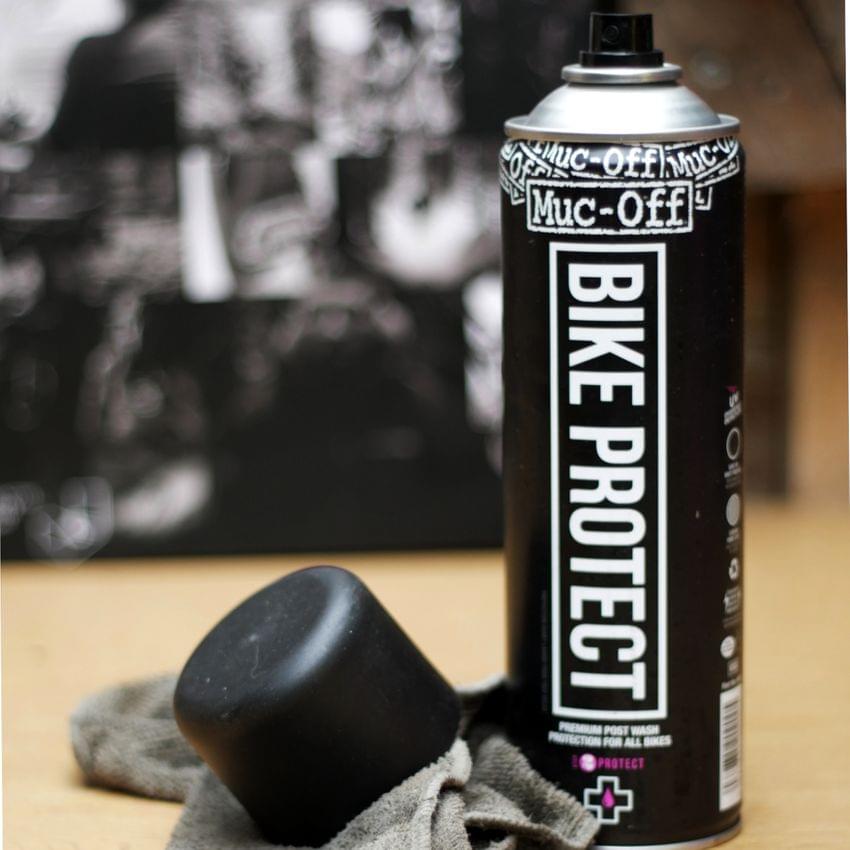 This was one product I was happy to find in the box, as my own supply had all but ran out.
I use the Bike Protect spray on my frame and rims after every wash. It drives away moisture which is very helpful after washing my bike. Muc-Off even suggest you use it on your chain after a wash and before re-lubing. Because it is oil-based, however, DON'T SPRAY IT ON YOUR BRAKE ROTORS!
It is also good at helping to stop dirt adhering to my bike on the trails, keeping it quieter and working better during rides and easier to clean afterwards.
I also tend to spray a little on my fork and shock stanchions and dropper post shaft above the seals, cycling them up and down a few times and then wiping off the excess. It keeps the seals nice and clean, very often removes bits of dirt trapped inside and hopefully helps them all last a bit longer.
This is another product that was not new to me as I have a large bottle of it already sat in my workshop. These came in two little pouches rather than a large bottle, making them useful to throw in a backpack or leave in the back of the car emergencies. The pouch nozzles are designed to fit over Presta valves meaning you can top up your sealant without having to pop your tyres off the rim.
Muc-Off's sealant comes with particles to help seal tears up to 6mm wide. I haven't had the opportunity to put this claim to the test as I haven't had any punctures in the time I've been using this sealant.
What I have been able to test though is the claim it lasts for 6 months or more without drying up. Both my tyres have had this sealant in for close to that time and during a recent inspection still contained the desired amount of liquid sealant. Other sealants I've used in the past would need balls of sticky goo replacing with fresh sealant after this amount of time.