Plastic pedals? Those are for kids, right?
I will be honest when a cardboard box containing a pair of composite pedals landed on my lap I was not super excited to try them. I have been a DMR Vault guy for as long as I can remember. No matter what I test I always seem to come back to Vaults.
However, when 6 weeks ago Owen threw some brand new PNW Range Composite pedals in my lap on Keeper Hill I decided I had better try them. Here's what I found;
Immediately I noticed a high level of grip when paired with my Five Ten shoes. The pedalling was easy and the pull on the upstroke was good. The pedals felt firm and wide under my feet with no flex. The pins were a great height and gave good control.
At the top of the hill, it was time to 'turn on the fun.' We headed straight down Root and Roller' a rutty, rocky, loose, fast, tight trail. As I started pedalling I did what I always do and placed my foot askew on the pedal. Usually, the discomfort causes me to be unsettled and involves a few terrifying moments of distraction as I try to decide between taking my foot off a pedal, hitting a tree or just going down the hill uncomfortably and constantly aware that I'm not in the right riding position.
With the Range pedals, I found a slight 'unweight and twist' action was enough to allow me to put my foot precisely where I wanted it without any loss of control or breaking contact with the bike.
I enjoy the feel of these pedals and they 'disappear' so as not to be noticed - which is the highest praise that can be given to any bike component. My feet did not slip, I did not lose contact with the pedals and I felt well supported. To be honest by the time I was halfway through the first trail they felt like they had been on my bike forever!
This is all quite amazing because when you look at the design of the Range pedal it is not concave at all in fact it is convex. The middle bar is slightly higher than the outer frame. While this flies in the face of what I am used to I've found the platform to be supportive and comfortable on both climbs and descents.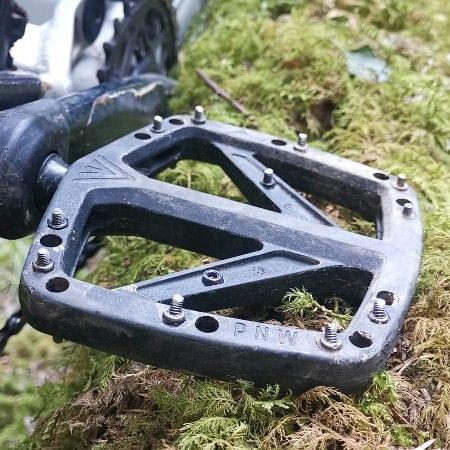 The pins are long and grippy without clamping your foot so hard that adjustment is impossible even with very grippy shoes.
The whole platform is large, strong, and supportive. And despite my misgivings about composite pedals, I found them to be no less confidence inspiring than aluminium alternatives.
At the end of the ride once you've cleaned your bike down it's really nice to look back at a smart pair of clean pedals without scratches or scrapes on their painted or anodized surfaces. Even after they have been thoroughly cloncked off floors, rocks or whatever other solid surfaces I've encountered on my way around the trails. Any abrasions and scrapes remain black leaving my pedals looking always almost as new.
The only flaw really that I can see is that the pins are a bit soft. If you are choosing to buy these lightweight low-cost fantastic pedals then be sure to throw a set of spare pins into the basket at the same time.
I have left them on my bike! My old favourites have gone into my spares box and the PNW Range Composite pedals have now been on my bike across hundreds of kilometres over all types of terrain: rough, spicy, smooth, flowy, jumps, drops, technical ups, technical downs etc.