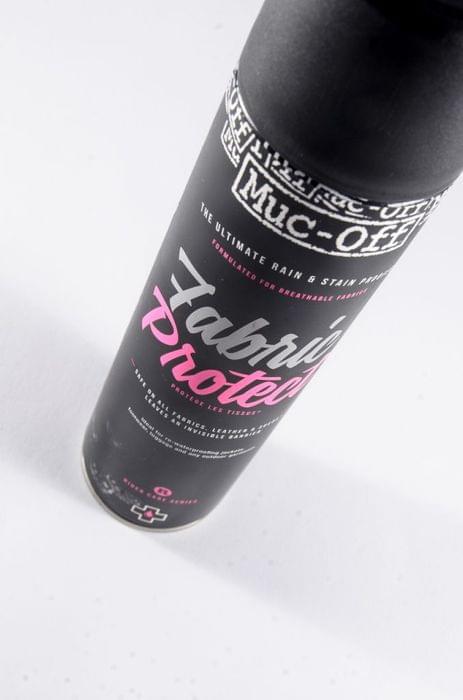 Muc-Off Fabric Protect waterproofing spray
I was given a can of Muc-Off's Fabric Protect spray earlier in the year.
This is a water repellant spray. I'd been using and washing my water proof biking jacket for close to a year and I was starting to wonder about the waterproof coating. Repeated washing on items like this can strip away the waterproof layers or coating. Even though it has been uncharacteristically dry in Ireland this summer, we all know the rain will be back. Therefore, when Timeless Distributors told me about Fabric Protect and offered me a can to try out, I jumped at the opportunity.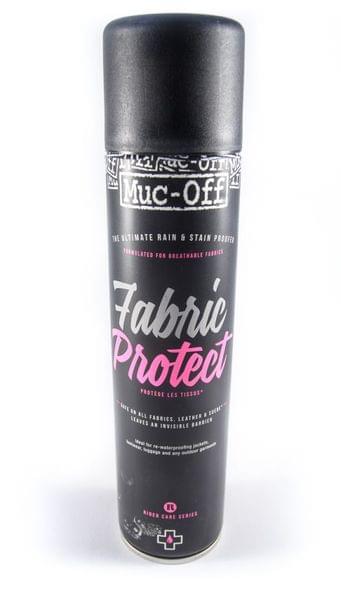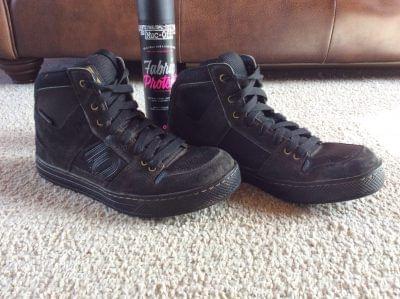 This is how Muc-Off describe the product on their own website:
"Have your outdoor garments lost their mojo? Fear not! Our Nano Fabric Protect will quickly and safely restore any fabrics water repellency whilst leaving them shielded from everyday stains! Just like magic! Once sprayed onto the surface of the garment you want to protect, Fabric Protect guards against fluids like water, tomato ketchup, honey, ice cream syrup, egg, oil and grime! It's all down to Fabric Protect's invisible Hydrophobic coating, that's safe to use on all fabrics! Including leather, suede, cotton, polyester and breathable fabrics!"
In the interest of openness, I will admit that I did not try any of my gear with fluids like tomato ketchup, honey, ice cream, syrup or eggs. Testing was restricted to water and mud. I don't tend to encounter many of the other listed fluids on a typical bike ride. If you do, please feel free to comment below!
Following the instructions on the can, I laid out the items I wanted to protect – my Five Ten Freeriders, two jerseys, rain jacket and my Troy Lee shorts – and applied three coats to each, 10 to 15 minutes apart and then left them to dry over 24 hours – actually I think the shoes had close to a week to dry and everything else nearer to 48 hours, all well beyond the recommended minimum.
First, my Five Tens are black suede, and applying the Fabric Protect has made them look like new. After repeatedly being covered in mud and then wiped, washed and brushed, they had started to turn a shade of brown. But after three coats of the spray, they were starting to look close to their original state. Big plus from me there.
I trail tested the shoes, shorts and one of the jerseys at the Grassroots Enduro in Ballyhoura. A race that suffered from the odd shower during the day and was incredibly muddy in stages. During the rain showers – none of which were excessively heavy for the record, more like dense drizzle – I noted that the water landing on my arms and shoulders simply beaded and rolled off, like on a well-waxed car. None of it penetrated and I stayed perfectly dry. And the same went for the shorts.
Parts of the stages were water logged and therefore there was plenty of water spraying on to my shoes, yet my feet were still dry after. Even more extreme testing occurred in a couple of sections that were so slick with mud I fell off repeatedly and had to walk parts. The mud was so deep in these places it reached up to my ankles. At the end, my shoes were caked in mud. While the Fabric Protect didn't stop the mud from sticking, I must say that at the end of the day my socks were completely dry, bar the very tops that extended above the shoe and had accumulated their own muddy coating.
It took several days for the mud to dry off enough that I could brush the shoes clean, and while it was not simply a case of bashing the mud off, after a bit of vigorous brushing the shoes came up close to black again. I like to think the spray had a hand to play there based on previous experience trying to clean these shoes.
Based on race testing, Fabric Protect certainly added water repellency to items I sprayed it on (I haven't yet needed to use the rain jacket since I sprayed it). Stain protection is maybe less clear, but I felt it helped some.
I used approximately half the can on the 5 items of clothing I sprayed. In normal use, I probably wouldn't bother to spray jerseys or shorts. Sticking to just shoes and jacket I should get 5 or so applications for each item out of a single spray can.