At Emerald MTB we love to support small business in the mountain biking world. If those businesses happen to be Irish, then that's even better. But when we found a small Dublin company making not one, but two products aimed at mountain bikers we just couldn't pass up the opportunity to try them out.
This small team of outdoor living Dubliners developed two solutions to problems they observed around them and personally experienced on family mountain bike days.
The first is VroomBag. They wanted something to help them get out of muddy cycling gear and into the car quickly, without covering the car's interior in mud and grime. So they designed the VroomBag.
This bag is a holdall bag that opens out into a completely flat circle measuring 50 inches in diameter. Made from durable nylon with a waterproof coating it is ideal to lay on the ground next to the car while you take off dirty cycling shoes or hiking boots. I've used it after wet rides to get out of most of my biking gear and changed into clean clothes before getting into the car and driving home. Avoiding that awkward dance as you try and get into clean socks and shoes without standing on damp ground.
Once, you've changed, the easy drawstrings close the bag back up keeping your dirty riding gear in one place and without spreading the mud and dirt across the boot of your car. I keep it in the back of the car together with my other riding gear ready for those wet days on the bike.
As a bag, the uses of the VroomBag go far beyond a simple changing mat though. On their own website, they list a number of uses, including beach days, shopping and car organisation. Personally, I had to fight my four-year-old son to get to actually test the bag as he quickly figured out it also makes for a great Lego play mat.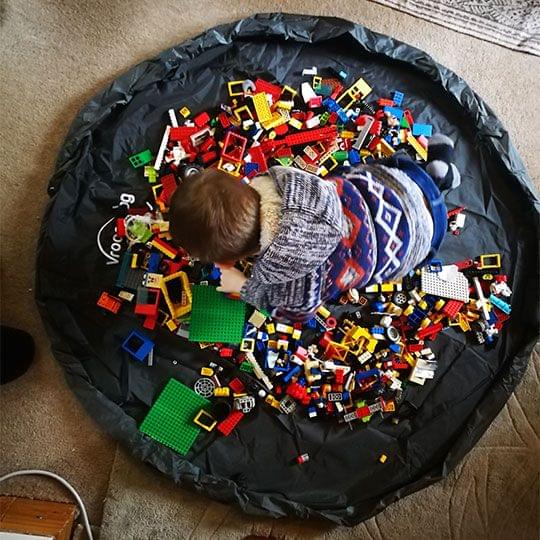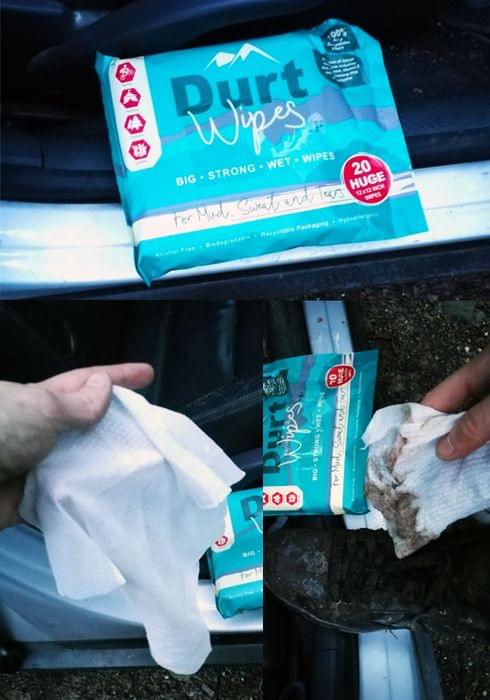 DurtWipes were born from observing adults try to use baby wipes on outdoor activities. Regular baby wipes are not biodegradable, contain plastics and are generally bad for the environment.
DurtWipes are, much, bigger than regular wipes at 12" square, four times bigger in fact. They are also stronger and smell better. Made from 100% biodegradable materials they can even be thrown on the compost.
They are big enough to wipe your face easily. They don't disintegrate as soon as you've wiped one hand. They don't leave any residue on your skin or smell like you've changed a baby's nappy.
While I primarily got these to clean the mud off my face and hands after bike rides, they have found a permanent place in the glove box of my car because they have so many uses. Need to wipe your hand after a picnic? Trying to contain the ice cream that your four-year-old is eating in the back of the car? Trod in a muddy puddle and covered your white trainers? DurtWipes got you covered!