For my winter hard tail project I chose the NS Bikes Eccentric Alu 29. Despite the seeming miriads of steel hardtails now on offer, including a steel version of the Eccentric, the low weight and low cost of aluminium is still appealing.
The Eccentric will take both 29" wheels or 27.5"+ wheels, the option to run both being another deciding factor in my choice. As was the slack geometry and NS's description of the bike as 'aggressive' and 'designed for Trail and All Mountain riding'.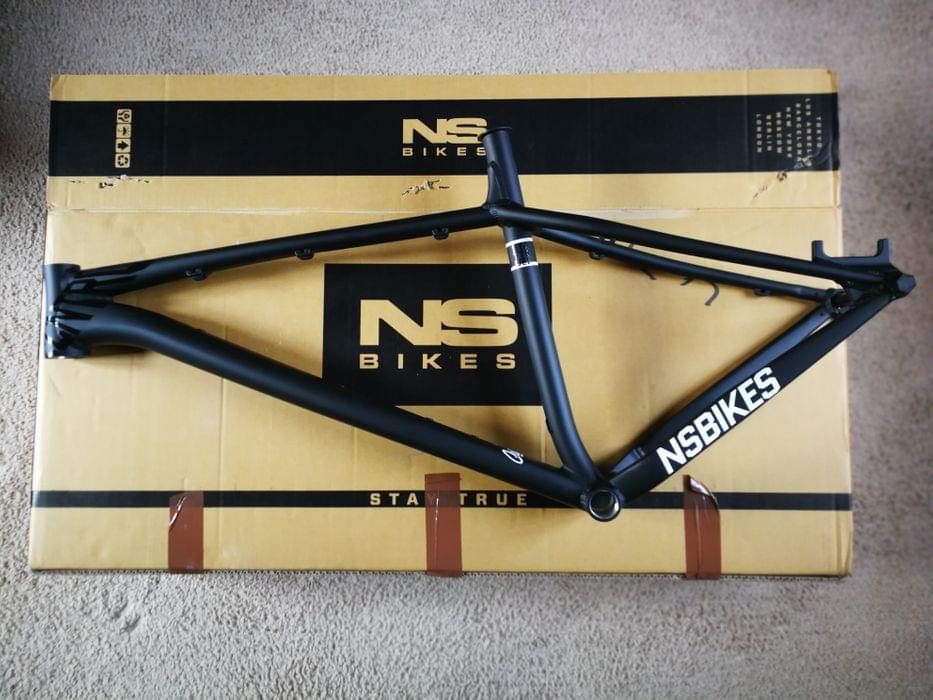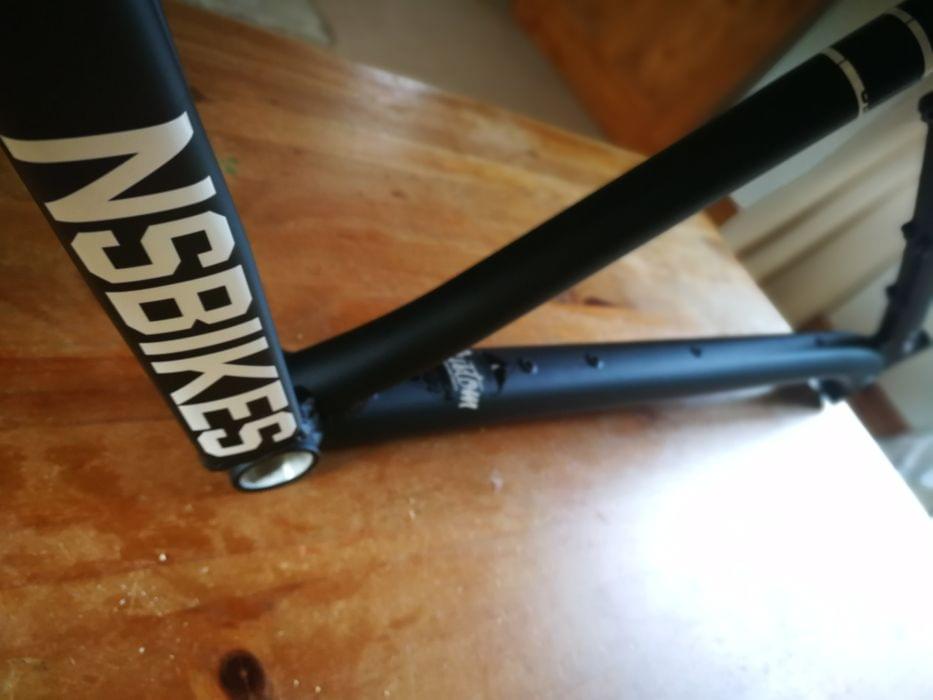 The large frame I received weighs in at 2.2kg and has pretty contemporary if not cutting edge geometry. Based on a 140mm fork the head angle is a pleasingly slack 65 degrees to help with the descents, and to facilitate the climbs an effective seat angle of 74 degrees keeping your weight nice and centered. It has a respectable reach of 460mm which, while not as out there as bikes like the Pole Evolink, is a fair bit longer than my now aging first generation Santa Cruz Bronson. And the same goes for the wheelbase of 1208mm, which is long enough to give the bike good stability but not so long as to take away it's playfulness. It is a hardtail after all, it is meant to be fun and you want to be able to hop, skip and jump it at any and every opportunity.
When I first received the frame, first impressions were very favourable. The satin black finish, with very subtle gloss black branding and tiny white detailing look great. A full bike check will follow in a later article, for this review I'll focus on the frame only. The only issue I ran into while building the bike up was the post mount rear caliper fixing on the frame where I was expecting an IS mount. I have nor preference either way, I was just unprepared for it and thus the build got delayed for a bit while I sourced the correct caliper adapters and bolts.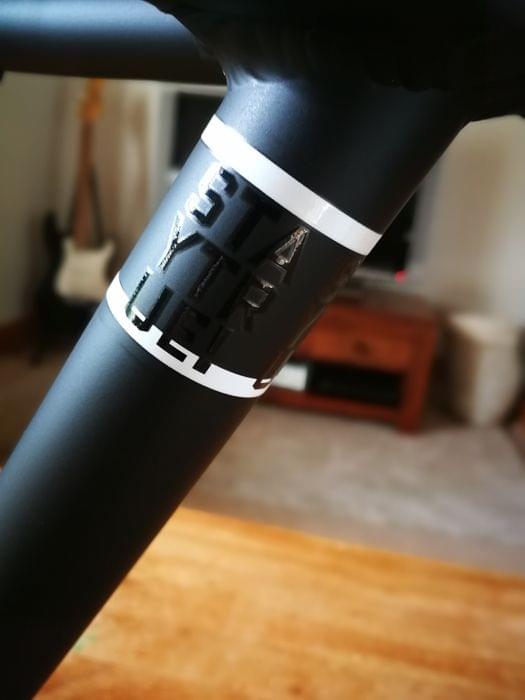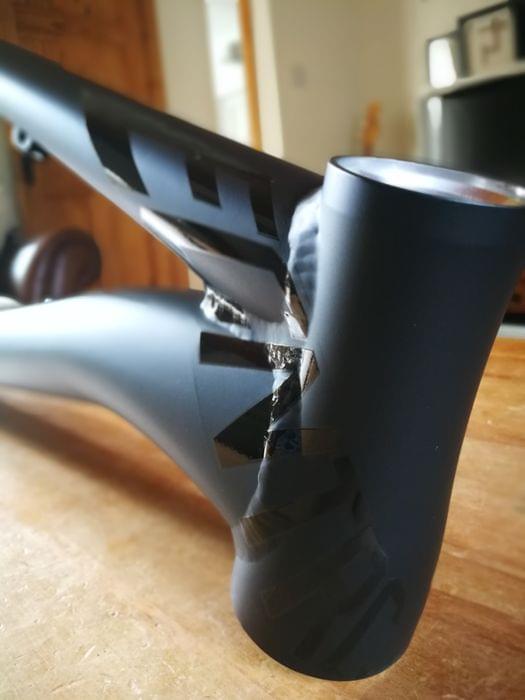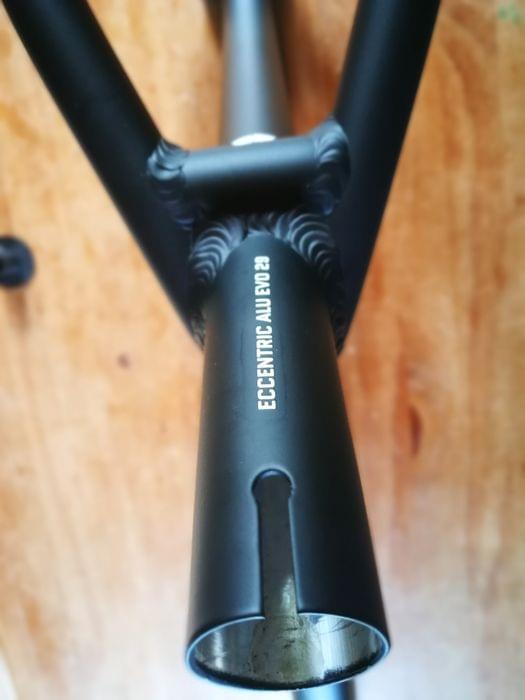 So far it's taken me out on a variety of trails - undulating night rides on twisty single tracks featuring random board walk sections with some rocky fireroads thrown in up to a wet and muddy day at the bike park. And in short, the bike has been a lot of fun on all terrains.
First, being so light and with the relatively steep seat tube, it handles climbs with ease. I had to adjust my seat and handle bar position a little from what I initially had them set up as based on my preferences from my other bikes. But once tweaked, the Eccentric offers a very comfortable climbing position. And in 29" form it rolls over rocky climbs with ease.
An often repeated negative of the larger wheeled bikes is their lack of responsiveness when it comes to twisty trails. That may be the case of some bikes, but it is certainly not a flaw that afflicts the NS. It handled bike park black trails and steep twisty natural single track with ease, never feeling sluggish or getting hung up in turns.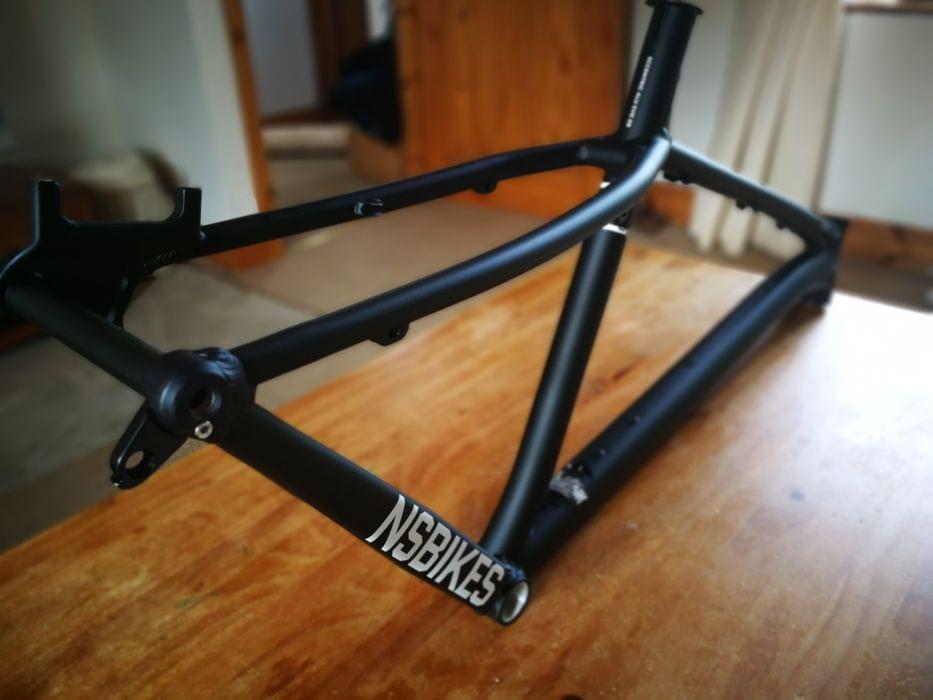 On steep fast descents the big wheels and the long wheelbase build speed in an instant without feeling twitchy or unstable. And on the bikepark jump and flow trails it feels lively and great fun, lifting off the ground with relative ease and railing turns aggressively. The boost rear end feels very stiff, which is a good thing on a hardtail whereit can take a good bit of abuse.
So far this bike has resulted in numerous ear to ear grins and has been great fun to ride. When it comes to ridableity or geometry I can't fault it. THe only slight dampner has been the delicacy of the paint work, after only one ride the black finish was showing off the aluminium metal work in several places from stone strikes. After several outings the cable rub on the headtube is quite severe and the top tube is marred by numerous scratches from rubbing shorts. None of this stops the bike being a joy to ride, and all fo them could be resoved by some well placed frame protection.
NS Eccentric on Chain Reaction Cycles
NS Eccentric 29 complete build