Who could have imagined even as little as ten years ago how prolific dropper seat posts would become. Not that many years ago you could regularly hear riders scoff about the 'gimmick' of seat posts that went up and down at the push of a lever. Fast forward a few years and now try and imagine riding without one.
There is no arguing with how useful dropper posts are and how much they affect everyday trail riding. Even super weight conscious cross country racers have started adopting them despite a slight weight penalty.
But where most seat posts operate in much the same way, with the only real distinguishing factors being how well they last and how easy they are to service, there is one piece to this puzzle that is often overlooked. And yet this piece is probably the one you pay most attention to in daily use and the most likely to affect how well your post operates; the dropper lever.
Over the last few years, I have used several different posts and their associated levers. On more than one I have replaced the stock lever with an upgraded version because not all levers are created the same and I am an incorrigible upgrader. For example, on both my KS seat posts I replaced the stock alloy remote lever with the KS Southpaw remote because the stock item was about as ergonomic as a brick.
When I started seeing adverts for the PNW Components Loam Lever I was immediately sold on the idea and had to have a go at trying one myself. After contacting them by email, Aaron the founder and owner of PNW was most accommodating and sent me one for me to test. Although based in Seattle, in Europe PNW ship through Amazon, so you don't have any long waits for delivery. Needless to say, as soon as the postman delivered the Amazon parcel to my door I wasted about 2 seconds before tearing into the box.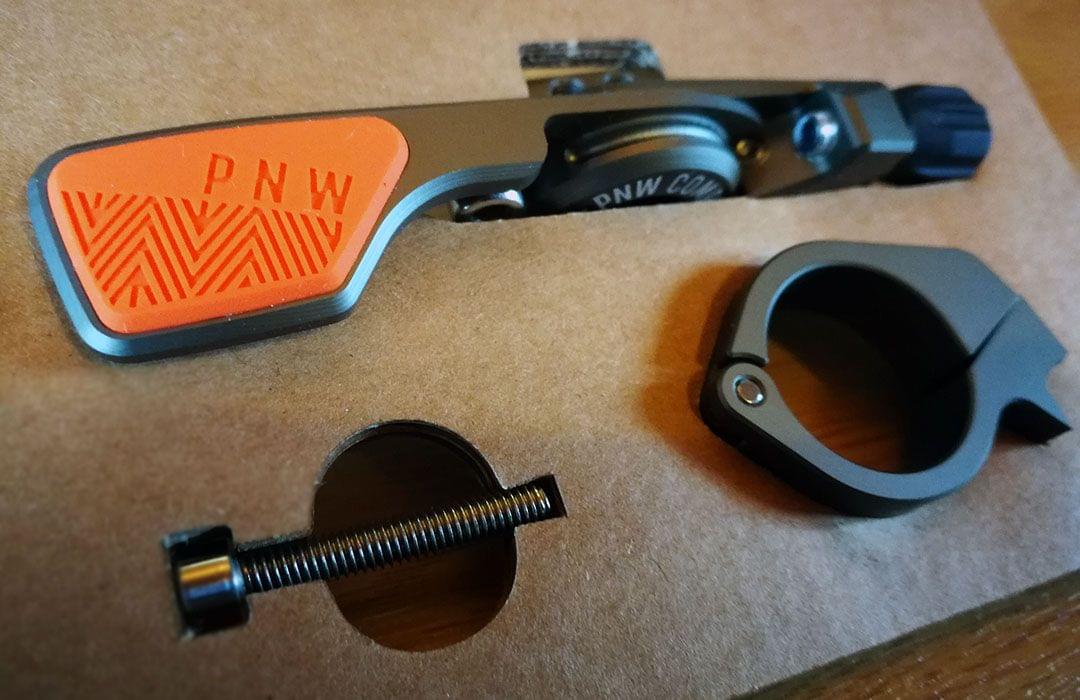 Fitting the Loam Lever is a very simple process. The single bolt clamp and lever design make it a quick job to mount to your handlebars. The lever has two mounting options so that you can adjust its position in relation to your brake levers to best suit your cockpit layout and hand position.
The cable, which comes included with the lever - thank you PNW! - can be routed in either direction with a clamp on the lever, so it suits internals as well as externally routed dropper posts. In fact, the list of compatible posts on PNW's website is a long one and includes all the cable operated favourites such as the Fox Transfer, all of the KS posts, Specialized Command, Crank Brothers and so many more.
What I've found personally, and I can see this reflected in the design of more recent lever remotes, is that the length of the lever makes a big difference to how easy it is to operate. Short levers, especially ones that have to be pushed down like the one that came stock with the KS posts, require a lot of force through your thumb to activate. Over a long ride, this gets tiring and painful. However a longer lever, just like the longer levers you now find on your gear shifters, has better leverage and require much less force to operate. The Loam Lever has the longest lever I have had the opportunity to try.
The other factor that determines how smooth a lever works is what they pivot on. Some of my older levers used bushings. While initially, they would work acceptably, over time they tended to stiffen up and would become harder and harder to use. The PNW Loam Lever uses an oversized sealed bearing. This makes it super smooth and easy to operate for a long time, and if it does wear eventually, can be replaced with a new bearing. Combine that with the stainless hardware used on the lever itself, and you have yourself a remote that will likely outlive your dropper seatpost.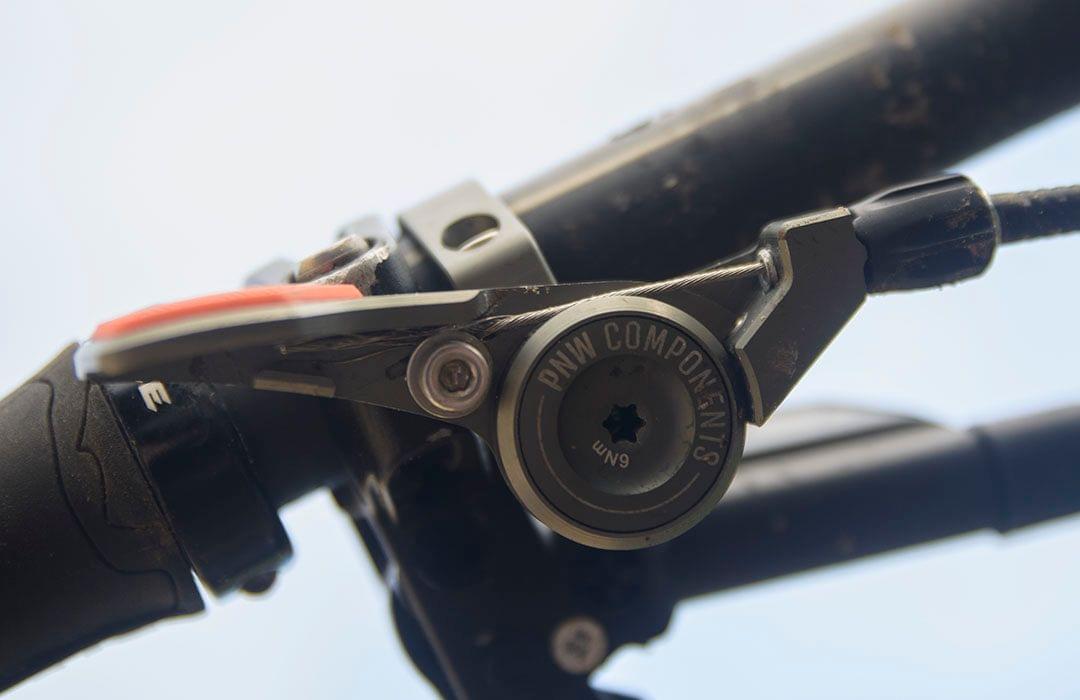 Combine that long lever and smooth action with the no-slip rubber thumb pad and you have a combination that is almost effortless to use even on all day epic trails regardless of how often you drop and raise your seat.
The Loam Lever is available with either a standard 22.2mm hinge clamp, SRAM Matchmaker or Shimano I-Spec II fitting to suit pretty much any cockpit setup. The thumb pad is available in three different colours, grey, teal and orange.
At €73 the Loam Lever is not the cheapest lever out there. But for what it offers in design, comfort, smoothness and quality and considering how often you use the lever in any one ride I think it's worth every cent. It's my new favourite lever and I switch it between my bikes regularly. In fact, I love PNW's lever so much, I'm now dying to try their Bachelor dropper post too, despite being extremely happy with my current one.