All my previous mountain bikes having had narrow handlebars and relatively long stems, on my new full suspension all-mountain slash enduro bike build I decided to try out the current move toward wider bars and shorter stems.
Renthal Fatbar Lite Carbon Handlebars
I started with a 50mm stem and 10 degree rise 780mm aluminium handlebars. Using these I could see the advantages of setting up your cockpit in this way - more leverage and thus easier steering with more control and moving your weight back from your front wheel. However, and this is going to be individual preference for everyone, I found the handlebars uncomfortably wide, like trying to do press-ups with your arms spread too far apart - doable but uncomfortable and quickly tiring.  The aluminium bars were quickly replaced by Renthal Fatbar Lite Carbon. While at 740mm they are only 4 cm narrower than my previous pair, this made all the difference in solving the discomfort. Even though the Fatbars have very clear cut marks at 10mm intervals so they can easily be adapted to suit each individual, I found the 740mm width to be perfect for me.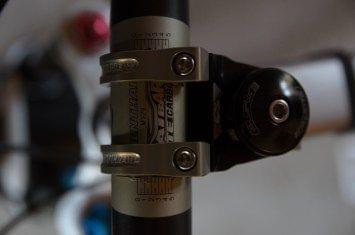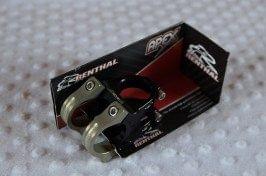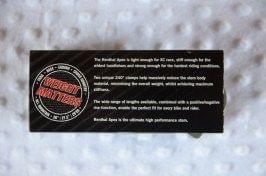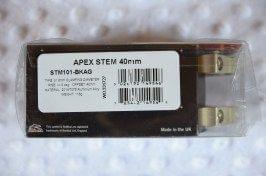 Why the carbon version? Well to be blunt, I got them at a very good price. And who can resist carbon parts at a steal? Practically though, at 180gr they are 89gr lighter than the alloy version Fatbar Lite and almost half the weight of my previous pair of handlebars. Now I am by no means a weight weanie, but my bike frame is surprisingly light so in my build I have tried to keep as much of that advantage while not sacrificing too much strength and durability.
Renthal Apex 40mm Stem
Moving on to the stem. I started with a relatively short 50mm model. There was certainly nothing wrong with it. But at 1.80m I tend to fall right in between medium and large size bike frames. For my build I chose a large frame for the added stability. While the 50mm stem certainly wasn't excessive or uncomfortable, I was tempted to try something even shorter to try and keep my weight a little further back. There are not too many options for stems this short. I chose the Renthal Apex mainly because of its light weight - only 117gr versus the 165gr of the old stem. Only a small saving maybe, but why not take advantage of the saving if it's being offered. Renthal managed to save a lot of the weight by replacing the more common plate style face that clamps the handlebars with two slim moulded bars. This makes installing the Apex a little more fiddly, but it does make it very easy to see the alignment marks on the handlebars.
Between these two Renthal products I have a very comfortable position on the bike with sharp and controllable steering on the technical and downhill sections without inducing front wheel lift going uphill.
Just one tip for when you increase your handlebar width: the first few times you ride familiar trails with your new bars, take it easy squeezing between trees… at least until your brain adjusts to the amount of room you now need.
Renthal Product Links