Tyre choice. The wrong tyre on your bike for the conditions you're riding can ruin your fun. When you regularly ride varying terrain you are left with a tough choice: do you ride with the tyre you have, do you settle for a do-it-all tyre that may not excel at anything, or do you go through the hassle of changing tyres every time? If you run your tyres tubeless, changing them frequently can be a real headache, wasting sealant and consuming time.
reTyre, a Norwegian company, have come up with a novel solution to the problem, a modular zippered tyre system. A base tyre with a road riding tread forms the base of the system. What is unique are the zippers on either side of the tyre. A number of different 'skins' can be attached to these zips, transforming your road tyre into an off-road, trail or even a studded winter tyre.
"In 2015, we set out to find an easier way to change the bike tire, to account for the shifting weather and winter conditions in Norway. Two years of development and testing later, we were able to launch a successful alpha version of our product last year"
If you check reTyre's instagram account you'll see videos of riders on varying terrain, jumping off thir bikes, grabbing one of the skins out of a backpack and attaching them in very little time before dissapearing down a forest trail, or up a road after emerging from the trees. Obviously these are staff members or actors used for the purpose of demonstartion, but it does show off the possibilities of the reTyre system.
The patented zippers are permanently bonded to the base tyre with glue infused thread and are placed low on the sidewall of the tyre so as not to interfere with either the rolling surface or the wheel tyre interface. reTyre claim that this placement combined with centrifugal force created by the rotating wheel also creates a self-cleaning effect.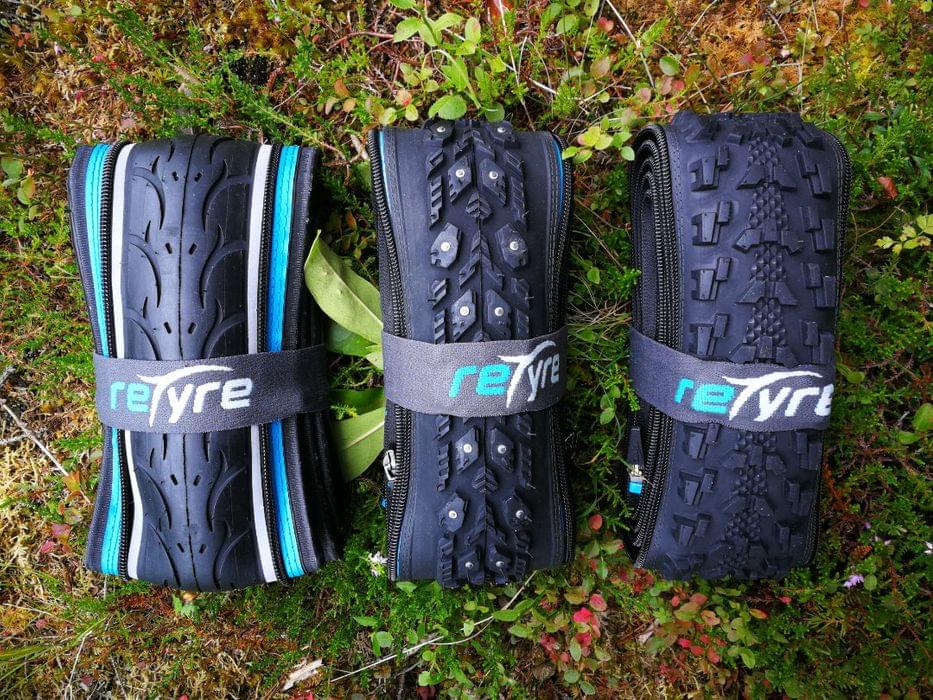 Obviously, we haven't had much snow in the last few months, so I have had no opportunity to try the studded winter skin. Also, unfortunately, reTyre sent me a 28" or 700c set of tyres and skins designed for road and hybrid bikes. Which meant that I could only try them on my retro Raleigh single speed and not on my mountain bike.
The road tyre, known as reTyre One, is a fairly chunky 1.6" wide with a nice semi-slick centre pattern to give a low rolling resistence while the fairly deep channels that radiate outward should give good water clearance and help keep you upright on wet surfaces. An optional extra is a reflective strip to help cyclists be more visible in dull and dark conditions. The sidewall wouldn't be as thick as a typical mountain bike tyre, but it is solid enough to seal on my road rims. While I don't have this bike set up to run tubeless, I can't see any reason why you wouldn't be able to use the reTyre One with tubeless tape and sealant.
The All Terrain skin, which is attachable via the zips in under a minute, creates a 2.0" wide off-road tyre with a nice chunky tread pattern that should be perfect for a gravel bike or mountain biking at a trail centre and on fire roads.
There is also a Trail X skin for rougher off-road terrain "the perfect choice for MTB bikes and off-road enthusiasts". I didn't get a copy of this one to try. However, the photos show a more aggressive tread pattern than the All Terrain version, so this is likely to be better suited to forest trails and more natural terrain. The reTyre One in combination with the Trail X would appear to be the best solution for a mountain biker that cycles to and from local trails and rides on rougher terrain.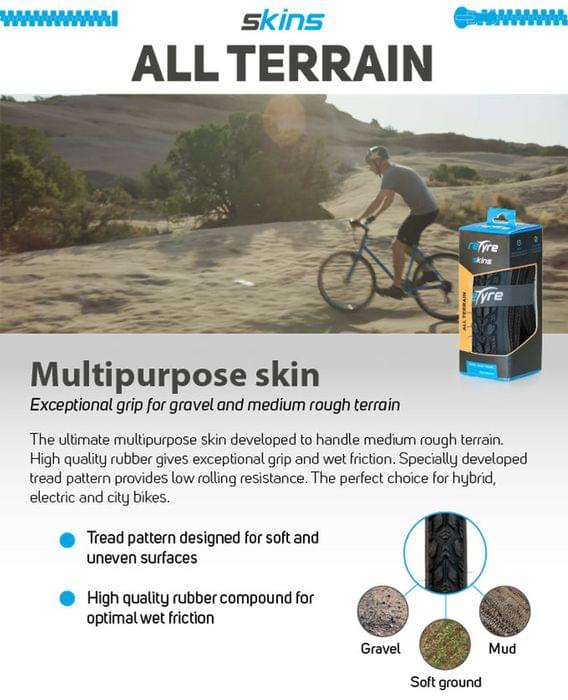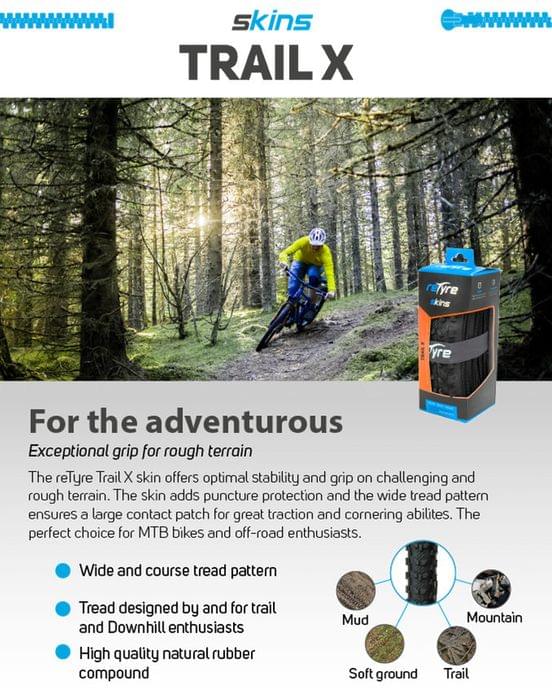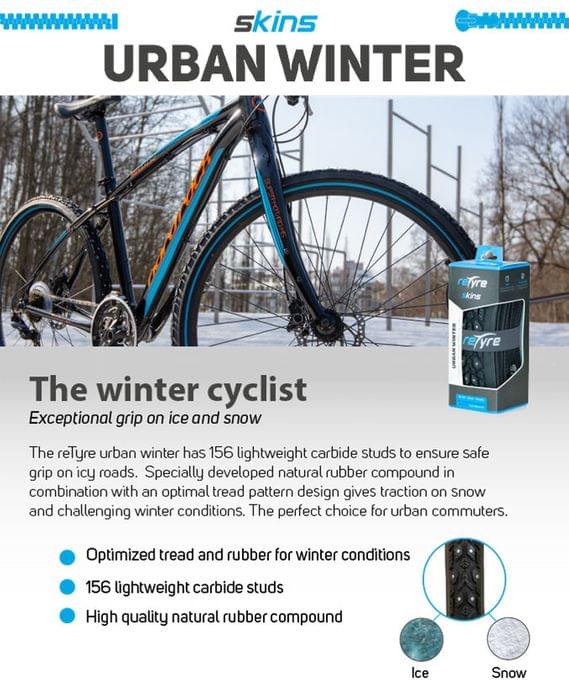 The base tyre and all the skins are available in 26", 27.5", 28"/700c and 29" sizes and new skins are in development.
reTyre launched their Kickstarter campaign on the 26th of September ( check out the reTyre Kickstarter campaign here ) and have already surpassed and almost doubled their funding target.
From the skins that are currently available and the promotional material reTyre have published I get the impression the system is aimed more at commuters and casual off-road riders sticking to fire roads, greenlanes or by-ways and the odd trail center. I don't know that many gravity fueled mountain bikers would use their bikes on and off-road regularly enough to need a system like this with the current selection of skins. The off-road tyres, or skins, at 2.0" wide, are potentially a little on the narrow side for anyone that is not a cross country mountain biker. To appeal to more mountain bikers I would like to see a wider tyre in keeping with the industry trend for larger volume tyres.
Overall, the reTyre is a very interesting concept with a lot of potential. The more skins they can introduce the wider the attraction will become. For anyone that commutes on varied terrain, or regularly rides to and from trails it is certainly worth looking at.