Everyone loves new bike day! All of your bike's components are working and all of our favourite trails feel faster and somehow more fun.
But before too long things start to squeak and squelch and it's time for a bit of maintenance. Most of it we undertake ourselves but suspension…. That's a tricky beast. Too many tales of vice grips, poor service and long turnaround times can make anyone wary of taking their bike out of action to get that essential service done.
Maybe this was why before Brexit many of us sent our forks and shocks over to the UK, however as that is no longer available we started looking closer to home. We reached out to our riding community and asked who they recommend and one name kept coming back … R.H. Suspension.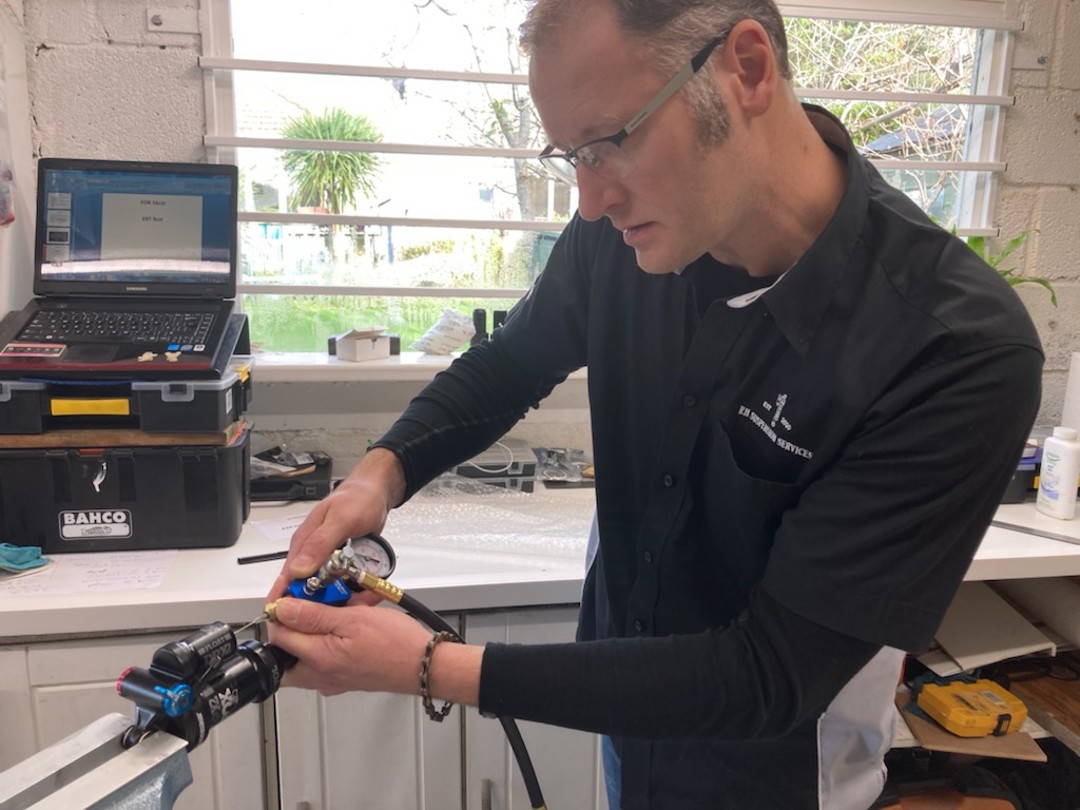 I looked up the RH suspension website and looked over their pricing and about us page before deciding to give them a try.
(For transparency I will tell you that we paid full price and all delivery charges. This is not a paid review. )
How does it work?
I contacted Richie (the proprietor) with my needed service, a particularly squelchy Fox X2. I tentatively asked him about his service, what tools he used and what experience he had. He also told me about the very expensive, sometimes completely bespoke equipment needed for the very precise nature of his work. I was delighted to learn that he has lots of experience working in various top-end bike shops and has always maintained a healthy interest in all things suspension. His experience and his investment gave me the confidence to send off my shock.
After giving him my details, my riding weight, preferred air pressures, etc. I sent the shock to him in Wexford via registered post.
The next morning I received a photo of my shock, a nice little customer service touch, and an expected turnaround time of 1 day. Later in the day I received a video of work being completed on my shock, I watched as the air was released from the oil, or as Richie put it: "When the semi-automated vacuum & fill machine that the shock was connected to sucked in the reservoir piston and the damper shaft into the shock body to drawn a vacuum before the damper being filled with the chosen damper fluid at high pressure". This is a guy who knows his stuff.
The next update was a quick call to tell me it was in the post and would be with me the next day, along with a tracking code and the registered post insurance code.
Speaking to Richie is a pleasure. Its an unusual thing to find good customer service in bike service centres, I often come away from the LBC feeling like I've been scolded by a grumpy headteacher, but not here. Richie is knowledgeable, happy to chat and share what he has learned.
When my shock came back it was a treat to ride. All the squelching was gone, the support was back and tracking was as new. I would strongly recommend R.H. Suspension to anyone who is looking for a good fast service.
When talking to Richie you get the idea that he doesn't sit still for long. He is an avid biker who loves riding in Wicklow and beyond. You can find him at races supporting the riders with his vast knowledge of suspension setups and he is always looking for opportunities to improve the mountain bike scene for us here in Ireland.
Giveaway
In late 2021 R.H. Suspension was awarded sole distribution rights to Italy's EXT Racing Shox – hopefully, we will have a review of some of these products soon. To celebrate this R.H. Suspension are offering one reader a free service for either a Rockshox Fox or EXT shock or fork. To enter this competition go and check out the competition details on the Emerald MTB Instagram feed and follow and R.H. Suspension.