Tracking mountain bike rides has become pretty much the norm for a lot of mountain bikers.
Apps like Strava have made recording your rides and routes a way of sharing your achievements with friends and others.
However, using your phone is not always ideal, especially on long rides. Having all the various features enable and an app running continuously can be a serious drain on the battery of your smartphone.
Alternatively, bar-mounted GPS devices have become extremely capable of not only tracking but also guiding riders. As they are attached to your bike, though, they are limited to those times that you are out riding.
More recently, more and more of us have also started tracking our daily activities with step counters and the like to give us a better insight into how active we are and to help us improve our health and fitness.
I am firmly in this latter camp. I like to have a record of where I've ridden, how much I ride and what if any improvements I've made. And more recently I've been trying to improve my general fitness by keeping an eye on how much I move daily, particularly as I sit at a desk for large parts of the week.
My phone does have a rudimentary step counter, but it doesn't really give much analysis beyond that. I have been searching for something that combines both of these features and lets me easily monitor them.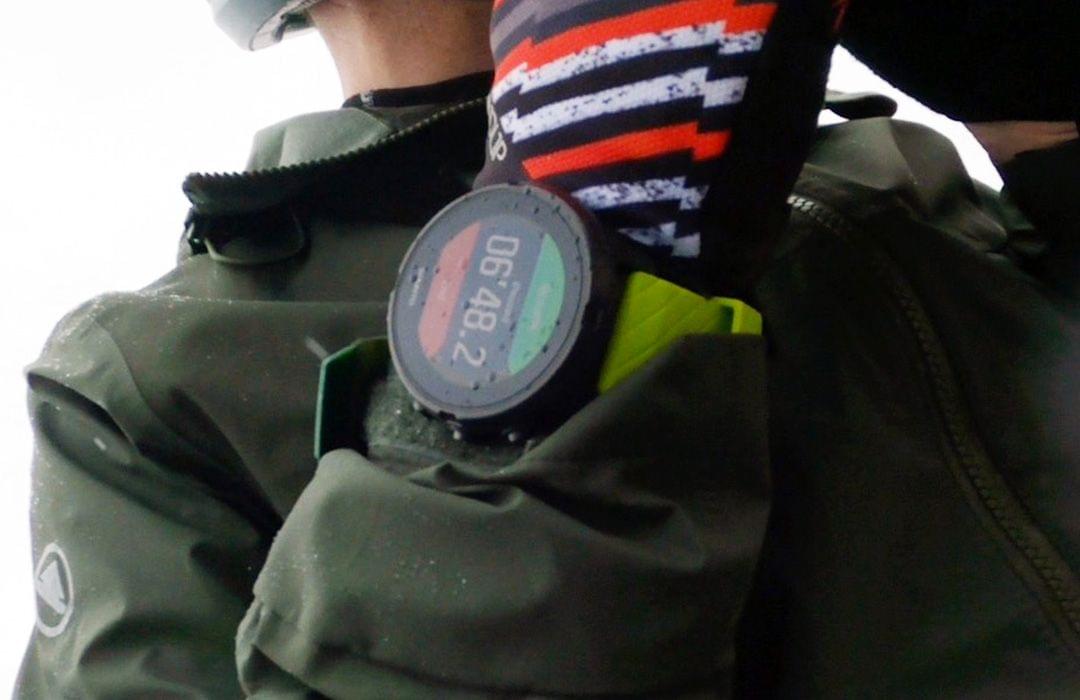 Unexpected wet weather testing of the Suunto in Spain
Enter the Suunto 9.
Suunto kindly agreed to loan me one of their Suunto 9 sports watches for a few weeks and sent me the Lime version. During this time I used the watch on short local rides and on our trip to [Spain][spain] for four days of mountain biking. And I wore it for a week straight as my everyday watch.
The Suunto 9 is controlled using the three buttons on the right-hand side of the watch. No
My local trails are generally a good test for GPS accuracy. Some devices I've tried in the past have been too aimed at road cycling or running and don't record GPS points frequently enough to allow for the twists and turns of mountain bike trails. The Suunto 9 didn't suffer from this. There will always be some slight variations as GPS only has a 95% accuracy. However, comparing the Suunto data to my regular GPS watch and phone on Strava shows up very little deviation from the trckr and an improvement over the phone.
In Spain, I got to test the battery life of the watch recording long rides each day. Recording rides or using any but the basic features will always reduce battery life. Suunto claims up to 120 hours of continuous exercise tracking. And in practice, I found that the watch easily handled the full trip to Spain without needing a recharge during the entire trip.
For everyday use, Suunto has built-in an optical heart rate monitor. While this provides lots of data and detailed analysis, both on the watch and later in the Suunto app, I did notice more fluctuations than some other devices I've tried. This could just be down to how I wore the watch, however, as optical heart rate monitors are only as reliable as the contact they have with your skin. And apparently factors like skin tone and hair density will also affect them.
Speaking of analysis, The Suunto has numerous screens you can cycle through showing heart rate, daily analysis, your latest activity and much much more.
All in all, I found the Suunto 9 a little heavier and bulkier than an everyday watch, it is very suitable for activity tracking whether that be cycling or exercise.

The Suunto 9 can be customised by changing the strap and bezel (pic courtesy of Suunto)