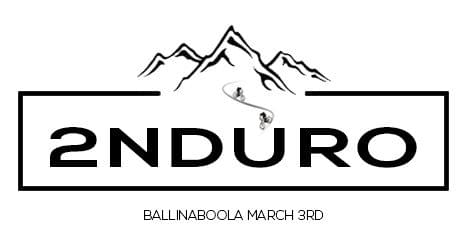 2019 is set to be a very busy mountain bike race season in Ireland with 6 major series - The four rounds of the season opening Biking Blitz followed by the Cross Country NPS, IDMS and no less than three different enduro series with Vitus First Tracks, Gravity Enduro and Grassroots Enduro Series.
With all those races and a few charity events thrown in for good measure, you wouldn't think there would be call for yet another event.
That is, until you look at what is being planned by Team Ballyhoura at the begining of March. The very first 2NDURO will be held on March the 3rd at the Ballinaboola side of the Ballyhoura Mountains.
What makes this event stand out from all the other cross country, enduro and down hill races?
The organisers describe the events as follows: "2NDURO is double the fun as you get to race with your buddy. You and your team mate will start and finish each stage together and share all the thrills and spills as you make your way down 3 blind stages." - Read their announcement here: 2NDURO
Losely based on the multi-day Enduro2 event that is held at Les Arcs in France, 2NDURO will be a one-day team based event, with pairs of riders having to start and finish each of the three stages across the 22 kilometer course at the same time.
There will be categories for men, women and mixed teams with prizes for the top three teams in each category courtesy of Bike Park Ireland.
The event is aimed at riders with a decent level of mountain bike handling skills. A certain level of fitness will be required to complete the more than 20 kilometers with 700 meters of elevation. The transition from the start gate to the beginning of the first stage alone is approximately forty minutes of climbing. The full course is expected to take between three an four hours per team.
"The three stages have been especially designed for this event and are to Gravity Enduro / Grassroots Enduro level. They are technical in nature and will require an ability to ride natural trails. There is a good mixture of Coillte single track and natural trails. All features are rollable."
There will only be one timing chip per team and both team members will have to be inside the start and finish squares together before the timing chip can be tagged to either start or complete a stage. Tht means, if you reach a stage finish before your team mate, you will have to wait for him or her.
The official 2NDURO FAQ can be found on the Team Ballyhoura website.
Since the event was announced a couple of weeks ago, places have been selling out fast. If you want to join in the fun and the excitement of a brand new race format, visit the registration website to see if there are spaces left: 2NDURO registration form.
You can find the date, address and a map on our events calendar. And keep an eye on the Team Ballyhoura Facebook page for photos and event updates.