We live in a country where fair-weather riders stay at home.
Riding in wet conditions even if it is not currently raining is a fact of life in Ireland. It is not called the Emerald Isle for nothing.
Honestly, as much as I enjoy riding dry dusty trails and while getting cold and wet doesn't compare to riding in the sunshine there is something to be said for slippery and muddy trails. It demands a different level of skill and technique.
Whether you share my appreciation for wet trails or not, I'm pretty sure we'll all agree that riding while soaking wet and frozen is not on our top ten of things to do on the weekend. Fortunately, that is a much easier problem to solve than the weather. Having the right riding gear for the conditions is the key.
Enter the Endura MT500 waterproof jacket which I've had the opportunity to try over the winter.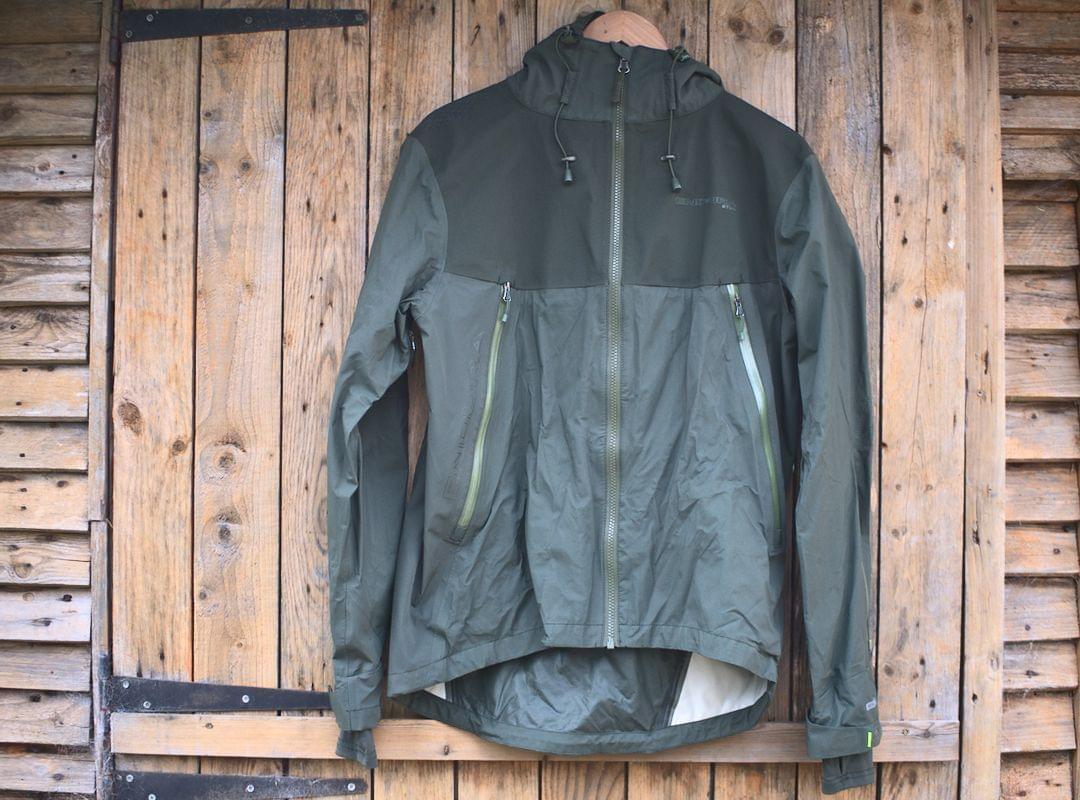 A multiple award-winning product, the men's MT500 waterproof cycling jacket been the undisputed go-to garment for pro riders like Dan and Gee Atherton as well as your trail centre weekend warrior.
Materials
Made from environmentally friendly PFC-free materials it features ExoShell60™ 3-Layer waterproof fabrics with a 60,000 gm/m2/24hr breathability rating as well as being powerfully waterproof. The breathability rating is important as we've all at some point used one of those cheap plastic raincoats that hold the rain out but you sweat buckets while wearing them resulting in a soaking not much different to going out in the rain without said plastic bag.
In real-life use, the MT500 breathes just fine. I've worn it in conditions ranging from mild Irish autumn weather to stormy wet winter conditions and even on a summit to valley descent in Spain going from sub-zero and snow down to sun and temperatures in the high teens. Even in the Spanish winter sun, I didn't find myself sweating any more than I would expect without the jacket. The large zippered vents, two each on the chest and under the arms, help control that air that flows around your body.
The jacket is very light which helps to make it usable in such a wide range of conditions. If it's colder I just wear more layers and remove them as the temperature rises. It is also a useful windbreak as I found out at the top of that Spanish mountain in the snow.
Cut & Comfort
Endura has designed this jacket specifically for mountain bikers. Stretch panelling has been incorporated where needed to not restrict a rider's movement on the bike. The vents have been placed strategically so that backpack straps won't interfere with them. And all the zippers, the main closing one as well as those on the vents, are all rain resistant. I haven't noticed any leaks while out riding, even when caught in heavy showers.
The two front vents double as large pockets with plenty of room to stuff several bars, a phone and your wallet. There is also a handy lit pass pocket in the left sleeve for those lift-assisted riding trips to the Alps.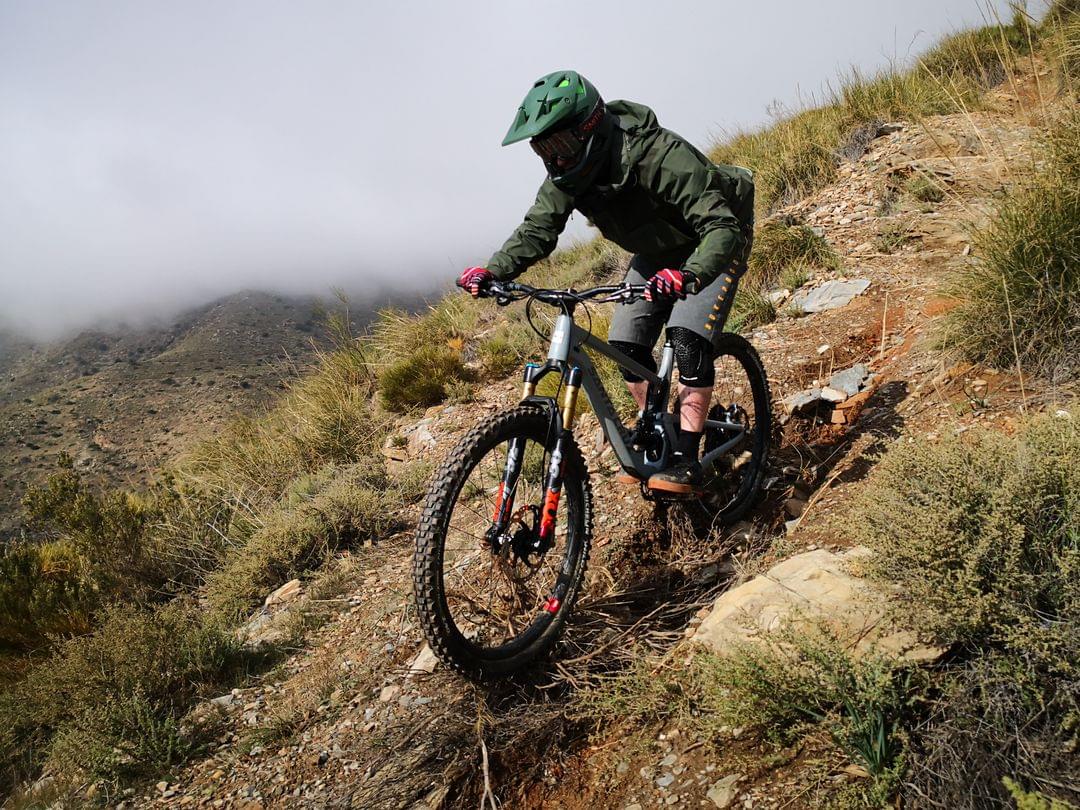 The hood is comfortably large so that it doesn't restrict head movement, but it isn't quite large enough to go over a full-face helmet. I haven't tried it with my half shell helmet, which possibly could fit, but I think it would be a little tight.
I've found the cut of the jacket extremely comfortable on the bike. There is no uncomfortable bunching or overly tight areas. I wouldn't wear it out casually around town (which I have done with some other MTB rain jackets) as the front and back are very specifically cut for use on a bike with a nice long extended back to stop rear wheel-spray.
Being such a light jacket also makes it very easy to pack. It folds down nice and small and easily fits into my small 10L backpack. With a bit of extra effort, I can even squeeze it inside my hip pack or, if I roll it, I can strap it to the outside of the hip pack for easy access.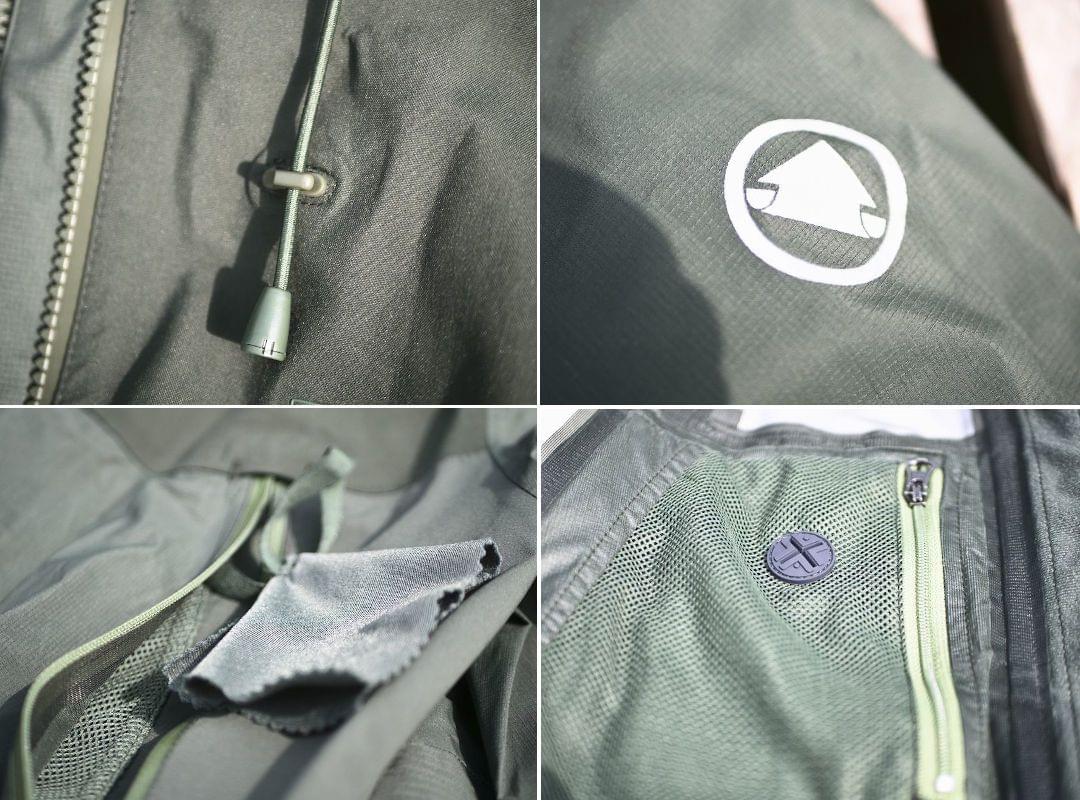 There are lots of little xtra features hidden throughout this jacket as well. Like the hood ties passing through fixed loops on the chest to stop them dangling everywhere. The reflective details to make riders more visible at night. Or the integrated google wipe inside the left front pocket.
Conclussion
Considering how light and easy to pack the [Endura MT500 waterproof jacket][crc] is - and how unpredictable Irish weather can be - I tend to carry it with me on most rides. The real test of how comfortable a piece of riding gear is is how often I wear it. Something uncomfortable soon ends up in at the bottom of my clothing pile. Over the past 5 months, I can count on one hand the number of rides where I have not worn the MT500 jacket for at least part of it. With the jacket's phenomenal breathability it is only on the warmest days where I take it off. And after numerous passes through the washing machine - using non-bio powder on a 30-degree wash - it looks just like it did when the postman delivered it last autumn.
[crc] http://tidd.ly/7b8482ce