It is a Monday afternoon at the beginning of December when Stead and I get off an airplane at Malaga Airport in the South of Spain.
After collecting our, large to fit two bike bags plus other luggage, hire car at the Hertz desk we drive a short distance west of Malaga to the village of Alhaurin el Grande. Here, after a little driving around in circles trying to decipher where the car's built-in sat-nav is trying to take us, we arrive at Switchbacks MTB's winter location. A large villa with several apartments, a log cabin, an outdoor kitchen and bar and a swimming pool. Unfortunately, the first week of December is not swimming pool season, but we made use of all the other facilities on offer. Michael, the owner of Switchbacks, welcomes us in, shows us around and delivers us to our very own apartment, with kitchenette, seating area, private bathroom and two bedrooms.
As it is mid-afternoon, Spanish dinner time isn't until at least 7pm and we missed lunch - Ryanair flight, need we say more - Stead and I head into the village to try and find something to eat. Unfortunately, while there is no shortage of restaurants in Alhaurin el Grande because it is nowhere near dinner time, most of them are still shut. We do eventually find a little place that serves us a couple of chicken burgers and chips.
In the evening, after we have re-assembled our mountain bikes, we join the other guests in the outdoor bar area till late in the evening to introduce ourselves and to listen to their stories of the day's riding.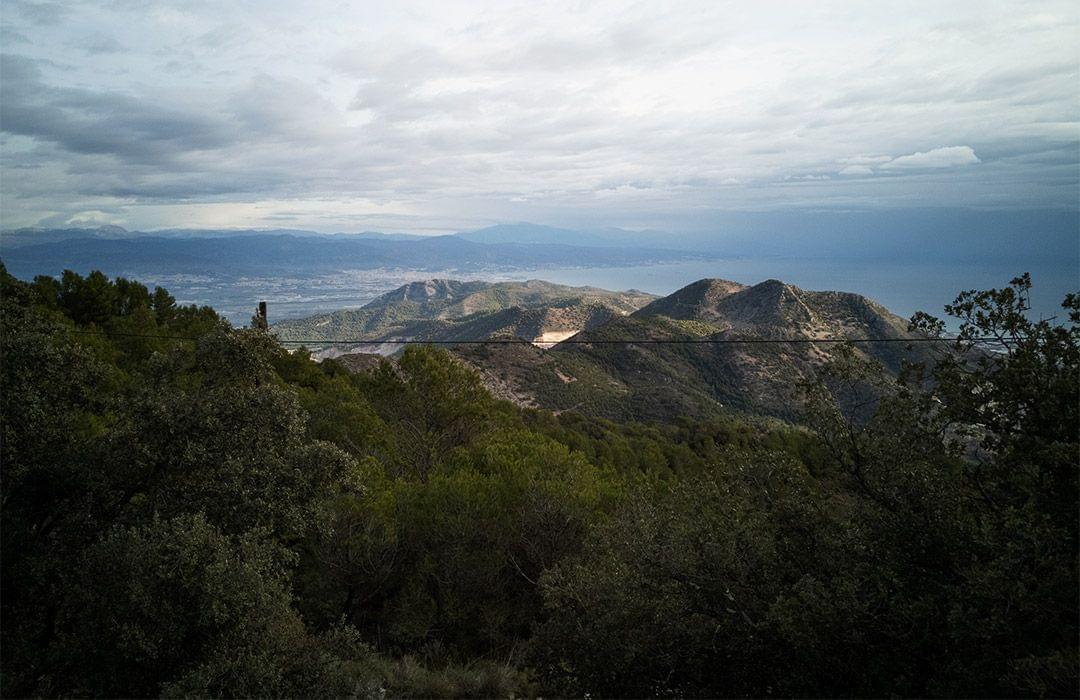 The next morning, after a quick breakfast in the communal kitchen, we get all our kit together and wheel our bikes to the Switchbacks vans ready for our first day of mountain biking.
A relatively short drive later, winding our way up the slopes of the Sierra de Mijas on ever-narrowing roads, we all pile out of the van. We have arrived at the top of a narrow ridgeline with stunning views down the mountainside and out to sea. It doesn't take long for everyone to get their bikes out of the van, put on gloves and helmets, and get on their bikes.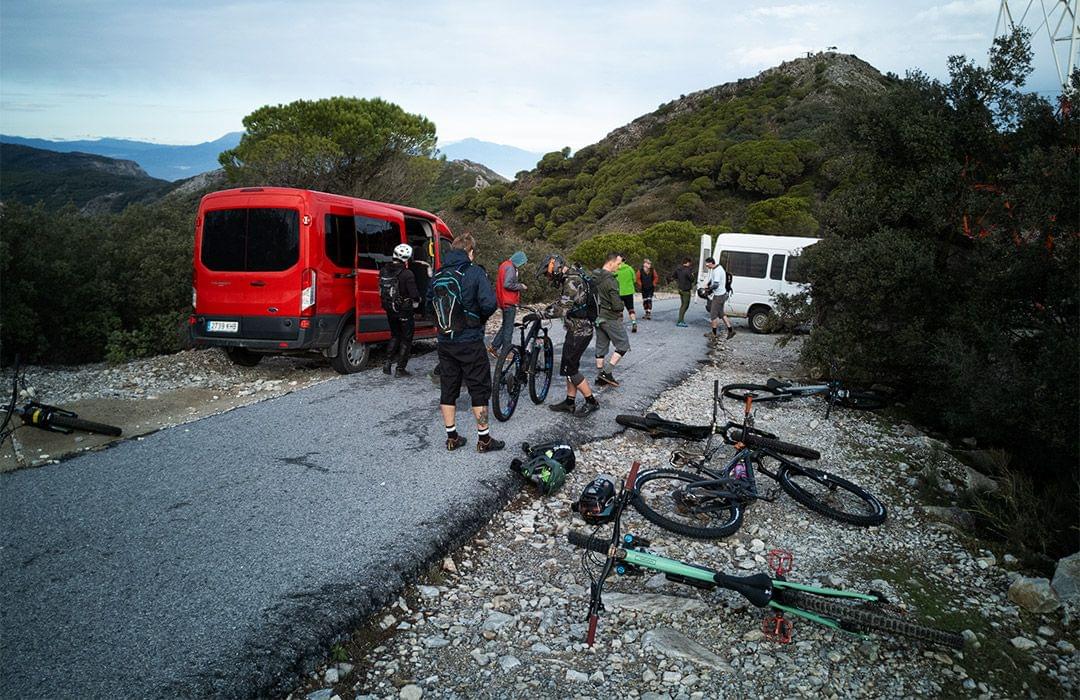 As there are quite a few of us, having arrived in two separate vans, we split into two smaller groups. The first, consisting of the quicker riders, follow guide, Ruben. Stead decides to join this group, while I hang back to join the mellower group guided by Michael. For the first morning of a four-day riding trip, I don't mind starting off slow.
A quick blast down the road before we veer off and up a short sharp climb to begin our exploration of the Mijas trails. The first trail we hit is called Bro Hammer. For this first descent, I closely follow Michael as he expertly calls out what obstacles are coming up and which lines to take. Being able to follow his wheel down a blind trail is great as it takes out the need for my brain to over analyse the terrain ahead, instead allowing me to just follow, ride my bike and enjoy this loose rocky trail as it snakes between the gorse bushes and trees.
At the bottom, we pile into the van for the short shuttle back to the top for another go on Bro Hammer. This is the biggest advantage to uplifts, in my opinion, the ability to repeat the same trail in a short period. Where the first run was a relatively tentative effort in my part, the second time around I ride on ahead while the guides look after a couple of the less confident riders in our little group. At this point by no means do I remember every twist, turn or feature fo the trail, but I at least know nothing is coming up that I can't ride. As a result, I have a blast as I lay off the brakes and let the bike do what it does best, smash down a hill fast.
As we spotted some rain clouds moving in from the coast, it is decided that this is a good point to pause and grab some lunch in a local pizzeria. Here we also brief cross paths with the faster group in the second van. As they managed to get down the hill quicker than we did, they've done different trails to us.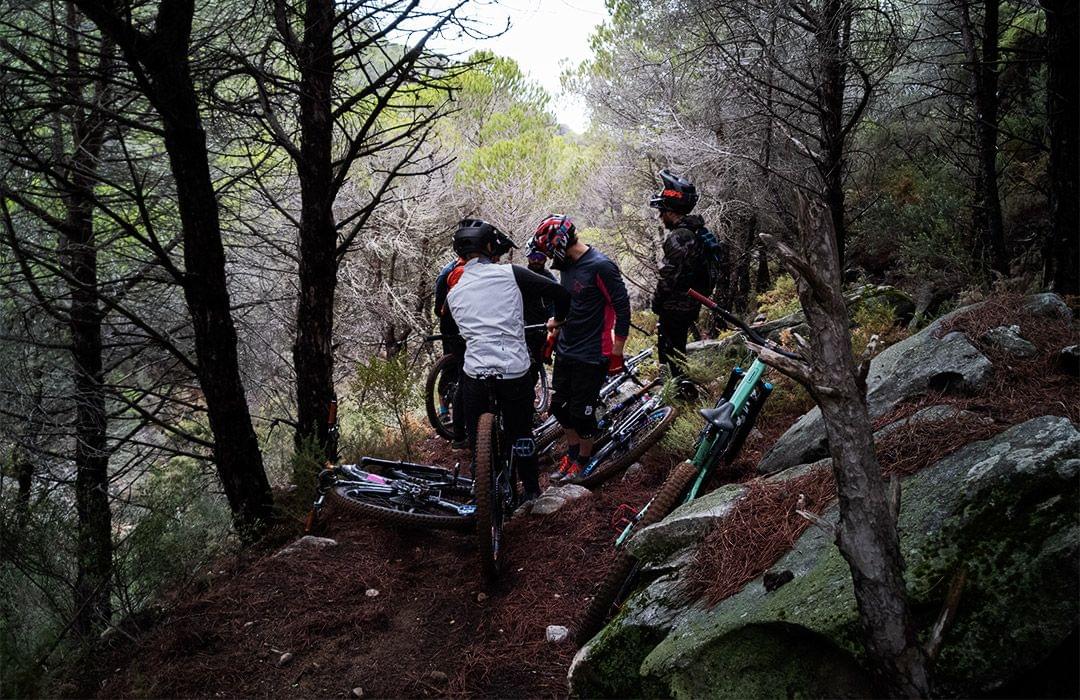 Stomachs filled, two of our slower group members decide they would rather chill for the afternoon and head back to the villa. This leaves four of us, two guides and two guests. With a guide each we get the royal treatment down the trails we are about to hit in the afternoon. Personal guiding and a bit of coaching thrown in to get us over and through of the tougher sections ahead.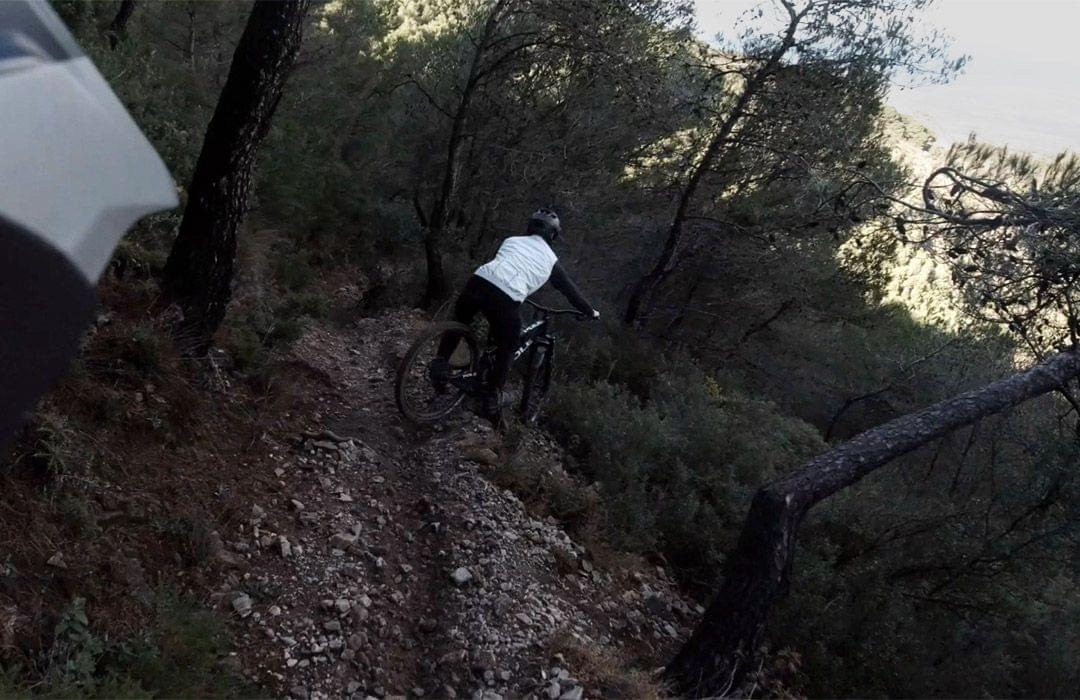 We next ride Leftism. A much longer trail to what we rode in the morning. And also more technically demanding. Numerous rock gardens and tight switchbacks challenge us early on. Further down, the trail surface changes several times, going from rock through some loamy patches and even a very rocky chute filled with deep sand.
The last trail of the day for us is Lomo, built by the guys at Switchbacks. We start off by riding some dreamy loam through the pine trees, but the conditions quickly change to rock gardens and steep descents. And again, further down, as we emerge into the bottom of the gorge and the trail switches to following the very rocky and loose dry river bed. This trail definitely suffers from a personality disorder. Down here we spy several additions to the trail as little lines split off the main trail to the left and right adding in a few steep drops and hip jumps.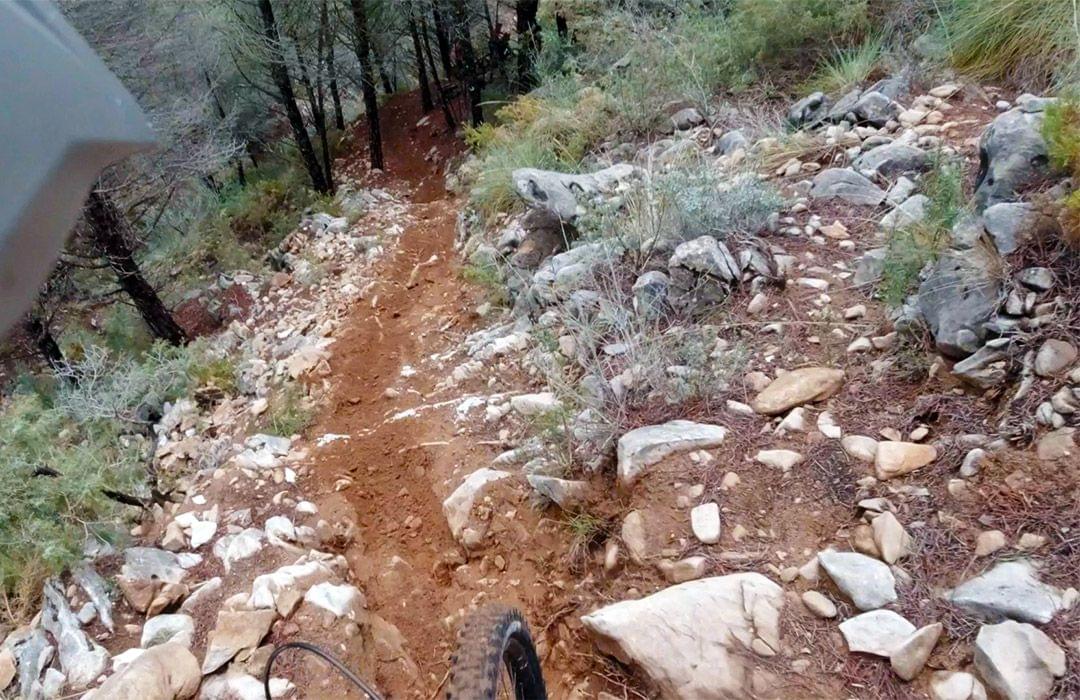 As the daylight starts to fade we all regroup back at the villa. Our bikes get a quick power wash down in the garage before we head to our apartment for a shower and a change. At 7 the chef rings the dinner bell and we gather in the outdoor area for food and beers. And the beers continue late into the evening.
Our second day at Switchbacks MTB starts a little earlier than the previous one. Today we are heading to La Zubia near the city of Granada in the Sierra Nevada. We're setting off earlier to allow for the hour and a half drive it will take to get there.
The terrain in La Zubia is completely different from that in Mijas. Much loamier, with less loose rock but more sharp bedrock. Before heading out this morning, Michael warned us that the trails here are some of the easiest that they guide on. But they also cause the most injuries. We've been warned to not let our concentration slip and become overconfident. It's always nice when someone puts you at ease before riding brand new trails you've never seen before.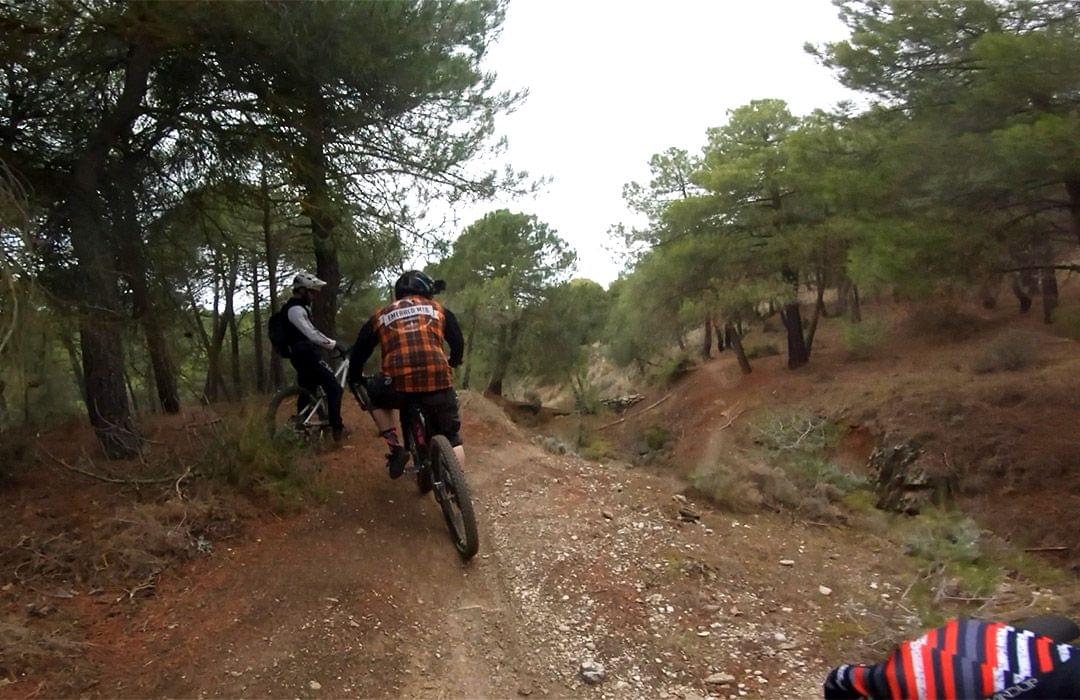 As Michael stayed behind to look after some departing guests, today we will be in the care of Ruben aka The Flying Wombat. As we set off on this 'easy' trail for the first time, we follow Ruben as he skips over roots and rocks, manuals through dips and generally seems to be having the time of his life.
This trail, while not steep, or overly technical is incredibly quick. Apart from a few tricky rock gardens where it's very easy to lose speed and even stall, this trail constantly urges you to get in those few pedal strokes, let go of the brakes and just let that speed build. As we lose count of how many times we session this trail over the morning, every run becomes a challenge to go faster. Each time we ride the trail we spot new lines through the rocks, or another rock we can hop over and or just plain ignore obstacles as we charge over them at speed.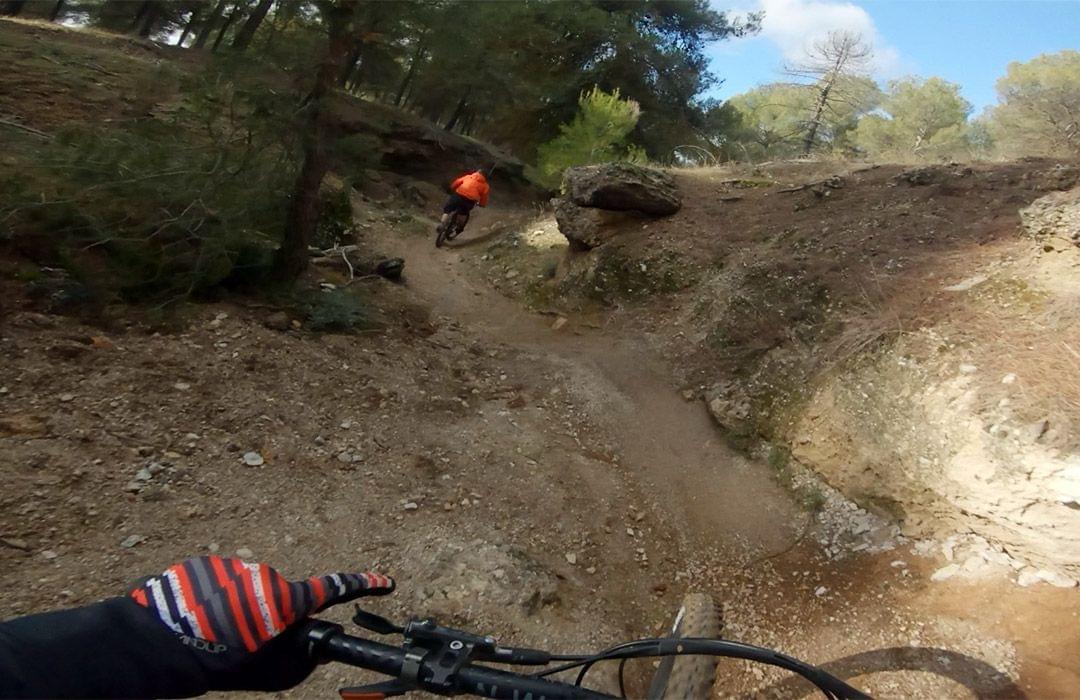 After a quick lunch break of some rolls and soft drinks, Ruben shows us another trail. This one is well known as the Greg Minaar test track. While running virtually parallel to the one we've spent the morning riding, this is definitely a more aggressive trail. Following a dry river bed, this trail includes a lot more rock. Where the trail jumps up and out of the river bed on either side it creates hip jumps and steep drops back down. Towards the bottom of the track is a set of immense doubles that we all stare at in disbelief.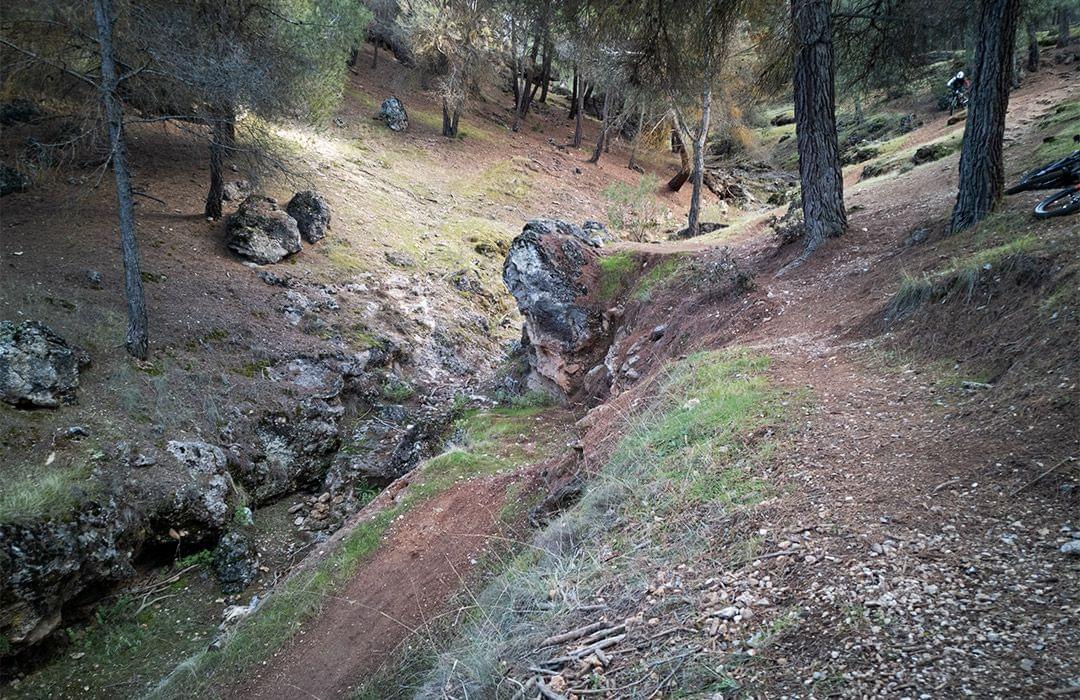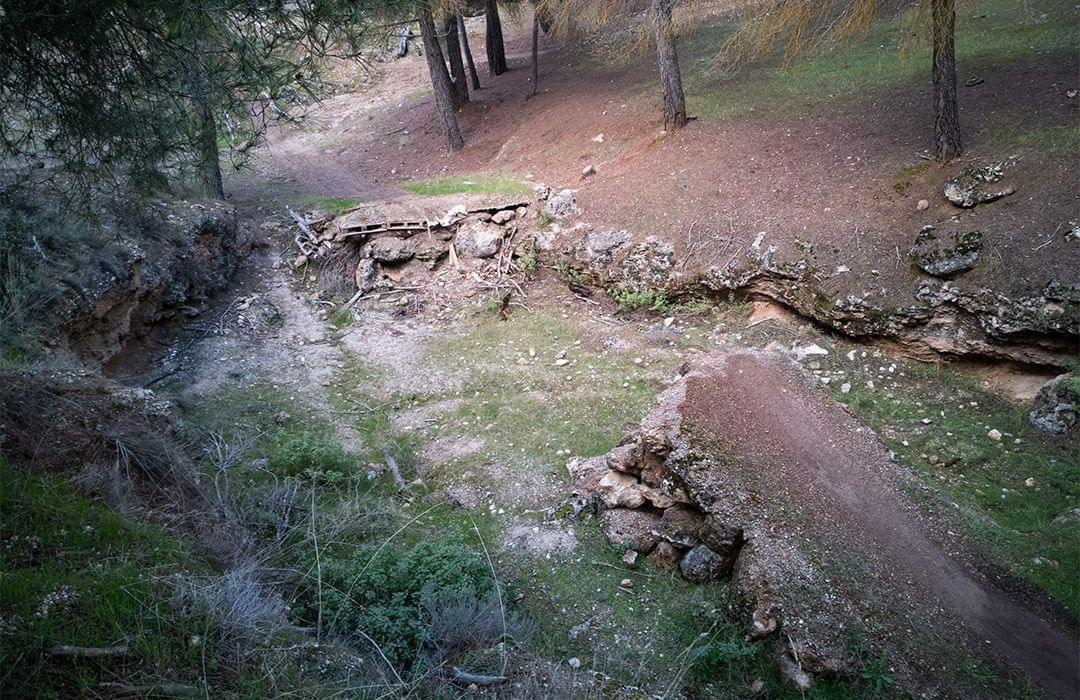 At the end of the day, we bid farewell to our fellow guests, guide and driver. We're heading a couple of hours further East for the second half of our Spanish mountain biking trip.
Later that evening we arrive in the village of Almanzora in the Almeria region of Spain. Here we are met by Vic and Einat of Mountain Biking Spain who will be showing us around for the next two days. After a quick stop to drop our bikes and luggage at the B&B where we will be staying for the next few nights, Casa Olivos, we are whisked off to a Spanish cafe in neighbouring Albox for a dinner of tapas and pizza together with our two fellow guests, a father and son from Norway.
Our first morning in Almenzora begins with coffee and a bacon sandwich courtesy of our hostess before we are collected for our day of mountain biking. As we load up the van Vic points off in the distance to the snow-capped mountain range on the horizon and tells us that's where we will be riding.
Along our way up the mountain road, we stop at a lay-by to drop off Einat and the Norwegians who will be riding a more cross country style route today. Something that I do not envy them when Vic tells us that Einat has raced and won numerous 24-hour mountain bike events.
Vic and Matt take Stead and me up to 1,800 meters to a trail they call Very Freaky, a play on Velifique the name of the village where we will finish. This trail is an old walking route, over six kilometres of slate covered track carved out of the mountain slope. We sat down and watched the footage of today's ride to see just how many switchbacks this route has. We counted 59. After two runs we have had a crash course in how to navigate switchbacks on a mountain bike.
The top of the trail is covered in snow, a reminder that is still December even in the South of Spain. As we are freezing in our riding gear, we don't hang around for long before we set off down this epic trail. Very Freaky, while not overly demanding technically, takes its toll on our arms and legs and makes our bikes' suspension earn it's keep, despite numerous stops to take photos. The views of the valley and villages below us as we descend are breathtaking.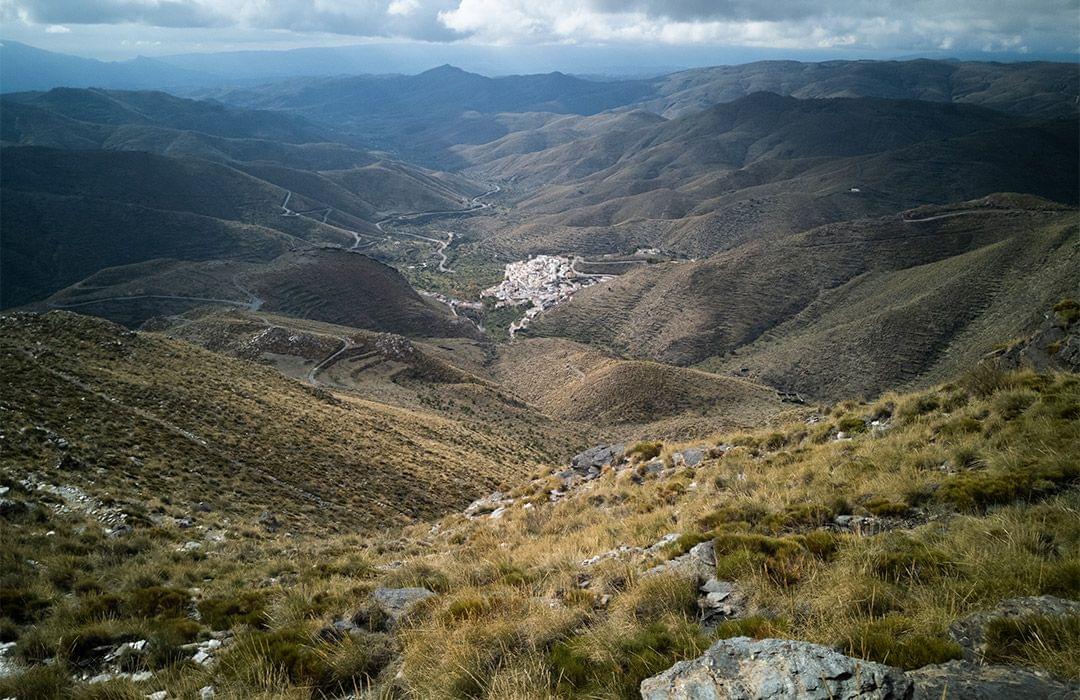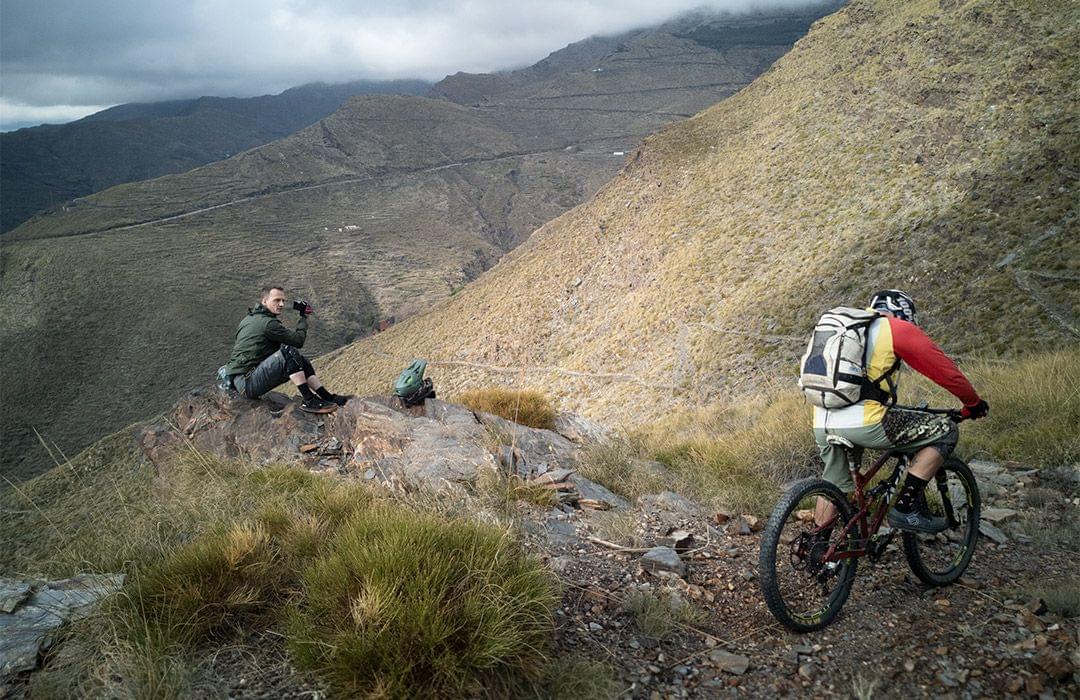 Once we reach and ride through the picturesque village of Velifique we meet up with our uplift driver at the local Piscina Municipal. The swimming pool car park was chosen because it offers the most room for the van and trailer to turn around. Today, however, most of the car park is taken out by a huge road cycling team bus and their road bikes. The team are here riding for a photo and video shoot riding the mountain roads that feature on the Vuelta a Espana. Our four mountain bikes receive a lot of curious attention and picture snapping. And the riders and team staff that ask us where we're riding all shake their heads in disbelief when we tell them we didn't come down the roads.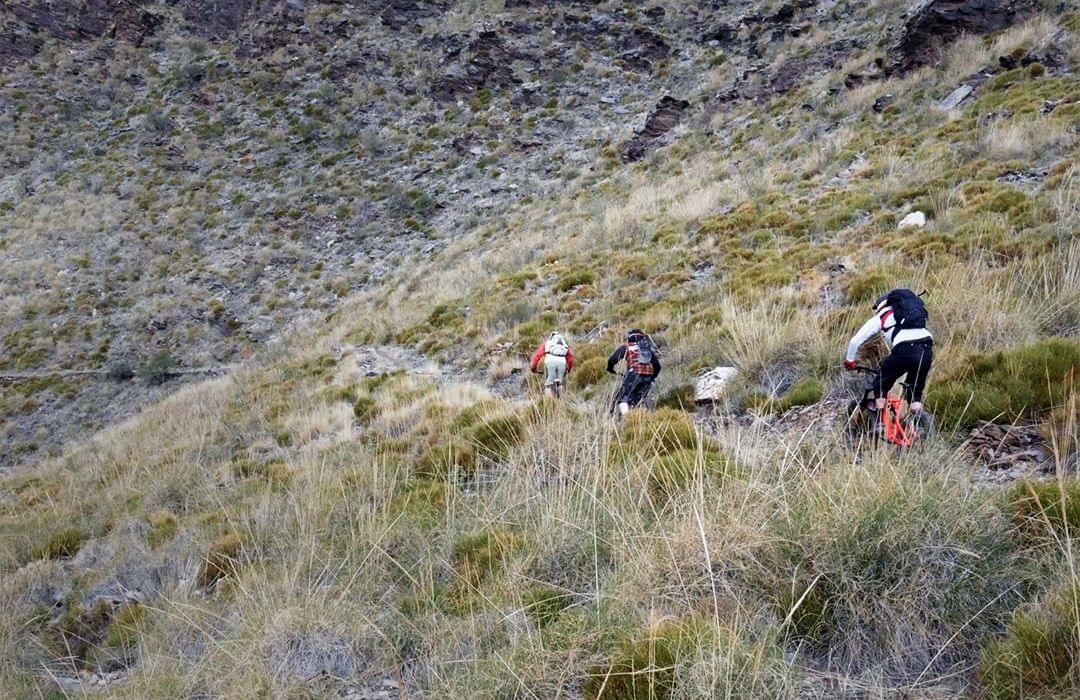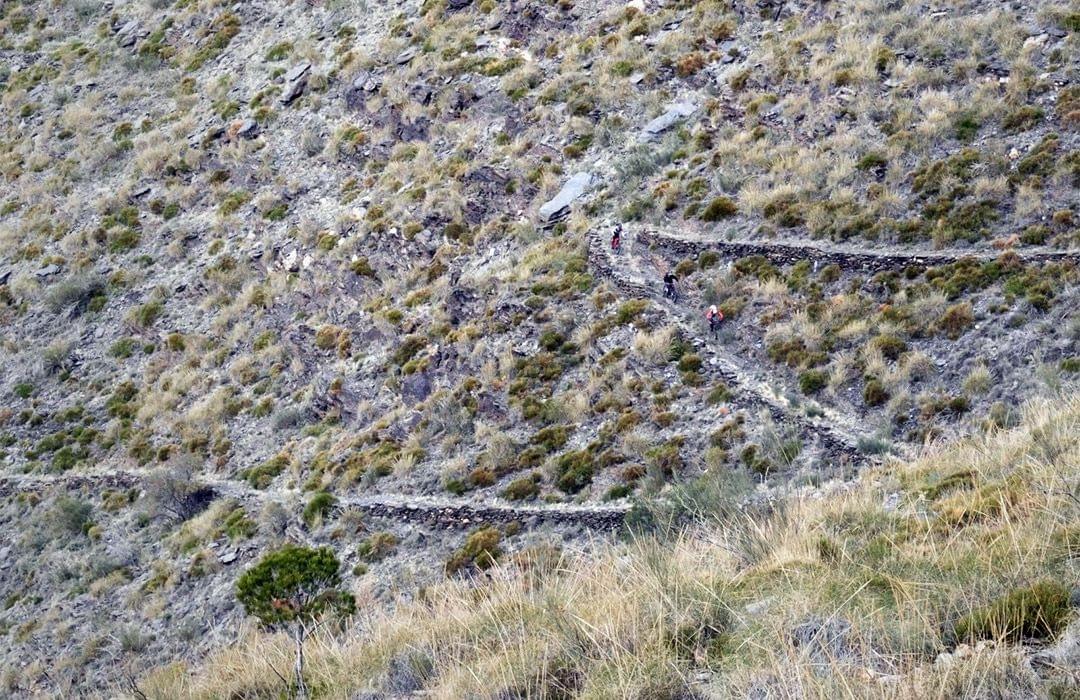 After a quick coffee break in the cafe, we drive back up the mountain. Vic intended to show us another of their trails in the same area. Unfortunately, after a valiant effort to get there across a forest road the snow forces us to turn around. Instead, we get to ride Very Freaky for a second time, this time at a much quicker pace and with far fewer stops.
On our final day of riding in Spain, we head to Uleila. According to Vic, this is one of their most demanding trails and the majority of their guests are not able to ride here. Having previously watched videos of this descent on YouTube, I must admit I was looking forward to riding here with somewhat mixed feelings. A feeling that is not helped when the final few minutes of our drive up are shrouded in thick fog blocking any view of what lies below us.
We are in expert hands, however, as Vic and Matt bracket us on our first run down, carefully controlling our speed and alerting us well in advance of the features coming up. And the fog soon clears as we descend down the trail.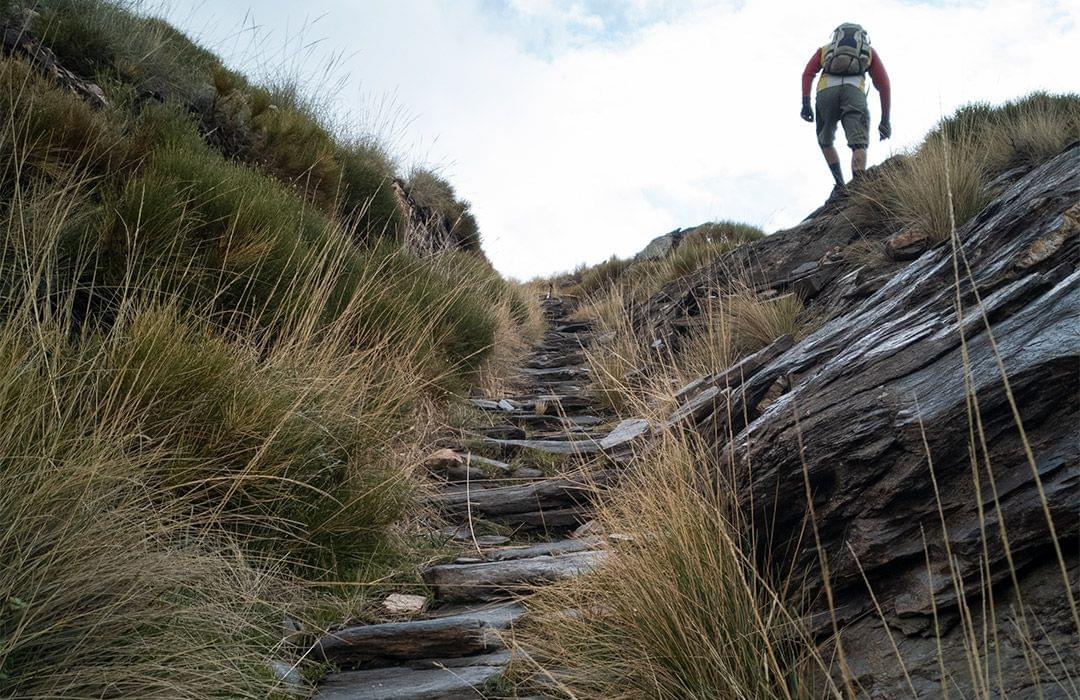 This is the trail where local downhill racers come to practice we are told and it is clear to see why. The ground is covered in loose grit and rock. From the very start, we have to navigate tight switchbacks. And as we progress, the gradient gets steeper and steeper. This is a very intimidating trail, especially on a first run. Fast tight single track sections end abruptly in steep switchbacks forcing us to carefully control our speed and keep our eyes focussed well down the trail. Chunky rock gardens litter the trail interspersed with intimidatingly steep chutes.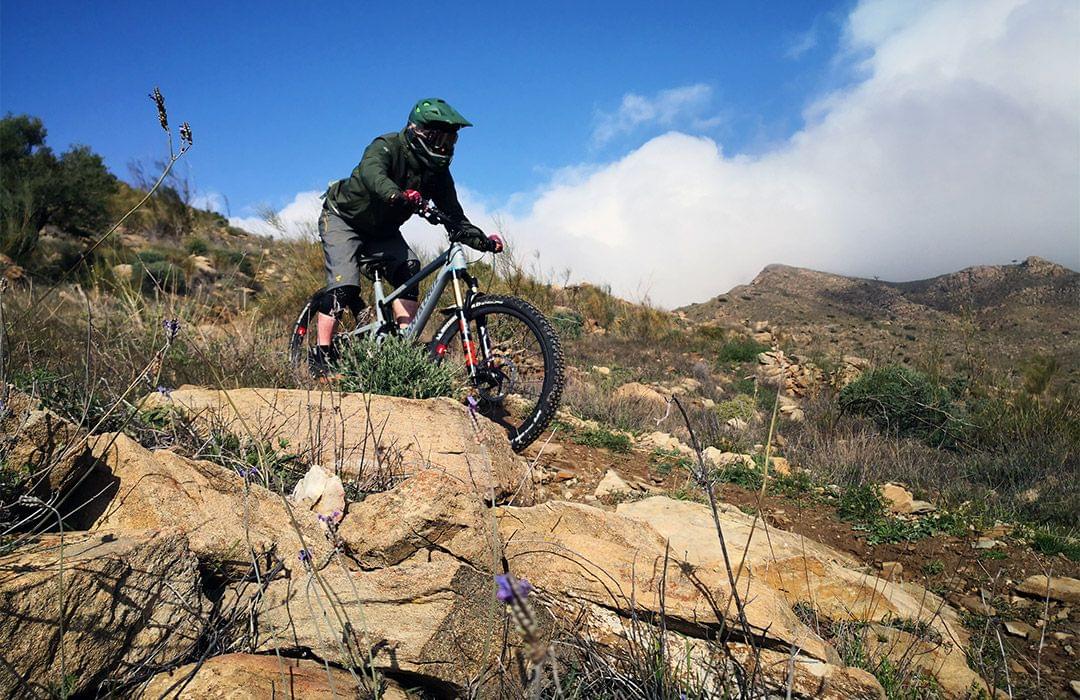 When we get to the bottom, however, with our adrenaline pumping we waste no time getting the bikes into the back of the van ready to head back up for another go.
Where the first run was slow and controlled, the second time around we let off the brakes a lot more and worry less about what's coming up and focus more on enjoying the thrill of riding a trail that is so utterly different from what we are used to at home.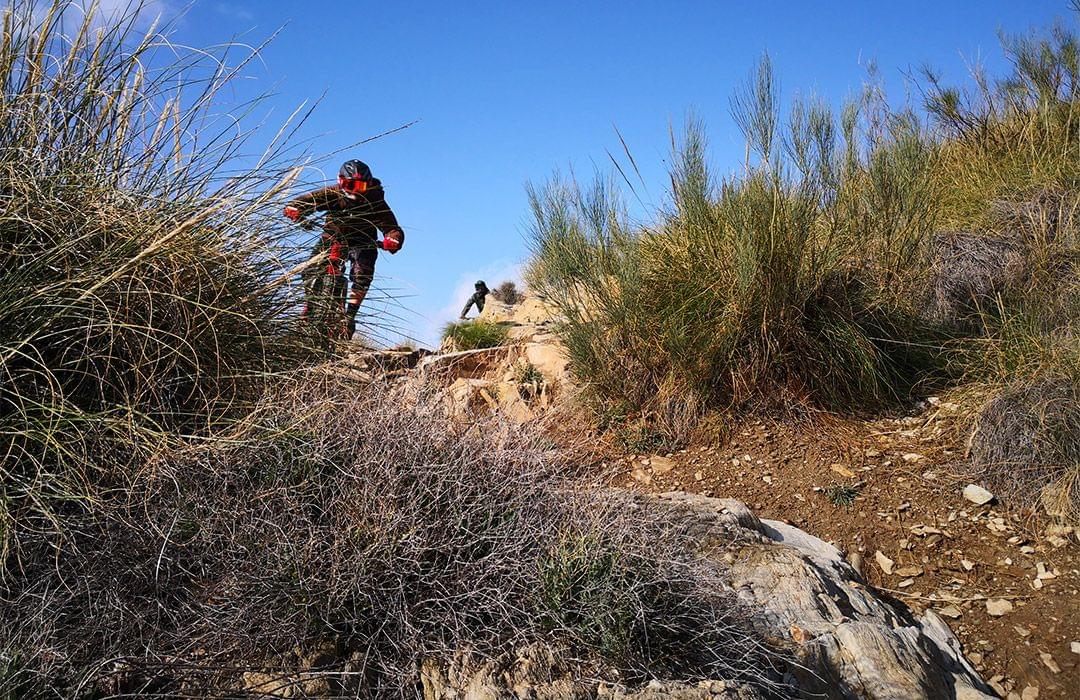 After a short lunch stop in the village at the bottom for some local Spanish tapas and strong coffee, we are keen for another run of Uleila.
The third run of the day. We've had a practice run and a warm-up. I start off a little timidly still on the top section. Right after the initial section of switchbacks, Stead punctures on the sharp slate surface, a nice slash in the sidewall of his tire. With fresh air, Stead is off on a flyer. The steep rocky sections that come next favour his riding style and his 29er Evil Wreckoning, where I find them a touch more intimidating.
We stop for a regroup after the steepest and most intimidating section of the trail and wait for Vic who had to stop and look for his bike computer. The trail is so rough it rattled the computer enough to break the cable ties holding it onto his handlebars. From here on down the trail speeds up a bit. It doesn't get any easier, but the nature of the obstacles change slightly encouraging more speed and less braking.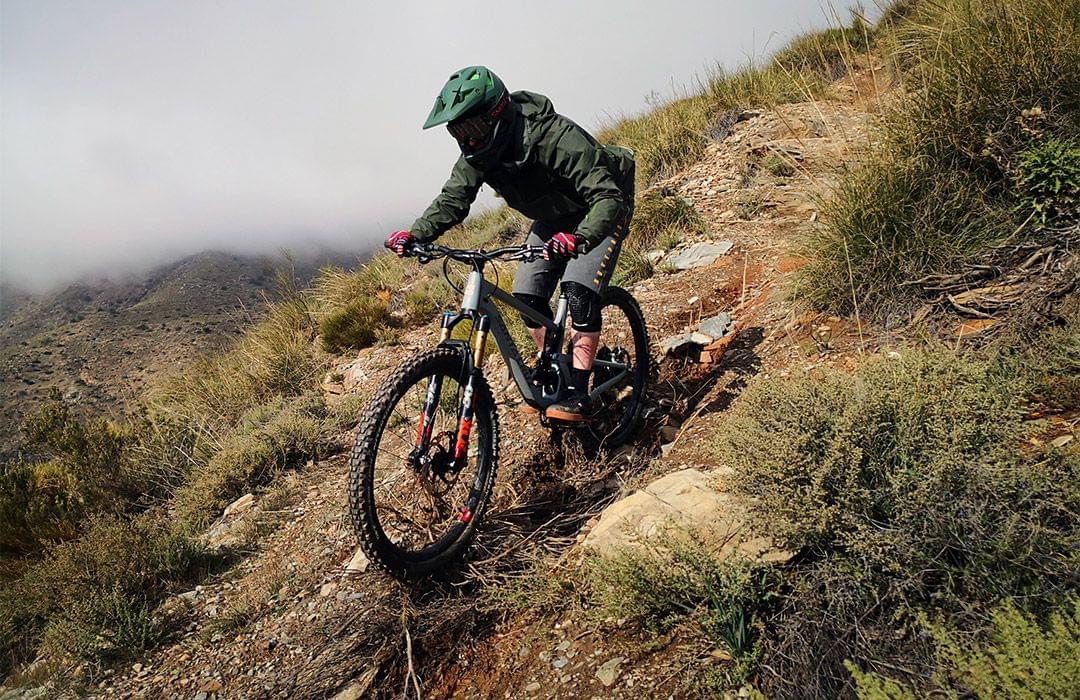 When we set off again, Matt and I are hot on Stead's back wheel, all three of us letting off the brakes and rattling through the rocks. Top Gear rules are applied when Stead's rear tyre loses pressure again and I don't even slow down as he pulls off to the side. I manage to hop up a couple of natural rock steps on one of the very few uphill sections of this trail but then get my pedals totally hung up in a very tight gap at the top. The adrenaline is pumping at this stage and we are having too much fun to stop for long. So after getting myself untangled, Matt and I don't stick around. A twisty single track section lulls me into letting go of the brakes forcing me to hit the next descent much faster than I would have done instinctively. This is a long slope that starts through a V-shaped rock gulley waiting to snag a pedal and runs onto a rutted gravelly slope where braking is near impossible. With the speed we've carried out of the last section we fire through here and put all our faith in the tiny catch berm at the bottom.
After a brief wait, we can see Vic following us down the trail. And several minutes later Stead catches up on foot having given up trying to get his tire to hold air.
The final part starts with a short sharp climb that we carry as much speed into as we possibly can before dropping over the crest. We're close to the end of the trail now and we can see the village in the distance. The final part winds through low brush and over sharp rocks. With the adrenaline flowing we launch ourselves off rocks and drops without a second thought. Skidding to a stop beside the van it's fist bumps and high fives all round accompanied by silly grins on our faces. This was probably the best run of the week. It's also the last one, as the next day we drive the three hours back to Malaga for our return flight to Dublin.
For more information on the Malaga trails visit Switchbacks MTB. To see what is on offer in the Almanzora Valley check out Mountain Biking Spain.