If you want to test your mountain biking skills someplace new, Malaga in the South of Spain could be just the place for you.
We were invited to visit by Switchbacks MTB and sample some of the trails in their area.
From November to April Switchbacks are based just 30 minutes from Malaga Airport. For the summer months, they move to Bubion closer to the Sierra Nevada. As we stayed with them in early December, we had the benefit of a very short transfer from the airport to the Switchbacks villa.
Guests at Switchbacks have the option of staying in a private room in the villa, in one of several apartments and even a log cabin on the villa's grounds.
There is a refreshing looking swimming pool on the grounds as well. When we stayed the temperatures weren't enticing us to give this a try, but apparently up to a couple of weeks before our stay the pool had been in regular use.
We were possibly a little unlucky with the weather. The first week of December we had riding temperatures in the mid-teens, with a couple of short rain showers. Overnight we had some very heavy rain showers, which brought the temperature down a bit but did make for fantastic trail conditions. Coming from wintery Ireland, 15 to 18 degrees celsius doesn't sound all that unlucky to be honest. Until you consider that both weeks either side of our visit Malaga temperatures were in the low 20s.
Unlike some other mountain biking tour operators, Switchbacks don't offer fixed-length packages on set dates - although they do occasionally arrange some special events. Rather, guests can come and go on the days they want. We felt that this made for a very relaxed atmosphere. There was a fairly large group of guests already there when we arrived and a couple of others arrived after us. Without a fixed itinerary, Michael and his team could decide which trails would best suit the riders and conditions on any given day.
People were also free to take a rest day and chill at the villa, or go and see the local sights if they so wished.
Switchbacks are an official Pole demo centre and you can hire their bikes which suit and are set up for the local trail conditions.
If, as we did, you would prefer to bring your own bike Switchbacks recommend a trail bike with a minimum of 140mm of travel front and rear. Brakes are important on the long and steep runs and 180mm rotors are a minimum. Switchbacks also highly recommend dual ply tyres to cope with the rocky terrain and suggest an insert system if you ride tubeless - no one wants to ruin their day with flat tires.
A typical day at Switchbacks MTB
The night before everyone is advised what time the vans will be leaving the next morning. For the two mornings that we stayed this was between 9 am and 9.30 am.
Each apartment has its own little kitchen with breakfast supplies - bread, eggs, coffee, cereals and milk - that you can help yourself to. There is also a more communal kitchen and dining in the main villa.
Once fed and dressed everyone gathered at the vans with our bikes ready to travel to the trails. Travel time varied, depending on where we were riding for the day. On the first day, with some showers forecast, we stayed relatively local in the Sierra de Mijas which was only about 20 to 30 minutes in the van. On the second day, we travelled for around an hour and a half to La Zubia outside of Granada.
Once at the trailhead, the bikes are unloaded and you're ready to ride. On both days we stayed with Switchbacks we were on the trails practically straight out of the van.
With a larger group of riders, as we had on our first day, we were split into two parties - those that considered themselves quicker and others that were less fast. Each group of course accompanied by their own fully qualified and very skilled guides.
All the guides we rode with were extremely friendly, very patient and informative. Before any new section of trail, they would make sure to give us an idea of what to expect, warn us of any tricky parts and advise us of the best lines. Being able to follow a guide down a trail that you've never ridden before is a great way to overcome those first day nerves and to gain some bike handling skills.
After several morning runs on different trails we stopped for lunch. Pizzas at a local restaurant on the first day and a picnic of chicken rolls the next day.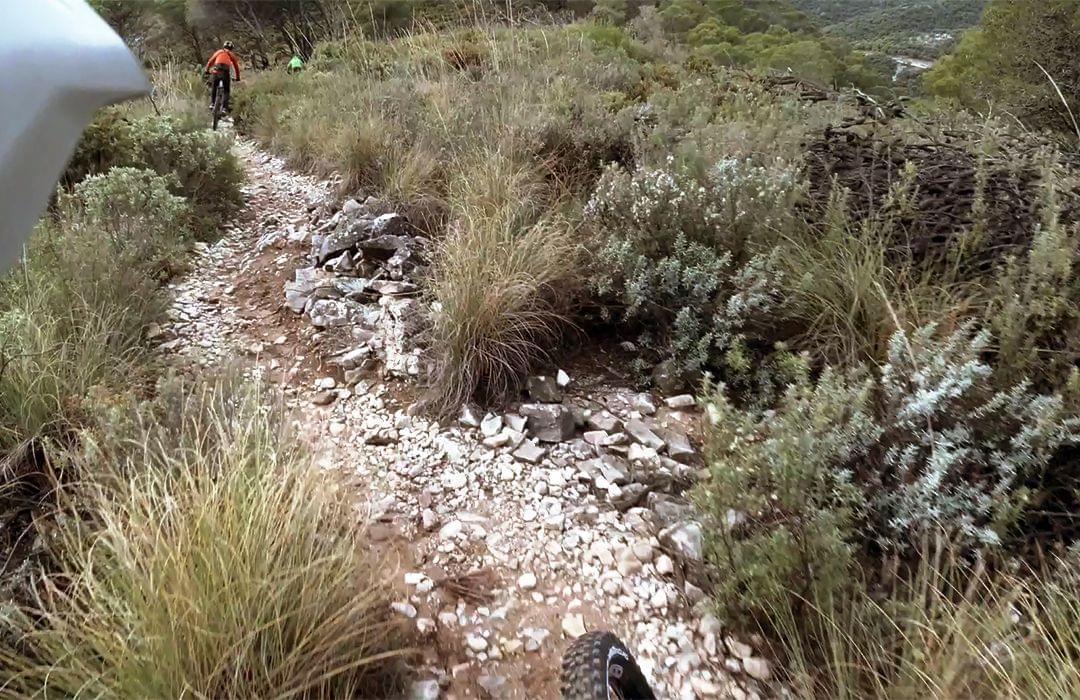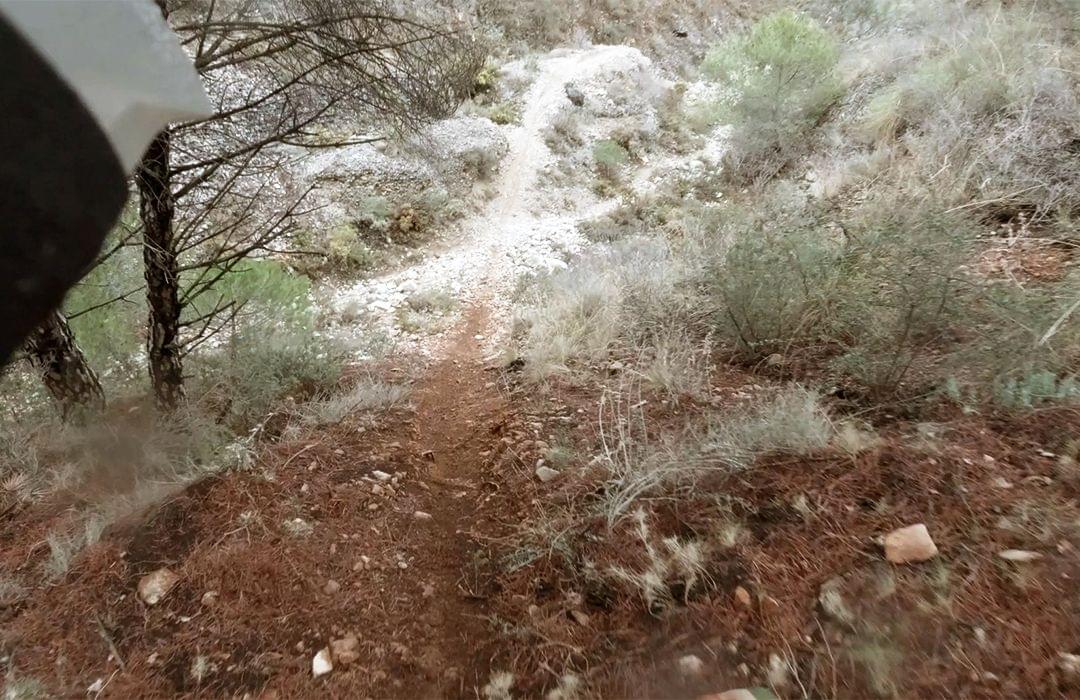 Once all our stomachs were filled and before the urge to go to sleep got too strong, we were off for more uplifted mountain biking in the afternoon.
Around 4 or 5 o'clock we would pack up and head back to the villa.
Dinner was at 7 pm both days, giving us some time to relax, shower and perform any bike maintenance needed. Dinner was cooked for us by a private chef and served in the outdoor patio area. And we would stay outside reminiscing about the day's riding, getting to know our fellow guests and enjoying cold beers (bought at the supermarket around the corner) from the fridge until late.
Sleep and repeat…
Would we go again?
Absolutely, yes. As we only stayed for two days we got to ride a fraction of the trails on offer. Even if we only got to ride those same trails again, we would still jump at the opportunity. For a better description of the trails that we rode, read the travelogue of our Spanish MTB trip. Michael and his guides expertly guided and coached us through trails that were a long way removed from what we're used to. Two full days of riding long, fast, technical and varied trails with the bonus of a van at the bottom waiting to take you back up to do it all again is an experience that would be very hard to get tired of.