Of all the parts you can customise on your bike, handlebar grips probably don't appear at the top of your list.
However, you will likely still love riding your bike even if you don't have those carbon rims, or if your forks are not the latest model or the longest travel. But have you ridden a long downhill, a super rough descent, or an epic long day and found that your hands have cramped into a claw-like shape? Or that some of your fingers have lost all feeling? Chances are your grips are to blame.
Along with your pedals and saddle, they are the only contact points between your body and your bike. Use the wrong grips and all your comfort goes out of the window.
Over the last few years, I have tried seven or eight different handlebar grips on my bikes. Grips from different brands in different sizes and compounds with double and single lockrings. I've found it very easy to find those that I do not like. I don't tend to get on well with the double lockring type as I find that my little finger ends up resting on the metal ring leading to numbness after longer rides. Hard rubber compounds don't last long on my bikes either. They make my hands fatigue too quickly especially on rougher and rocky terrains. More recently I found a single lockring design that overcame most of my complaints. However, I still felt like they were a little too thin and that a more substantial grip could help reduce hand and lower arm pain.
Then I found ESI grips on Instagram. Browsing through their posts and reading over their website lead to an email being sent. And ESI were happy to send me out two pairs of their grips to try out.
You may remember the foam grips that were common on BMX bikes a couple of decades ago. The foam was nice and shock absorbent, initially. However, they tended to disintegrate in the sun and would spin around on your bars unless you superglued them down - after which you could never get them off again. ESI grips take the best, the shock absorption, without any of the gripes. They're not made of foam but rather use 100% silicone which can withstand severe temperatures.
These grips are now my firm favourites and they won't be coming off my bike anytime soon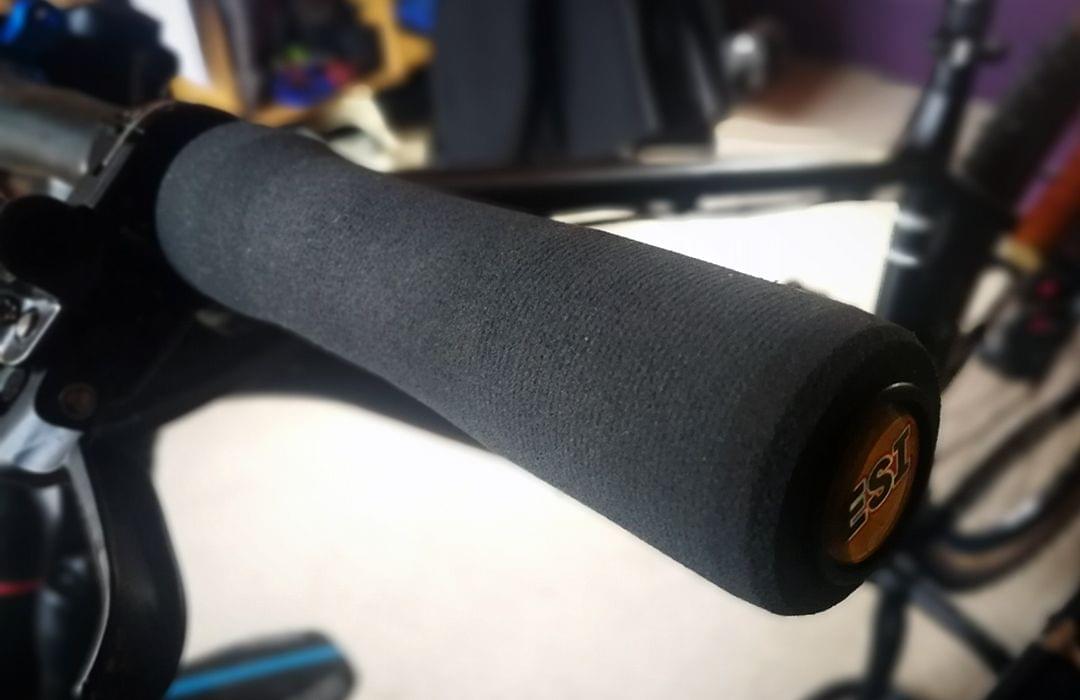 Their grips do not move or spin on your bars. In fact, they are a little laborious to install initially. Certainly harder than the more common lock on grips. ESI suggest using some rubbing alcohol to help slide the grips onto your handlebars. The alcohol then evaporates leaving your grips perfectly secure. I couldn't find any isopropyl or rubbing alcohol, but after doing some online searching found a suggestion to use hand sanitizer, the type you find next to the checkout at some supermarkets, which is also alcohol based. I used a pea-sized amount on the handlebar, spread it around and with a twisting motion the grips slid on relatively easily. After allowing approximately an hour to allow for the alcohol to evaporate the grips were secure with no spinning. The silicone itself clings to the handlebars, especially if you use them on carbon bars.
ESI list 10 different MTB grips on their website in a range of colours. They vary in thickness from the Racers Edge to the Extra Chunky which offer a grip diameter of 30mm and 34mm respectively. I received a pair of Chunky grips which fall in between at 32mm. They also weigh a measly 60 grams. That's almost half the weight of your typical lock-on grip.
For comparison, I also received a set of their Fit XC grips. The XC, in this case, does not refer to cross country but rather to the shape, combining Extra Chunky (X) on the outside edges and Chunky (C) in the middle. This design is supposed to balance the pressure on your hands. While I was sold on the idea, in practice I didn't get on with the shape of the Fit Grips, possibly because of the Extra Chunky diameter. But I found my hands tired after a couple of hours, especially on the outside fingers.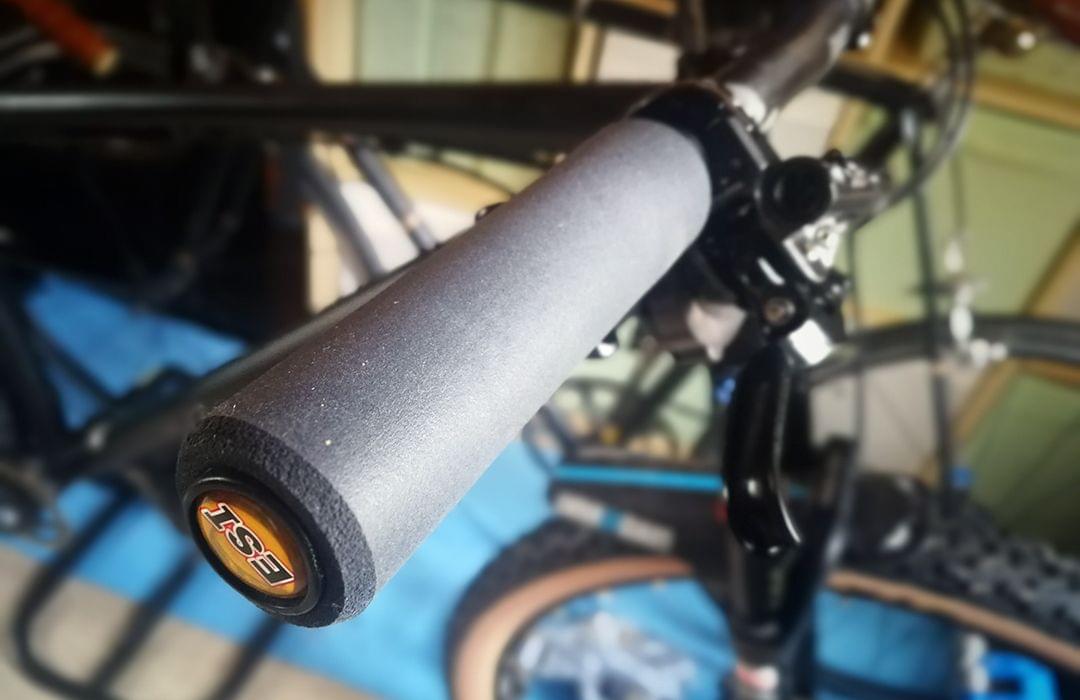 Trying the Chunky was a different story. "Recommended for riders looking for the best shock absorbing grip in the industry" is how ESI describe these on their website. The lack of lock-on rings means that there are no hard edges for my fingers to grip on to which can cause pain and cramps. They are super comfortable even on long rides with or without gloves. The malleable nature of the silicone means that they adjust to my grip perfectly unlike some pre-moulded grips. They remain grippy even in the wet. In fact, I used these at the snow plagued 2NDURO at the beginning of March and they worked perfectly even in those conditions.
Having ridden close to 100 kilometres on these grips they are now my firm favourites and they won't be coming off my bike anytime soon. If I had to find one negative I would say they are a little fragile. One of the grips shows some tearing and scoring where it came to close to some gorse and bramble bushes. Swapping them between bikes requires loosening their self-adhesion to the bars with a screwdriver or something similar. Unfortunately while doing this I accidentally poked a hole through one of the grips which through further use is still growing. But I could have avoided that last bit of damage by using a metal tyre lever or something else without the sharp edges of a screwdriver, so I'll put that one down to user error. Even with that though they remain my new goto grips.
ESI has kindly offered to give one Emerald MTB follower a pair of grips of their choice. Go to our Emerald MTB Instagram to find out how to be in with a chance of winning.