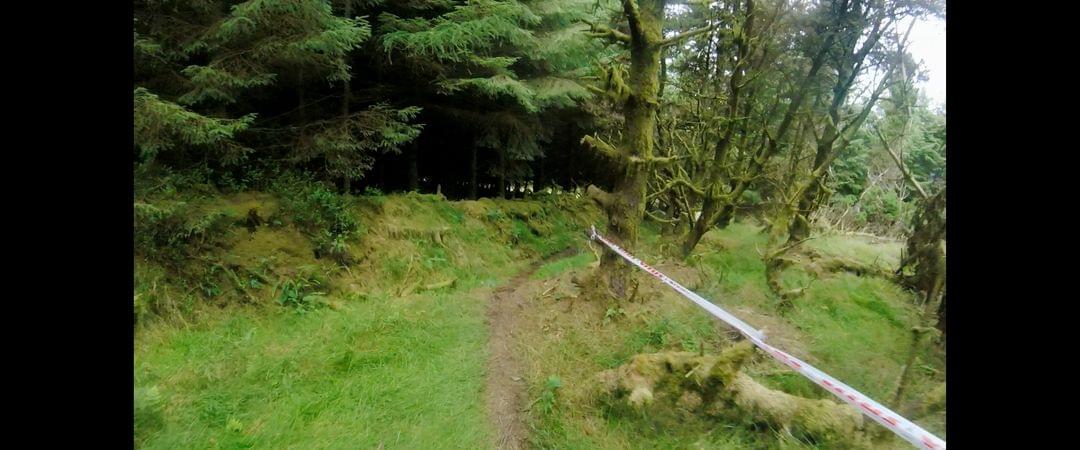 The Irish Gravity Enduro Series arrived at Ballyhoura on the August bank holiday weekend for the third round of the 2018 series.
As this was the only round to be held within easy driving distance from me this year, I decided to enter. Despite having done several enduro races over the last couple of years in the Munster and Grassroots series, this was my first Gravity Enduro series race.
Unfortunately I wasn't able to make the practice day on Saturday, so I stayed true to previous races and went at it blind on Sunday. On the plus-side, however, I had ridden most of the stages previously, in whole or in part, so I had a little residual knowledge left over.
I made sure to arrive good and early on Sunday morning in order to have plenty of time to get dressed, get the bike unloaded and get registered for the race. I even had enough time to grab a coffee from the Trailriders Ballyhoura shop.
I would be riding with another Emerald MTB clan member, Stead, who's doing the full Gravity Enduro series this year. Our allocated start time was at 10.18 and we made sure to queue ahead of time. A quick bike check later and we set off on the first of many climbs at Ballyhoura.
Stage 1 started part way down the first single track descent on the trail centre's Brown Loop. A quick sprint and we were away zig-zagging between the trees. This stage was relatively flat, so on any straight sections it was a case of getting in as many pedal strokes as possible and keep that speed up. Approximately half way through the stage, it veered off the trail centre route and on to a short section of very fresh and loamy natural tracks before exiting on to a fire road. Apparently this fire road section had caused some confusion on practice day, with riders being unsure if that was the end of the stage, which it was not. Instead, it was a sprint of a couple hundred meters before rejoining the single track trail for more tree slaloms and pedalling to the stage finish. In hindsight, practice would have helped on this stage. As I was riding past I could see a few alternate lines that might have sped things up, but at race pace, by the time you spot them, process the information, and come up with the idea, you're well past.
The transition to the next stage wasn't overly long or steep, with a mix of fire road and some single track to stop you from becoming too bored.
Stage 2 had an interesting start. The opening section went against the normal trail centre flow, back down the brown loop, which meant it had a gradual uphill gradient making for a good leg workout. The stage then cut down a very loose and freshly cut clearing in the trees to join up with the lower part of Tech Loop 1. The Tech Loops at Ballyhoura are a pair of trails with more rock and drop features and berms than the other single track trails. Unfortunately, the little bit of local knowledge I had of this trail caused some over confidence, and carrying too much speed over a jump I landed my front wheel off the edge of the trail and found myself face down in the grass. Luckily I didn't do any damage and managed to finish the stage.
It was a bit of a steep climb from the bottom of stage two to the start of the next, but there was no hurry and we could take our time and pace ourselves.
The next stage, number three, ran over Tech Loop 2, which contains berms, rollers and lots and lots of rock gardens. In sections this trail flows extremely well and, even though it is relatively flat, builds great speed. But as soon as you hit a couple of those bigger rock gardens all that speed bleed away. By the end of the stage my legs were feeling it.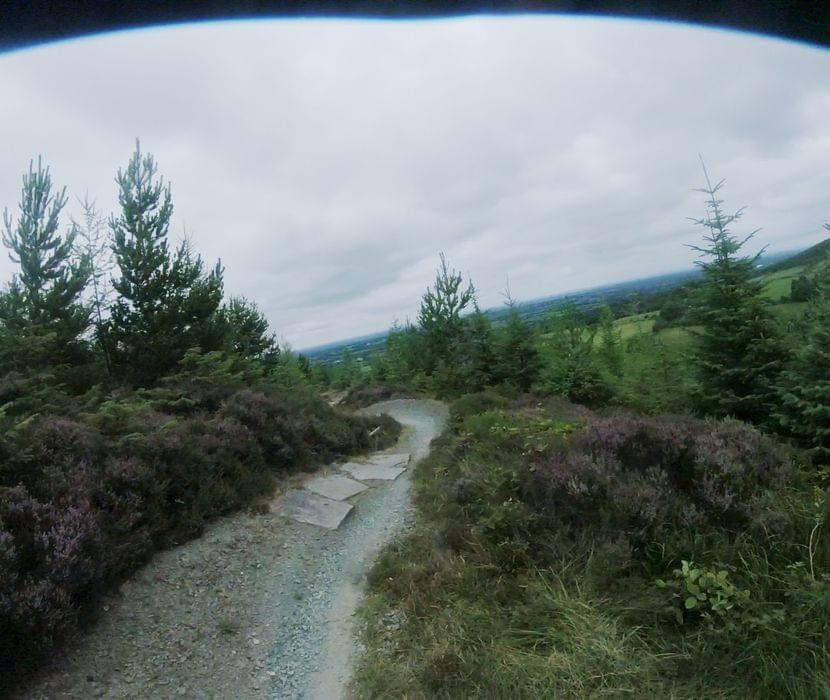 Climbing to stage 4 was hard work. It wasn't the longest transition, but it was one continuous climb to very near the top of Carron Mountain. Fortunately, the lunch refuelling stop was about half way up and provided a great excuse to stop an sit down for a few minutes. We enjoyed the chicken tikka rolls, bananas and fizzy drinks provided and managed to fill up our water bottles. We were quite happy for our relatively early start time, as there was not a lot of water left by the time we got there, and it ran out completely not long after.
After lunch we made our way to the start of stage 4, which was probably my favourite stage of the day. This started with a short sprint down a very rocky path, before cutting down a natural trail that followed the bottom of a narrow gulley. Lots of loose rock and soft dirt meant you had to watch where you placed your tyres. A short stage, but lots of fun, and challenging enough to make for some tired legs but the end of it.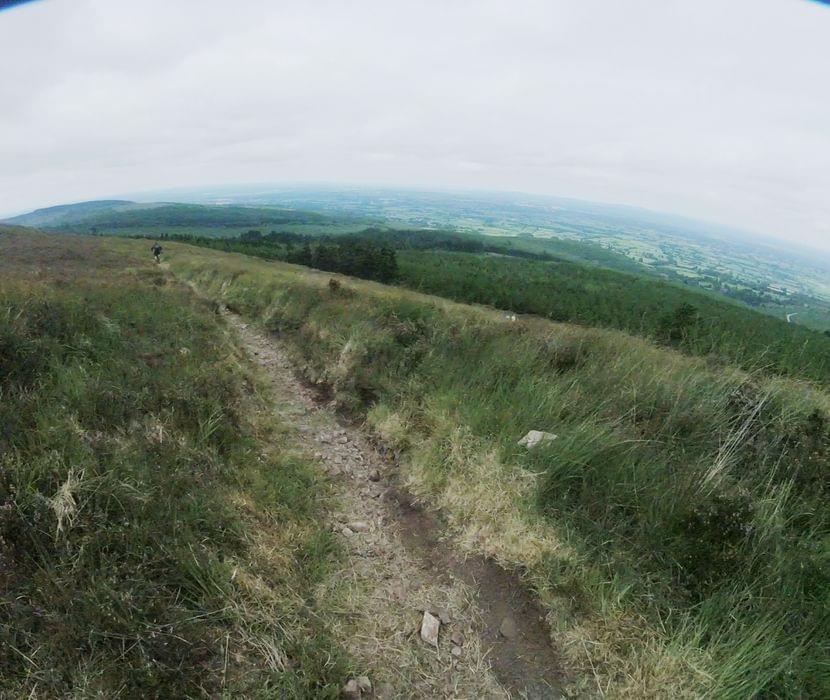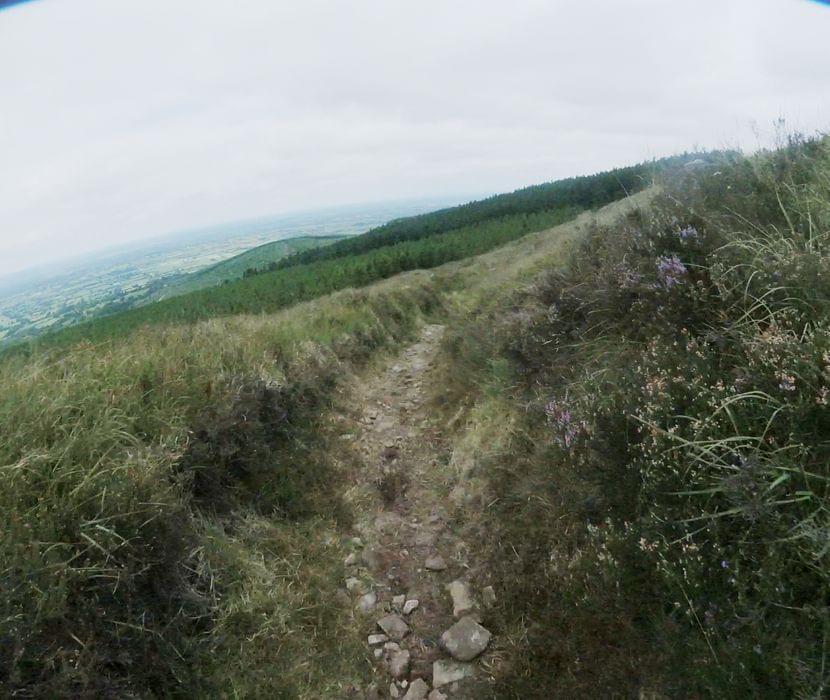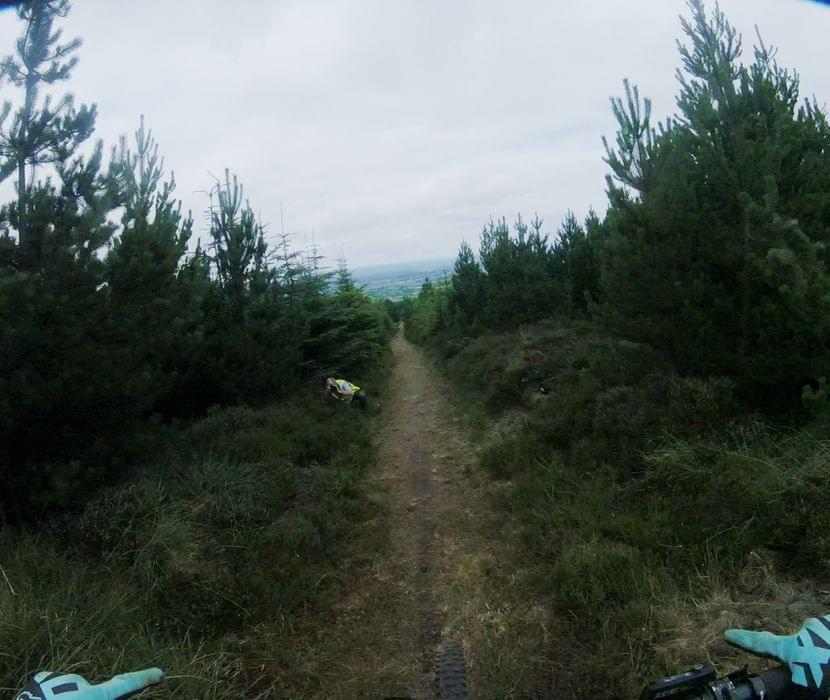 Following the Brown loop for almost six and a half kilometres to the start of stage five made for the longest transition of the day. The first half of the stage was steep and twisty down the side of the hill before cutting across a fire road and down a steep rocky drop into a series of very tight corners. Then followed a sprint down a straight grassy lane into a very tight hairpin and on to a section of the trail centre, which I didn't make and fell on for my second fall of the day. Together with more pedalling along this section on already tired legs after 4 stages and 27 kilometres didn't make for a stellar time on my part for this stage.
Stage six was not far away and started on the last section of the Ballyhoura Green loop. Another sprint start, a slalom through some tree stumps into a couple of bermed sharp turns before leaving the trail into a short natural section, known as Dr Jekyll and Mr Hyde. Then followed short but uphill sprint along a fire road. I say sprint, but in my case it was a seated plod up the hill in the wrong gear. After that we dropped back in to the woods for the last fast all natural section and to the finish of the stage and the race.
The whole day consisted of over 30 kilometres of riding and 900 metres of ascending. With a finishing time of 24:45 I placed 114th. While not a good result, probably my worst effort to date, it was a great day of riding bikes with mates, exploring a few new trails and rediscovering others that I hadn't ridden in a year.
What I took away from the race: while my overall fitness is not bad sand I managed the 30k circuit with out too much trouble, my not-so-gravity race fitness is somewhat lacking. I did not do well on the first few flatter and pedally stages with their sprints and uphill sections. Room for improvement then ahead of whatever race I do next.
The full race results can be found on the Sportident website, and by clicking here.