To ride with gloves or no gloves? Although I've seen a number of pros on social media mountain biking gloveless, personally I made up my mind a long time ago that I wasn't following that particular trend. I love my grips, RaceFace Half Nelson, as they are super sticky. But that stickiness feels odd to me on bare hands. Gloves are warmer, and in this country, the number of riding days a year where that would be a negative can be counted on one hand, and probably one with multiple finger amputations. I've fallen off my mountain bike with bare hands, and gloves no matter how thin, make a big difference to the condition of your skin after a crash. Also, I ride mostly natural trails, with close growing vegetation - often prickly gorse bushes - most of which can be ignored when wearing gloves, but are much less forgiving on bare hands.
So, yes to gloves in my opinion. However, do a search for mountain bike gloves on any online bike shop to see the vast selection that is on offer… Chain Reaction Cycles lists 251 pairs. Padded ones, armoured ones, thin, thick, …
Instead of telling you which MTB gloves from that long list I like, I'm going to add another option to the list. Handup Gloves. Based in the USA, you may have seen some of the bigger mountain biking YouTubers sporting these cool and colourful MTB gloves.
After seeing the likes of BKXC, the Singletrack Sampler and Seth's Bike Hacks in these fun patterned gloves I was curious to try some for myself. After a few emails back and forth they agreed to send me a pair.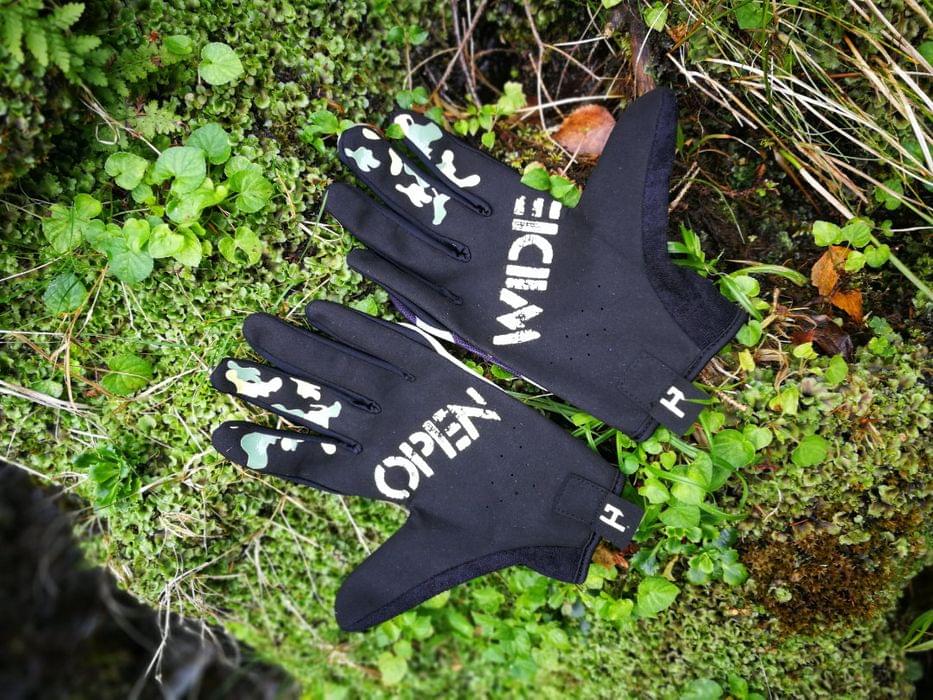 I received a pair of their WideOpen camo gloves, one of 36 designs currently listed on their website. Each design is a limited run, when they sell out they don't repeat, but will be replaced by a new one. Each style consists of a, usually, brightly coloured design on the top, and some sort of slogan across both palms; wide-open in the case of the ones I received, but they also have sto-ked, sen-dit, bra-aap!, and many others.
These gloves are of a simple slip-on design, there is no velcro strap or similar to close. I prefer this style of glove, as their much easier to pull on and the velcro on my other gloves either doesn't stick, or sticks to my jersey's sleeves.
The top of the gloves is made out of a thin and stretchy polyester material that's breathable enough to stop my hands from getting sweaty in the sun, but has so far been warm enough on colder and wetter days.
The palms are made from a synthetic leather material, which is thin enough to remain flexible and give good feel on the handle bars but tough enough to provide protection from gravel rash when you come off. The print on the palm is a rubbery texture which adds to the grip, and this same texture is used on the first two fingers to help grip brake levers.
The thumb upper is made from a towel material creating a nice 'sweat-wipe'.
I've found Handup gloves comfortable, no too bulky but without being so think as to be little more than decorative - I have a pair of 'enduro' gloves in my cupboard that fall in that latter category. While there is no padding on the palms as some other gloves offer, the synthetic leather provides enough protection without the bulkiness that pads can add.
With some gloves I've tried in the past I have found the sizing to be on the smaller side despite following their size charts, always finding them a little short in the fingers. After measuring my hands and following the recommendations of Handup's size guide I ordered their medium size which fits me perfectly. They slide on to my hands easily without having to do any hand acrobatics. They are not loose and the fingers are long enough.
After a good few hours of mountain biking in my new gloves I have to say that these are my favourite gloves to date. They are comfortable, fit well and look awesome. I'd probably get a couple of pairs just so that I can always have clean gloves ready to go, and because they do so many styles that I like the look of.
If you want something different from 99.9% of mountain bikers you're likely to come across on the trails; Something that is comfortable and still reasonably priced; I couldn't recommend a pair of Handup gloves highly enough. Give them a try. Click here to visit the Handup Gloves online shop
Handup Gloves are between $20 and $28 and they have recently dropped their international shipping down to $10.