No.1 DJ in Ireland Mark McCabe talks to Emerald MTB about his new passion for mountain biking.
Have you always been into MTB and if so for how long? Or if it's something that you have started over lockdown how are you finding it? Judging by your Instagram you seem to have a real love for it.
I have a few friends who have been on bikes for years - they were always asking me out for a spin, but life got in the way and I never managed to try it. Then last October, my good friend (and now bike mentor) @trailadvisor (Al Redmond) loaned me a bike and took me up Ticknock. Then we hit a few GAP trails and I was in. I'd been on a BMX as a kid but no other biking experience up to then. A few weeks later I had my own carbon Mondraker and now I'm on the bike 4/5 days minimum.
You appear to like trying different trails in your area as well as being a frequent visitor to the GAP. Do you prefer to scout trails first or are you happy to turn up and ride them blind?
Since we've been in lockdown the furthest I've managed to get is the top of Djouce and a couple of the natural trails around Glencullen. I'm mainly riding at the GAP and Ticknock. I'm pretty spoiled for choice though at that - as well as all the natural stuff around Ticknock, the GAP has opened some beautiful trails in the last few months. It's becoming such a good trail centre, and the staff are awesome!
I always take it a little handy on the first run - but sometimes I like to push myself and take it as it comes. Normally, I ride with someone that knows the trail already so they pass on the things to look out for.
Do you service your own bikes?
I'm pretty technical as I've electronic engineering experience so I like being able to take care of things for myself. I learnt really quickly that maintaining your own bike is a no brainer, especially when I'm out on it so much. The more time your bike is in the shop, the less time you have to ride it! Plus at the moment, there's a 2 to 3-week turnaround for most repair shops. I'm learning as I go, but I'm blessed to have some really great mechanics I can call on when I get stuck. Ciaran at the GAP is always willing to answer my stupid questions, as is Jay at the Bike Room in Wicklow. I've learned so much from the two of them in particular over the last few months, so now I'm pretty good to take care of most of my own maintenance. My kids also ride, as do most of their friends so I've managed to keep everyone around me on the road without adding to the backlog of repairs the shops can't deal with.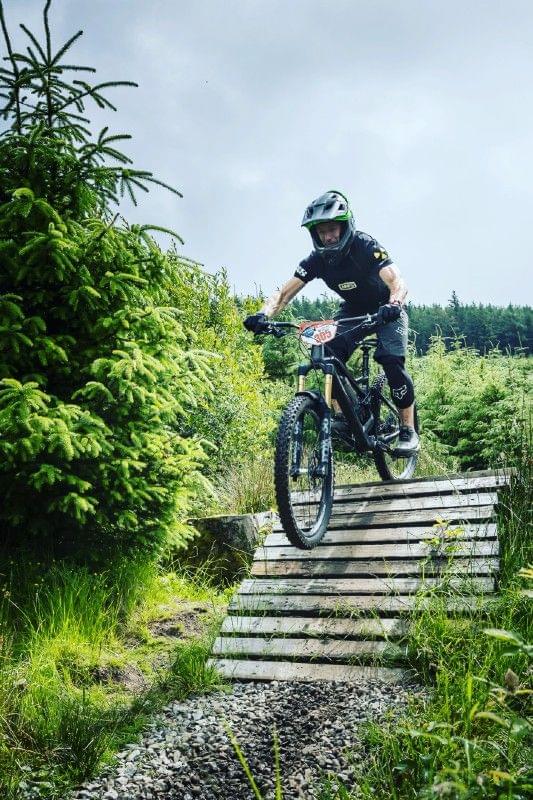 Do you ride for fitness or for the social aspect?
Fitness is definitely at the forefront - I've always enjoyed keeping fit, but I've never been as fit as I have since starting to ride. I'm using muscle groups I never knew I had. Physically, I've never felt in as good shape. I enjoy the pedal ups or the challenging natural trails that are a real workout. But the social side to it is definitely something I'm enjoying too. As I've only got into the scene since lockdown, I haven't experienced any races or social rides beyond what has been possible with the current restrictions. But I've met some of the nicest people and made some really sound new friends over the last few months in particular. The scene local to me is growing at a ridiculous rate. I'm blessed to live in the shadow of Ticknock and Glencullen.
How does the buzz you get from a gig at a nightclub compare to what you feel riding a new trail or setting a Strava PR?
They are probably two different experiences. I've been DJ'ing for so long that nothing is really new to me in that sense. Whereas nailing a new drop, or clearing a table for the first time is all new to me. But I love music as much as I do MTB. Gigs are normally pretty full-on, and the buzz from that is a quick high - whereas I can be on the bike for the day and nothing else really matters. It's been so good for headspace, especially as our industry has been decimated. But when things start to happen again, I'll still look forward to being able to clear my head and then go back into the studio after a day on the bike.
It looks like your in good company on the tails. Do you find yourself learning new skills from the likes of Gavin Carroll and others you ride with?
Absolutely! Gav is a hero. His flow is just insane. He's an artist as much as a rider! I've ridden with him a couple of times and learnt so much just watching how he moves. Al Redmond has been so much help. I owe it to him for getting me on a bike in the first place and he's stuck with me the whole way. He's kept me safe whilst pushing me along. I think I've managed to get to a decent enough level already even though I'm riding less than a year, and I wouldn't have done it without him. The other way I've managed to up-skill is to ride with my son Josh and his friends. Nothing better than riding with someone that has no sense of consequence! It really pushes you on. Drops or gaps you would never consider on your own just become part of a spin.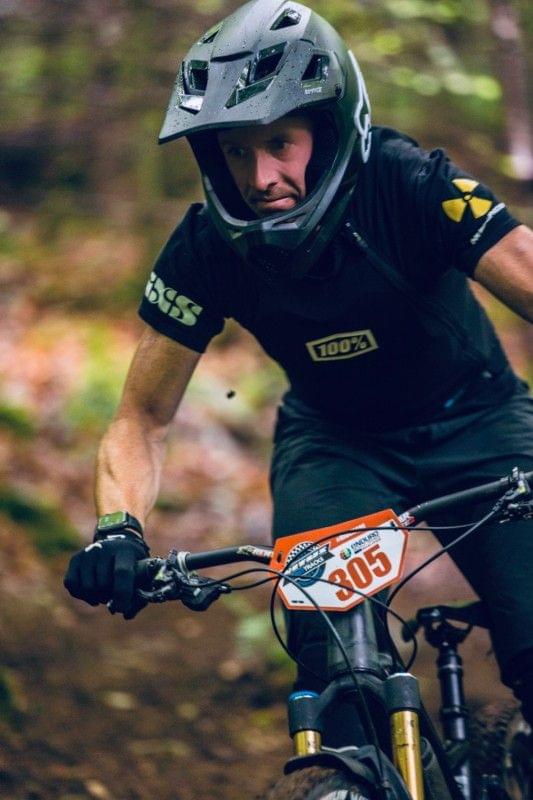 Did mountain biking inspire you on your recent remix of Nikolai, or was it something you were already working on?
Definitely! I feel so recharged after a spin. Both mentally and physically and despite my release schedule being held back at the moment, I've done some of my best studio work in recent months. That remix of Nikolai was actually inspired by Gav Carroll! I had started it a few years ago and then he posted the original on one of his stories - I promised him I'd go back to it and finish it off so I did.
As a mountain biker is there anything you would like to see happen in Ireland to make it better?
I've been talking to quite a few key industry people and the plans I know of are really exciting, so in a sense, I think the best is yet to come. Anything I've thought of that could possibly make things better, is already in planning! The future is really bright for MTB in Ireland, at every level. Oisin O'Callaghan is an absolutely insane talent! I can't wait to see how far he is going to go. And then there's Greg Callaghan who is going to do serious things when the seasons start up again for him. And Ronan Dunne of course. But what I'm most excited about is the young guys coming up. The skills around the GAP any day are just insane. I hope that there is more substantial funding from the government and they recognise it, and our riders, with the support it deserves. At the moment, the Dirtfund is doing incredible work, but there should be more. I'd also like to see what could be done in terms of facilities at parks. There's a local park to us here that is crying out for a pump track, but they're just not interested. And then they wonder why older kids are hanging around with nothing to do. The space is there but not being used - and they complain when the kids make local trails or jumps, but at the same time won't do anything to contain or support it in a more controlled manner.
Do you have any MTB goals such as taking part in a race or taking on a challenge?
I'd love to race. In the back of my mind, I'd love to give it a really good go - but I'm probably too old. I'll see what happens when the races start again but for now, I'm happy to just keep on progressing every time I ride. Oh and the River GAP of course! Gonna nail that this weekend.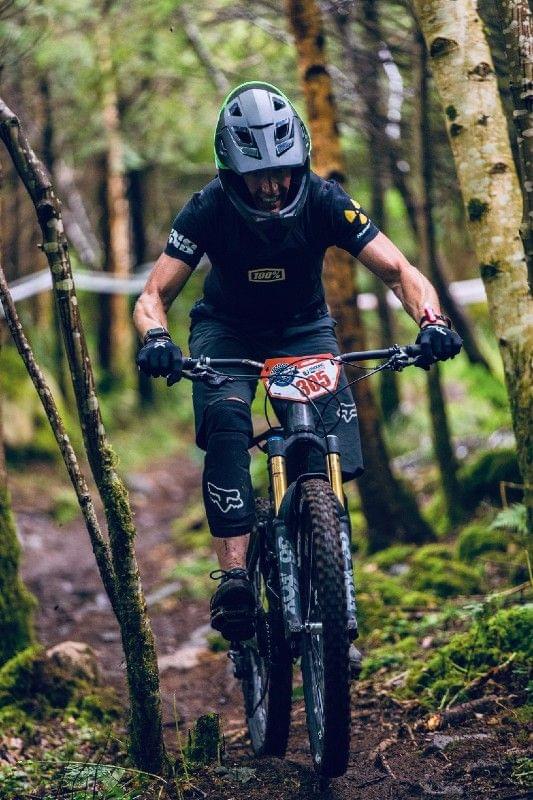 What would be your dream bike if money was no object?
I'm really happy on my Mondraker Dune but I'd love a Santa Cruz Megatower.
Is there anything you wish you'd known before starting on a mountain bike?
How expensive a hobby it was going to be. And pedals hurt!
I'd like to thanks again to Mark for taking the time to answer the questions for me.