Emerald MTB was very excited recently to be invited to a WhatsApp group called "Shronaboy/kerry-uplift". And when a post was added to the group stating that an uplift day was being planned for the 7th of April for a maximum of 30 riders, the entry fee was paid in minutes!
Driving up on Sunday morning, through a farmyard and past sheep pastures we arrived at a field where a number of cars with roof racks and tailgate bike racks were already parked alongside a gazebo with displaying the Shronaboy Farm logo. Overlooking Lough Giutane, the views on this sunny morning were spectacular, overlooking the lakes of Killarney and the MacGillycuddy's Reeks. After a bit of meeting and greeting a pair of 4x4 vehicles arrived with trailers ready to pick up our bikes. Shortly afterwards a tractor and a trailer filled with hay bales pulled up to ferry the riders up to the top.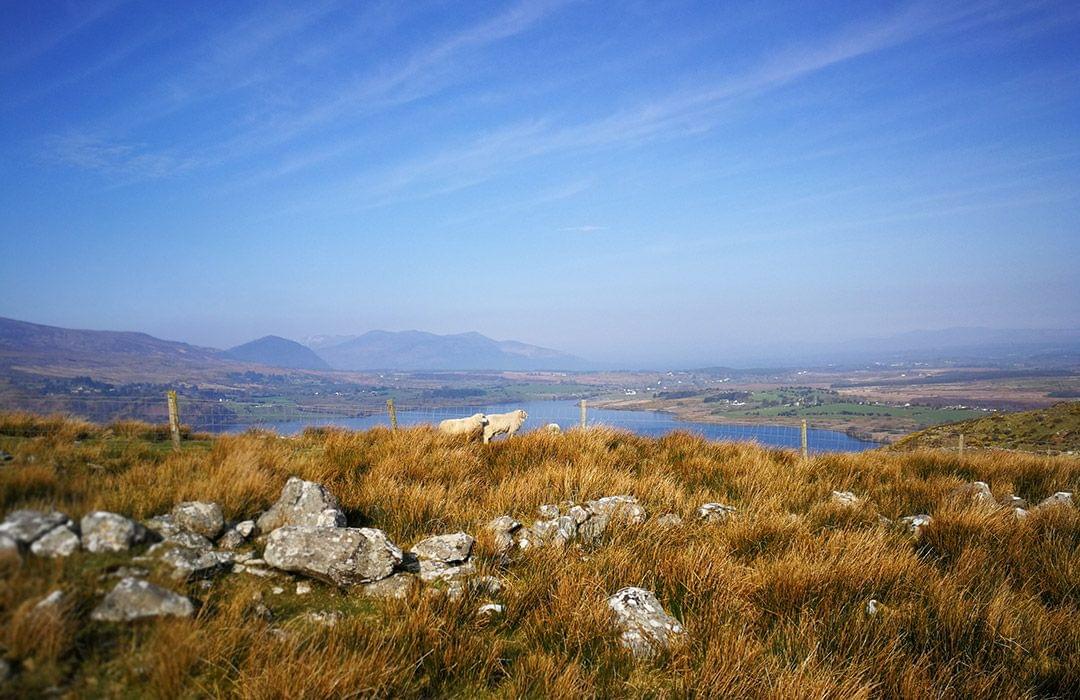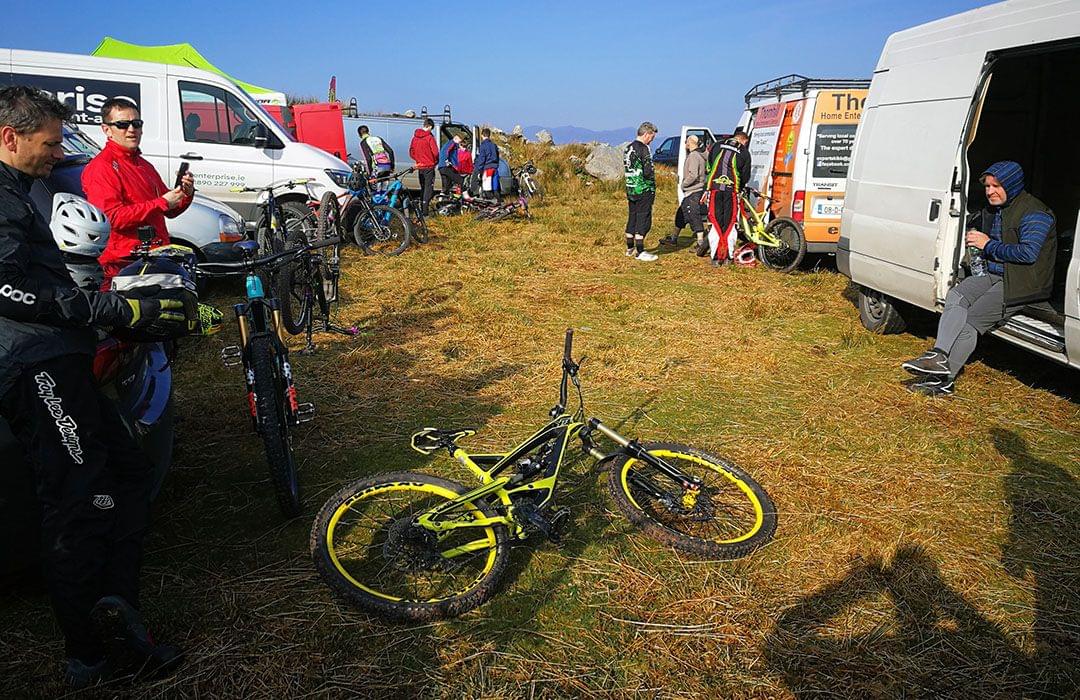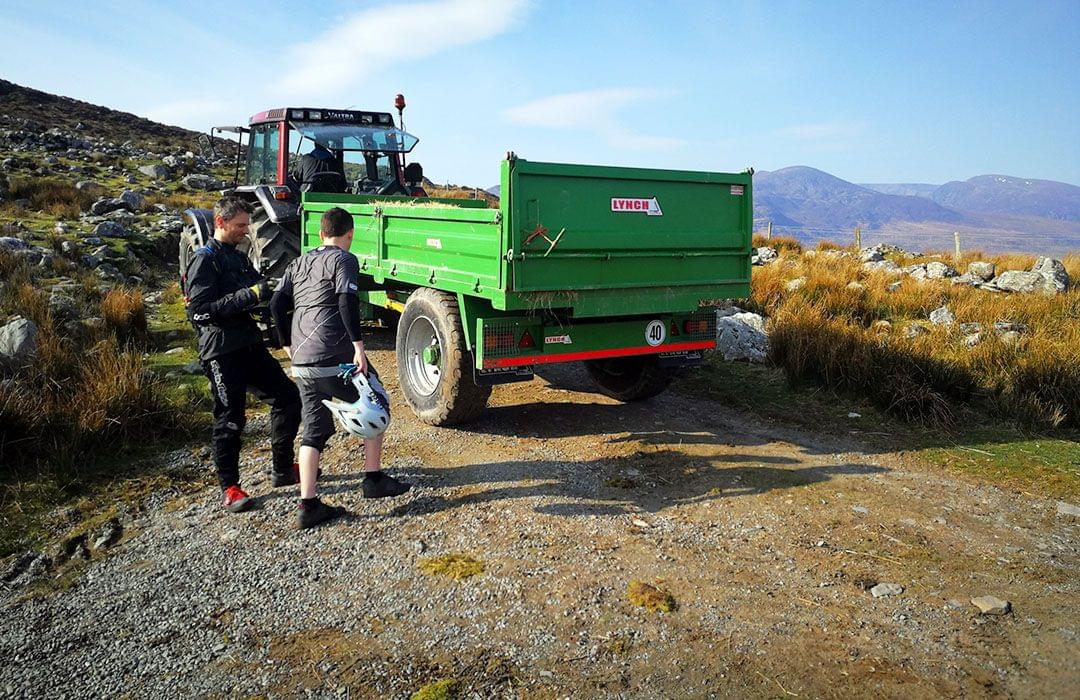 Currently, Shronaboy Farm currently consists of a single trail. But, with several races planned for the end of the year, including rounds of the Irish Downhill and Grassroots Enduro series, more trails are on the cards. And, while it is still a work in progress, a tremendous amount of building has gone into what we got to ride on Sunday.
Queeny's Run, as the signs at the top of trail informed us it is called, is just under a 1,000 meters long. According to the information sheet that all riders were handed at the start it is an Enduro slash Downhill styled track for experienced mountain bikers.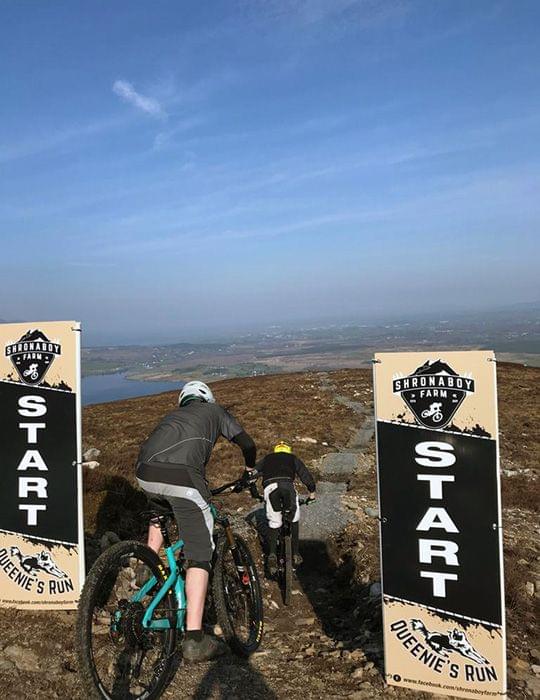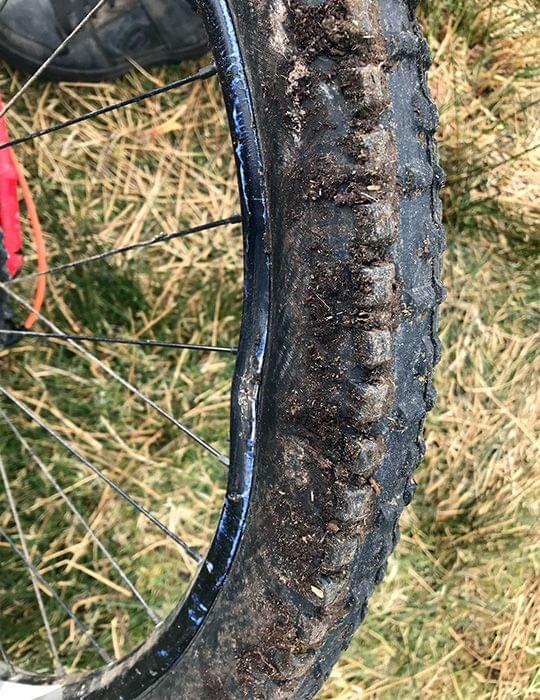 The trail is a good mix of gravelled rollers and berms alongside steep and technical natural sections. The changing surfaces kept us on our toes, although with the dry weather in the days prior had allowed the heather sections of the hill to dry up to a nice loamy consistency. According to some of the riders who had been there on previous uplift days, in the wet it is a lot more challenging to find grip.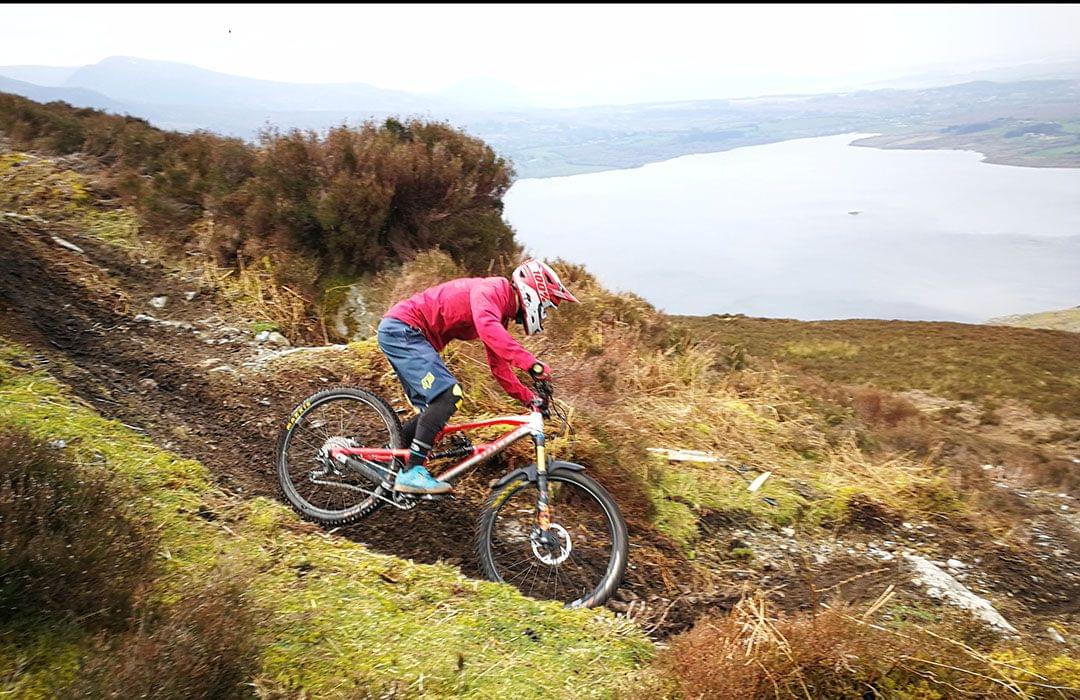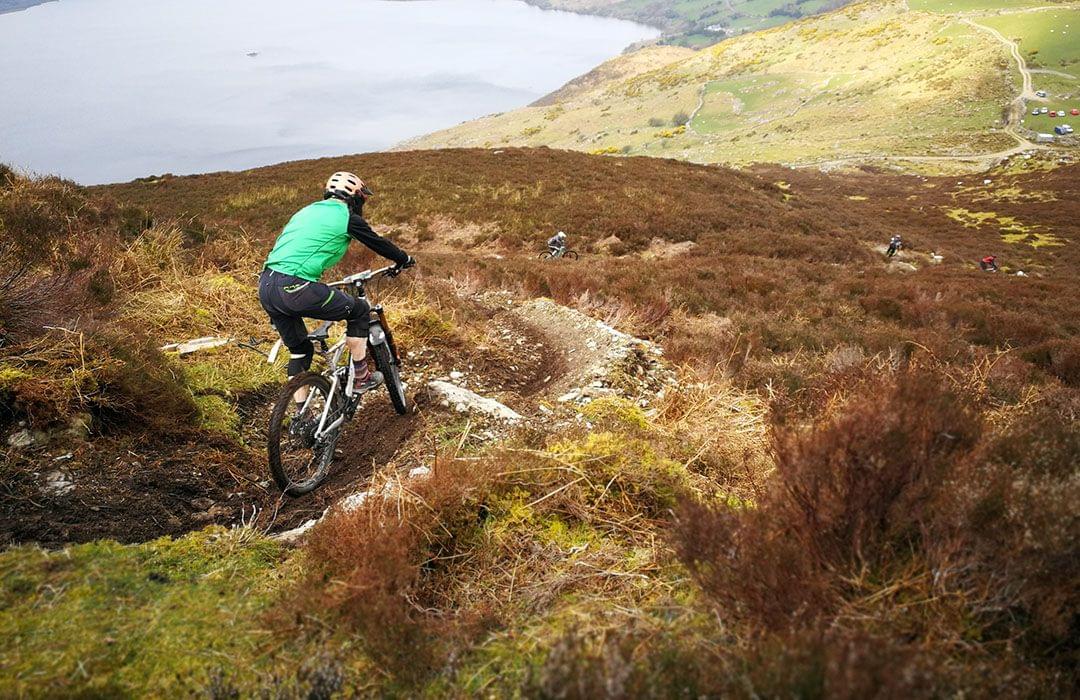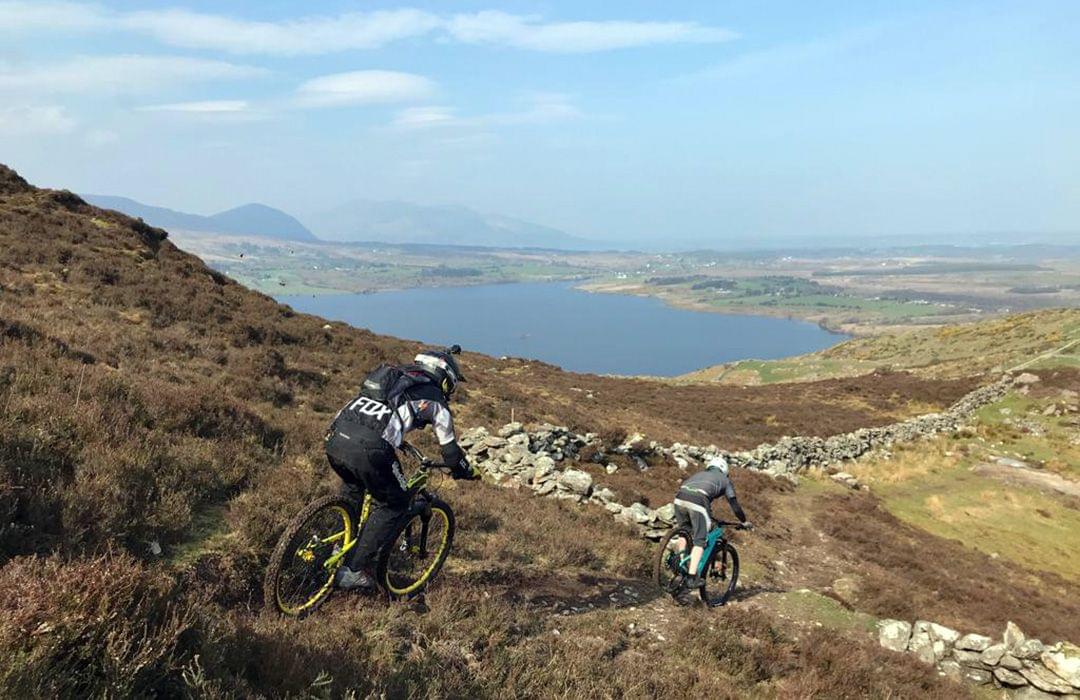 The top starts relatively flat with a series of gravelled rollers and small drops. This then leads into a steeper loamy section with tight switchbacks and off-camber sections. Further down riders have to navigate a couple of steep rocky descents and a straight containing a lot of large exposed rocks to pinball through. A berm at the bottom helps bikes carry momentum into a slight uphill and over a pair of small drops. Finally, a steep stepped descent leads on towards the finish through a couple of small doubles and tight berms.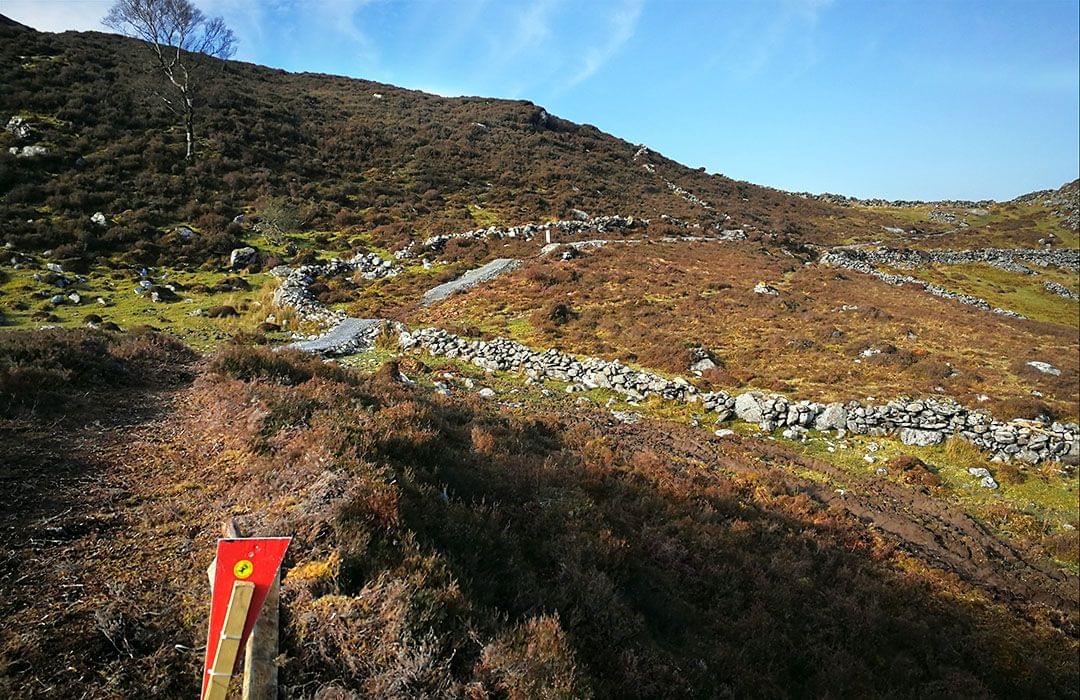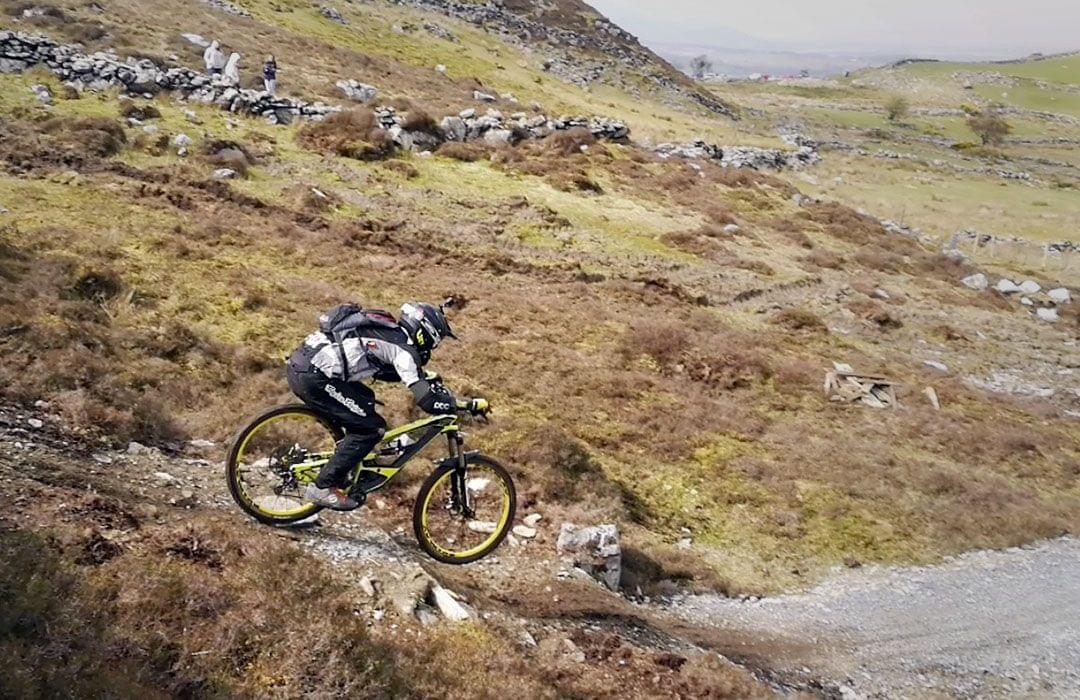 The exposed rocks on some of the drops and faster sections chalked up several punctures and a nicely banged up rim in one case.
Over the lunch break, we were treated to complimentary teas, coffees and biscuits before setting off for an afternoon of more uplifts. The more runs I got under my belt and got the lines memorised the more comfortable and confident I grew. The trail just got better and better as it bedded in and my lines improved. After approximately ten runs the day finished with a lot of grinning and high-fiving as everyone was thoroughly stoked on the new trail.