I've been 'mountain biking' for a long time. Longer than I care to admit.
Admittedly, the definition of what mountain biking is has changed considerably since the 1990s.
With that and with advancing technology mountain bikes have evolved dramatically over the past 20 plus years.
While I was reading one of the 'Best X budget/trail/enduro/fill-in-your-use-of-choice Mountain Bikes' articles recently I got to reminiscing about the bikes that I've owned over the years. And for the sake of historical reference, nostalgia or just a laugh I've listed them below.
Raleigh Discovery - 1991
My first mountain bike. 21 gears were the talk of the day despite the fact the majority of those never got used. This bike lasted me for a good number of years, well into the end of the '90s.
The most 'mountain' this bike got to ride was a few deer trails through the national park. And we thought they were fantastic. Anything not paved.
Cantilever brakes
21 gears
14.3 Kg
26" wheels
Geometry - what's that?
Claude Butler - 2000
After the Raleigh gave up the will to live and a hiatus from biking induced by the acquisition of my driving licence a new bike was needed. Enter the Claude Butler - I don't remember the model.
Technically a mountain bike, I don't recall this ever touching dirt. I do recall it being heavy and having an inordinate number of gears, something that feels odd in the age of 1x drivetrains.
Unfortunately, this bike didn't last very long. Someone needed a ride to town at some point and decided that my bike was the ideal means to achieve that goal. Or at least that's what I assumed when I went to get the bike out of the shed one morning to find it was elsewhere.
Cantilever brakes
27 gears
26" wheels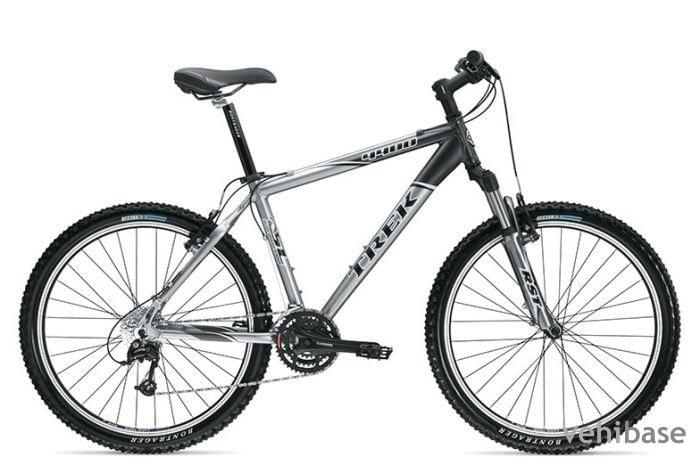 Trek 4100 - 2001
After the untimely departure of the Claude Butler, I needed a replacement. A visit to the local bike shop quickly narrowed down my search to the Trek 4100. Due to budget restraints, I went with the non-disc version.
This bike was surprisingly capable. Especially so when you compare it to current mountain bike standards. Very few people today would even look at a bike with 80mm of front travel and no rear suspension. However, the Trek tackled trails that we still ride today and that I would probably not even consider attempting on anything less than an aggressive hardtail. And it survived for years, only succumbing after being left in a leaky shed for a couple of winters.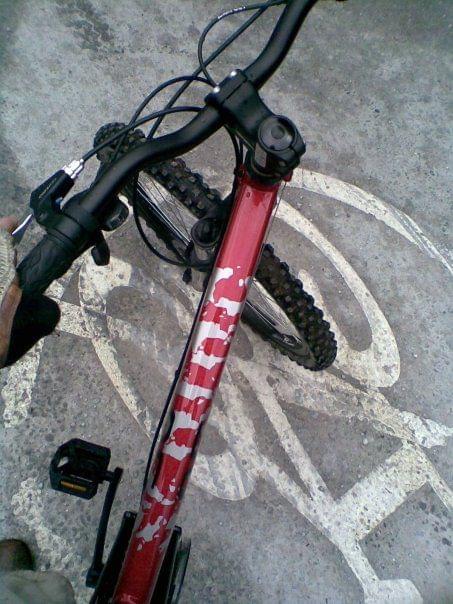 Saracen circa 2013 ?
The Saracen came after a hiatus of several years. Most of my riding buddies at the time had had kids and mountain biking dropped very low on the priorities list for a while. However, by chance, I spotted this bike on sale. Never having ridden anything but hardtails the idea of a full-suspension mountain bike grabbed hold of me and I had to have it. It weighed a tonne and took some serious effort to get to the top of any climb. But on the descents, the rear coil shock - a very basic affair with little room for adjustment - converted me even if it was a pretty pitiful affair overall.
The weight and the dated design quickly wore me down, however. The price of mountain bikes since I'd last bought (a decent) one new came as a surprise when compared to what I remembered paying for the Trek back at the start of the Millenium. This revelation began the age of second-hand bargains and self build bikes for me making the Saracen the last fully built bike I bought.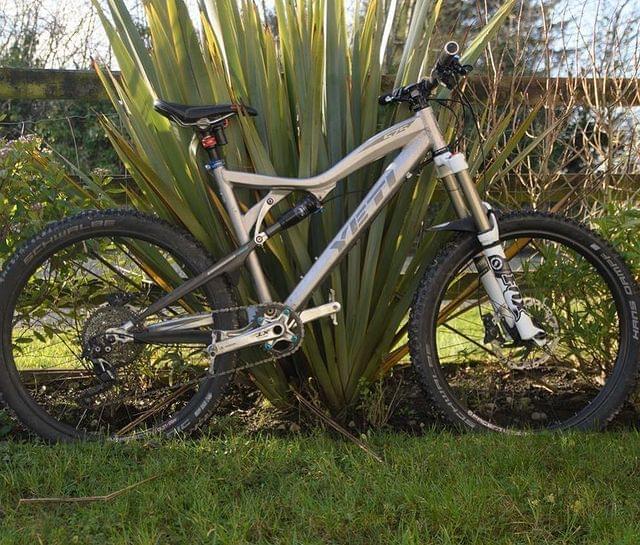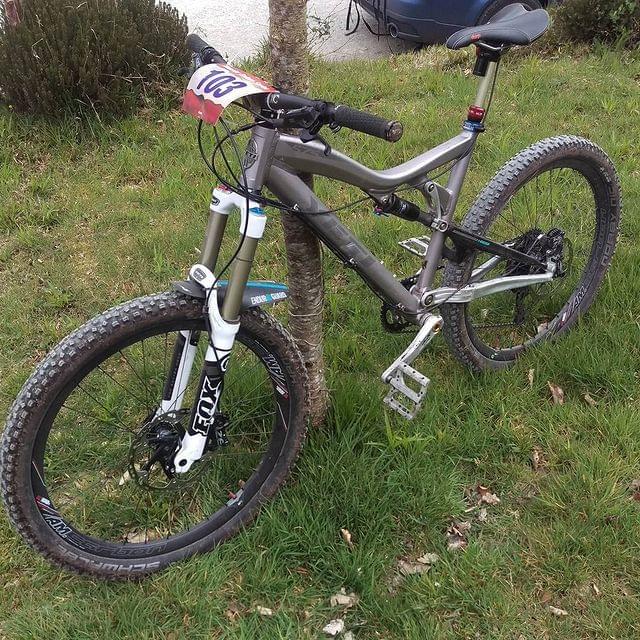 Yeti 575 - 2015
The urge for something more modern resulted in a lot of time spent on eBay browsing used bikes. Used bike searches eventually turned into frame-only searches. Building my own bike tickled me. I'd found that buying off-the-shelf there were always components that I'd end up replacing. The naive belief that self-building would save money paired with the desire to spec my own parts led to the first of my 'modern' mountain bikes.
The Yeti 575 was a bare frame purchase. I matched it with a used Fox fork and a mix of second-hand and new parts. The 575 came just before the shift in geometries for mountain bikes of slack head angles etc. that we're used to seeing today. However, over the two years that I owned the Yeti, I experimented with a lot of used parts to tweak the bike to suit my riding style. For example, I slackened the head angle with some offset bushes and a longer travel fork.
This was also the first time I built my own wheels. An intimidating prospect at first, but not as difficult as I imagined. Time-consuming and tedious, yes. However, when you buy a set of carbon rims from a reputable dealer in the UK, score a used wheelset using Hope hubs and put everything together you have a premium set of carbon rimmed mountain bike wheels for a fraction of the price you would pay off-the-shelf.
For the trails I rode at the time, the Yeti was an incredibly capable bike. It ascended like a mountain goat, especially compared to the Saracen that it replaced. And it inspired confidence on the descents. Over the time I owned this bike I progressed from riding glorified cross country trails, through trail centres to entering my first enduro race and at least one trip to Bike Park Ireland.
26" wheels
Fox 36
Fox Float RP23
Offset bushings
Custom-built Superstar Components carbon rims and Hope Pro 2 hubs
1x10 drivetrain
Absolute Black oval chainring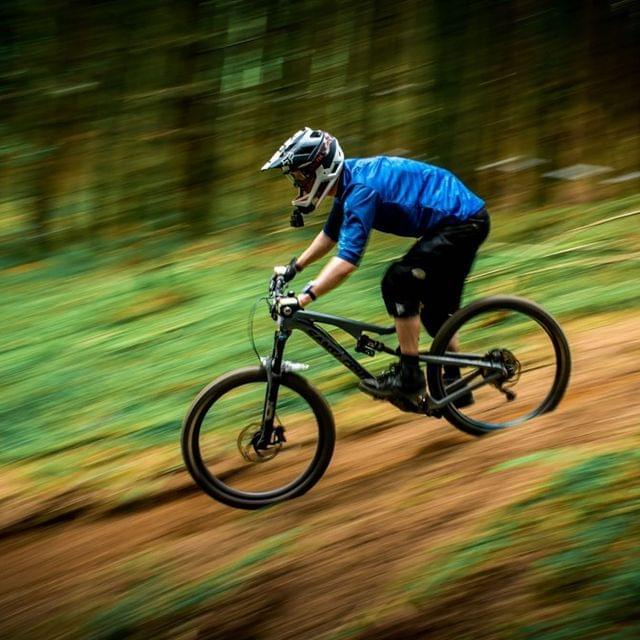 Santa Cruz Bronson v1 - 2017
The biggest danger to building your own bike from scratch: you're always looking for the next upgrade. As my riding confidence grew so did the desire for a bike with more modern geometry. When I spotted an advert on Pinkbike for a Santa Cruz Bronson carbon frame and saw that it was located in Ireland it didn't take me long to seal that deal.
Not only was the geometry of the Santa Cruz seven years ahead of the Yeti, but it was also my first 27.5" wheel bike right towards the end of the debate whether 26" wheels were dead or not.
I loved this bike. It handled everything I could throw at it. It picked up from the confidence level that the Yeti had gotten me to and just kept pushing me to try more and more. The local trails I rode on this bike became steeper and more technical. I went from that initial trip to BPI and riding only the blue and red trails, to spending days just riding the black trails. The one enduro race I entered previously soon grew to numerous Grassroots and Gravity Enduro races. And the Bronson is the bike I brought to Bike Park Wales for two days of non-stop riding.
Shimano 1x11
27.5" wheels
Custom-built EIE carbon rims on Hope Pro 2 hubs
Offset shock bushings for an extra 0.5-degree head angle
Ohlins RXF34 - slight effect on climbing, but the reduced head angle was very nice on steep & technical trails
Fox Float CTD
+/- 13.5Kg
2.35" tyres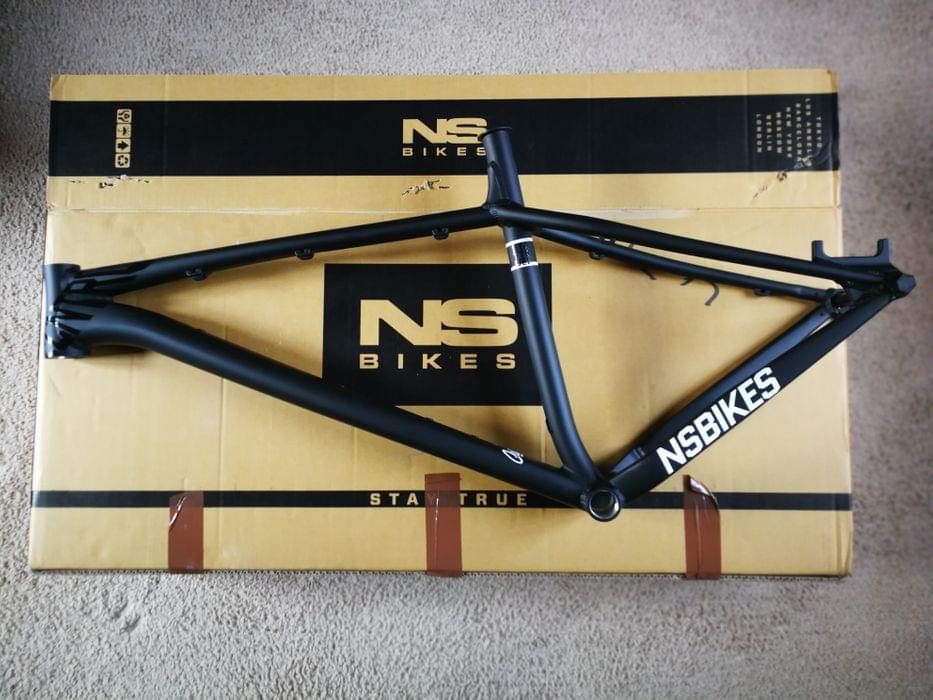 NS Eccentric Alu 29 Evo - 2018
You know that equation for your ideal amount of bikes being n+1? After servicing all the frame bearing son my Bronson, I felt the 'need' for a winter bike. Partially to save my new bearings from the winter grime and partially, well, any excuse for a new bike right?
With a little help, I got myself an NS Eccentric frame. An aggressive 29-er hardtail. I built up the frame using mostly spare parts I had lying around making for a very economical bike.
Riding a hardtail for a few months really helped me appreciate full-suspension again! This bike was very capable though, riding everything from XC routes to the local techy trails extending to a few runs at Bike Park Ireland and Shronaboy Farm.
29" wheels
Rockshox Revelation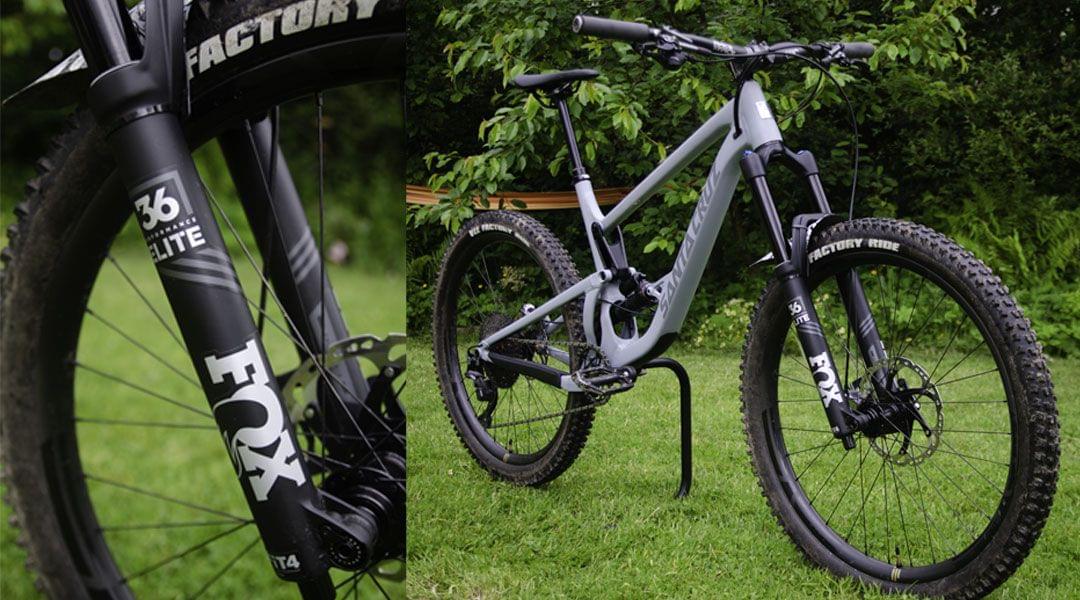 Santa Cruz Bronson v3 - 2019
Fast forward another couple of years and the itch for newer and better reasserts itself. With the generous help of, now sadly closed, Bespoke Cycles I get myself a brand new third-generation Santa Cruz Bronson frame. At this point I've had too many custom-built bikes to be happy with an off-the-shelf offering, so once again this is self build.
What a beast of a bike. I know some people would ask, why the Bronson instead of the Megatower or Nomad. First, the Megatower was released about two weeks after I finished building the Bronson. And I like my bike to be nimble. I've tried the (even) slacker category of bikes that the Nomad and, to a lesser degree, the Megatower fall into. They don't tend to suit my riding style. I'm not saying that they are not also great bikes, but I do believe that not all bikes suit every rider - whether that be down to rider ability or preference is sort of irrelevant. If I'm not comfortable on a bike then my confidence suffers hugely and once that happens so does the enjoyment of riding. Enjoyment for me is more important than bragging rights over bike geometry.
The first generation of Bronson held my hand and showed me what I'd been missing. This new Bronson took that, booted it to the curb, told me to stop being a pansy and let go of the brakes. And every time I give in and listen I have a grin plastered across my face that lasts for days - I just need to listen more often.
Shimano 1x12
Fox 36
2.4" tyres
RockShox Super Deluxe with MegNeg upgrade
Santa Cruz Reserve rims on DT Swiss hubs
My next bike…
As much as I say that my Bronson is the best bike I've ridden I would be fooling myself if I imagined that the itch for newer and better is never going to re-assert itself.
The fact that I like my current bike as much as I do makes picturing the next candidate a little harder. Having said that, two bike trends have caught my attention recently. Below are a few bikes that I wouldn't mind trying out as a potential upgrade.
High pivot bikes
Not new exactly, but a few recent releases have me intrigued. Bikes such as the Deviate Highlander, Forbidden Bikes Druid and the recently released 2022 Norco Range. I know some of the 'benefits' in theory. But I'd really like to spend a day or so trying a Range or a Druid on my local trails. Norco range, Druid, (Scottish brand - mctrailrider)
Electric MTB - E-MTB
I think the days of people looking down on electric-assisted mountain bikes should be long gone by now. I've not yet had the opportunity to try one. However, in theory, I can see the benefit. Because it is 'assisted' cycling you still need to put in the effort. If that means that in my post-work one-hour ride instead of one loop I can manage two, for example, then that's a win in my book. I really need to try one. My biggest concern is actually on the descents. With all the electrics and the battery, they tend to be considerably heavier than a regular mountain bike. I wonder how that affects how the bike's handling especially on tight, twisty and technical trails.
Top of my list to try hava got to be the Santa Cruz Heckler and Bullit. The Heckler foremost as it is said to be essentially a Bronson with a battery. However, the Bullit has a bigger battery meaning longer rides and is the Nomad equivalent. Is that added aggressiveness that would normally impact a bike's climbing ability negated by the battery-assist?