Recently, everyone seems to be doing tyre inserts. Where once there were only a couple of well-known brands available, no new products are appearing frequently.
However, the quality of these mountain bike tire inserts varies enormously. Some are nothing more than a glorified pool noodle. A few are renowned for being extremely tough. Some cost next to nothing, while others can cost as much as a set of new tyres.
Why do we need tire inserts on our mountain bikes?
The benefits that are listed are that they:
protect our rims from impacts on rocks or square edges
they will support our tyres and
as a result, allow us to run lower tire pressures which in turn can increase grip.
Forgoing some of the more expensive, and ignoring the simple foam noodles, I recently asked Rockstop to try one of their rim protection inserts. Whilst at £65 they are certainly not in the bargain basement category, they are also not the most expensive available.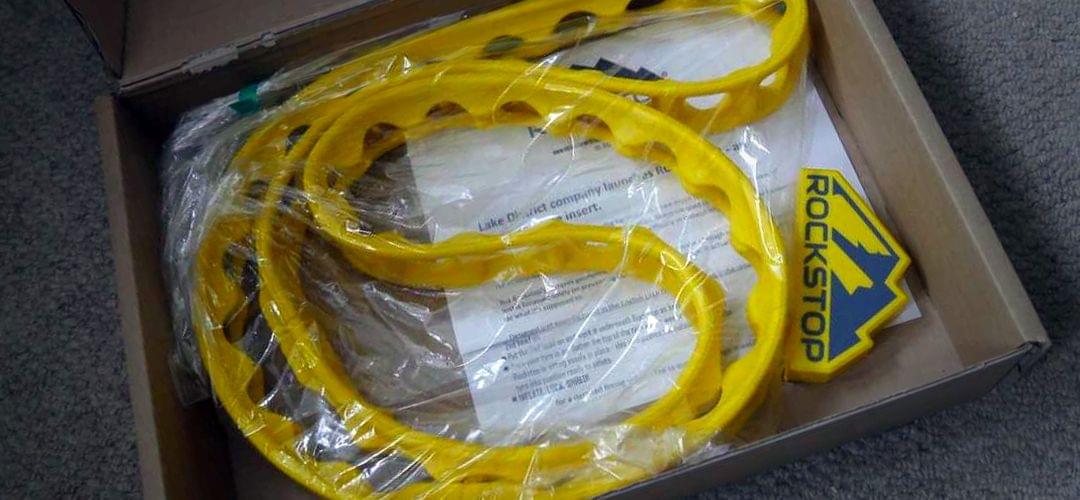 The Rockstop rim protector is made from a 'tough Polyurethane blown Elastomer'. That is how it is described on the company's website. If like me, that means nothing to you, suffice to say this is the material used in shock absorbers on Formula 1 cars. It is extremely tough and very flexible. This means it will last longer than a foam-based insert and it does not act like a sponge absorbing all your tubeless tyre sealant.
They come in 27.5", 29" and also 27.5" wide for rims 35-45mm wide so, unless you are still on a 26" wheels, there should be one to fit your bike.
These tire inserts, unlike some other well-known brands, are incredibly easy to install. That is after you've watched the how-to video on Rockstop's website. Once I'd been shown the simple trick, it took me less than 5 minutes to have the insert and rear tyre reinstalled on my bike.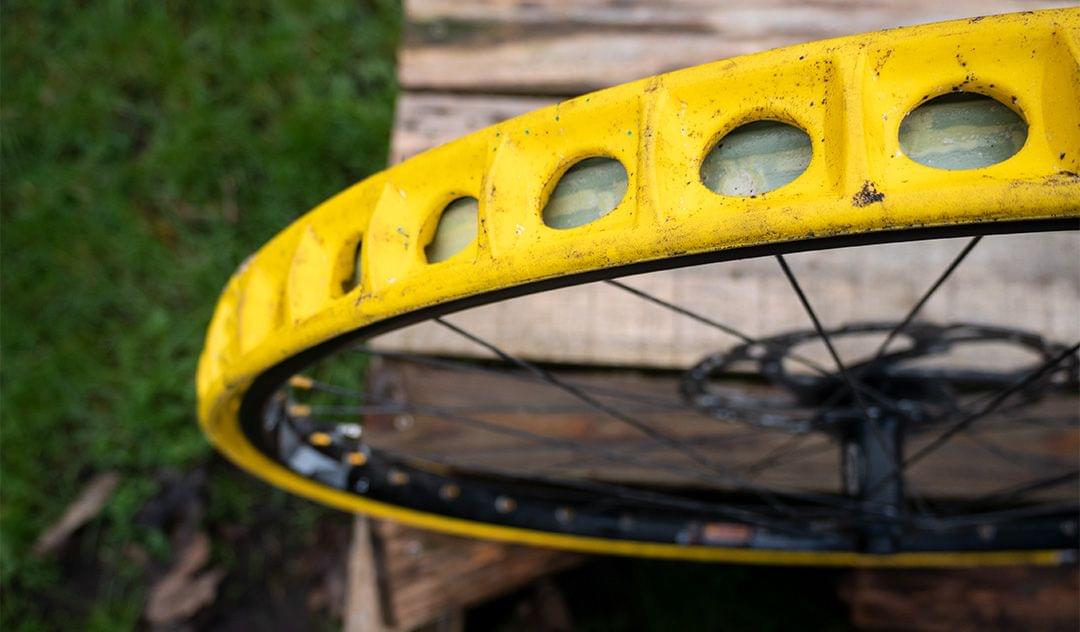 The shape of the insert helps it to sit perfectly in the middle of the rim making it easy to install. The insert also overhangs the sidewalls of the wheel rim protecting it in case of bottoming out on a hard surface or square edge. And it also applies pressure to the sidewall area of the tire helping to keep it seated and protecting the tire from pinching.
Rockstop recommends 20-24 PSI of air pressure for a good quality rear mountain bike tyre in most riding conditions. While the front tyre can go as low as 17 PSI.
As I was trying to find the lower limit of pressures, think it was at 15 PSI on the rear tyre, I managed to slash the sidewall of my rear tyre on a rock while riding a local downhill track. With the insert installed I completed the full track before I noticed that my tyre was flat. The final part of this track includes a series of steps, gravelly berms and small jumps all of which I had completed on a deflated tire. On removing the damaged tyre, it was immediately obvious that the Rockstop had done exactly as its name suggests, there was no damage at all to my carbon rim.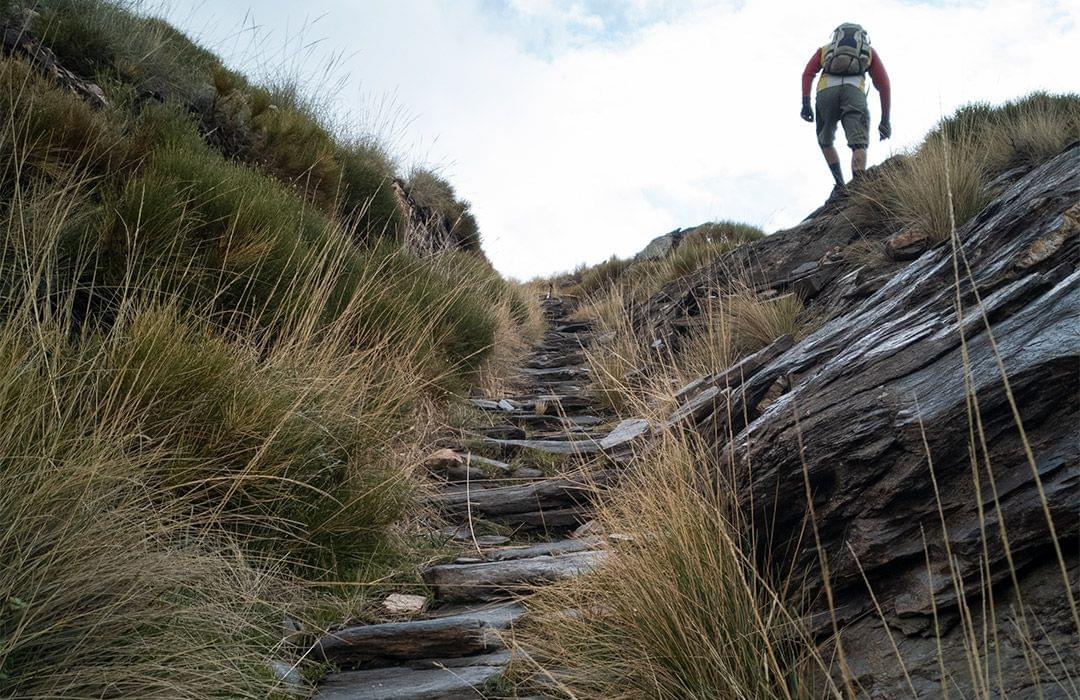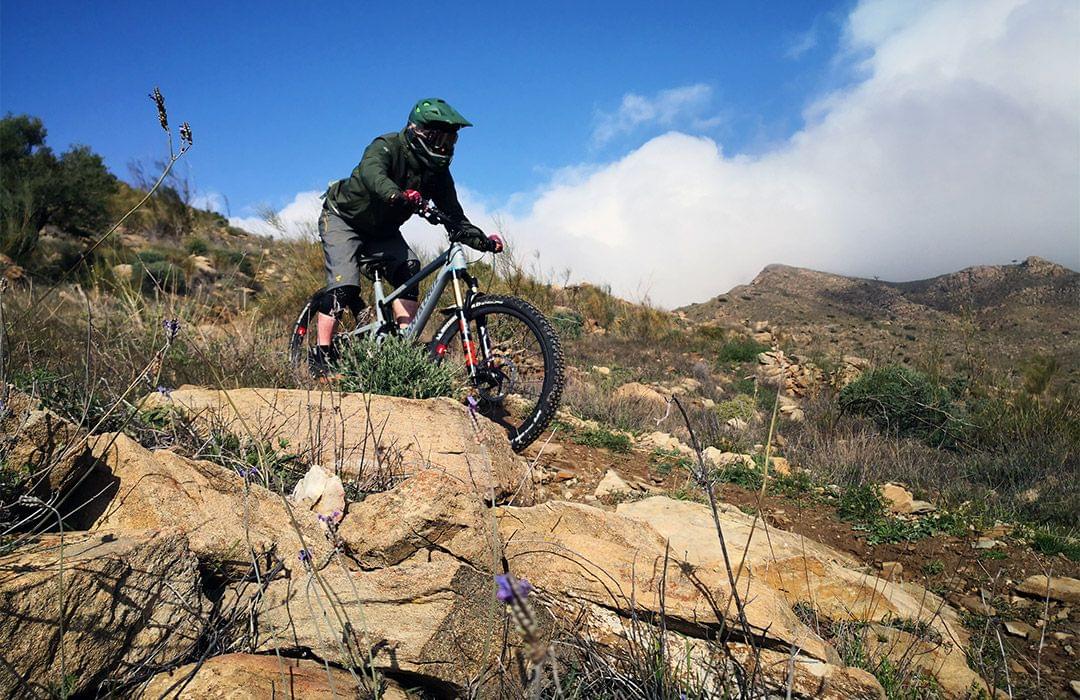 Some examples of the terrain we tested the Rockstop tyre insert on while in Spain
During my time testing the Rockstop insert, the company themselves sent out a newsletter stating that they had identified an issue with the how two pieces of the insert were joined together. And they immediately released an updated version to correct this.
I took the updated insert with me on our recent mountain biking trip to Spain. I was able to run the same pressures that I was used to at home even though the trails we rode in Spain were completely different. The rear wheel, with the insert, felt solid, planted and gave no reason to worry about the razor-sharp rocks littering the tracks. In four full days of riding, I didn't suffer any punctures or rim contact - except for flying rocks.
At one stage I managed to land completely flat while attempting a step-up jump, forcing a considerable amount of air to escape from my tire which I failed to notice until much further into the run. With a very soft tire plus insert I barely noticed any change in the handling of my bike, and even after having been made aware of the state of my tire I finished the run with barely a hint of slowing down.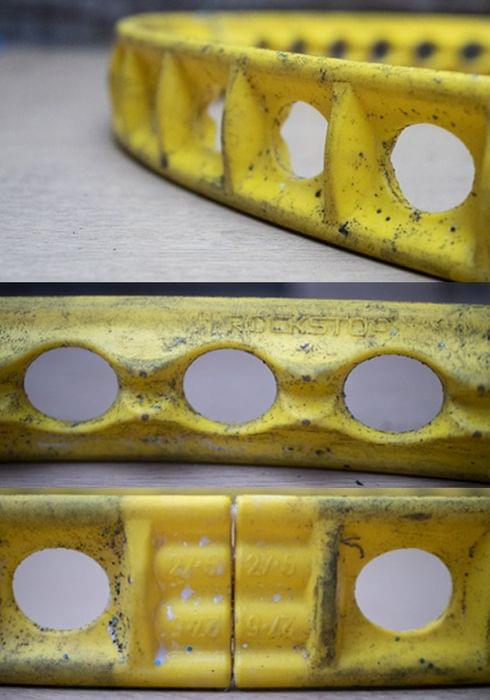 Old tubeless sealant the only sign of 6 months of riding
After approximately 5 months of regular riding, I removed the insert to see what kind of damage, if any, and wear it had sustained. Considering the trails it's been used on, I was pleasantly surprised. Apart from looking a little grubby from the tubeless sealant, I couldn't spot any significant damage. This insert is good to go for at least another 6 months at this rate.
After all that, do I need tyre inserts? If I were to ride only on my local trails, I would say probably not. However, if I throw in some bike park riding, the odd outing to rockier areas or add in some big mountain adventures then knowing I have the added protection in my rear wheel takes the worry of rim damage out of my mind at the very least. And in practice, I have had no reason not to trust that these inserts are doing everything they promise to.