The last week of September sees me packing my riding gear and trundling off to Dublin Airport by train to catch a flight to Prague. For the next four days, I will be mountain biking in the Czech Republic.
After a flight of just over two hours, I wait to be collected by Radim from Czech MTB Holidays
We will be riding trails along the Czech Polish border in the east of the country. And our first stop is a two and a half-hour drive East from Prague.
Our accommodation for the first two nights is in a converted hunter's lodge, Guesthouse Kůlna a beautiful place clad in timber inside and out.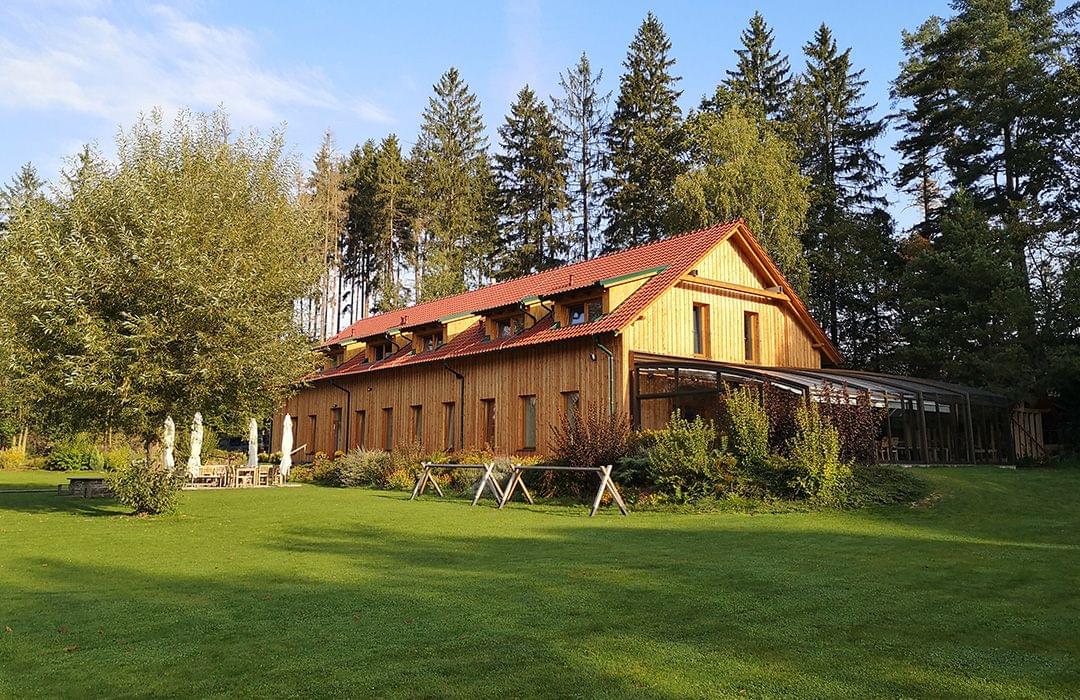 Guesthouse Kulna photo by Jan Marcanik
The next day, I wake up to a beautiful sunny morning. Opening the curtains reveals a landscape I missed in the dark on arriving the previous night. Tree covered hills stretch as far as I can see from my window. And it is utterly quiet and peaceful, with not a man-made noise to be heard.
Breakfast consists of a buffet offering a wide range of meats, different types of bread and rolls, eggs poached and fried, cereals and many other options. Everything you might want to fuel yourself ahead of a day of mountain biking.
Breakfast is also the first opportunity to meet my fellow riders for the week, four journalists from various European and American publications, as well as Martin from Czech Tourism who organised this trip and Jan, the other half of Czech MTB.
The first day of riding involves an epic 50 kilometres across two different trail centres, beginning with Singletrail Moravsky Kras which is situated just outside the front door of our accommodation.
Singletrail Moravsky has three flow trails of varying lengths and steepness, with the longest being the most cross-country like and the shortest offering great flow sections with berms and tabletop jumps.
At lunchtime, we go back to the lodge at the foot of the trails. There is no beer allowed when you are riding in the Czech Republic, otherwise, you run the risk of your insurance not covering you in case of an accident. So we stick to some local beverages, in my case a satisfyingly refreshing berry juice.
Fast flow trails at Jedovnice photo by Jukka Maennena
After lunch, we travel closer to the city of Brno, the second-largest city in the Czech Republic. The trails here at Marianske Udoli are relatively busy considering it is only Monday. Jan and Martin explain this is due to how accessible these trails are with both bus and train access from the city.
This network of trails is a step up from those we rode in the morning. There is still a large element of climbing and cross-country style trails traversing the hillsides. But, when it comes to the descents these trails are bigger and faster than those at Singletrail Moravsky. Huge roller flow sections encourage us to pump for speed and to get our wheels off the ground. Huge berms lead into steep drops and riding feels like being on an exhilarating roller coaster ride. Even though by the time we reach the last trail we've ridden close to 50 kilometres today and my legs are feeling every one of those, I still have a huge grin on my face as I descend the final section pumping through an endless-seeming series of rollers and tabletops along a dusty and exposed trail back to the car park.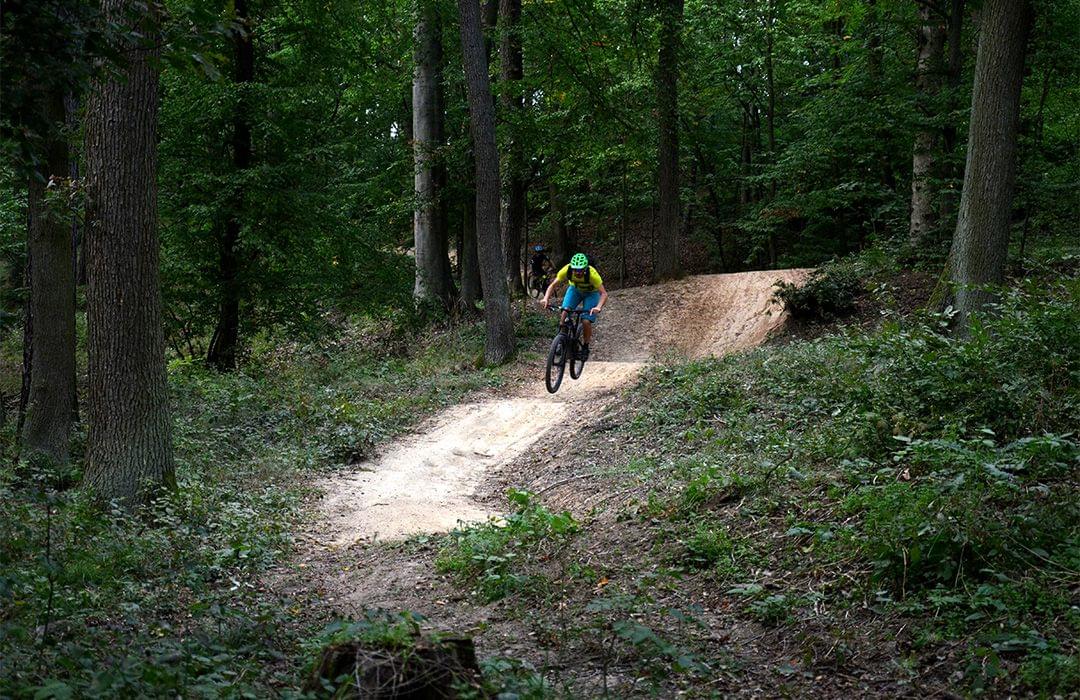 Jan showing us how its done photo by Jukka Maennena
At dinner, Luca, our Italian journalist, admits that he is hoping for anything but Spaghetti Bolognaise… which is exactly what our hostess proceeds to bring out of the kitchen. Although it may not have been on everyone's wishlist, not many minutes later very little of it is left on any of our plates.
Day two begins with us packing our bags into the Czech MTB Holidays Volkswagen Transporter ahead of a drive to the Jeseniky Mountains.
Here, for about 35 kilometres, we climb, a lot, on a mix of fire roads, small tarmac sections and plenty of singletrack to the ridgeline which forms the Czech and Polish border. We spend the morning riding along this ridge, zig-zagging back and forth across the border on natural single track between trees and surrounded by wild blueberry bushes.
Fast singletrack descents among the wild blueberries photo by Jukka Maennena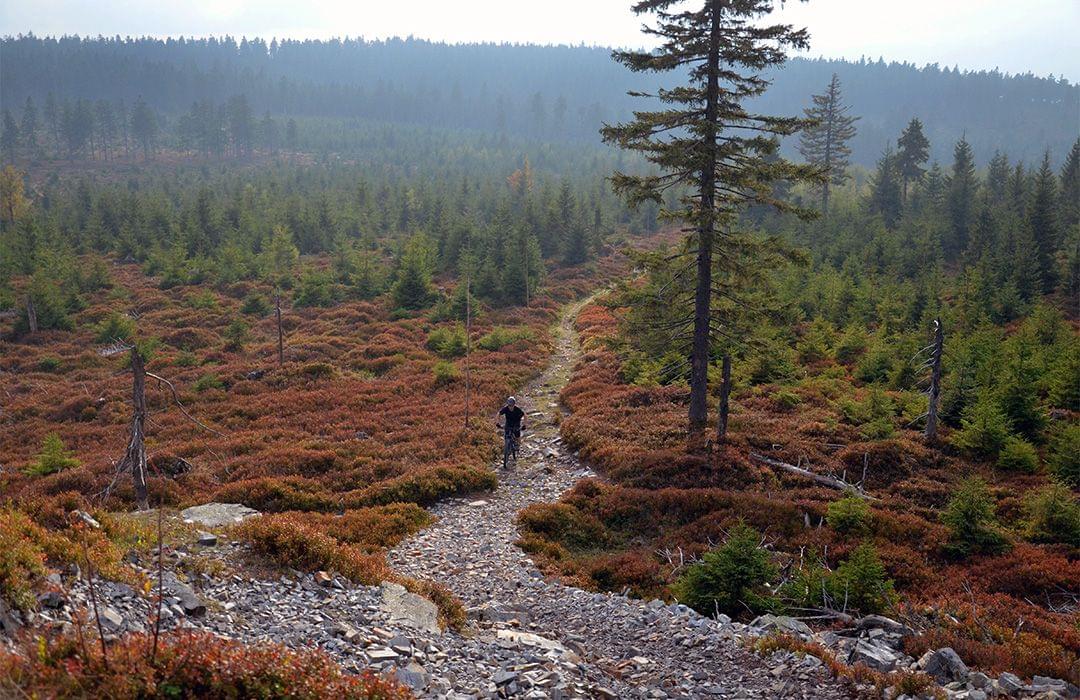 Beautiful views were hard earned photo by Jukka Maennena
For lunch, we drop downhill a little to a ski lodge. A popular winter ski resort, in late summer the lifts are closed, but the lodge is open and catering to hikers and mountain bikers. At the recommendation of our guides Jand and Martin, I try some local Czech blueberry dumplings, called Ovocné Knedlíky. I was warned that this would be a sweet dish. Expecting something along the lines of a plate of profiteroles, I am somewhat intimidated by the two enormous balls of dough and blueberries covered in melted butter and sugar. However, they do not disappoint and taste delicious. I fail to eat both dumplings however and give up at one and a half. I do have an afternoon of climbing hills ahead of me after all. We also try Kofola, the Soviet-era Cola alternative, which possibly tastes better than the colas we are used to at home.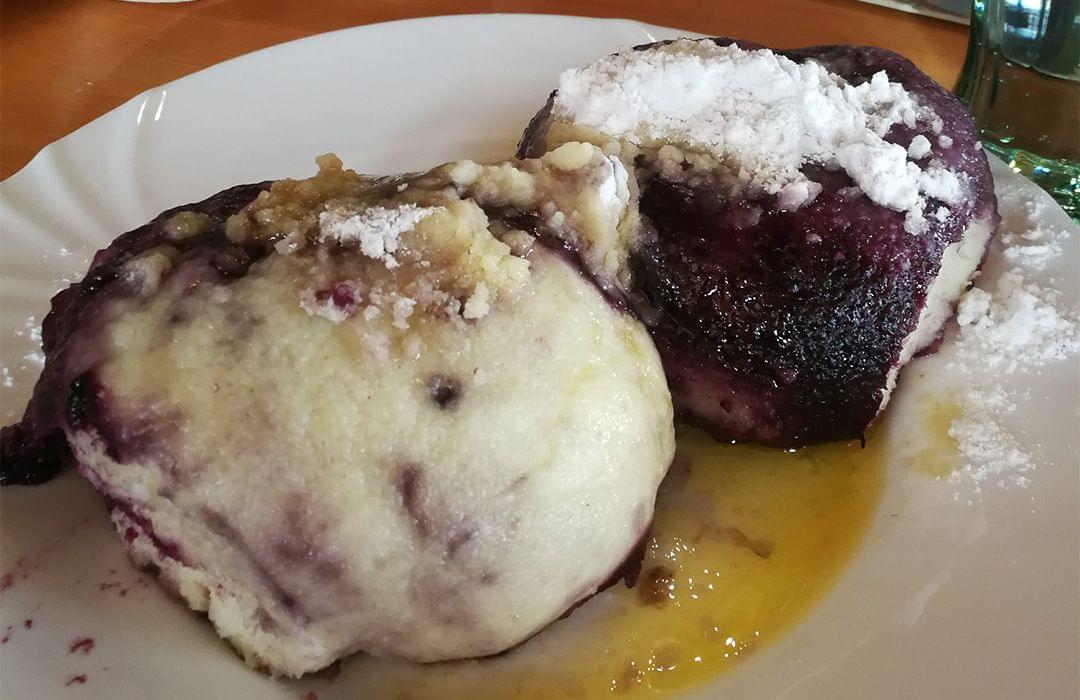 Ovocné Knedlíky traditional Czech blueberry dumplings
After lunch, with full stomachs, we are treated to yet more climbing including epic scenery from the peaks along the border. As the saying goes, what goes up must eventually come down and all of us have a ball racing down some dangerously fast descents with debris flying from under our rear tyres as we charge down the mountainside.
Jan, Gerow and I chasing down Jonas photo by Jukka Maennena
Those in the greatest hurry to reach the bottom miss the last turn at the bottom and instead of being neatly deposited back at the van, end up in a nearby village where they eventually have to be collected by Jan our guide.
Having travelled a good way from our first accommodation, the next two nights we will be lodging at some new digs. We swap the hunters lodge for a modern hotel with a wellness centre and spa. After a hot shower, I have some time to chill on the balcony before dinner and enjoy the mountain views.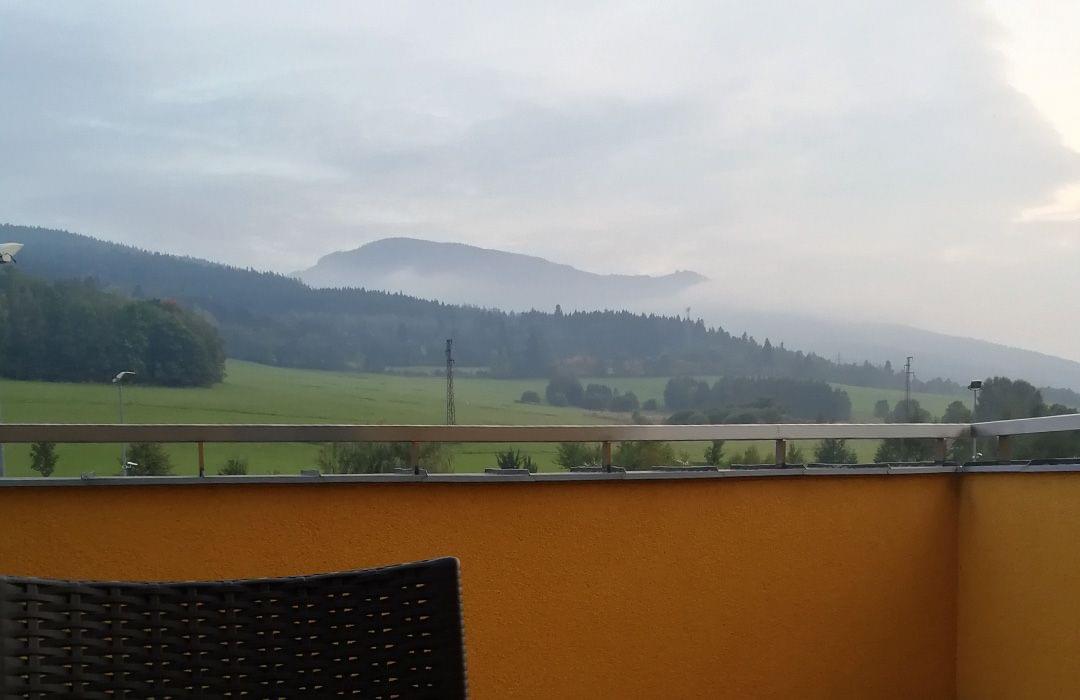 Some of our group spent the time before dinner to sample the wellness centre and make use of its hydro massage baths.
At dinner, we get to meet Petr Slavik who will be our photographer for the next day's riding.
After an average dinner, compared to previous nights, the restaurant staff appear to be in a hurry to get home. With our excitement still high after two epic days on the mountain bikes but with no bar service after 9pm, Jan suggests that we all pile in the van and head to the local town to find a bar. Which is exactly how we conclude our third day in the Czech Republic.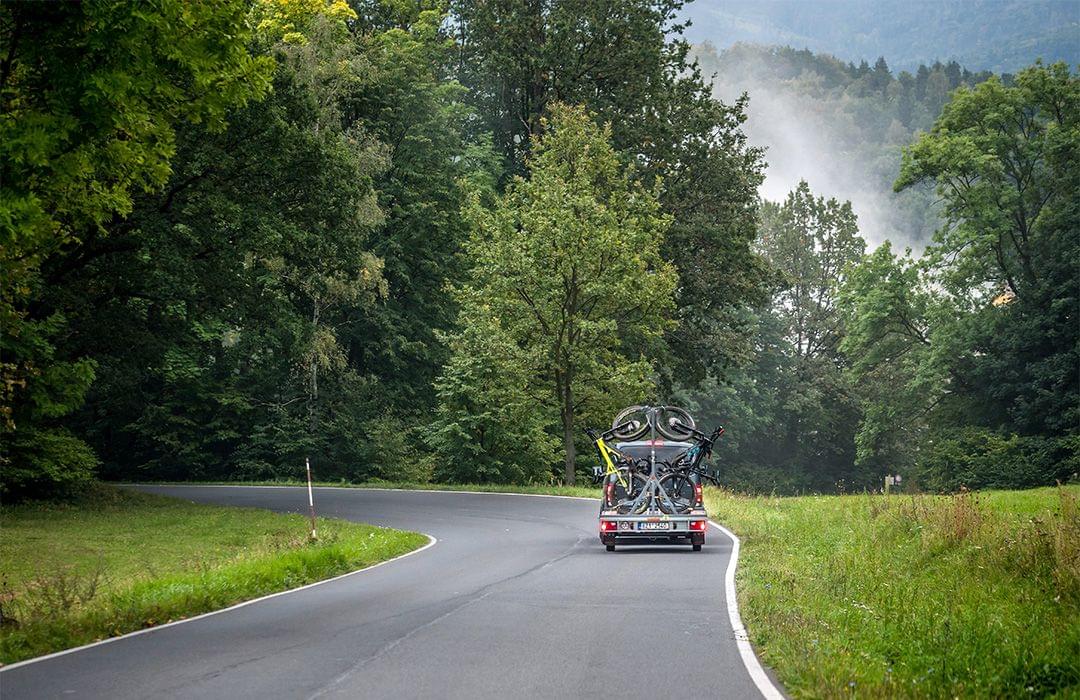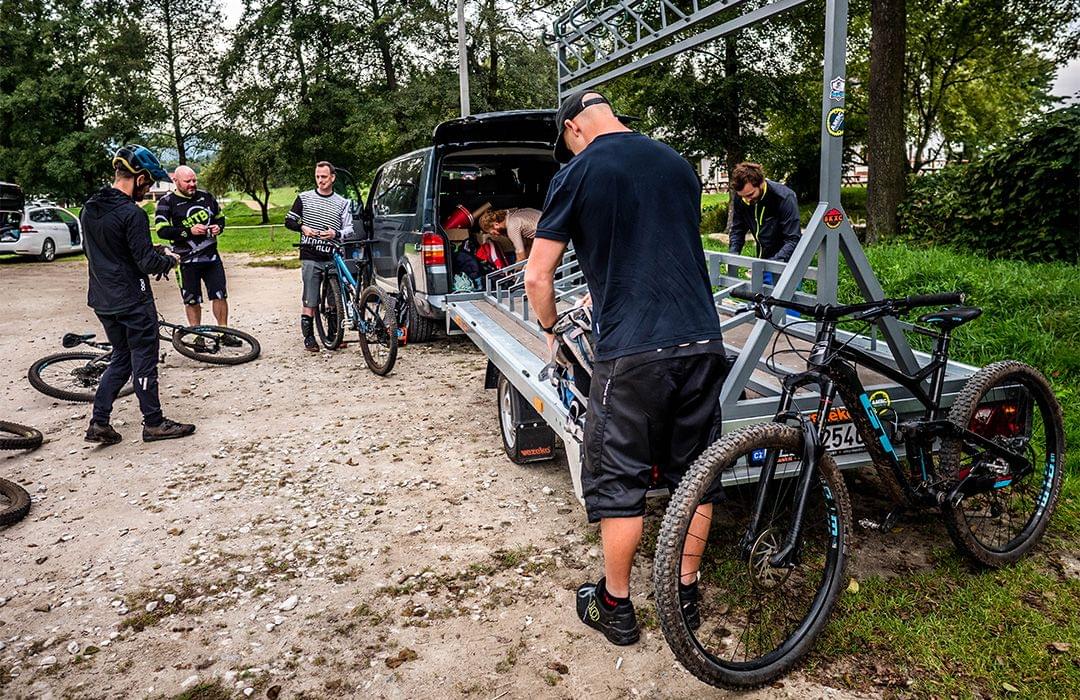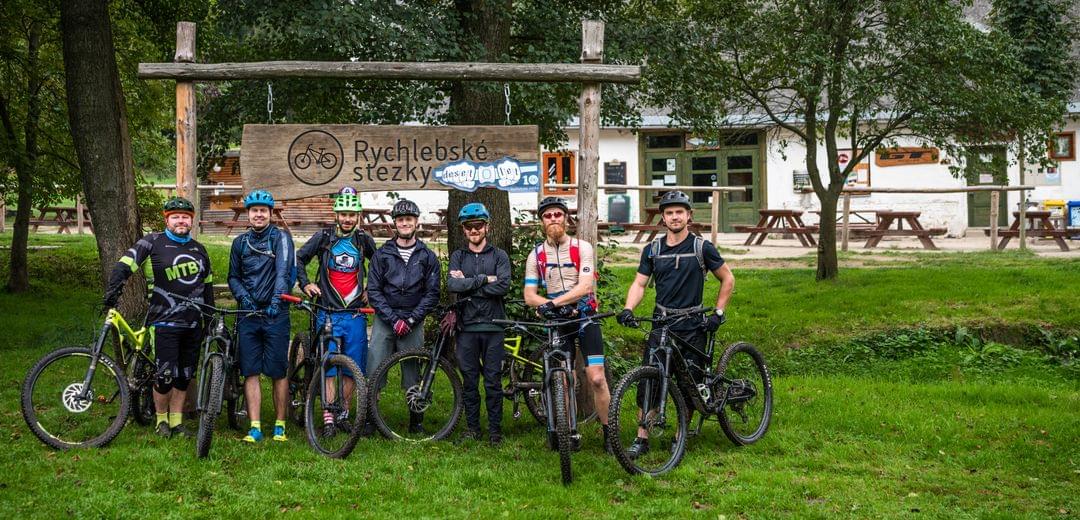 photos by Petr Slavik
The next morning we set off early to Rychlebske Stezky, a trail centre built by volunteers and with huge numbers of people helping out on the trail building days that are organised here.
The riding kicks off with a long tricky climb, alternating between gravel roads and technical singletrack over woodwork sections and rock slabs with numerous tight switchbacks. This is also the first morning that we have to don our wet weather gear as a light rain persists for a couple of hours making the rocks even trickier than normal. Unfortunately, it also prevents Petr, the photographer, from using his drone as he had planned.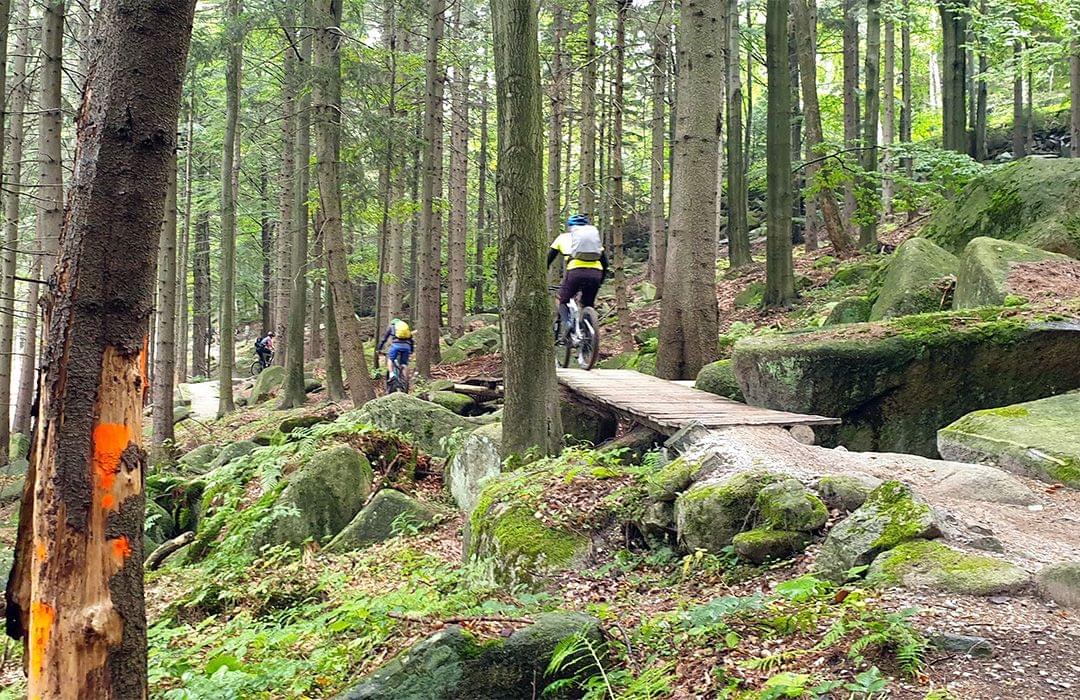 Technical mountain bike climbs photo by Jonas Bjornsson
The first proper trail we come to after an hour's worth of climbing is referred to as the 'coaching trail' by Jan our guide. While this may have suggested to some of us that this would be an easy warm-up trail, we would have been very wrong. After a few quick pedal strokes to build up some speed I am introduced to some Czeck rock. Long sections of this trail are built out of nothing but huge torso-sized boulders forming pathways between even bigger slabs of rock. Fortunately the slabs, at least, are much grippier than they appear at first glance, even with the morning's rain.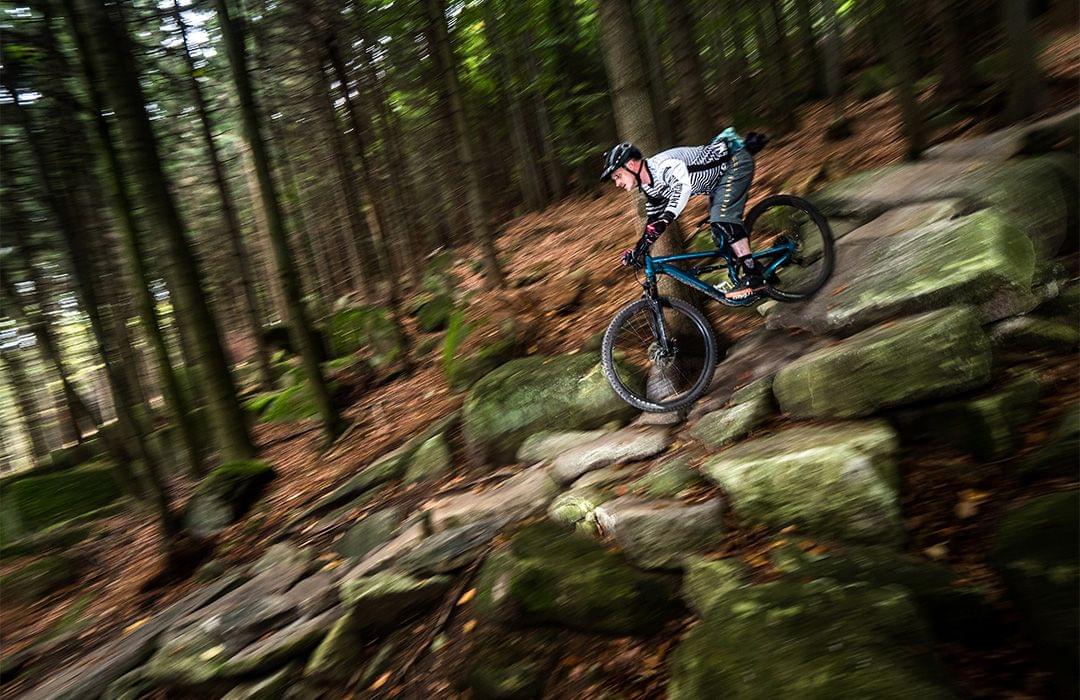 Sessioning the rocky Rechbleske trails photo by Petr Slavik
Further down, a large overhead sign announces that the next section is called 'Superflow Trail'. It certainly lives up to its name, with sequences of large berms to build up our speed before we hit tabletop jumps and a few, optional, rock drops. Towards the end of the trail is a large gap jump out of a berm where most of us choose the b-line. Only Jukka, our Finnish friend, decides to scope it out before heading back up the trail and sending it in style.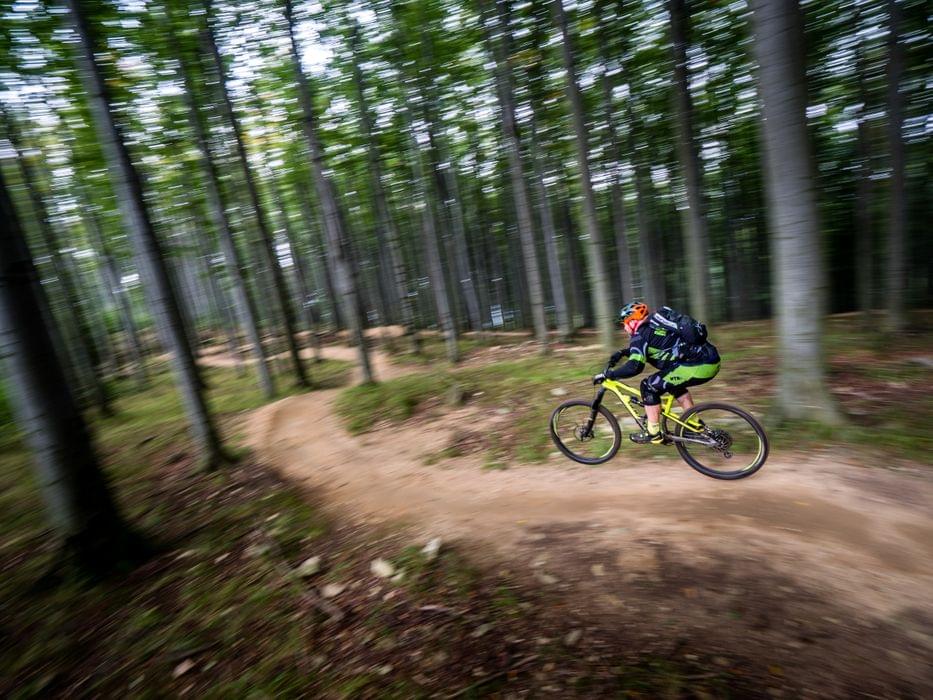 Super fun Superflow photos by Petr Slavik
Continuing down the lower sections of these trails the weather begins to clear and Petr decides that now is a good time to unpack his drone and attempt to shoot a few quick group riding clips.
Lunch today consists of soup, which precedes most Czech meals, followed by a cabbage stew with dumplings. As has been the case with every other dinner so far on this trip, it is a hearty and very filling meal. Rocket fuel ahead of an afternoon of more mountain biking.
In the afternoon we climb back the same way as in the morning. This time we stop about halfway up, at what is likely the most technical singletrack portion of the climb. Here, in a small clearing featuring several tight switchbacks, we set up at various parts of the trail for a little drone video.
Once back at the coaching trail, most of our group goes ahead to ride a short but, as described by Jan, very technical rock section. Martin and Petr, however, decide that they would rather skip that part. Instead, the three of us head down the coaching trail to one of it's more rocky sections and try to get a few good photos. At the request of Petr, Martin and I repeat this one section several times. Sessioning a piece of trail like this is great for my confidence as I have to time to scope out the lines and get a feel for how best to roll through it.
Gerow tackling the Coaching trail photo by Petr Slavik
This second time around, instead of taking the Superflow trail that we rode in the morning Jan shows us a new trail. This was built for the 10th anniversary of the trailhead. He warns us to take it easy, look out for the lines and to walk sections if we feel uncomfortable. This feels a little like our guiding being overprotective, that is until Martin tells me that Jan just told him in Czech that this trail is 'F***ing hard'…
And, wow, he wasn't exaggerating. This trail consists almost entirely of rocks and boulders winding from huge rock slab to even bigger rocks. Most of the sections we can navigate without too much trouble, but there are several where the margin for error is measured in centimetres if not less. The trail's finale is a spectacularly steep series of enormous rocks. The ridable line along most of it is no wider than a bike tyre. Only Jan, our guide, even attempts to ride this line. Jan stomps it much to our amazement. The rest of us struggle not to fall flat on our backs while walking down.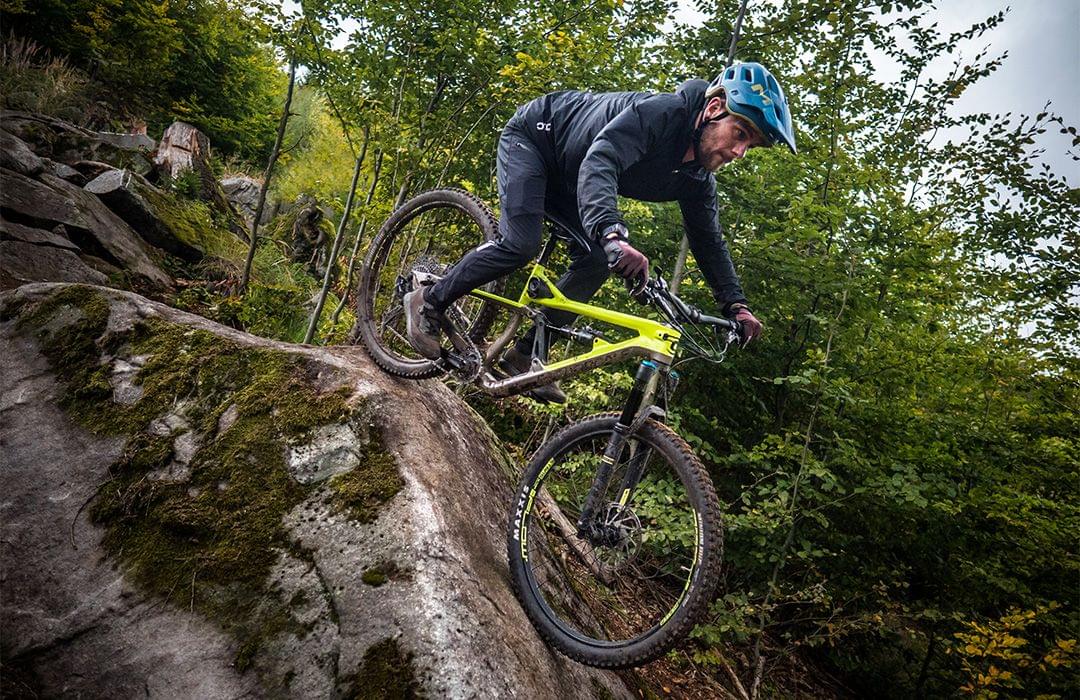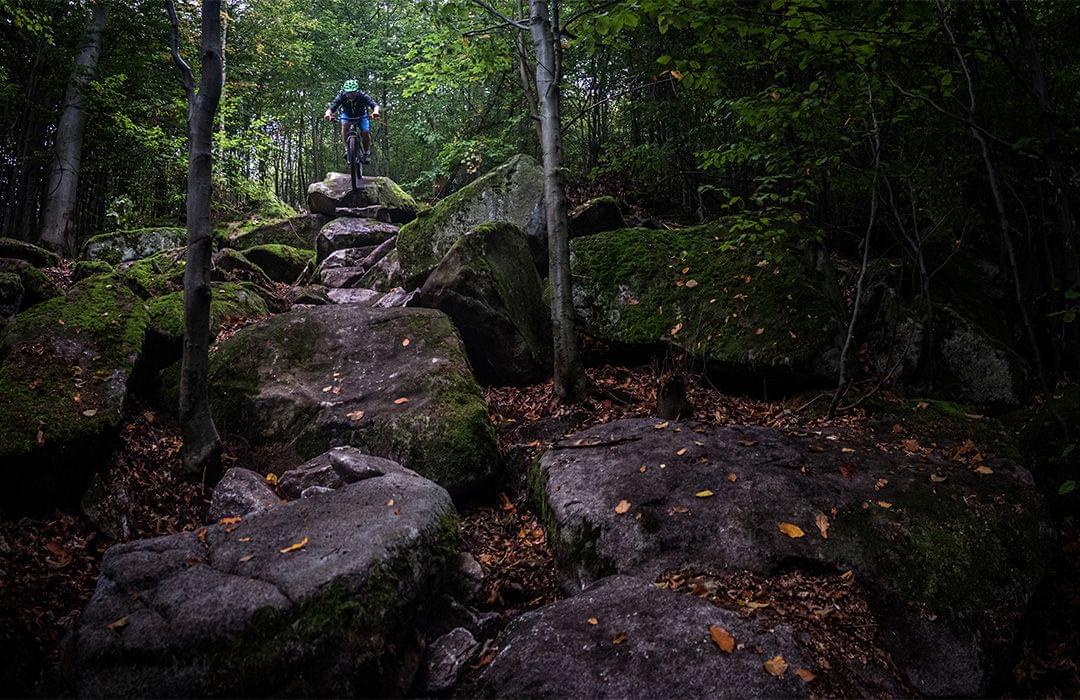 The 10th anniversary trail is not for the faint-hearted photos by Petr Slavik
After around of high fives and once the adrenaline settles a little, we head back to our hotel for dinner and some beers. We decide to forgo another trip to the pub. Instead, we'll catch up on some much-needed rest ahead of our last day of riding. At this point, Jan gives us the choice of taking the next morning off and relaxing in the hotel spa or to go back to Rychlebske Stezky for one more top to bottom run. The decision is unanimous, we're going back for one more run.
The trails here are incredibly well built. And when Martin tells us that no machinery was used in the building of any of the rocky trails, our appreciation grows even more. Every one of those rocks was either already in place or moved by hand.
After lunch, we pack all our gear back into the van ready for the drive to our final riding spot, Bikepark Kopřivná. We're privileged as the park has officially already closed for the riding season. But Martin has pulled some of his Czech Tourism strings and managed to get them to open the lift for us just for the afternoon. After three and a half days of climbing up every hill under our own power, getting to sit in the chairlift feels like a real luxury.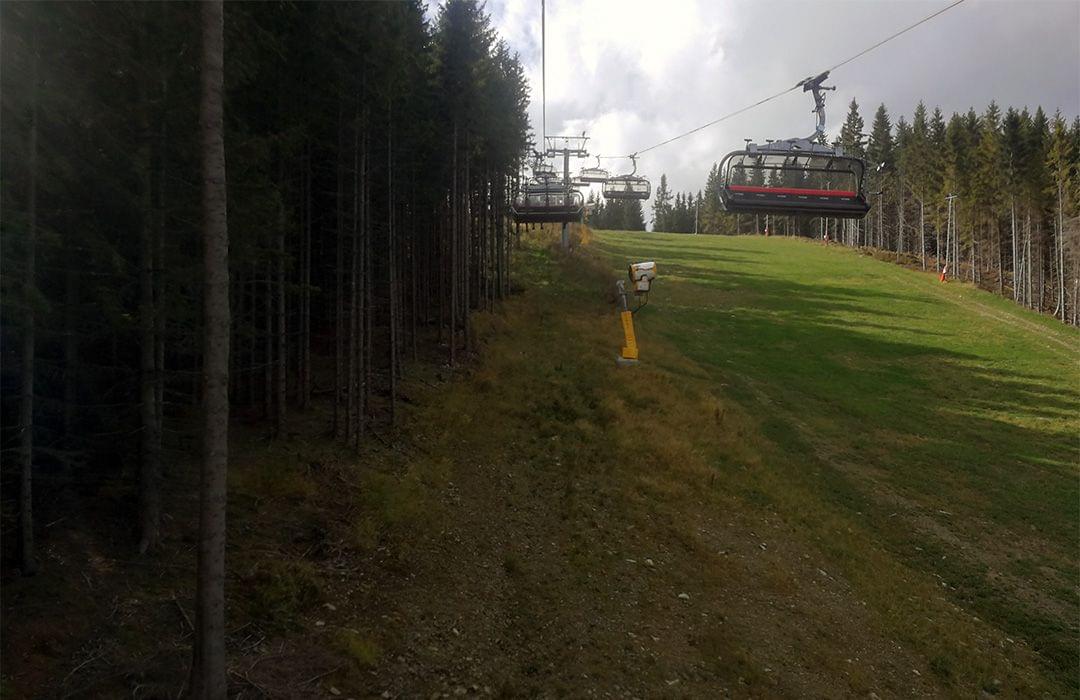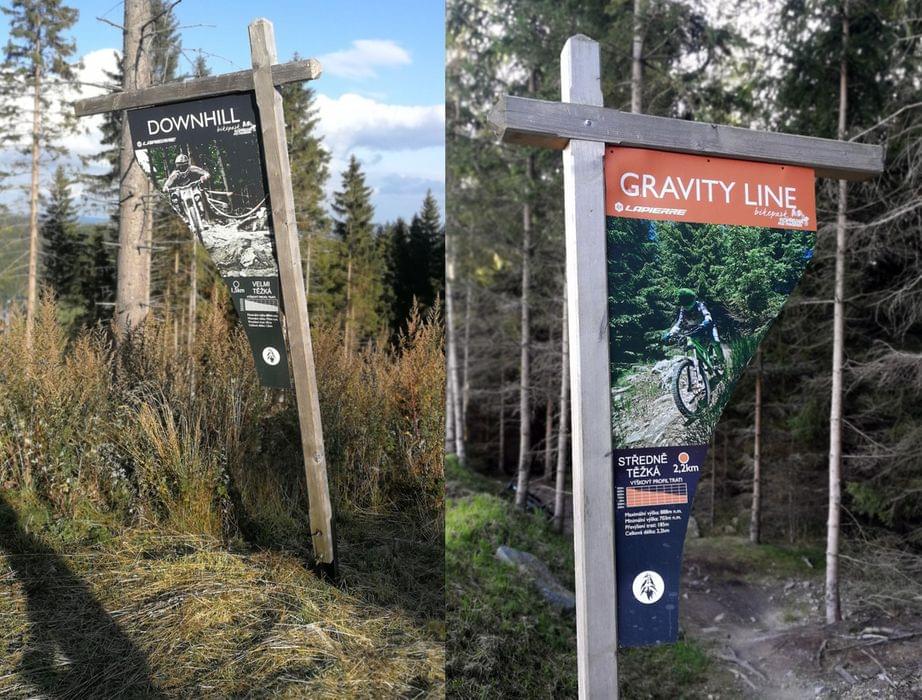 While not a huge bike park, it offers a good selection of trails for all levels. From wide open family trails, the flowy Fun Trail, a pair of reds up to a couple of black downhill lines. While some of us opt to dive straight in and try the red graded Gravity Line, Luca and I follow Jan down the 2.5-kilometre Fun Trail. This is a blue-graded flow trail with an almost non-stop succession of rollers, tabletops and berms.
Later, I try my hand at the Gravity Line. This trail has so many roots we jokingly suggest they must have imported them. Rooty lines lead into several big wooden features including a steep drop from the top of a bridge into a big wallride.
I also tried my hand at one of the Black Downhill trails… let's just say that this black bears no resemblance to the black's I would be used to in our local bike parks and, while I get to the bottom in one piece, I do have a couple of unscheduled dismounts along the way.
After lapping the bike park all afternoon, we load our bikes on to the trailer for the last time. Marting introduces us to our accommodation for the final night of this trip. A traditional Czech cottage on the grounds of the resort hotel.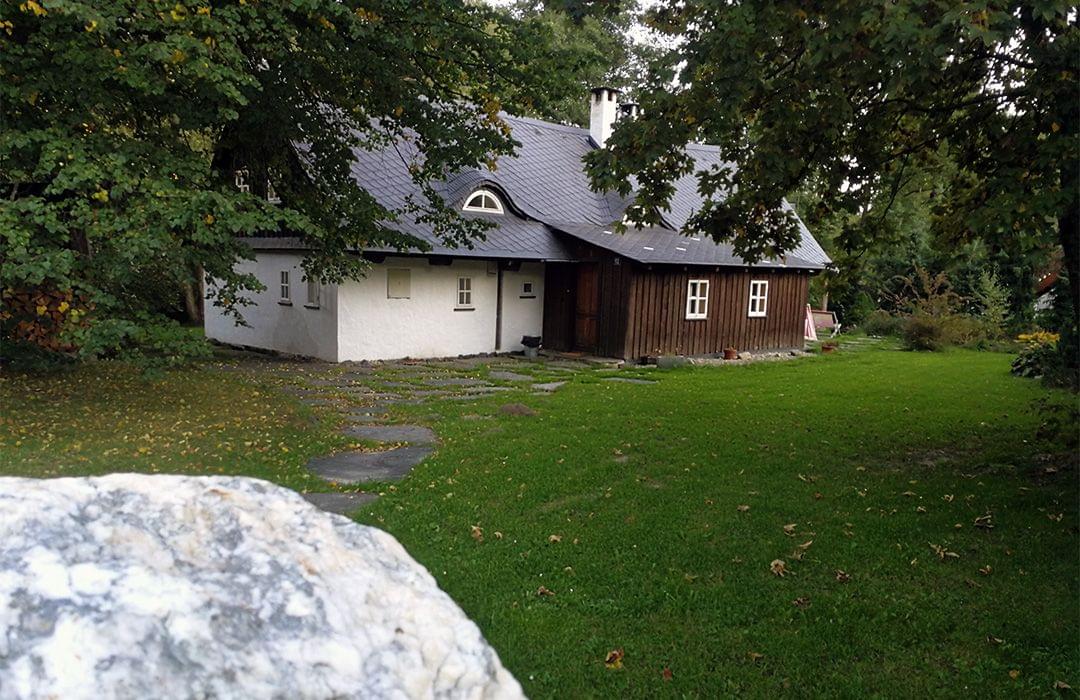 A traditional Czech cottage complete with outdoor hot tub
A quick change and we walk up the hundred-odd steps to the hotel for our last dinner together. We are treated to possibly the biggest meal we've had yet. Three courses, including an enormous schnitzel in my case. After a week of wishing for ice cream, Jonas from Denmark finally gets his wish when there is ice cream on the menu for dessert. I think everyone one of us picked this, and everyone but Jonas struggled to finish the monster bowls that we receive.
Delicious, but a struggle to finish at the end of a three-course meal
After dinner, Jan collects a case of Czech pilsner from the hotel bar, before we walk back to our lodge. We conclude our trip in the Czech Republic sitting in a hot tub, under a clear starry night sky, reminiscing about the trails we've ridden this week and working our way through multiple beers.
The following morning we wave goodbye to Luca who is being driven to Vienna airport by Radim. The rest of us drive for 4 hours to Prague airport, where I catch my Aer Lingus flight back to Dublin.
What an amazing trip we've been treated to. Even after 160 kilometres of riding, with around 4,500 meters of elevation in just four days, I would have happily stayed for a few more days and continued riding.
Check out both Czech Tourism and Czech MTB Holidays on Instagram for more coffee break browsing worthy photographs and all the inspiration you could want to add the Czech Republic to your own mountain biking bucket list.