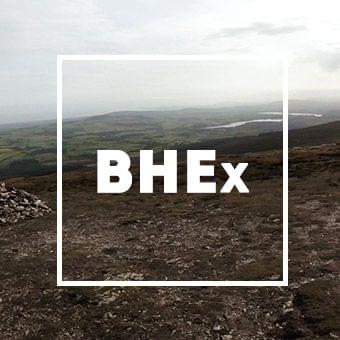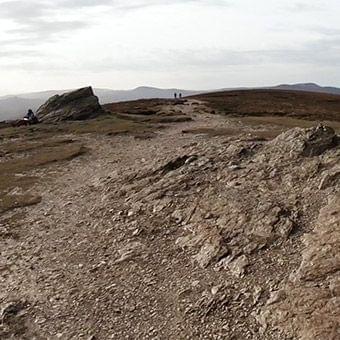 Mountain Biking the East Coast of Ireland
Over the October bank holiday weekend, we organised an Emerald MTB meet-up, affectionately dubbed the Bank Holiday Extravaganza. The plan was that three of us from Munster would travel over to Dublin and Wicklow for two days of riding trails guided by our east coast mates.
Early Sunday morning, we loaded up the car with our gear and bikes and headed off. Collecting the third of our number in Limerick, and after a brief stop for a roast dinner at a motorway services, we made it to Ticknock in about 4 hours.
At the Ticknock trails, we met up with two more of our mates. After the usual car park faffing - getting changed into riding gear, fixing punctures, ... - we finally set off on the bikes. First impressions, there is a lot of climbing at Ticknock. We climbed up a mix of single track and fire roads, with one or two quick trail centre style descents thrown in. Eventually, after the climbing and schooling a curious passerby on the merits of mountain bike lights, we made it to the top.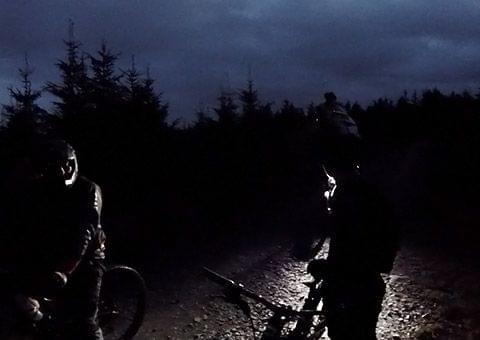 After the clock change the previous night and having started somewhat later than intended, it was beginning to get dark by this time. Fortunately, some of us were better prepared than others and had brought lights. Enough to share between us and with some strategic placement in the running order we were all set to go with at least a modicum of visibility. That descent was well worth the effort of getting to. The first part was fast and rocky, with well-placed berms and lots of opportunities to get both wheels off the ground. A very short fire road transition got us to the bottom half of the descent. This was more of a single track affair twisting through the now quickly darkening forest. Our speed was dropping at this stage as we were losing light, but the fun factor never suffered as we dodged trees, hopped roots and navigated switchbacks. Even the odd detour didn't dampen spirits. From Ticknock we headed to Roundwood, County Wicklow, for some pub grub and to join up with the final two riders to complete our riding group.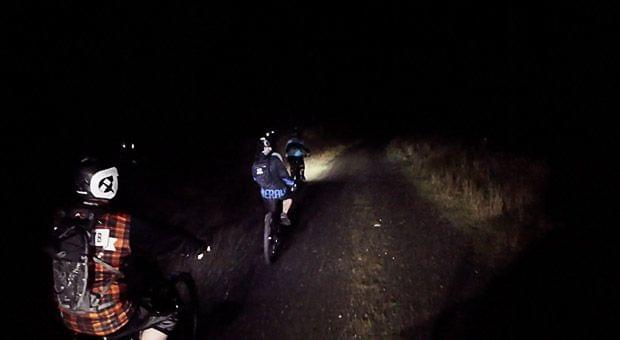 Next stop was Ballinastoe Mountain Bike trail centre. But rather than cycle up from the bottom in the dark, the locals in our group had devised a nifty uplift route. Leaving one vehicle in the bottom car park we piled all the bikes and riders into one van and drove up.
Now all equipped with working lights we set off on our night ride. Our route took in some of the trail centre routes like Bump 'n' Grind and Expressway (as named on Strava), quite a lot more climbing and parts of some Enduro trails. Riding these at night is exhilarating, features jump out at you with little prior warning, and everything feels like you're going at warp speed, despite one or two close encounters with the local pine trees.
After all the riding was done, we finished off Sunday watching the re-run of this year's Red Bull Rampage over beers and banter.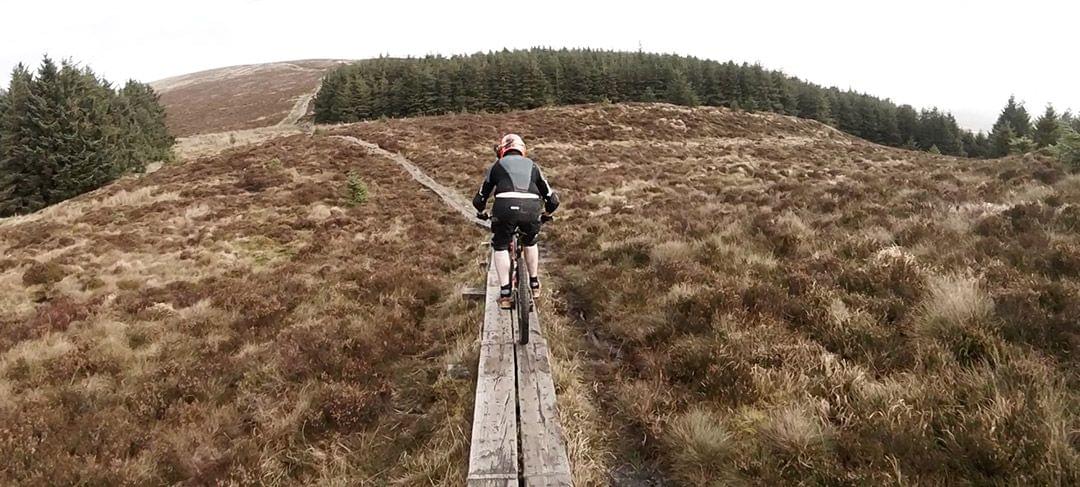 Monday morning started off with some bike maintenance, puncture repairs and brake pad replacements before meeting up with everyone over a huge fried breakfast. Between mouthfuls of bacon and coffee, a plan was devised to ride Djouce Mountain from the top down which is part of the Wicklow Way walking route.
Again having left a car in the car park we intended to finish in, all the bikes were transported to the other side of the mountain by van. From there we began the long rocky ascent to the summit of Djouce Mountain. The rocks claimed their first victim a full five minutes in, one of our number snapping their chain while attempting to bump up a large rock. Top Gear rules applied, and all bar one of us continued on up the trail leaving the other two to deal with the chain. Fortunately, a friendly family stopped and gave us a quick link which we managed to fit in short order.
The climb up involves a lot of rock and a considerable track over boardwalk. Admittedly we walked a lot of it, dodging walkers coming toward us and up some of the steepest rocky parts.

The view from the top of the mountain was stunning, especially on a bright clear day as the one we were lucky to be out on. It was a little breezy up there, so we didn't hang around overly long to admire the landscape before we started on the best part of any ride, the descent.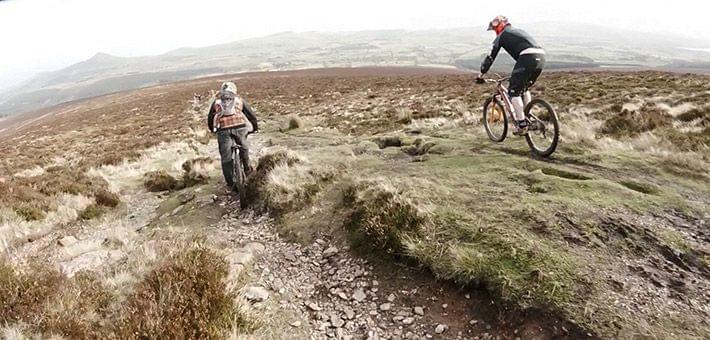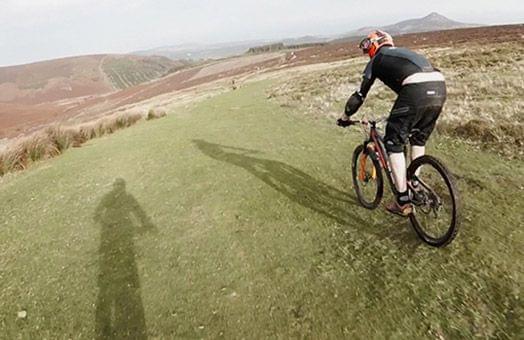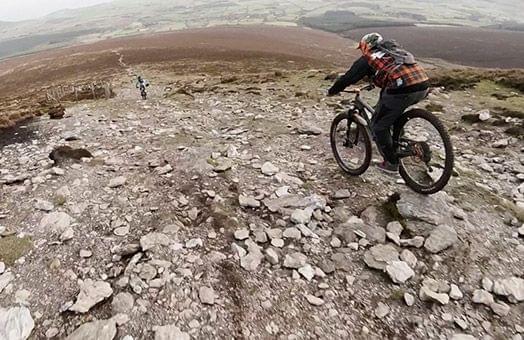 What an incredible descent it is from the very top down. All loose rock and grassy knolls, skipping off ledges and chunks of rock. Braking has little effect as the ground is so loose and your speed builds very quickly on the steep slope. The best you can do is stay loose and let the bike go, keeping an eye out for the biggest rocks and holes and dodging the walkers climbing to the top. About halfway down the surface changes to be more predominantly grass which cuts down on the teeth jarring vibrations but is now without its own challenges. The trail here is no longer straight down but meanders downhill. Navigating those turns on grass and at speed requires careful weighting of the bike and a feathery touch on the brakes to avoid making the trip on your backside. At the bottom, after repairing an almost inevitable puncture considering the terrain we'd just ridden, we continued on to join up with a single track trail named Irn Bru. What a technically demanding trail that is. Steep, single track, rooty, narrow and very very tight. This pushed our skills to the limit, with more than one of us ending up on the ground at some stage.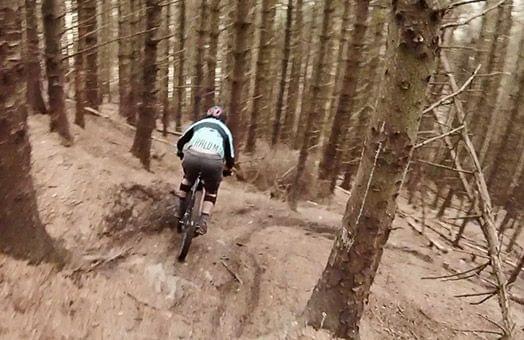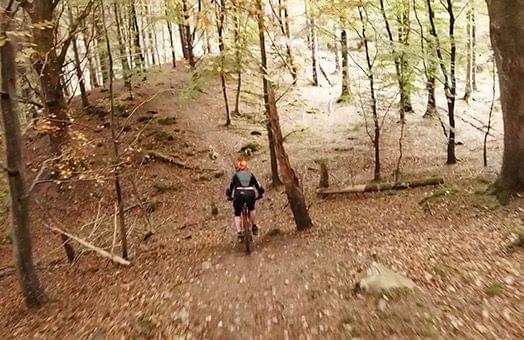 Foregoing lunch so as not to miss out on any riding time, we spent the rest of the afternoon sampling the trails at Djouce. And we only touched the tip of the iceberg when it comes to what's on offer. On every transition, we passed multiple trail exits and entrances. Every trail we did was different. All loose and loamy despite recent wet weather. Lots of jumps, drops, roots, switchbacks and steep chutes. After some homemade Chili and showers all round, we finished off an amazing two days of mountain biking with the four-hour return trip home. You can't beat riding new trails with a group of mates.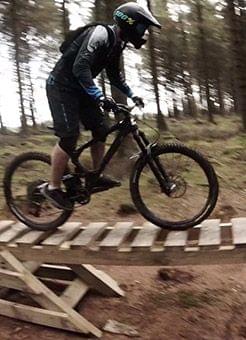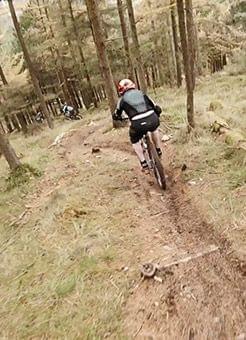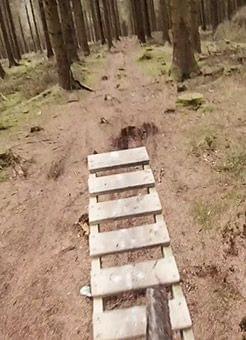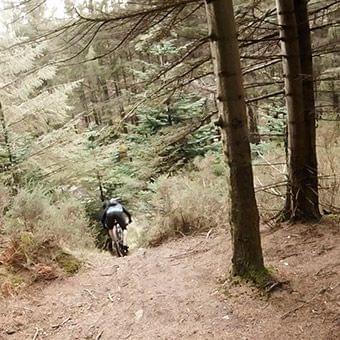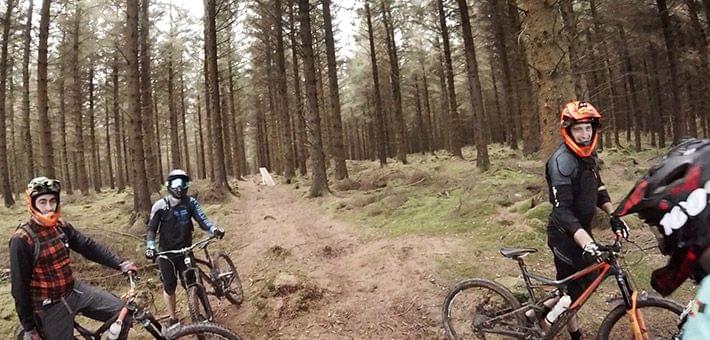 For more information on the places we rode have a look at the links below.
Biking.ie have trail centre shops at both Ticknock and Ballinastoe.
Djouce, although not an official trail centre, is part of the Wicklow Way.