What better way to see some of the World's most impressive scenery and exotic locations than to get away from the urban areas on your mountain bike.
In this, the third part of our mountain bike holidays series, we're going to focus on a few select areas from around the globe that are likely to be on a lot of mountain biker bucket lists. Either because of their stunning locations, exotic destinations or their world-class trails that you've seen the pros riding.
Unique landscapes
1. Iceland
Iceland was briefly featured in the first article in this series (which you can find here). But after getting some more information, and with the truly unique landscapes this island has to offer, from glaciers to volcanoes, it's worth expanding on.
Bike Company MTB Adventures has several different trips around Iceland. But the one we really wanted to show off is the 3 Day Volcano Ride. Featuring 30 to 40 kilometres of riding for each of the three days. The first day takes riders to one of most remote mountain roads in Iceland's highlands and finishes at the mountain hut where you will be staying for the duration. Day two will take you to Hekla Volcano, passing along lava fields and black volcanic wastelands. The final day will take you back down from the mountains into the farmlands.
2. La Palma
From one volcanic island to another, La Palma could not be more different. La Palma also called Isla Bonita (beautiful island) is the fifth largest of the Canary Islands, which lie off the Western coast of Morocco, and one of the most volcanically active of the archipelago.
Magic Bike La Palma have been showing mountain bikers around the island for the last 15 years. they cater to a wide range of skill levels and riding styles, making the most of the extraordinary nature and topography of the island and its great variety of different surfaces - from high alpine rock to pine needle covered loam, from deep volcanic sand to wet and mossy jungle. Hardly any other European bike area offers such a high density of varied singletrack in a constantly changing environment. From flowy to technical, La Palma offers the potential for endless hours of riding.
Their Roque de los Muchachos ride takes you from La Palma's highest peak at 2426 metres all the way down to the black sand beach on the Atlantic Ocean passing through rocky mountain slopes, pine forests and banan plabnntations along the way.
You can stay at their bed & breakfast "El Porvenir" which sleeps a maximum of 22 persons in 10 rooms and cottages across their complex. The garden and roof terrace make for great places to sunbathe and enjoy the mountian views after a day's riding.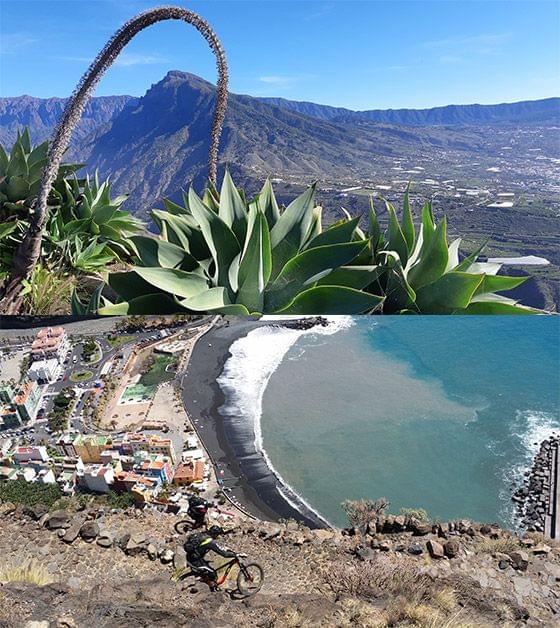 Crankworx Tour
I'm sure you will have heard of the Crankworx Tour. A series of events in different mountain biking locations across the globe. Featuring a cross section of different mountain biking disciplines such as pumptrack, slopestyle, downhill and the dual slalom speed and style. The locations visited are some of the most iconic and best bike parks in the world. While Whistler is the borth place and remains on the tour, we're including two more recent venues in Europe and New Zealand.
3. Les Gets
First up is Les Gets, in France. While it's not on the 2019 Crankworx tour, Les Gets has hosted several stops previously with trails ranging from cross-country to downhill and a jump park among others. Part of the Portes du Soleil, a linked network of resorts spanning the French and Swiss borders with over 650 kilometres of trails and 24 chairlifts making it Europe's biggest bike park. It's not surprising this is a bit of a European MTB mecca and a training ground for many pro riders.
Based in Morzine, MTB Beds is a mountain bike specific holiday company that started back in 2012. Their Riders Week's package is designed to relieve the stresses of organising your bike holiday by including everything bar your flights, allowing you to truly focus on riding your bike. With their flagship chalet, in the heart of Morzine, sleeping up to 20 people per week, the Riders Weeks package is perfect for big groups as well as solo riders looking to meet like minded people.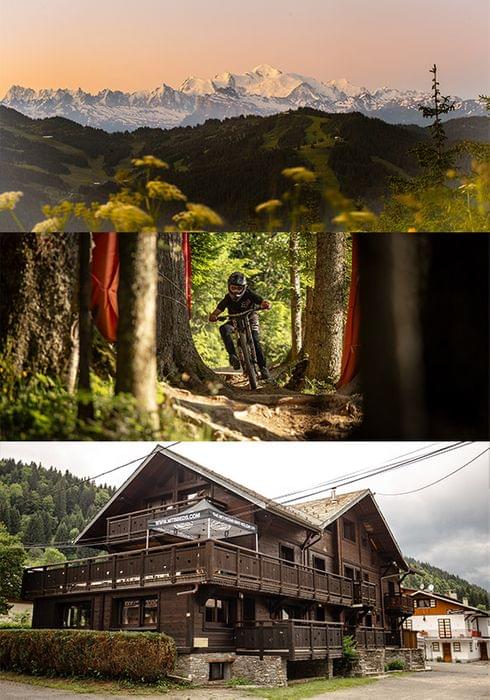 4. New Zealand
Roturua was added to the Crankworx calendar in 2015, the first venue outside of North America and Europe, and it's been the opening round of the year ever since. It's also opened the Enduro World Series for the last three seasons. Sitting down the bottom of the world, New Zealand has a few unique geographic geological and ecological characteristics that have set it up to be an incredible mountain biking destination. Well draining volcanic soil, steep and varied mountainous terrain, ancient forest and easy access to back country areas are at the top of the list.
New Zealand Mountain Biking have created mountain biking trips that accentuate these characteristics of New Zealands' landscape and combine them with the idea that mountain biking is all about shared experience and engagement, no matter what type of riding you're into. They have different trips in different locations, including Roturua, across both of New Zealand's islands.
New Zealand Mountain Biking's offerings come in two main categories: laid back, back country rides for the lower intermediate rider from 4 to 7 days and advanced tours for the dedicated rider with a gravity and technical focus. Throw in helicopters, land rover shuttles and other activities (such as rafting) to compliment it all and experience New Zealand's wilderness and adventure in general, and you've got the ultimate mountain biking destination.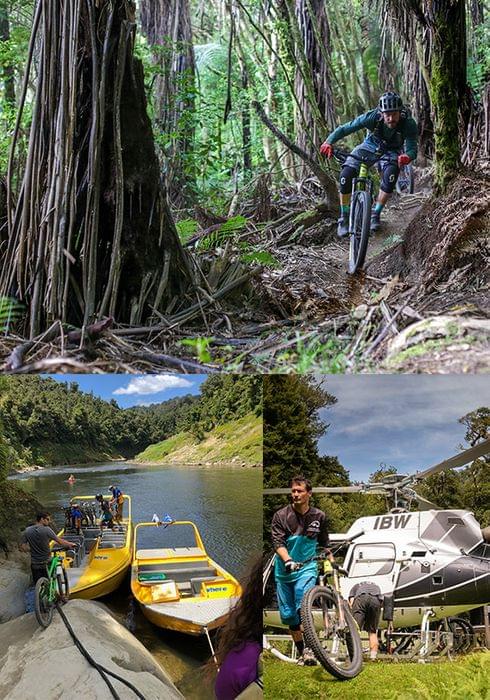 Exotic destinations
Following on from New Zealand, here are a few more destinations outside of Europe. Yes, these trips will cost you more and getting there will take longer, but the payoff will be an adventure to remember for life.
5. Morocco
Morocco might not be one of the first places you think of when planning a mountain bike adventure. But, probably no further away than the Canary Islands, it is relatively easy to reach. Maroc Nature are happy to help you organise your stay anmd biking itinerary. One of their most popular trips for mountain bikers is "Single Track Heaven", an Enduro/Gravity oriented trip, riding the northern side of Mount Toubkal Range, south of Marakesh, over six days. Miles of flowy dusty singletrack across Morocco's stunning landscapes riding trails created hundreds of years ago by Berber villagers and nomads travelling between the high plateaus and valleys of the region, with 4x4 assistance to get you up the worst of the climbs.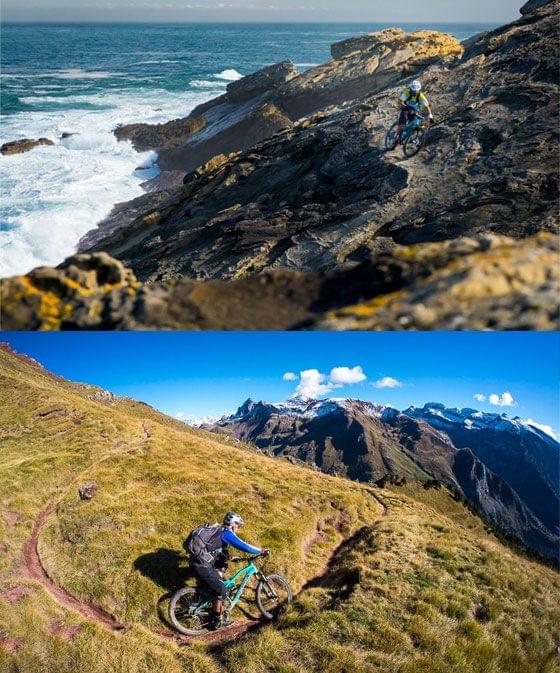 6. Mexico
If riding ancient trails created by cultures from cenuries ago is your thing, then Oaxaca Bike Expeditions have something that should be right up your alley. Miles of singletrack, used for hundreds of years by the Zapotecas in Mexico's Sierra Norte. You'll get to experience the culture, sample the food, see how they make Mezcal, discover the Zapotecan pyramids and explore ancient petrified waterfalls. The guides at Oaxaca are all local mountain bikers that will take you to enjoy trails from semi-wet forest singletracks to dry rocky multi lines.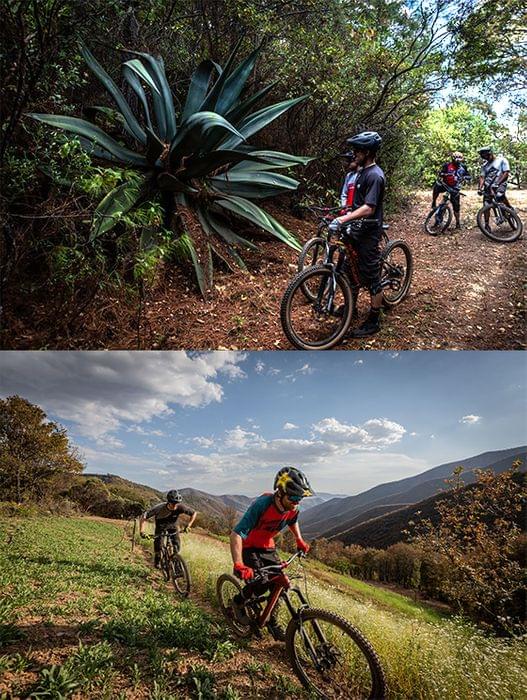 7. Chile
Moving South through the Americas, H+I Adventures can take you on an eight day tour of Chile and Patagonia, from North to South, through some of the most awe-inspiring, astonishing landscapes in the world. You'll ride through lava fields of active volcanoes and through thick araucaria and bamboo forests. All the while soaking up the local culture, food and Chilean wine.

8. Namibia
H+I Adventures are a very experienced mountain bike holiday organiser, having been creating adventures since 2007 around the world. They work with local experts in every destination to craft 'life altering experiences' on and off the bike.
Another of their more unique trips is their mountain bike safari in Namibia. Experience the thrill of pedalling along red dirt roads, feeling the sun on your back, surrounded by endless spectacular horizons then, suddenly, spotting a herd of zebra grazing in the distance. Cycling from the Skeleton Coast to the Huab River, this twewlve-day trip takes you through the less traveled corners of Namibia. Along the way, you'll ahev the opportunity to see the African wildlift up close and personal, camp under cloudless skies, meet indigenous communities and be guided through the Etosha National Park.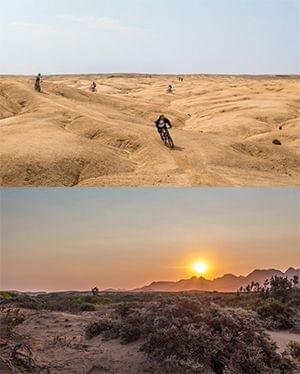 9. British Columbia
The Canadian Rockies are one of the most spectacular and iconic mountain ranges on Earth. And British Columbia has to be on the bucket list for any mountain sports lover. Sacred Rides has been leading mountain bike adventures in beautiful B.C. since 1996. Experience the small, eclectic mountain towns of Fernie, Revelstoke, Rossland, Golden and more, and ride some of the most incredible singletrack British Columbia has to offer. With 5 unique itineraries to choose from you'll revel in stunning Rocky Mountain scenery, hundreds of kilometres of amazing British Columbia singletrack, long climbs, technical descents, world-famous accommodations, cold rivers and hot tubs, plus a visit to iconic Banff National Park.

10 Peru
The Andes. Machu Picchu. The Incas. Peru was Sacred Rides first international destination and it remains as popular as ever. Mountain biking in the land of the Incas offers up incredible, long descents in the stunning Andes that will leave you smiling from ear-to-ear. There are 5 different itineraries including an all-mountain trip, a downhill specific trip with over 50,000 vertical feet of singletrack, a women's only ride, an explorer trip that includes a trip to the Amazon for novice riders and a bring-your-partner trip designed for experienced mountain bikers and their partners.

11 Nepal
Known for the world's highest peaks, the unique and beautiful country of Nepal sets the stage for what could only be described as a true adventure mountain biking. Treasures of the Himalaya. Dotted with artifacts from a country rich in ancient history, its combination of colour, culture, and world-class terrain will leave you with indelible memories of a lifetime. Throughout this 12-day ride, following ancient trade routes between Nepal and Tibet, you'll experience the hustle bustle of Kathmandu, medieval temples and shrines, sacred tea ceremonies and the incredibly remote Mustang Valley while riding in the shadow of the world's highest peaks.
---
This is the last of a three-part series of articles featuring some of the most exciting and adventurous places that you could take your bike. Find the other two articles here: Part 1: European MTB Destinations and 2: Spanish MTB Holidays