Getting out on your mountain bike for a couple of hours after work, or for a day at the weekend is, the bread and butter all of us survive on. It gets us outdoors, keeps us fit, we get to spend time with our riding mates and do what we love doing - riding up or down mountains on our bikes.
However, if you have ever had the opportunity to go on a mountain biking trip, be it at home or abroad, you'll know how special they are. You will hone your bike skills and confidence and make life-long memories to boot. If you've never gone on a mountain bike holiday, what better time to start planning one!
To inspire you as we enter into the summer season, we've compiled a list of some of the mountain bike holiday destinations and packages that are available. In this three-part series of articles, we've tried to include destinations across the world. This, part 1, focuses on some of the spectacular mountain biking destinations in Europe.
Part 2 features the many varied options on offer in Spain and the last in the series showcases some true mountain biking adventures around the world.
Here are some shortcuts if you want to skip to your area of interest:
Wales - Scotland - England - Iceland - Norway - Czech Republic - Switzerland - Italy - France - Andorra - Portugal - Madeira
---
Wales
The first destination on our list is Wales. An easy ferry crossing away this makes for a great destination for a first mountain biking holiday, or as a lower budget or shorter duration trip.
We've made this trip ourselves to visit Bikepark Wales for two days. You can find the article on our Wales trip here. We used Irish Ferries from Rosslare to Pembroke. Then it's a couple of hours by car to Merthyr Tydfil. We stayed at the Travel Lodge which is literally minutes down the road from the bike park. Another accommodation option is the mountain biker targetted Twin Trails B&B. And of course, in Wales, you are not limited to BPW. There are numerous trail networks within easy driving distance. Enough to fill several days.
---
Scotland
Staying just a short ferry crossing away is Scotland. Go Where offer several packages catering to different rider skill levels and ranging from single to multi-day trips across Scotland.
Their most popular trips include Torrid Affair, which is an advanced level week-long guided mountain biking holiday in the Northwest Highlands, Mountain Royale, which takes intermediate level riders to some lesser known trails for a week, and Mountain Lassies run for women by women.
Go Where are also introducing a brand new package called Border Patrol. This is their first shuttle/uplift trip in the Tweed Valley. They currently have a special offer of 50% off on this trip for it's very first running late July.
In fact, Go Where have a page dedicated to offering last minute places on their trips, worth checking out if you are on a budget or find you have a few spare days at short notice.
If you want to explore the best trails around Scotland and experience a local mountain biker's favourite trails, then H&I Adventures Ride With Scotty Laughland trip could be just the thing for you. Planned for mid-September 2019, this tour will start in the Scottish Borders and head North over the course of a week. You will be accompanied by Scotty Laughland ex-GMBN presenter as well as an expert guide. And the whole trip will be recorded for Scotty's YouTube channel.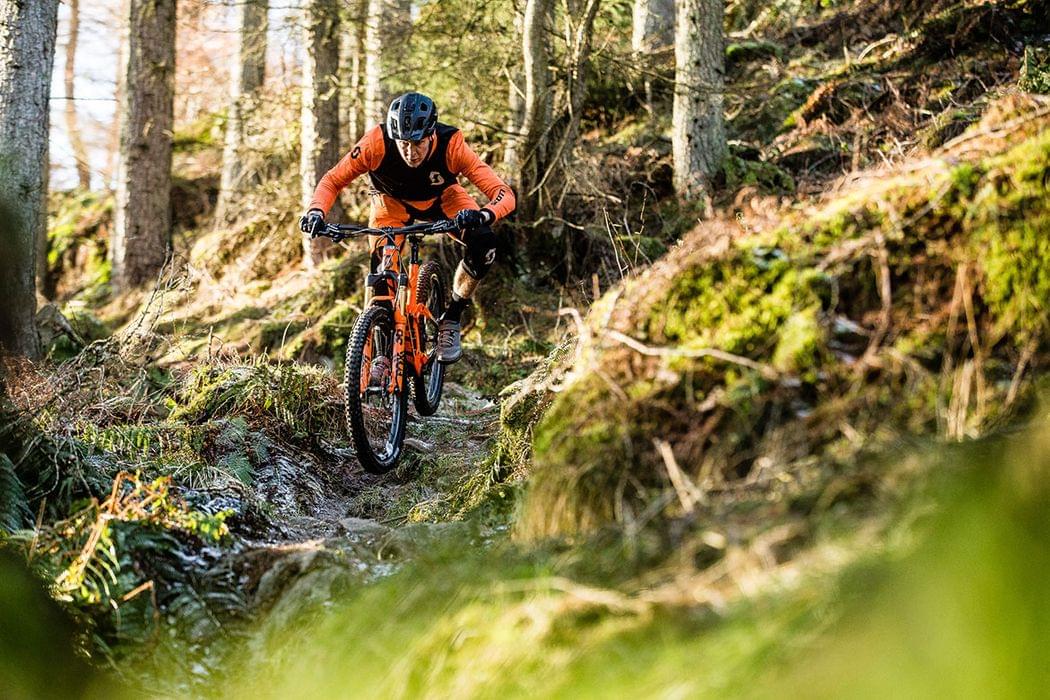 England
To round off with our nearest neighbour, Fluid Trails specialises in custom guided tours anywhere in the UK. One of their most popular packages includes a 4-night stay in a characterful Lakeland cottage with an off-grid high mountain overnight experience thrown in the mix too. The Lake District offers terrain to suit novice riders right up to advanced steep, loose and gnarly. Whatever type of terrain you ride in the Lake District, a Unesco World Heritage site, the scenery is always magic. "We thrive on taking people up into the high mountains and passes", so a bit of hike-a-bike action is pretty standard. Fluid Trails try to support local business and aim to make their trips special off the bike too by including great food, beers festivals, live music or inspiring talks, whatever is going on at the time.
Next year, Fluid Trails will be launching a new coast to coast experience travelling through the Lakes, Yorkshire Dales and North York Moors. Technically and physically challenging, this will cover 230 miles and over 8000 meters of climbing over 7 days.
Further Afield
If you are willing to travel a little further, then Europe has a huge range of mountain biking destinations to offer. With two enormous mountain ranges spanning the continent, several countries offer alpine tours with their own local culture. The Iberian peninsula offers year-round riding in warmer conditions. Or you can head North and sample what's on offer in Scandinavia and Iceland.
Iceland
With various videos having come out over the past couple of years by the likes of Red Bull, Hans Ray and Steve Peat showcasing the unique and awe-inspiring landscape of Iceland, this has to be a dream destination for mountain bikers.
Icebike Adventures organise a five-day riding trip which sounds like a once-in-a-lifetime sort of experience. On the itinerary is volcano heli-biking on day 1, super jeep safari and the Garden of Thor. If that doesn't get you inspired… The trip promises stunning singletrack and backcountry riding, hot springs and hike-a-bikes. Aimed at experienced riders a good level of fitness is recommended. Icebike Adventures also list shorter versions of the trip if you are pressed for time but still want an experience to remember for life.

Norway
The Fjords of Norway package organised by H&I Adventures, for advanced mountain bikers, will take you deep into the Norwegian Fjords. There are no uplifts on this trip, instead of relying on hiking and riding to explore this dramatic landscape. But you will travel, stay and dine onboard an ex-Navy Minesweeper for a unique adventure.
---
Czech Republic
The Czech Republic might not be the first place you think of when listing mountain bike destinations. But in the last ten years, a lot of time and effort has been spent on building world-class mountain bike trails. For the last few years, Nove Mesto has hosted a round of the UCI Cross Country World Cup. One of the organisers of this race also runs a guiding business, Czech MTB Holidays.
Two of their most popular mountain bike holidays are the Bohemian Tour and the Moravian Tour
The first is a week-long trip taking you to the Northern and Eastern Bohemia region along, and at times crossing over, the Czech Polish border. The Moravian Tour brings riders to the more central areas of the Czech Republic North of Austria. Both are 1-week trips, running from Sunday to Sunday, with a similar mix of trails - about 65% purpose built trail centres and 35% natural singletrack only using gravel or asphalt roads where absolutely necessary. Czech MTB will pick you up from one of several airports, and they also offer bike rentals if you would rather not bring your own.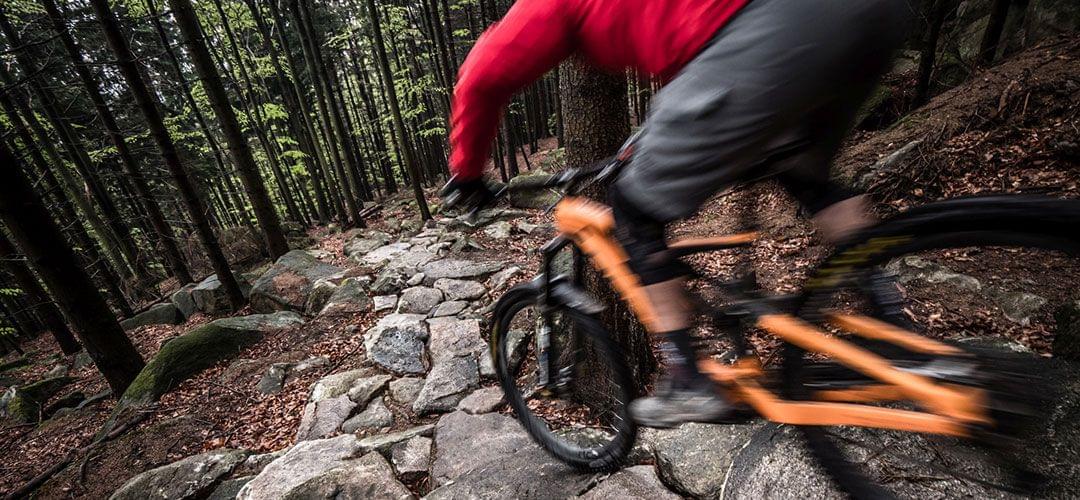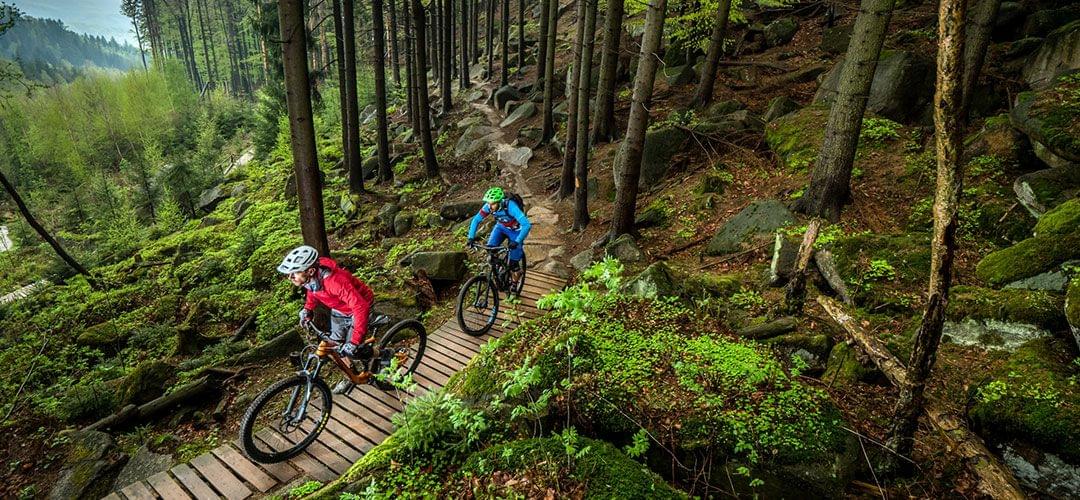 Switzerland
Alps Mountain Bike offers holidays in various locations. Making the most of their location in the Alps is the Tour of Mont Blanc which starts in France, crosses through Switzerland and Italy before returning to Chamonix. This is a 7-day 250 kilometre trip for intermediate riders 'not afraid of long climbs or carrying their bike' with up to 1900 meters of ascent per day, although some lift access is included, before enjoying the equally long descents. Along the way, you will get to soak up the high alpine landscapes, lakes and mind-blowing views. They offer this trip in three flavours: the classic, E-Bike and Enduro over a slightly different route with more shuttles and lifts.
Alps Mountain Bike can also take you into the unique and impressive Dolomites region of Italy, a UNESCO World Heritage Site, on their Ride the Dolomites trip. In their own words "This Dolomite Mountain Bike trip is for 'the brave', it is very mountainous but also very unforgettable!" You will ride from one 'mountain island' to the next via singletrack and appreciate long and challenging descents, cycle through quaint South Tyrolean villages, recharge our batteries in warm friendly hotels and mountain refuges and refuel with local mountain food mixing Austrian and Italian cuisines.

Valais Mountain Bike Holidays, owned and run by Irishman Paul Doherty, is based in the Valais region of the Swiss Alps which will feature on the 2019 EWS calendar. They offer adventurous Alpine bike holidays for all levels of riders covering the stunning locations of Verbier, Crans Montana, Zermatt and Grand St. Bernard among others. Valais MTB believes that a mountain bike holiday should really feel like a holiday, not biking boot camp. You'll get dropped off at the highest accessible point of each ride and picked up at the end of each day and brought to your local hotel accommodation – but not before wrapping up your ride with a local craft beer or glass of wine in a uniquely beautiful Swiss village.
Their Alpine Enduro Week is a backcountry adventure week with 5 days of riding – Sunday through to Friday, with Wednesday off - focusing on epic singletrack away from the chair lifts and bike parks. Each 6 to 8 hour adrenaline-filled day will incorporate climbing and a little hike-a-bike, with each pedal stroke earning kilometres of steep, technical singletrack right down to the valley floors.
They also offer a women-only Introduction to the Alps trip for up to 6 people. While women are welcome on all of their trips, their experience suggests that many are more comfortable learning in an all-girls group. This week-long trip, with 5 days of riding, is designed to give you the skills to tackle the terrain of high alpine riding in a safe, supportive and fun environment, looking towards progressing to an Alpine Enduro or Bike Park week.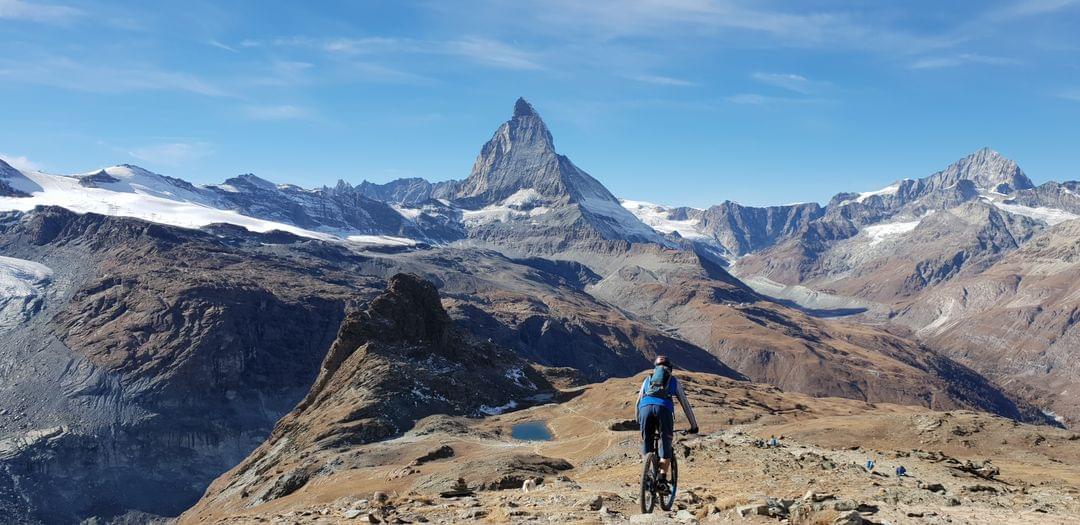 Italy
Aosta Valley is located in the heart of the Italian Alps, surrounded by Monte Bianco, Cervino and Monte Rosa. It is the perfect place for a mountainbike holiday with trails to cater for all levels. Three Seasons can arrange Enduro tours and bike shuttles, riding natural trails up to 2500 metres in altitude ending in Aosta downtown with its history, local cuisine and wine cellars. Three Seasons offers: bike shuttles, enduro tours and bike park day accompanied by a local guide to ride some of the most secret trails in the Aosta Valley.

Photo courtesy of [@richardbord](https://www.instagram.com/richardbord/
MTB Guide Finale Ligure, as their name suggests, are based in the famous Finale Ligure area featuring the now traditional EWS season-closing trails. While some of their most popular packages focus solely on those EWS trails, they recommend the Inferno Flow Tour as the best experience they can offer mountain bikers. Starting from Finale, it's a two to three day journey over crests and through valleys from the sea into the mountains and back again discovering exciting singletrack. With the help of support vehicles, the tour is designed to allow riders to travel light. If, as well as enjoying the trails, you would like to taste local delicacies and you think that a good glass of red wine is the perfect ending of a tour with your friends… then this is exactly what you have been waiting for!
France
The French Alps cover a huge area and the mountain biking possibilities are near endless. One of the most popular destinations is Morzine. And it's not hard to understand why when it is in the heart of the huge Portes du Soleil region with over 650 kilometres of trails, including bike parks, across twelve linked and lift-assisted resorts spanning two countries. Bike Morzine offer different accommodation options. The most popular of which is the Hideout Hostel with it's apres bar and Morzine's best restaurant two years running.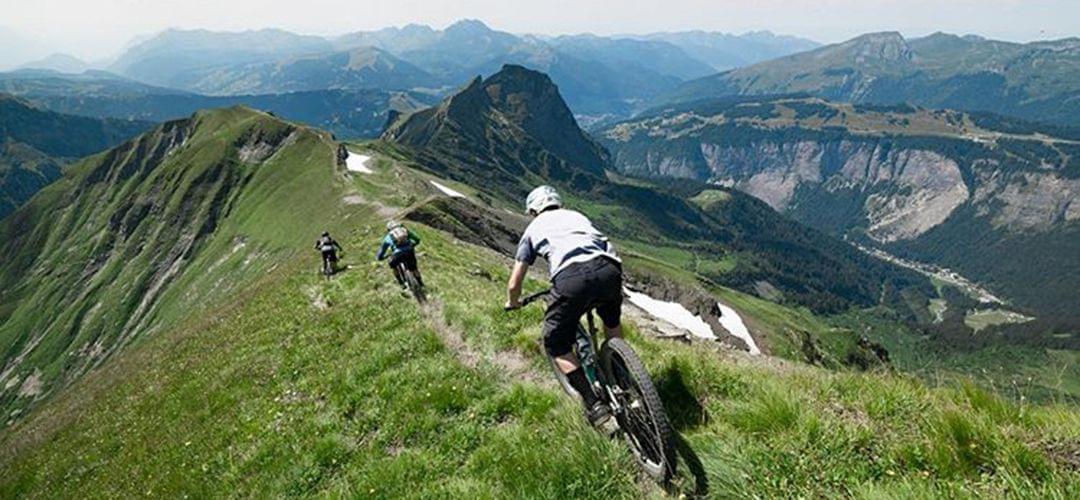 Andorra
Lying in the heart of the Pyrenees between France and Spain, Andorra is a mountain biking paradise. Singletrack Safari have been organising mountain biking holidays to Andorra for ten years - and they will be running lots of special offers to celebrate their tenth anniversary. Riders have the option of the unguided Vallnord Bike Park holiday, riding the World Cup class trails, or the guided Enduro holiday. The latter takes you along phenomenal and virtually deserted singletrack deep in Andorra's backcountry that is almost impossible to find without a guide. Singletrack Safari use as many uplifts as possible on their trips to minimise the pedalling and maximise the descending, with at least 1000 meters of vertical drop and trails up to 13 kilometres long. Due to their status as Official Holiday Partner with Vallnord bike park, the unguided package is better value than you would be able to book direct if you organised your own accommodation and lift passes.
Portugal
Portugal has some of the best year-round weather in Europe. And WeRide Mountain Bike Tours aim to make the most of that while throwing in some Portuguese culture and cuisine to round off your experience. They offer three different packages to suit your preferences, and how much of the country you want to include in your trip. the Local packs offer 3 to 5 days riding in one area, the Double packs extend to 6 days of riding in two areas of your choice while the Full pack covers the full country, from the Algarve to Lisbon and up to the North of Portugal, for 6 days of riding over 9 days. All transfers, accommodation, guides and shuttles are included. And rental bikes are available if you can't or won't bring your own.
The Mountain Bike Adventure also offer holidays with your bike in Portugal around Western Albufeira on the South coast. Their Enduro holiday, which is available between October and May, promises up to 3000 vertical meters of descending with as little climbing as possible, instead of shuttling in their uplift truck. They offer a huge variety of handbuilt natural trails around some of the most beautiful locations most of which are 5 kilometres or longer.

Madeira
Madeira has become something of a poster child for mountain biking in recent years. Unsurprisingly its lush green forests and breathtaking mountains. Hosting world class mountain biking events such as the Enduro World Series and the Trans-Madeira have put it firmly in the spotlight as one of the must-do bucket-list destinations for many mountain bikers.
Freeride Madeira have been instrumental in achieving a lot of Madeira's MTB fame. As well as being the organising force behind the Madeira EWS rounds and the Trans-Madeira races, they actively invest in building and maintaining the trails on the island. All of this is great news if you go on one of their single-day tours or guided holidays as you have the option of riding EWS trails as well as some that have featured in the Death Grip and Gamble movies. They describe their week-long trips as "a cultural and gastronomical adventure where you can experience the island as a true local"

Coming shortly will be two more parts to this feature series on mountain biking holidays. The next part will focus on the huge selection of mountain biking in Spain, followed by the last part featuring some dream destinations around the world.